Summer 2012 will see one debate generate considerable heat: who should be the next President of India after President Pratibhatai Devisingh Patil retires this July. The head of state of the Republic of India, the commander-in-chief of the armed forces, and yes, ideally speaking, also the nation's conscience-keeper. Political circles are abuzz with a few names who could wear these hats; who, if any of them, will eventually occupy Rashtrapati Bhavan depends on a number of political permutations and combinations.
Pundits and professionals, depending on their own persuasions, are divided in their opinion on whether the next president of the country should be a career politician or someone non-political but held in high regard; the scale tilts towards the former. "The president has a constitutional responsibility and defined constitutional role that must be discharged in a non-partisan manner," says Dr Ajit Ranade, economist and one of the founders of the Association for Democratic Reform (ADR). "We should not be looking for a messiah here; instead the focus should be on strengthening democratic systems and processes."
The frontrunners from the political firmament are predictable. Vice-president Hamid Ansari, PM Manmohan Singh, Union finance minister Pranab Mukherjee, Lok Sabha Speaker Meira Kumar top the political list. These names have done the rounds in the last few months and it's not difficult to see why; the next incumbent of Rashtrapati Bhavan will be swearing in the prime minister after the general election in 2014, or even earlier, and may be called upon to take tough political decisions. "It's too early to discuss any candidate; let's wait and see the political alignments after the assembly results," says a Congress general secretary.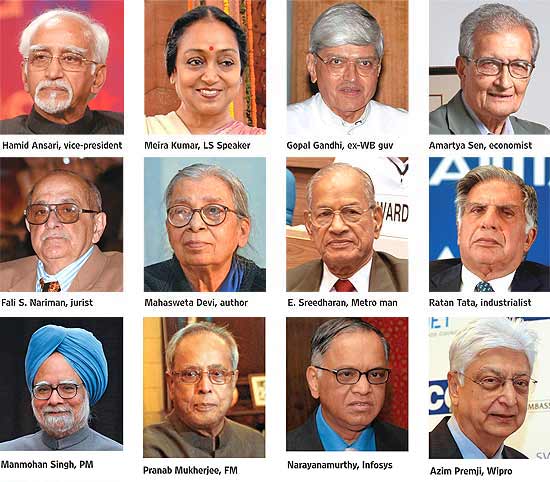 A possible scenario is that vice-president Ansari is elevated by some cobbling up of political consensus and an NDA-affiliated leader is made vice-president. When BJP president Nitin Gadkari remarked recently that Shiv Sena leader and former Lok Sabha Speaker Manohar Joshi could play "a larger role" after his Rajya Sabha term ends in April, the speculation was if Joshi would succeed Ansari. That, of course, would depend on whether Ansari is voted into Rashtrapati Bhavan, and the changing BJP-Sena equations. As Joshi says, "it's hazardous to expect anything in politics". If Ansari does become a presidential candidate, his election would depend on what the feisty Bengal CM Mamata Banerjee decides: oppose him to spite the Left or vote with the UPA for a rain-check.
"It's the middle-class fantasy to have a non-political or apolitical president, but make no mistake, no one can occupy Rashtrapati Bhavan unless he/she has something to do with politics," points out Paranjoy Guha Thakurta, political commentator. "We can speculate on non-political names to amuse ourselves, but it's a political exercise." Mumbai-based analyst and editor Kumar Ketkar agrees. "There have been suggestions like Narayanamurthy or Amitabh Bachchan, so that we send out a certain signal to the world and so on." he says. "But these people will be out of their depth in the office. It may be a ceremonial office but it's also a constitutional office."
Film icon Amitabh Bachchan, Infosys founder (and now mentor) Narayanamurthy, Tata Sons czar Ratan Tata are some suggestions from the professional class. In fact, these are popular candidatures in the virtual world. Murthy as the next president of India was trending on Twitter late last year. His candidature was endorsed by none other than former president Dr A.P.J. Abdul Kalam while on a visit to the Infosys Global Education Centre; Kalam, when asked by a company employee in the audience what he thought of Murthy as president, replied, "Fantastic." His rival and Wipro founder Azim Premji as president gets an even more positive response.
The Tatas had a Facebook page devoted to the cause two years ago, in which he was described as "one of the most respected and ethical business icons alive" and which exhorted that "there is no other more capable person than you for the ultimate honour to be the President of India". Corporate India is unwilling to take positions. A CII spokesperson told Outlook, "We have no official view as this is a speculative exercise at the moment."
"It's the middle class fantasy to have an apolitical president, and we can speculate on names, but it's a political exercise."
Some scoff at the suggestion of a corporate czar, particularly Murthy, in Rashtrapati Bhavan. "He has made some fairly anti-democratic statements in the past," says P. Sainath, rural affairs editor of The Hindu and a leading voice on the country's agrarian crisis. "He doesn't believe in local self-governments, he wants cities to have czars like corporates." Would he back economist and Nobel laureate Amartya Sen, as suggested by Tushar Gandhi, the great-grandson of Mahatma Gandhi? "A Nobel laureate need not make a good president," says Sainath.
Across academia and politics, the candidature of Gopal Gandhi, former West Bengal governor, finds resonance. His background, pedigree and experience mark him out to be a frontrunner among non-politicians, aver pundits. "Gopal Gandhi would be a good choice but for his own abilities, not because he's the Mahatma's grandson," says Tushar Gandhi. "I would suggest two others: Aruna Roy, given her background in the IAS and her incredible body of work in the last few years; and filmmaker Shyam Benegal for his depth of understanding about India, his secularism, his experience and his public persona." He also suggests Bachchan because "he knows how to pose for the cameras".
Roy has considerable support; on a similar scale are Bengali writer-activist Mahasweta Devi and Self-Employed Women's Association of India (SEWA) founder Ela Bhatt. Says Anita Ratnam, Chennai-based dancer, "The next president could be someone from the NGO sector, which is seen as an unglamorous area. The mental bandwidth should not be restricted to someone from an urban centre but has to extend to rural India." Gnani, a political analyst from Chennai, roots for Mahasweta Devi because of her "societal concerns, writer's sensitivity and work with adivasis". Her criticism of the Left during the Nandigram episode, many say, showed her ability to be impartial. Maharashtra social worker Dr Abhay Bang gets a look-in too; he will know the ground realities, says Gandhi.
Pundits agree that the chances of a woman succeeding Pratibhatai Devisingh Patil are dim, but it doesn't hurt to hope. And if gender is a consideration, can caste be far behind? There are many suggestions from Dalit writers and activists, from Dr Narendra Jadhav, former deputy governor of Reserve Bank of India and former vice-chancellor of Pune University, to Dr Bhalchandra Mungekar, former vice-chancellor of Mumbai University and now Planning Commission member. Similarly, there's some backing for J.M. Lyngdoh, former cec, and activist-politician Suhasini Ali.
However, Dr Surendra Jondhale, head of the political science department at the Mumbai University, begs to differ. "We shouldn't be hung up on these religious, caste and Dalit criteria. We need a president with administrative experience, commitment to nation-building and ability for crisis management because political challenges are inevitable in the next couple of years," he says. There could be a case for a technocrat-administrator like telecom whiz Sam Pitroda, 'Metro man' E. Sreedharan, legal expert Fali S. Nariman, says Jondhale, but not "at this critical juncture in our political history".
Others who drew in support were anti-corruption crusader Anna Hazare, backed by a lot of aam janata, but not by pundits; and former president Dr A.P.J. Abdul Kalam who many remember as "a non-political hero with charisma". But politicians, understandably, seem disinclined to experiment with a non-political person yet again.
---
By Smruti Koppikar with Sugata Srinivasaraju, Madhavi Tata, Pushpa Iyengar and Amba Batra Bakshi