Narrow Lane Ahead
NH-18 connects three districts of Rayalaseema: Chittoor, Kadapa, Kurnool. The fourth district is Anantapur, but it's not on NH-18.
In 2008-09, YSR decided to extend NH-18 from Nandyal to Koduru (Nellore district) and even sanctioned funds for this. Work stopped when he died suddenly.
The Chittoor-Kadapa drive is fairly smooth, but then on to Kurnool is tedious, thanks to highway works and diversions.
Kadapa's Pedda dargah is one of south India's most popular religious destinations, with even Hindu devotees flocking there.
***
The wayside dhaba is usually the place where most Indian road movies begin to unravel. The baddies and cops slug it out amid the clatter of vessels and echo of gunshots. My journey unfolds near a serene mango orchard just off Chittoor on NH-18. There's a sharp screech of tyre on tarmac as a police jeep swerves in front of a tractor carrying an illegal stash of red sanders. The SI motions the driver to a nearby police station as locals pass by in complete disinterest. For them, it's routine. Red sandalw­ood trees from the nearby Seshachalam forests are a beacon for smuggling gangs from all across Rayalaseema. An attempt to follow the tractor lands one in Chittoor's oldest school, established in 1856, the P.C. Reddy Government High School. Chittoor borders Tamil Nadu so Tamil is taught here alongside Telugu, Hindi and English. Indeed, the Telugu spoken in this region has a heavy Tamil influence and many are fluent in both languages.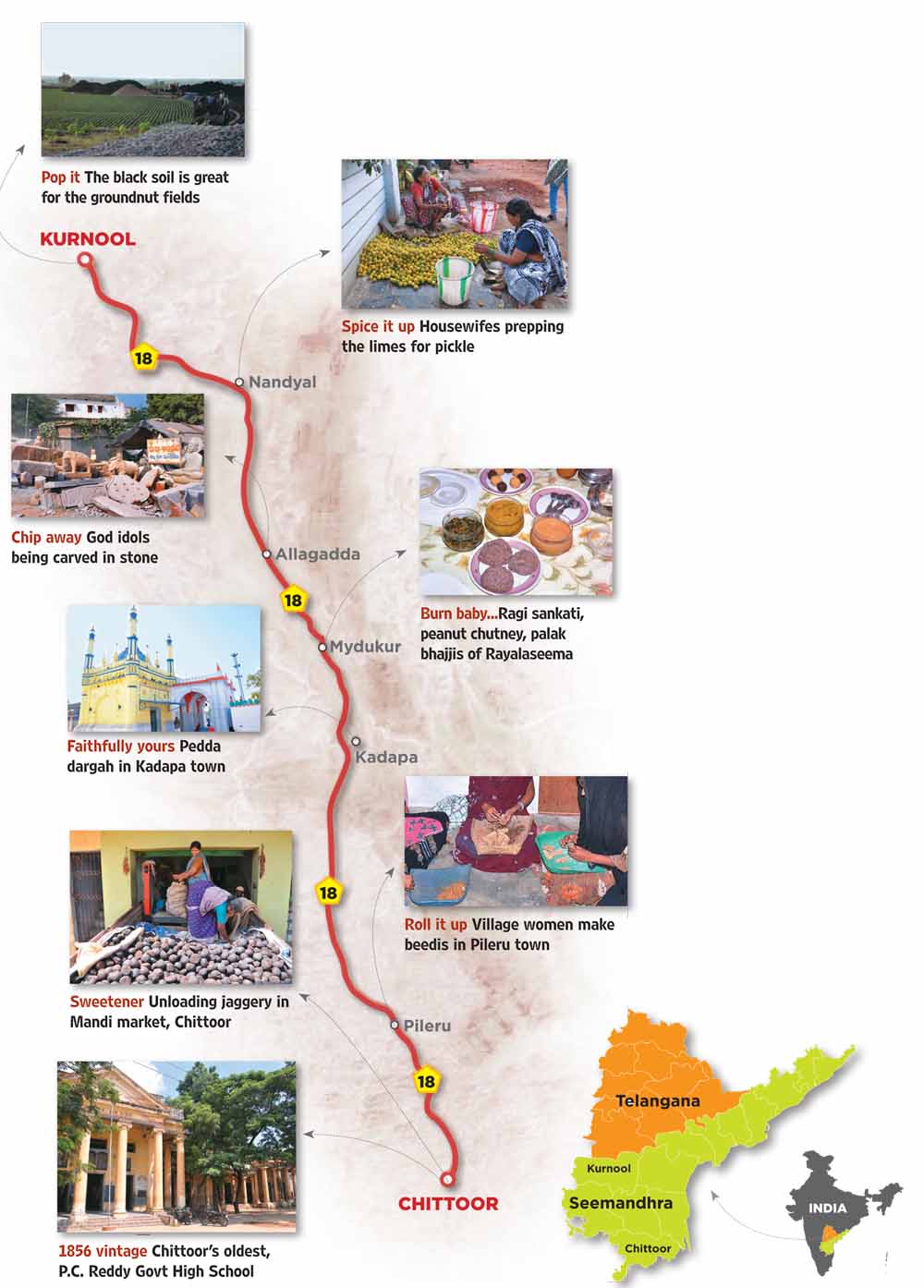 Headmaster Chandrasekhar Naidu has only one question for us, "Is the state really going to be divided?" He's just back from a two-month strike. "If they give away Telangana, Hyderabad will become like Pakistan for us. It has 13 central varsities and 39 research centres. And we'll have no stake in them now." Chittoor is a centre for sugarcane farming and jaggery mark­ets. Mounds of jaggery, in shades from dark black to light brown, lie in the mandi market. Business is just picking up after the two-month-long transport strike for a united AP. The jaggery is raw material for a number of industr­ies, from food and juice to the ayurveda medicine labs and is a major source of income in Chittoor, the dairy and silk sectors being the other engines of growth.
The rains have still not left us and the drive down from Chittoor on NH-18 is lush and scenic, with mango orchards, sugarcane and groundnut farms spread over the land. Hilly ranges lurk in the backdrop as one veers towards Errapalli village. We stop by at a house where a sreemantham (baby shower) ceremony is on. The hosts serve up a menu of pulao with raitha, followed by rice and rasam, curd and chicken. A huge photo of YSR Congress leader Jaganmohan Reddy hangs on the otherwise bare wall. Parusuram Reddy, one of the gue­sts, is eager to enlighten me. It seems it was Jagan's father, the late Y.S. Rajasek­hara Reddy who brought pucca houses, free power, NREGA income and seven BTech graduates to the village. "His boy (Jagan) is the choice of the rural voter, he deserves at least one chance." By then an unnamed sweet dish arrives. It tastes like mashed, liquid jaggery.
About an hour's drive from Chittoor lies Pileru, CM Kiran Kumar Reddy's constituency. Surprisingly, it is one of the most nondescript places along the entire 369-km highway stretch. Pileru has a population of around 70,000, a severe drinking water crisis and most of its people make their living through small businesses like fruit and kirana shops. Its sizeable Muslim electorate lives near the railway underbridge. Beedi, agarbatti-making and cattle-rearing form their main source of income. Most of them haven't seen Kiran since he became CM and are vague about his recent Samaikhyandhra heroics.
For such a small town, though, Pileru has six cinema theatres. There's a theory in Andhra Pradesh that the population of a place can be counted roughly by the number of screens dotting the landscape. A rundown theatre showing Pawan Kalyan's Attarintiki Daaredi is house-full and it's about the one bright spot in Pileru so far. Tickets sell for Rs 100 and the crowds erupt in the aisles as the number Kaatama Rayuda, a tribute to the Rayalaseema people, comes on.
Back on the road, our cab queues up behind a row of rice harvesters, all of them with TN number plates. They are heading to the paddy-growing areas of Rayalaseema as we stop at Rayachoti, part of the Kadapa district. The town recently held an assembly bypoll with G. Srikanth Reddy of the YSR Congress winning by a margin of 56,890 votes. In a constituency of around 1.5 lakh people, this is huge. Falling in a rain shadow region, Rayachoti's water situation improved when YSR came to power and built a couple of mini-dams.
Dr Vishnu Reddy, a radiologist and farmer, serves up some yellow uggani (puffed rice) with mirchi bajji for us to snack on. He's confident that the "bifurcation is not happening, there just isn't enough time". On the people of Rayalaseema itself, he says, "We talk straight and speak the truth, no matter how harsh. It's another matter that men around here seem to have zero emotional intelligence," he laughs. The Reddys are a dominant caste in Rayalaseema. Jaganmohan Reddy belo­ngs to the Kodida sub-sect, where you find many Christians. "In a way, Jagan is a reflection of many Rayalaseema qualities," says the doctor. "The aggression, the blunt nature and natural leadership. These are all part of our soil," reveals the good doc as he pats the excess oil off the mirchi bajjis.
From Rayachoti onwards, the soil's colour gradually changes to black and stays that way through till Kurnool. The road from Rayachoti to Kadapa along the Eastern Ghats is easily the most beautiful part of the trip, especially at night. Moonlight lights up every leaf and pebble along the path as paddy fields grow in number. At Guvvalache­­ruvu, we stop to sample some street palakova, made by boiling milk and jaggery (or sugar). A runny kind of kalaka­ndh, it's the best dessert I have eaten in ages. On to his second cup of palakova, 26-year-old Sultan Ahmed Basha, wearing a Salman Khan-style turquoise brac­elet, informs me of two momentous thi­ngs of immediate import. One: he's a hardware engineer in Saudi Ara­bia visiting home. "I am getting married," he blushes. And two: Jaganmohan Reddy will be the next CM, no question.

Fire it up Seemandhra activists in Kurnool
Kadapa is our next stop. For a constituency represented by the "next CM" in Parliament, the garbage piling up on the streets is what hits you first. Municipal workers lazily pour bleaching powder over the mess. It's from here onwards that one gets a real feel of the factionism in Rayalaseema. "Violent clashes have come down in the last decade or so, but the sword of factionism still hangs heavy," says a political leader whose family has seen several murders. For him, the peaceful Seemandhra agitation has been a revelation. "If we were to start a Rayalaseema state agitation, there will be blood everywhere," he emphasises. Bloody politics apart, the state bifurcation is a nightmare for Apa­rna, Kousalya and Gurushekhar, MCA students in Kadapa. "Our hopes lie in getting a job in Hyderabad. Now we might as well go to Karnataka or Tamil Nadu. It's like we are going back to the 1970s," says a worried Aparna. Guru­­sh­e­khar says he doesn't like going to Hyderabad anymore. "They have alre­ady taken it away from us," he feels.
There's a brunch being organised at businessman Sudarshan Reddy's house. Ragi sankati, peanut chutney with at least 10 chillies in it and the spiciest dal I have ever eaten make me down a bottle of water in record time. There is no palakova in sight but there are nuvvulu (til) ladoos, which bring down the heat somewhat. Sudarshan Reddy has 70 acres of farmland and a couple of iron ore mine leases. Mining is a major indu­stry in the region. A. Veerasw­amy, a folk artiste in Mydukur, 34 km from Kadapa, talks about how the people of Rayala­seema have always felt closer to the folk in Telangana than to their Andhra counterparts. "Our culture, food habits and language are similar. We have factionism, they have Naxalism. We are hot-tempered, so are they. Andhras are the clever ones. Unfortunately, we are like the middle child caught betw­een two warring siblings," he says.
People blame the decades of drought in Rayalaseema for the rise in tempers. They fear that Rayal­aseema's share of the Tungabhadra and Krishna waters will go once Telangana state comes into existence. Fields in the other faction hotspots along NH-18 such as Allagadda and Banganapalle are brimming with mirchi plantations. It's almost a reflection of the region's hot temperament.
The first stop at Kurnool and the last on NH-18 ought to be the Kondareddy Buruju fort, built just after Krishnadev­araya's time, dated back to 1530 AD. A compact fort, its majestic beauty leaves a lasting impression. A house call on TDP MLA from Dhone, K.E. Prabhakar, sees him sitting in a small drawing room jotting down favours sought by constituents. Transfers, mining lease licences and college admissions top the list. "So you've travelled from the land of milk and silk to iron ore and gore," he quips. His reference is to Chittoor where dairy and silk are major sources of succour and then to Kadapa and Kurnool. Why take such a long trip to understand our Rayalaseema culture, he asks. "You should have just hired a Ram Gopal Varma video," he laughs.
---
By Madhavi Tata in Chittoor and Kurnool