This winter Indians have a diet plan they can finally stick to. As vegetable prices skyrocket, consumers are spending more but their grocery bags are much lighter. The latest numbers tell it all: potatoes were retailing at 102 per cent more in the second week of December than a year ago. On average, fruits and vegetables are 33 per cent more expensive than in December '08. Even cereals cost 13 per cent more, and pulses 40 per cent more. Finally, with food inflation at 19 per cent, the government has stepped in to say rising prices are a "cause for concern".
The funny thing is, while household greengrocery budgets are ballooning, the farmer says he isn't getting higher returns for produce. So where's the money from vegetable sales really going? Outlook travelled to farms in western Uttar Pradesh, 60-80 km from Delhi, and followed the food trail from farm to fork. It was an instructive journey.
---
From Farm To Plate
Outlook followed the money trail, from farmer's crop to the neighbourhood vegetable shop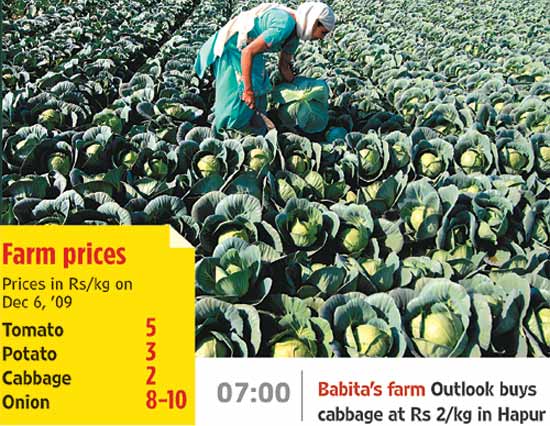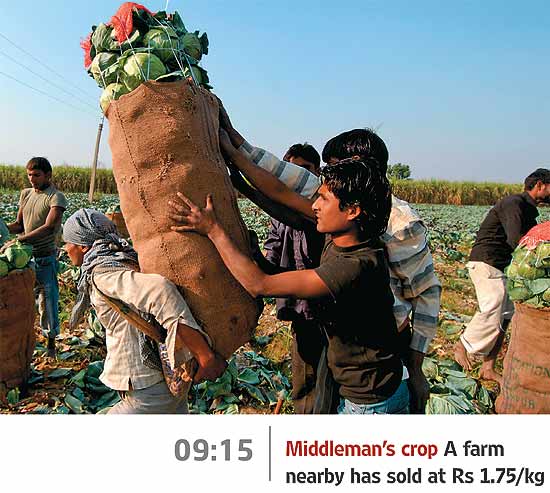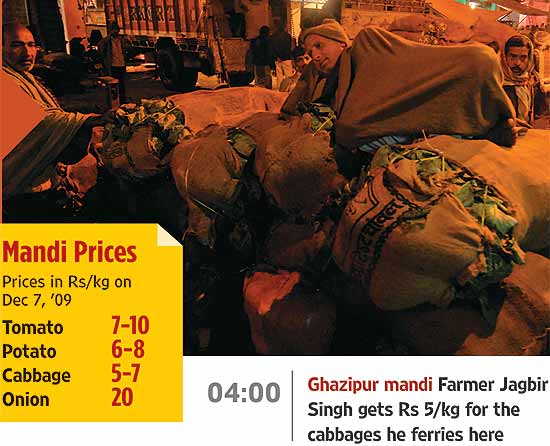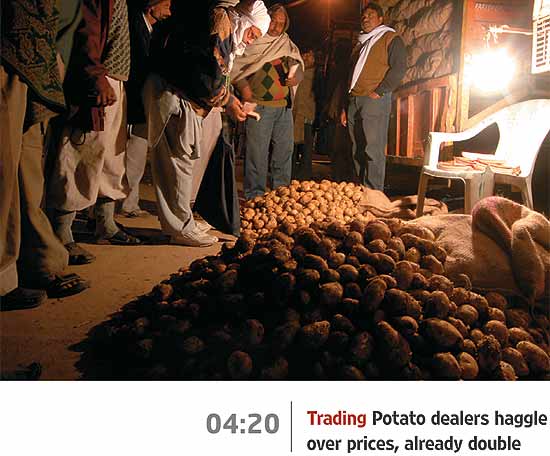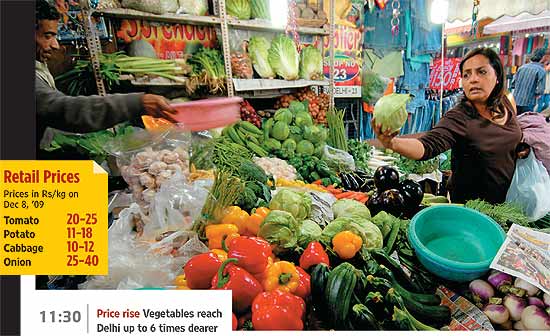 ---
At Ghazipur mandi, one of four big wholesale markets for fresh produce on the outskirts of Delhi, trucks from Uttar Pradesh, Himachal Pradesh, Haryana, Rajasthan and Punjab roll in daily with potatoes, tomatoes, cabbages and 17 other vegetables to be sorted, categorised, bid for and sold to retailers. Farmers at the mandi say this 600-store marketplace spread over 40 acres now barely pays them more than last year. Even the relatively better-off farmer from western UP says he's staggering under the low returns and high-priced inputs.
Take cabbages, for instance. Brought to Ghazipur from farms in and around Hapur, a semi-urban township 50 kilometres away, farmers get under Rs 2/kg for their produce. At the mandi, cabbages sell for Rs 5-7 a kg. In Delhi, it retails for Rs 10-12 a kg. Farmers such as Babita and her family, whose 1 bigha (2.5 acre) farm runs along the national highway to Hapur, are packing their crop for sale to a middleman at a tenth of the retail price. The situation is such that they're now eyeing an offer to sell their land to a construction company, provided they get more than the current offer: Rs 60 lakh.

Another farmer, Jagbir Singh from Sitadeyi, a village seven kilometres north of Hapur, brought his own crop to the mandi. He sold it for Rs 5 a kg, a higher rate than what Babita got, but then he foots the transport and labour bills. "It's a demand-fulfilment market," Jagbir says. "We end up with next to nothing even if we bring it to the mandi ourselves." Ashok Pandey, a farmer in nearby Tatarpur, says he won't make much more money than last year notwithstanding the higher retail rates. His wife supplements their income by running a beauty parlour in the village. Relatively prosperous with two bighas of land, he has two school-going children but insists that returns on his sugarcane, arhar dal and cabbage are not different from last year.
"The value chain is too fragmented. And if there's even a slight supply shortage, agents, end-retailers raise prices arbitrarily. "


Ashok Gulati, IFPRI director
One issue is that it's nearly impossible to determine how much a vegetable farmer spends in inputs in western UP. Farmers claim it costs between Rs 1.25-1.50 a kilo to grow a crop of cabbages. Some say profits this year are up—but only by 2-10 paise per kilo. Across crops, farmers calculate expenses and profits and commissions paid on-the-spot, but it's rough, back-of-the-envelope estimates that shed little light. At least for sugarcane, cabbages, potatoes and arhar, their estimates of expenses are consistently at least five times lower than what retailers are charging consumers in Delhi.
This seems true for other regions not far from Delhi also. In November, peas from Aligarh retailed in the city for Rs 90 a kg—high enough to push consumers to the government-run Mother Dairy outlets where they bought the less fancied frozen, shelled variety. By early December, peas were less dear, but still hovered at Rs 50 per kg in retail. But the wholesale price of peas never crossed Rs 50 a kg throughout the months when consumer prices spiked upwards. At present, onions are retailing in Delhi for double the Ghazipur mandi rate—Rs 25-40 a kg compared with Rs 20 a kg at the wholesale market for the very best variety. Some farmers such as the Hoshiarpur-based family of Santok Singh and Sardar Sohan Singh sold their best quality at Rs 20 a kg. "Potatoes sold for Rs 300-400 for 5 kg when the production was low," says Santok, explaining the spikes.
Where the profits—the wide gap between what farmers get and retailers pay—go is no mystery, says Ashok Gulati, director (Asia), International Food Policy Research Institute (IFPRI). "The value chain is fragmented, commission agents rip farmers off and the pushcart guys extort the consumer. If there's even a slight supply shortage, agents and end-retailers raise prices arbitrarily," he says.
At Ghazipur, the wholesale commission rate (what farmers pay just to enter the gates) is 10 per cent. "Ten per cent is a ridiculous commission for a five-minute job! It should be less than one per cent," Gulati says. He says the middlemen and retailers add 30-50 per cent to the retail prices of vegetables. This, he says, can be lowered to 3 per cent if middlemen and agents are eliminated or streamlined. Gulati also recommends encouraging direct procurement by retail on a larger scale ("when there are no agents, no commissions have to be paid").
"No use jumping to conclusions about organised retail if the market is allowed to be imperfect in the first place."


N.C. Saxena, Ex-EAC member
Others say the regulatory flaws in the current system need to be dealt with first. N.C. Saxena, who was earlier part of the prime minister's economic advisory council (EAC), says that farmers prevented from going to mandis directly or those harassed by the police need to be helped first. "It's no use jumping to conclusions about organised retail if the market is allowed to be imperfect in the first place. First, farmers should be allowed to use links with markets effectively and freely. And second, a long-term assessment of actual costs of vegetable farmers is needed," Saxena says. Not all farmers are poor or impoverished, he believes, some may have better standards of living than we imagine.
Vegetables in Delhi, or any other large city, are expensive, but it's also a low volume-high margin business. Whatever the solution—removing bottlenecks or letting the private sector into organised retail—this cycle of booming vegetable prices can't be allowed to last. It does not make sense if consumers spend more on vegetables but farmers are not encouraged to grow and earn more. Even if prices dip presently thanks to the first flush of winter crops, the endemic problem in the middle of the food chain will linger.