Regional Sorrow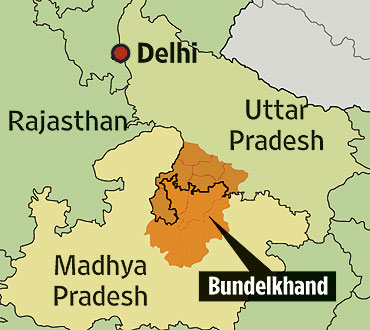 Area: 29,418 sq km
Population: 1 crore
Irrigated area: 8,20,248 ha
Foodgrain yield: 11.32 quintals/ha, half of UP's average
Poverty-driven suicides since 2003: Over 200
Max suicides: 86 in Banda dist
Ministers from the region in Mayawati's cabinet: Six
Bundelkhand's 7 districts in UP are among India's poorest
Failure to implement NREGS properly adding to the crisis
***
When 29-year-old Suman ended her life by hanging herself in her ramshackle hut in Pukari village of Banda district in Uttar Pradesh this year, it did not make big news. Situated as the village is in the dirt-poor Bundelkhand region, the reasons were not hard to seek. Starvation-driven suicides are nothing new here—farming is a thankless occupation in this dustbowl landscape in the best of times, and the drought caused by a poor monsoon has only deepened a habitual distress. Since 2003, there have been about 200 suicides said to have been provoked by indigence—the figure may be higher since deaths are often passed off as having been caused by disease.
Yet, significantly, Suman's was the first case of a woman committing suicide because of drought and poverty. She felt unable to provide food for her children. Some time back, she had lost her seven-year-old daughter to an unknown infection she could not afford to get treated. What probably drove her to take the ultimate step was her inability to manage a single meal daily for her two other daughters.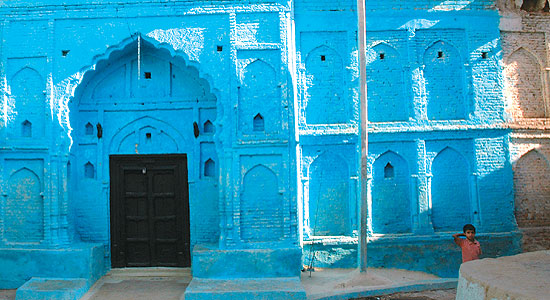 Nothing left: An abandoned village home
"Her elder daughter died for want of medical attention. Suman and her husband Ramesh had to choose between buying food or medicine," says Shushila, a neighbour. "I feel a sense of guilt always remained in the back of her mind, coupled with the failure to earn enough to feed the family." A policeman who came to register the suicide case said the only rations he found in Suman's home was less than a kilo of atta. "That was all," he says. "There was no dal or vegetable. And we were told by neighbours that the family rarely had two meals a day." Ramesh—who, besides hunting for work, now also has to care for two daughters, one five and the other no more than six months—is distraught. "What else could I have done other than hunt for a job every day?" he asks. "I couldn't have been lucky always."
The much-hyped National Rural Employment Guarantee Scheme (NREGS), which ensures at least 100 days of employment every year at a daily wage of Rs 100, has not quite helped Ramesh or others like him. Ramesh's father Changu says, "Well, he did manage to get a BPL card but it has not got him a day's work in the past two years." Similar stories abound in this region, which has a population of about one crore, of which 98 per cent are poverty-stricken.
According to locals, adding insult to injury was the refusal of the local village head to judiciously allocate BPL cards to the needy and the deserving. Apparently the gram pradhan does not issue cards to anyone he suspects did not vote for him. And that identification is usually based on caste lines—an allegation that comes from every quarter. Sant Ram or Saeeda Khatoon, the refrain is, "My BPL card has been withdrawn simply because we do not belong to the same caste as the pradhan."
People are fleeing the region, seeking work in Punjab. Those who stay back are at the mercy of ruthless contractors.
Something as humble as the BPL card is quite a sought-after commodity in Bundelkhand, for it ensures just enough foodgrain to stave off starvation. Even the NREGS card—a token of the central government's flagship scheme—is no help: there are numerous complaints across the region of card-holders being denied jobs. And sample this, from Kazipur village of Banda district. "I had an NREGS card, but the BDO took it away on the pretext of having a new one made for me," says Mohan, the eldest of the three sons of Kalavati, who was widowed when her husband Munna Kori set himself ablaze, unable to get his TB treated. "I am yet to get a fresh one made."
The rains that came in late haven't provided any relief, for the kharif crop was already lost by that time. The only difference the rain appears to have made is to soften the parched look of the red soil; it's now green with wild grass on which cattle graze. "This delayed rain has not helped us in any manner whatsoever. Neither can it do anything to salvage our lost crop, nor does it help us get work in the fields of affluent farmers," says Mohan.
Recalling the day his father doused himself with kerosene and set himself ablaze, Mohan says, "I had managed to get a day's work, so I had gone away. My mother, too, was away, doing some part-time job." When his mother returned, she found flames coming out of her home, but it was too late. Mohan, being the eldest child, has to look after his mother, two younger brothers and an unmarried sister, besides his own two children. Interestingly, chief minister Mayawati's trusted cabinet colleague, public works and irrigation minister Naseemuddin Siddiqui, hails from this very region. But he hasn't yet found the time to visit the victim's family or provide any relief—least of all, arrange for employment under the government's own schemes.
Making matters worse, even the much-publicised farm loan waiver of 2008 has remained a non-starter in the region. Every other farmer complains he hasn't received any relief announced by the central government. Invariably, the farmers blamed it on the local Tulsi Gramin Bank, whose functionaries were alleged to be openly demanding kickbacks in advance to facilitate the processing of the waivers. Badori Raidas, 45, committed suicide by hanging himself from a tree in Bandhapurwa village. The reason: he was denied a loan waiver and knew no other way to pay back his dues of Rs 10,000. Two others—Kishori Lal of Bandhapurwa and Ram Asrey of Mataon—committed suicide for the same reason.
However, it's Parui village that has seen the highest number of suicides over the past three years. As many as nine farm labourers have taken the extreme step. "Such is the common man's plight that many have left their homes and fled to Punjab and Haryana in the hope of employment," says Pushpendra, who heads the Gram Swarajya Prahri Prashikshan Sansthan, a voluntary group. He also blames corrupt land consolidation officials for driving people to suicide.
In neighbouring Chitrakoot, the Kol tribals have been at the mercy of a handful of rich landowners and contractors who engage the men as bonded labour and exploit women by pushing them into the flesh trade.
"Until the sixties, it was affluent upper-caste zamindars who used to buy Kol women for their sexual pleasures," says Gopalji of the Akhil Bharatiya Samaj Sewa Sansthan, a group fighting bonded labour. "But now, there are contractors indulging in illegal mining who are also taking advantage of the people of this impoverished region."
The bureaucracy and the police conveniently dismiss reports of the buying and selling of women in Jhansi, Lalitpur or Hamirpur as false and baseless. In fact, an expose by a TV channel earlier this month so peeved the Mayawati government that it filed a case under the Dalit atrocity law against the correspondent! It produced a so-called affidavit—an agreement on a Rs 10 stamp paper—from the woman referred to in the report that she was married to the "purchaser".
Leaving Bundelkhand, one wonders if there is hope. At the moment, the prognosis is grim even as politicians fight a competitive battle for statehood. Meanwhile, the local administration and contractors exploit the population so routinely, you wonder if statehood would solve any problems.