Many have asked me, put pressure on me, to write the Asiaweek story. It is a story that ought to be written , but I am unable to do it because, 40 years after Mike O'Neill and I gave birth to it, Asiaweek is an ache in my heart. Not bec­ause it died young but bec­ause it had bec­ome an undeniable success within months of its launch and yet, in our ignorance of business, we let go of it until assassins got hold of it—and got rid of it.
Although I was the founder-editor, hapless fundraiser and chief network organiser, Mike was the genius behind Asiaweek. He was an uneducated dropout from New Zealand with a passion for journalism that made him start his career as a coffeeboy in a newspaper. He drifted to Hong Kong, then a dumping ground of the emp­ire's castaways. In a cheap bar one night he was found with his head plopped on the counter, too drunk to say anything. Some desk editors from the Far Eastern Economic Review, out bar-crawling that night, rescued him and arranged a job for him at the Review.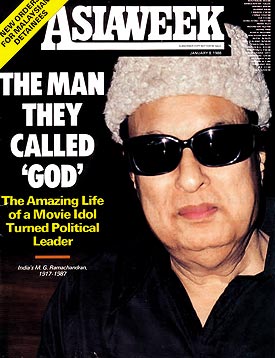 Turn to the south T.J.S. George and Mike O'Neill started Asiaweek, which looks at MGR's legacy in this January 8, 1988, cover
Mike was reborn. With self-­education, he evolved into the most erudite pundit of the English language I have known. (He visited me once in Bangalore and was thrilled to see Select Bookshop, the famous used-book paradise. Owner Murthy, impressed by Mike's knowledge of books, took him home where every nook and corner was stacked with timeworn volumes. Mike could hardly believe his luck when he chanced upon an early edition of Shakespeare. He took it home to Hong Kong like a prized treasure. So much for the school dropout.)
When Mike joined the Review, I was its political editor. After he copy-edited some of my reports from war-ravaged Cambodia and Vietnam, we became a team. No, we became soulmates. The main reason, I think, was that behind Mike's white skin beat a brown heart. I conveyed to him the FAQ I heard from politicians, businessmen and academics I met during my regular trips to Southeast Asian countries: Why was the Review, owned and edi­ted by Britishers, the only magazine of Asia? Why was there no Asian magazine owned by Asians and speaking for Asia?
The idea of Asiaweek was born through those conversations. But we had no notion of how to make the dream a reality. We were good at journalism but hopeless in running a business. We needed something in the neighbourhood of a million Hong Kong dollars, a small amount, but beyond our comprehension then.
The task of finding the money fell on me and I feared and det­ested it in turn. But I had to do it. I met some giants of Asian business, the most memorable being the Chinese shipping magnate Y.K. Pao, who was not second to Aristotle Onassis in those days. But finally we decided to go with a prestigious Philippine bank. The final lunch meeting I had with the chairman is still fresh in my memory. That he signed the papers at that meeting itself was a minor factor. What impressed me out of my wits was that he ordered a rare wine and when the waiter brought it and showed him the label and offered the customary first sip for approval, he rejected it; the waiter had to fetch a fresh bottle and repeat the courtesies—and this time my sophisticated host nodded approval.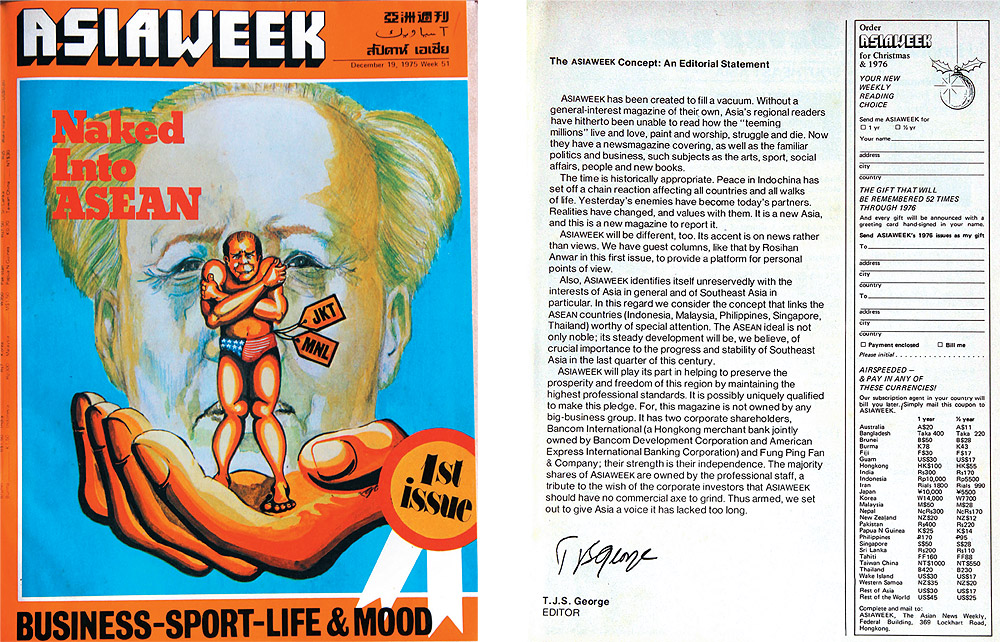 Their Manifesto Asiaweek, funded by a Philippine bank, aimed to be an Asian magazine speaking for Asia
Asiaweek hit the ground running because the concept of an Asian-owned Asian magazine clicked. In our coverage, in the regional cele­brities we assembled as columnists, Asia's voice was unmistakable. There was no flag-waving patriotism, but there was no apology either. We told those who asked: we cover Asia with the same pride with which Time magazine covers America.
Did the bosses of Time hear that? Not long after Asiaweek became a topic of discussion, Time beefed up its operation in Asia and started printing in the region. Rising to the challenge, the Far Eastern Economic Review expanded its network and strengthened its base operations. Asiaweek could no longer be a shoestring operation. It needed more bureaux, more sales staff, more initiatives.
Where was the money? Our Philippine lenders had told us that what they gave us was the farthest they wanted to go. Our only choice was to look seriously at the suitors who had started coming to us attracted by Asiaweek's success.

For The Serious Browser The iconic Select Bookshop in Bangalore. (Photograph by Kashif Masood)
The chief editor of a famous Australian magazine flew in to meet us and opened his talk with the sentence: How much will it take to buy you mates out? He was probably just being a chummy Australian, but it was an undiplomatic opening. Mike and I were not for sale. Our dropping him then and there was, in retrospect, our first blunder.
The second and fatal one was our accepting Reader's Digest's offer to partner us. We were motivated by RD's clean and healthy image. We did not know that it was no longer founder Dew­itt Wallace's principled, editorial-led RD, but a mail-order company given to questionable business practices that would force it to file for bankruptcy twice. In our foolish idealism, we did not even ask them for any money other than the rep­ayment of the loan we had taken from the Philippine bank. That must have surprised both RD and the bank—RD because it was a pittance for the majority share they got in return, and the bank because they had never expected repayment.
The extent of our stupidity dawned on us when, less than five years later, RD sold its shares to Time for a few million US dollars. The Time management's intentions were iniquitous. Instead of building on the strengths of Asiaweek, as business logic demanded, it set out to destroy them. It ousted Mike, transgendered the general newsmagazine into a business magazine, then mutated it into something unidentifiable and finally killed it in 2001.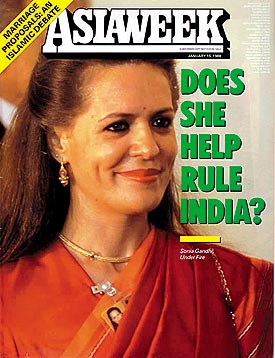 Tell, soothsayer Asiaweek trains its lens on Sonia on January 15, 1988. Later, Time turned it into a bland business magazine.

Strangely, the Dow Jones company bought the
Far Eastern Economic Review
in the 1980s and, instead of building on its well-established strengths, disfigured it by merging it with the
Asian Wall Street Journal
, then transfigured it into a monthly and finally killed it in 2009. Was America's business approach to Asia as incompetent as its political approach? They messed up things in such a way that the only military defeat they ever experienced was from a tiny Asian country which only had a barefoot army. On the media front also, they got two of Asia's strongest brands and they handled it the way monkeys handle flowers. A columnist described the closure of
Asiaweek
and the
Review
as murders in the cathedral of good journalism.
The sabotage of Asiaweek crushed Mike. I was not shaken that badly because I had withdrawn from the scene after Digest's entry, knowing that Mike would be better at handling the Americans. He handled the Digest's local manager, a petty American, by once asking him to get out of the off­ice. He handled Time bosses with ideas and suggestions so professionally superior that they must have known that he would make a better Time edi­tor-in-chief than any of them.
I now realise that, as the loss of Asiaweek sank in, Mike must have felt all shattered inside. Pressure must have mounted, and kept mounting, as he began planning—alone this time—a new magazine. It must have peaked the night he was giving finishing touches to a project report he was to present to a friendly investor group the next morning. He did not live to see that morning. It was 1997, three years after he had lost Asiaweek, the love of his life, the pride of his career. He was not yet 50.
---
Founder-editor of Asiaweek, T.J.S. George worked at Free Press Journal in Bombay and Searchlight in Patna before he went to work for the Far Eastern Economic Review