The Esoteric Erotic
The oldest known dildo is a 20-centimeter siltstone phallus that was found in Hohle Fels Cave near Ulm, Germany
Vibrators were used in the 19th century in asylums to treat "female hysteria"
In Japan, sex toys are usually shaped like cute woodland creatures like rabbits in order to avoid legal hassles
The sale of luxury sex toys went up during the recession, the only luxury products to buck the downward trend
***
Have you seen the first Toy Story? The one where Woody, the wooden cowboy, gets upstaged by a plastic spaceman who comes with all the bells and whistles. When it comes to toys for adults, it is pretty much the same story—with a different sort of happy ending. Sex toys are nothing revolutionary in Asia. Chinese women in the 15th century had dildos made of lacquered wood with textured surfaces. And even the Kamasutra is enthusiastic about "sex aids" made from wood, gold, silver, ivory and, of course, animal horns. But somewhere down the line, dildos made from jade and ivory—displayed proudly as objets d'art—became plastic-wrapped in silicone and rubber. We turned ever more Victorian as time passed and became increasingly prudish about 'that kind of thing'. Which is why my face is a permanent flush of red as I trawl through Mumbai's Crawford Market in the middle of the day, asking strange men in electronics stores for a "ladies massager". An evening of internet research the day before had informed me that: a) you find sex toys aplenty in Crawford Market and b) they are euphemistically called "massagers".
I am greeted by a scary looking tool. It couldn't possibly be what I'm after... "Touch it and see how it vibrates. It's very good." I bolt.
The first shop I walk into, I can't bring myself to say the words. So I ask for a ladies shaver instead, just to get the conversation going. And then, staring very hard at the counter in front of me, ask for a massager. I am greeted by a very scary looking power tool that cannot possibly be what I'm looking for. Turns out it really is a massager—for sore necks, shoulders and aching calves. The same thing happens in the next shop and the next—till I finally ask for something "smaller". The penny drops and there is the suggestive smirk, a lean over the counter and some hardsell about the various smaller "attachments" to the power tool. "Touch it and see, see how it vibrates. It is very good." I bolt.
After dawdling through Bhendi Bazar and staring wistfully at the recently fire-gutted Manish Market (supposedly brimming with sex toys just days ago), I curse my luck and sms an sos to a journalist friend who might know a little more about these things. She does and the next day I'm armed with a specific location in the labyrinth of south Mumbai and surprise, surprise, I also come across a bonafide online Indian sex toy store, masalatoys.com. The evening I spend on the website is an entertaining crash course in sex toys. I'd known of dildos and remote-controlled egg-shaped vaginal vibrators (thanks to a movie called Shortbus). I had not, however, heard of penis sleeves, double dongs, "suction cup dildos" and G-spot-arousing "curved" dildos. Those are girlie things. In the boys' section, the star sellers were the "fleshlights" shaped like, yes, flashlights, with pulsating hollow interiors and the "vibrating Spain Girl".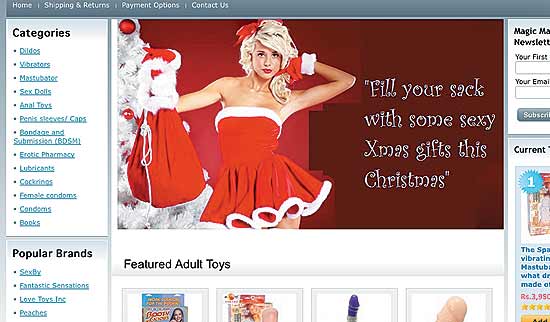 Pleasure, a click away masalatoys.com
The 'customer care' rep on the other end of the masalatoys.com helpline has a decidedly circumspect "Indian Yankee" accent and an obviously fake alias. "Rajesh Kumar," he identifies himself as, when I tell him I'm a journalist interested in learning more about his business. "I don't do this for the money, you know," Rajesh explains. He is "helping the single guy in the city who would otherwise have to go to a prostitute, the married couple who wants to spice up their sex lives and the sexually dysfunctional who need battery-operated love to orgasm".
Rajesh says the number of customers he gets is about 30 to 40 a month. A figure that does not wash, given the daily traffic the site receives, plus the fact that the toys are delivered discreetly in plain packaging to the home address or the neighbourhood courier office if the client doesn't want them signed for by curious family members. Add to that the hassle-free 'pay by credit card' option, with the purchase showing up as an inoffensive store name on the monthly statement. While Rajesh might not have been entirely honest about the number of customers he gets, I have no problem buying his next statement. Apparently, in this particular sport, both men and women are equally enthused players, with sales divvying up 50:50.
From the Rs 200 Durex condoms and Rs 550 lubes available at the corner pharmacist to the actual toys—priced in the Rs 3,000-13,000 range—sales hit a high on, yup, you guessed it, Valentine's Day and the 'festival season'. "I get a lot of husbands who are on overseas assignments sending dildos and vibrators to their wives in India because they are not at home. A lot of (my customers are) divorced people," remarks Rajesh. And he gets sex therapists and sexologists ordering his goods for their patients. Most of the products are imported from China, the US, Japan and Russia with some made right here in India.
The next day, when I step out of VT station, I feel like a old hand at this. I head to the spot where the sex toy sellers sit—as directed by my friend. I am armed with research on the internet and Rajesh's insights. As soon as I see the first phallus-shaped objects displayed alongside breast massage creams, washable condoms, and other such erotica, I pull out my notebook and start asking questions. Three sellers refuse to speak to me outright. The reason is simple. They don't want the publicity because the police harass them. I finally get one to talk to me after he gives me a morality lecture on why I should not be writing about dirty things like his wares. The number of customers he gets is about the same number as Rajesh's. "We get one to two buying customers a day and they all know what they want, asking for them by the toys' specific names," he says. For "special customers", they source sex toys on request—over and above the tiny number of products on display. Apparently, there are a lot of "hi-fi" clients making purchases. On the street, it's mostly men buying the products though, with most girls sending their male friends to do their shopping as well. "Sometimes, they come together and make purchases too," he tells me. I take heart in the fact that romance, at least, hasn't gone the way of the dildo... dodo... just yet.