While the ban on cow slaughter was already in place, the fresh ban on slaughter of male bovines (bulls and bullocks) threatens to rob the livelihood of millions across religions in Maharashtra, Prachi Pinglay-Plumber discovers after speaking to a cross-section of people involved in the beef chain—from farmers to exporters. Even as the NDA government at the Centre seeks to circulate the Mah­arashtra Act as a 'model act' to states, experts have questioned the wisdom of the ban. Haryana, meanwhile, threatens to treat cattle slaughter as 'murder' and prescribe a life sentence for the off­ence. Meanwhile, as other BJP-ruled states prepared to follow the example, the party's government in Goa curiously scrambled to augment supply of beef following complaints of shortage in the market.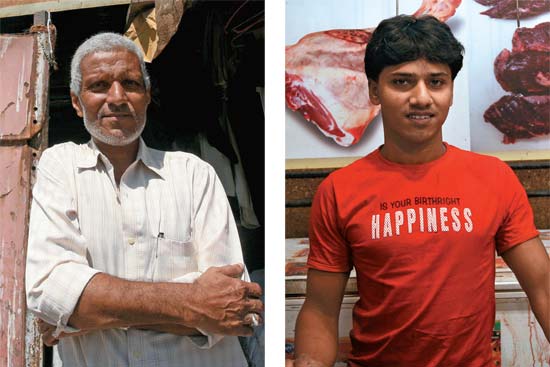 Photograph by Amit Haralkar
"No Money To Send Home This Month"
A.Q. Gani Qureshi, shop owner
Mohammed Nabi Anwar, worker
His friends and colleagues start giggling and making fun of him as he poses nervously in the shop with his butcher's knife. But there's no meat to process. All of 22, Mohammad has been sending Rs 5,000-6,000 to his family back home in Bihar for the past five years. He makes about Rs 300 per day working at Gausia Beef Shop, in a congested bylane near Mahim bus depot. "I can only do this work and make around Rs 8,000-9,000 per month. I didn't study beyond Class V and came here to work as soon as I turned 17. Now, I am getting only half the salary because there is no work," Moha­mmed says, unsure of how long he can continue like this. "We share a room in the basti and have to pay rent. Every day I need money to eat. I don't think I am sending anything home this month," he says. Community elders are worried the 'unemployed' youth could turn to a life of crime if the situation doesn't improve.
If the workers (mostly migrants), are in dire state, the employers aren't doing too well either. At the National Beef Shop, nestled in Kashinath building at Kapad Bazar, Mahim, A.Q. Gani Qur­eshi stares vacantly at his empty shop, with its sign saying "high-quality beef since 1976". The licensed beef shops do not sell any other meat.
"Our customers are Christians, Dalits and Muslims...in that order. No one prefers buffalo meat because it is harder and less nutritious. We sell meat at Rs 140-200 per kg (with bone or boneless). Contrast that with mutton at Rs 450 per kg," Qureshi says, adding that his own family of 10 members is solely dependent on this one shop, which sells about 70-80 kg per day. "We ourselves do not slaughter female cows and it is not allowed in Islam either, but no one is listening. Now it is risky to keep any meat, buffalo or otherwise, even in the freezer. Who can chance it, being put in jail for this? But our customers ask every day when we will resume business."
---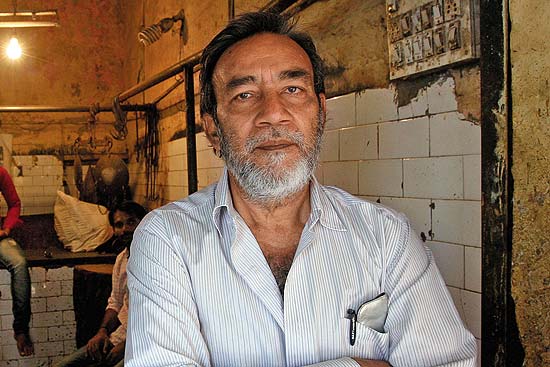 Photograph by Amit Haralkar
"Most Beef Exporters Are Non-Muslims"
Halim Qureshi
Wholesale supplier of beef
"We have been in this business for generations and this is the first time something like this has happened," says Halim Qureshi, owner of four shops in Mumbai. Every week, on Monday and Friday, Halimbhai makes a trip to the Deonar abattoir, where he buys 15-16 animals. It was almost a ritual for him. "We pay around Rs 20-25,000 per animal and have two or three slaughtered every day. We pay all the charges—for slaughtering, stabling, transport to the civic body, it comes to about Rs 2,000 extra per animal."
But since March 3, he hasn't completed a single successful transaction. "Most members of the community lead a hand-to-mouth existence. They work and earn for the day. This ban will throw everything out of gear," says Halim, pointing out that even buffalo slaughter, which is allowed, has been stopped to show solidarity. He has documents from old SC judgements dating as far back as 1955 and is tracking the cases closely.
Seated in his badly lit shop in Bandra east, workers gather, each showing videos and pho­tographs of drivers of vehicles carrying animals getting beaten up, mass slaughter of cows at unidentified places and so on. "The VHP and Bajrang Dal people catch our vehic­les midway and attack. They loot the anim­als and no one helps us," says one. Another video shows farmers at a bullock bazaar com­p­lai­ning about the ban. Then there are the jokes.
"It's wrong to say that only Muslims will be impacted or that only we are involved in beef eating or selling. Most of the exporters are non-Muslims. Many ancillary businesses such as leather, animal fat in chemical indu­stries, soaps, use of bones and horns for mak­ing buttons etc have plenty of Hindu employees and consumers. Not to mention the Dalits who regularly eat beef. After all, it is the poor man's protein," says Halim.
---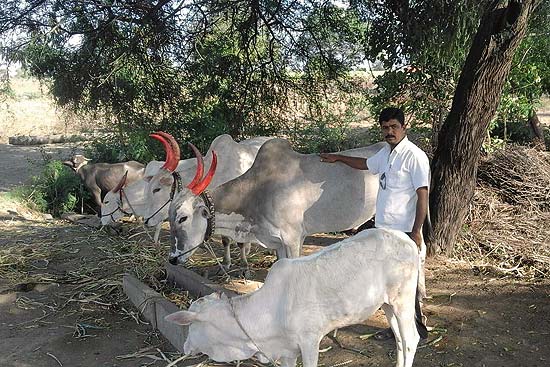 "Can't Feed Family, How Will We Feed The Cows?"
Satish Solanke
Marathwada farmer
Satish is one realist Hindu farmer. He's very fond of the cattle on his farm but he also recently sold an old pair of oxen to get a new pair. Disturbed by the ban on slaughter of bulls (female cows are protected anyway), he wonders if any farmer will be able to sustain livestock now. "There is absolu­tely no end to the grievances of farmers in Maharashtra. We have been battered by all sorts of natural calamities, drou­ghts, hailstorms, unseasonal rains...and now we can't sell the old cattle," says Solanke who has a few acres in Jalna district of the Marath­wada region. This part of southern Maharashtra has seen severe drought and farmer suicides are on the rise.
"Honestly, the farmers don't even have the resources to feed their old, ageing parents. I know I am sounding cruel but these are the facts. Every family will keep and take care of one or two cows till their death, but all of them? When families are starving, how can one provide for food and water for the cattle?" he asks. He says a single cow or a bull needs fodder worth Rs 200-300 every day. Not to mention medical expenses, space for the cowshed and other expenses. "We use cowdung as natural manure and it was worth keeping the cattle for that earlier. Now, because of the hostile policies for crops like jowar and wheat, farmers only grow cash crops, resulting in the compulsion to buy fodder."
Even the people in the dairy business are asking what they would do when the cows grow old, says Sol­anke. "Farmers are emotional people and they love their cattle. They don't like to think about what happens to the animal after it is sold in the market. But viability and survival are today's realities. I fear now that no farmer will actually keep cows and bulls. The concept of the 'gotha'(cow shed) might disappear."
---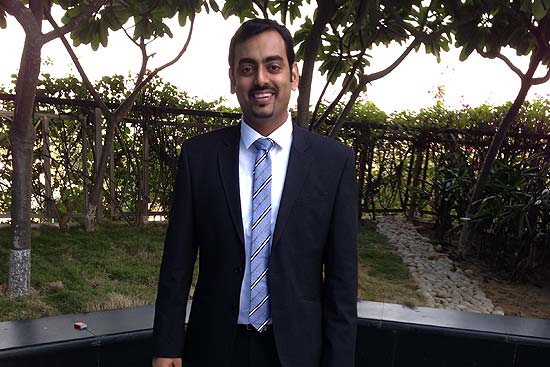 "Is This A Democracy? Let's Ban Brinjal Too"
Aravind Nair
Beef connoisseur
In Mumbai for a decade now and a regular at most of the city's Kerala and continental restaurants, Aravind is furious about his beef fry disappearing from Hotel Sunny. "It's simple. If you don't want to eat something, don't. Banning is no solution. I do hope the government comes to its senses soon. The ban on beef sale and jail term for possession is downright ridiculous! If you ask me, the government barring people from choosing what to eat violates two of our fundamental rights as set by the Constitution of India—the right to life and right to freedom. The ban must be revoked."
Aravind is one of the few vocal people to see the ban as a 'signal' sent by the gover­n­ment. "It's regressive and implicitly sends out a wrong message to the non-Hindu population in the country. It's worrying."
For someone who eats beef at least once a week and frequents Sunny for his dose of parotta-beef, ("Please, it's not 'paratha' or 'parantha'. It's either parotta or porotta"), Aravind asks who all will the governm­ent app­ease. "Jains don't have onion and gar­lic, so why not ban that? Islam prohibits consu­mption of pork, so why not ban that too? Personally, I don't like brinjal, might as well ban that too! The basic premise of democracy and equality is freedom of choice."
Earlier, Aravind was a happy man in the city, one who was for a while even on a "mission" to ident­ify the best beef burger patties in town. But now he's just at all the different bans the city has. "The ban on beef is going to kill the livelihoods of thousands of people employed in the trade. What's the Maharashtra government doing to rehabilitate them? Is the government trying to create more employment or taking a step backwards? First dance bars, now a ban on beef. Makes me wonder if we truly are a democracy."
---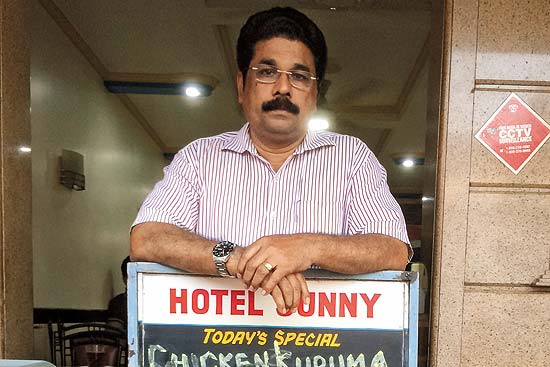 Photograph by Apoorva Salkade
"It's Just Not The Same For My Customers"
Jacob Varghese
Hotel Sunny, Chembur
The lively Jacob Varghese is not only popular with Malayalees, including Hindus, Christians and every other denomination, he's also the go-to guy for the students of Tata Institute of Social Sciences, which is not far from his Sunny Hotel, Chembur. With a little prodding, the hotel owner, known for his delicious preparations of beef fry and Kerala parotta, explains what the ban would mean. "Many of my customers come here especially to eat beef. Along with beef they also eat other things but if we can't serve beef, they wouldn't be coming all the way here at all," says Jacob emphasising that beef is not taboo in many Hindu communities.
Although he is reluctant to share business details and turnover, he says he will be losing at least 20-30 per cent of his customers. "We are introducing different preparations of mutton, fish and chicken but those who like beef do not like anything else. It's just not the same for them, though we do a bit of cajoling," says Jacob sheepishly. Hotel Sunny is not exactly a poor man's hotel but price of a beef dish is about half of the same in mutton. "How will people pay more for something they didn't want in the first place?" he asks.
He too has the same concerns about serving buffalo meat, as it's not a preferred meat. Battling with several other factors like taxes, fast food joints and the rising prices of everything from real estate to ingredients, Jacob is a worried man. "I don't know if it's really possible to continue like this. The ban on beef will be the last nail in the coffin for those who are trying to run a genuine business."
---
"It'll Push Everything To The Black Market"
Vilas Sonawane
Dalit activist
Vilas Sonawane has all the numb­ers of the beef business on his fingertips and can rattle out every law and judgement on the issue since India became a republic. Over and above that, he has a menacing forecast for times to come. "Some 75 per cent consumption of beef is by non-Muslims, which includes tribals, Dalits, OBC communities and others. By allowing buffalo meat, which is only exported and not consumed locally, the poor are not helped at all. Prices will double now," says Sonawane. He says that at Rs 120 per kg now, beef is cheaper than even some vegetables.
What bothers him most are the implications of this ban. "It will just push everything into the black market. Extortion, corruption, bribes to officials, politicians and police will increase. This is forcing a part of society to embrace a mafia life," Sona­wane says, adding that this was an act of foolishness on the part of the BJP.
"In the past three months, when butchers and beef traders were on strike for 40 days, nearly 25,000 animals have been looted. If hundreds of animals are slaughtered on a daily basis in Mumbai, Pune and licensed but­chers shops in other places in Mahar­ashtra, then where are all those animals? This is a deliberate effort on the part of the government to take away the business from a self-employed butcher to corporate cartels where exports remain unharmed," he alle­ges, adding that most exporters are Jains.
He's not hopeful about the politicians eit­her. "When the president asked the state government in '06 about this bill, how come no one opposed it? That's why the presid­ent signed now. We are looking at a time when we'll pay Rs 200 for a kilo of potatoes."