For the small but growing tribe of Indian e-retailers, it is their worst nightmare come true. Last week, Amazon, the world's largest e-retailer, made a quiet entry into India through Junglee, a company it had acquired in 1998. Though Junglee has not entered India as an e-retailer—it cannot, since foreign direct investment (FDI) in multi-brand retail isn't allowed here yet—it's already created quite a stir in the market. Existing e-commerce companies are reworking their strategies, some of them joining hands with Junglee, and critics are parsing through the fine print of Amazon's entry plan into India.
Amazon had to improvise on its model to enter India—a market it could not afford to ignore for long. It also needed a head start before the gates were opened by the Indian government (which, if what one is given to believe is true, is but a matter of time). So, it chose Junglee, an evidently Indian name, as its vehicle in India, an indirect approach to gain a presence in the growing e-commerce market place in India.
Amazon's strategy is simple. While Junglee is not directly selling products or issuing invoices in India, it has been launched as a product comparison website which lists products and redirects customers to merchants in India and to Amazon.com in the US for actual purchases. Like the hybrid model Amazon follows globally, Junglee too lists online and offline merchants who actually sell products through its website. According to some sellers, these merchants have been cherry-picked by Amazon for Junglee. It appears this service is free—there is no transaction fee being charged by Junglee from the customers or retailers it showcases.
"Amazon entered India via a model wherein it is not selling directly. There seems to be no problem as per the existing laws."
Thanks to the strength of the Amazon brand, Junglee has already started getting heavy traffic within a week of its existence. According to some market estimates, it has already surpassed many leading Indian websites in terms of traffic volume. That said, while Junglee does offer a small price advantage on products, India consumers are yet to be convinced about its authenticity. Some online buyers that Outlook spoke to said that they had checked out the Junglee website to compare products and prices, but were not sure whether they would buy through that route.
Amazon's India strategy, while within the rules, has raised many questions as the overall banner remains that of Amazon and the prices of products are offered in Indian rupees, giving buyers the experience of actually buying from Amazon. In fact, for some products, they are redirected to the amazon.com site. Says K. Vaitheeswaran, CEO of Indiaplaza, a leading Indian e-commerce site and a merchant on Junglee, "Junglee allows Amazon to be present in the Indian market and understand Indian consumer preferences without putting the Amazon name in it. They are doing everything but billing. Amazon is waiting for the FDI rules to be relaxed."
Outlook's questionnaire to Junglee was unanswered as of going to press.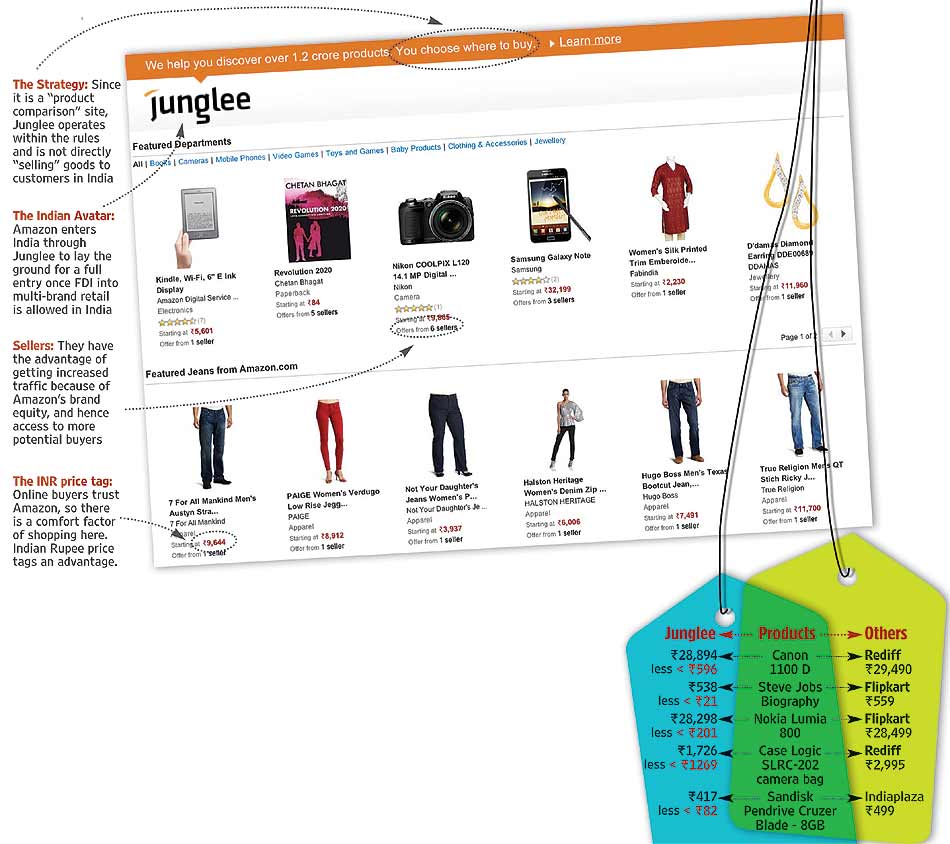 Obviously, Amazon would have ensured that its model is well within prescribed Indian rules on retail even as it allows Amazon to get a taste of the Indian market and consumer. Says Kapil Dev Singh of Coeus Age, an IT consulting firm, "Amazon has entered India through a model where it is not selling directly, but only showcasing and aggregating the information available with multiple product and service providers. There seems to be no problem as per the prevailing laws in the country. However, how they expand further will define whether there are legal implications."
While India has seen other product comparison websites before, these have been relatively smaller players with none possessing the scale and brand reach of Amazon. Says Hitesh Dhingra, ceo of letsbuy.com, another e-retailer, "The challenge for comparison shopping in India is that there are few online sellers and in many categories of products, there are very few options. We have had several comparison websites but nothing has worked." This, he says, is because after the initial trial purchases, buyers usually make a fixed choice of a particular website from where they are comfortable buying online.
"Customers want their e-shopping experiences to be consistent and free of hassles. Junglee cannot meet this need."
So what will Amazon's entry mean for the Indian market? The entrance of the world's largest e-retailer is being watched cautiously by all Indian players. Everyone believes Amazon, with its huge brand equity and financial muscle, will shake up India's e-commerce market and force a flurry of M&A activity in the country. Even as we go to press, Flipkart, India's biggest e-retailer, announced the acquisition of letsbuy.com.
Besides bolstering their defences, the big players are putting up a brave front. Says Sachin Bansal, ceo and co-founder of Flipkart, "Junglee.com, being an aggregator site that does only price comparison, the value proposition for the customer is limited... the market needs players who can get the masses from offline to online shopping. For this, customers need a place that they can rely upon to provide a consistent, hassle-free shopping experience. We feel Junglee in its current form is incapable of meeting these expectations." Incidentally, Flipkart was started by two ex-Amazon employees and currently has a user base of over 2 million.
Experts, however, believe that Amazon will help create a much larger e-commerce market, considering that both internet usage and e-commerce are at a nascent stage in India. But growth has been promising at about 80 per cent annually even as the country's internet population has experienced a slower rate of growth at 30 per cent. According to market estimates, less than 20,000 people were buying online in 1999. In 2011, that number climbed to 7 million. In 2015, the industry expects this number to rise up to 75 million.
But are Indian retailers content to piggyback on Junglee in order to court buyers? As long as it drives traffic to his website, it's fine, feels Vaitheeswaran. Others, however, do not share his point of view. Says Dhingra, "We want direct traffic onto our website. I don't want my customer to come to me through Junglee." That, retailers feel, is because the brand name of the website from which a customer selects his/her products is what he/she finally remembers.
In the end, the future depends on which horse can run longer. Amazon has deep pockets and deeper pools of experience. India's online retail industry is fledgling—even now, no e-commerce business is totally profitable in India. It's inevitable that, at some point in time, the Amazon warrior will win.