Want to see the Northern Lights or would you prefer to be lost in a Purple Haze? Perhaps an infused brownie will awaken the keener senses. Because, as Bob Dylan decreed some decades back: "Everybody Must Get Stoned." In Jamaica, Peter Tosh commanded in 1976: "Legalise it, don't criticise it. Legalise it, yeah, yeah, and I will advertise it." In India, it has the blessings of the gods if not always of the mortals, and no Shiva bhakt can claim to be true sans a chillum or two.
Now millions of connoisseurs around the world can tip their joints to the lucky citizens of the serene republic of Col­o­rado who are living out their wildest fantasy—scoring pot, not from the neighbourhood pusher in some dark alley but from flood-lit, swa­nky clean, state-approved shops. It comes pure, weighed and packed like any other product on the market.
On January 1, Colorado, literally, went to weed. It became the first US state to sell recreational marijuana, bringing to conclusion a debate that has raged in America since the hippie days. It also became the first in the world to regulate the entire process, from "seed to sale".
A unique experiment, it will likely be replicated. The federal government has decided not to block the states as long as local governments str­ictly regulate stores, sales and production. Incidentally, the sale of "medical marijuana", on a doctor's pres­c­ri­ption, is already legal in 18 of the 50 states.
Yes, many think Amsterdam was decades ahead but not really. Marijuana rem­ains a controlled substance in the Netherlands and those famed coffee shops selling it are technically illegal. The Dutch follow a soft policy of non-enf­orcement on "soft drugs". Uruguay legalised the cannabis industry last Dec­ember but it is yet to implement the law.
So no surprise that all eyes—reddened or otherwise—are on Colorado. The merry marijuana meisters raked in $1 mil­lion on the first day of sales with ent­husiasts even driving in from other states to line up. As jars of African Queen, Bubble Gum and Acapulco Gold emptied, stricter limits had to be imposed beyond the one-ounce-per-person-per-day allowed by state regulators so as not to disappoint those waiting patiently (some for five hours in the bitter cold).
Denver City councilmen and police were satisfied too, the crowds were calm and peaceful. None of those alcohol- fuelled fights common when young people gather. But then the stoner crowd has alw­ays claimed a superior chill factor. They generally get the urge to munch, not punch.
Sean Azzariti, an ex-marine who served two tours in Iraq, became the first person in the US to buy marijuana under a state-sanctioned system. He wasn't just anybody but part of a savvy media event organised by the National Cannabis Indu­stry Associ­a­tion (NCIA) with cameras rolling and statistics ready in handouts.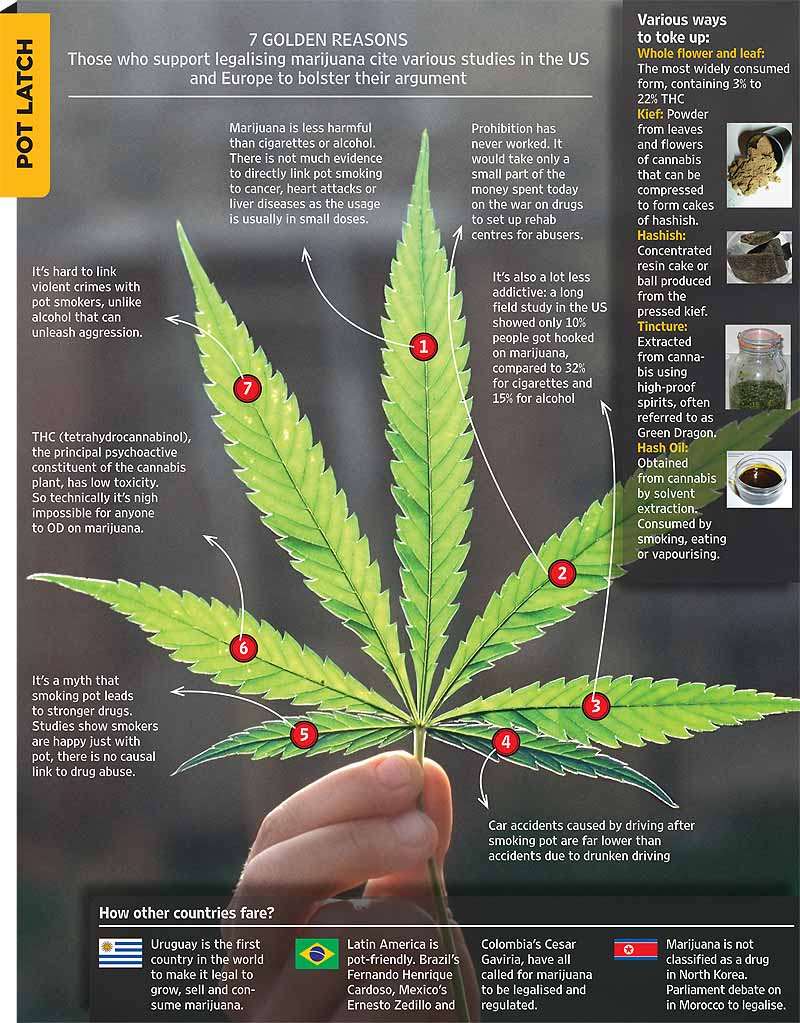 Azzariti was the perfect mascot for the cause—he suffers from post-traumatic stress disorder and must take three different drugs to deal with it. He came to pot when he could no longer stand the cocktail of Xanax, Klonopin and Add­erall—all psychotropic drugs. He ann­ounced that cannabis had "saved my life, basically" to cheers all around.
The pro-legalisation camp points to the obvious revenue benefits. Colorado's economy will rake in $200 mn this year.
The open, bold statement from a member of the elite defence forces shows how marijuana has moved out of the shadows to become a professional industry with a national association, crisp spokesmen, even lobbyists. Just like any other trade association with investors in dark suits looking to make a profit. It's a lesson in how societies change, grow and institute new public policy, especially pertinent at a time when India, the world's largest democracy, has just taken a step back by recriminalising homosexuality.
In the US, the movements to legalise gay marriage and marijuana have grown almost simultaneously with a few progressive politicians standing up against the regressive laws and social mores of another era. Increasing use of marijuana for medical reasons, including as treatment for nausea, after-effects of chemotherapy and symptoms of arthritis, was a major booster for wider acceptance.
Support for legalising marijuana inc­r­eased steadily among Americans from a mere 12 per cent in 1969 to a solid 58 per cent in 2013, according to Gallup. A good number (38 per cent) admitted to trying pot, including the last three presid­ents. Even between Bill Clinton and Bar­ack Obama, a huge distance was travelled from claims of "I didn't inhale" to "I inh­aled frequently. That was the point."
Obama, while in high school in Hawaii, hung out with a "self-selected group of boys who loved basketball and good times" and called themselves the Choom Gang. Choom is a verb, meaning "to smoke marijuana". These smoky gems are from a well-acclaimed biography, Barack Obama: The Story by Washington Post associate editor David Maraniss. Obama is credited with starting a few pot smoking trends—"TA" or total absorption meant keeping it in for the longest time or "interception" when he would intercept a joint for an extra hit.
The pro-legalisation camp points to the obvious revenue benefits from high taxes on marijuana sales, eliminating the black market and eventually the dealers. Col­orado is expected to rake in $200 million for its economy as a result. It is also likely to boost tourism, which may prompt other states to consider their own cannabis retail outlets. Nearly one-third of those who waited outside various stores in Denver on New Year's day had come from other states.
The NCIA says signatures for ballot initiatives on legalised sale are being col­l­ec­ted from Maine to California. Alaska will vote on legalising pot this year while Oregon, Massachusetts, Arizona, Mont­ana and Nevada may see action by 2016.
To be sure, the stoner heaven of Colorado is under watch. If there is a spate of pot-related accidents or people getting sick of buzzed out crowds disturbing the peace, public opinion could reverse. Opponents have already warned citizens about the onset of 'Big Mari­juana', just like 'Big Tobacco' years ago, which downplayed the ill effects of cigarette smoking and addiction. The debate continues in the caves of Fox News and other conservative bastions where guns are cool but not bongs.
---
By Seema Sirohi in Washington