His favourite quote, says Greenpeace International's executive director Kumi Naidoo, is from Mahatma Gandhi, whose photograph has always adorned his family home in South Africa. The man who fashioned civil disobedience as a mode of protest here had said: "First they ignore you, then they laugh at you, then they fight you and then you win." It is these words Naidoo takes heart from as governments fight Greenpeace in courts, invade the organisation's privacy and prevent its activities. They are fighting a losing battle, says Nai­doo. "When governments respond with force, they help us grow the movement," he told an interviewer in London.
He might have another chance now, as he prepares to respond to charges that Greenpeace stands in the way of India's growth. A sustained campaign in the media, triggered by an inspired leak of what is claimed to be a report submitted by the Intelli­gence Bureau (IB), has called for suitable action against NGOs like Greenpeace, ActionAid, Amnesty International and cordaid. The report has pointedly recommended that the government choke the flow of foreign funds to these entities.
Curiously, on the very day the report reached the PMO, Nri­pendra Mishra, principal secretary to the prime minister, wrote to secretaries expressing grave concern and calling for more details. Two days later, on June 5, he apparently sent a remin­der demanding that the PMO be informed of the people behind the NGOs agitating against nuclear power, coal-fired power plants and GM seeds and also against iron ore and bauxite mining by large corporations like POSCO and Vedanta Plc.
Even more curiously, the IB's covering letter was signed by joint director S.A. Rizvi, who had been transferred to Guwahati on the day of the Lok Sabha election results, May 16. The covering letter too was leaked with the report, raising questions about the timing and motivation of the exercise. Was it meant to kill two birds with one stone—send a signal to the NGOs and at the same time embarrass the officer, whose wife, an ips officer, had deposed against BJP leaders before the Lib­erhan Commission looking into the demolition of Babri Masjid?
"If an NGO can reduce India's growth rate by an extent even the meltdown couldn't, then there is a problem with the credibility of the state."

The report itself is shoddy enough. It takes note of the fact that a little over Rs 11,500 crore of foreign funding had flowed to 13,000 NGOs in 2011-12 but goes on to claim that the foreign-funded NGOs had caused a loss of 2-3 per cent on the country's GDP, or Rs 2-3 lakh crore. The IB appears to make out a case for GM seeds, the field trials of which were stopped by a parliamentary standing committee and an expert committee set up by the Supreme Court. Even more damning is the IB using figures from an NGO summit in Istanbul to note that out of the 999 coal-fired power plants in the planning stage globally, as many as 444 of them are in India alone, with the National Thermal Power Corporation entrusted to set up 47 of them.
Economists are aghast at the report's contention that the NGO-led agitation and consequent delay in the implementation of various projects had a negative impact of "2-3 per cent per annum" on GDP growth. "If any NGO, however powerful or however global, is capable of reducing the growth rate of India to the extent that even the economic crisis and meltdown could not, then I think that we have a serious problem with the basic credibility of our state. Since I believe our state is credible, I find this kind of number frankly absurd," says Dr Rathin Roy, director, National Institute of Public Finance and Policy.
The report also makes much of a Greenpeace activist in Madhya Pradesh resigning to contest the Lok Sabha election as a candidate of the fledgling Aam Aadmi Party. It prompted amused reactions from activists who wondered what the IB thought of the RSS, the world's largest NGO, campaigning for a political party in the election. The report also speaks of cyber security teams visiting Greenpeace India's headquarters in Bangalore to encrypt its internal correspondence. It also approvingly quotes industrialist Sajjan Jindal telling a newspaper that international corporate rivalry was behind many of the protests stalling mining and power plants.
"I am surprised at the current government in some sense condoning or at least not opposing this report as it was clearly the brainchild of the previous government, and a reflection of their insecurities," says Dr Rajiv Kumar of the Centre for Policy Research. Criticising the report for maligning NGOs, Kumar says while some can be faulted for carrying out their activities without adequate domain knowledge, it is also well known how some corporates use civil society groups to settle scores with rivals. "IB would have been better off in coming out with more concrete evidence and pinpointing specific NGOs for any violations," he adds.
The report had been two years in the making but finalised after Narendra Modi became PM, as evident in a paraphrasing of his 2006 speech.

But however amateurish the report might be, it has still cau­sed consternation among activists, who expect a crackdown. The government, they point out, has a love-hate relationship with NGOs. When it comes to drafting legislation or implementing projects on the ground, ministries and bureaucrats invite them to do the work. However, not only does a large section of the bureaucracy often display its contempt for 'jholawallahs', the lower bureaucracy even demands its pound of flesh from them by way of bribes. Says an activist on condition of anonymity, "Our organisation was allowed the FCRA (Foreign Con­tri­bution Regulation Act) only because the governor of a state, a former bureaucrat, is on our board. Otherwise, the babus would not allow the licence without their palms being greased." The files go missing from ministries, he alleges, and NGOs are blacklisted for not submitting annual reports and returns.
NGOs are expected to register, obtain a licence to receive foreign funds, comply with RBI regulations and submit returns to the income-tax department. But each successive government has tried to tighten the screws and make it more difficult for them to function, say activists. Says human rights activist and lawyer Colin Gonsalves, "Governments do not act on the basis of legality. They do not see if an act is legal or illegal." They can do as they please while the victims are left to get justice from the courts, he wryly points out. In many cases, the blacklisted NGOs have no money to even sue the government.
Yet another paradox is that a large number of bureaucrats, serving and retired, have registered NGOs and receive foreign funds. "I wish the government would release the list of such NGOs as well and present it in Parliament," says a bureaucrat.

Save the Dongrias 'Avatar'-ed protesters outside Vedanta's London office. (Photograph by AFP, From Outlook 30 June 2014)
In the case of Greenpeace, however, even the UPA government was not well-disposed towards it. While on the one hand, it cultivated activists and created a forum for them in the shape of the National Advisory Council, on the other, it also complained of the 'foreign hand' trying to stall India's development projects. Irked by protesters opposing nuclear power plants at Jaitapur and Koodankulam, former prime minister Manmohan Singh in a rare outburst questioned the credentials of the NGOs behind the protests. It was the UPA government again which ordered fresh investigation into the NGO sector two years ago. And they again who cancelled the FCRA licence of as many as 1,000 NGOs in 2012 in technicalities.
Official sources reveal that the report had been two years in the making. It was finalised after Prime Minister Narendra Modi took charge, as indicated by the tell-tale inclusion of a paraphrased part from a speech he delivered in 2006. The second edition of a book—NGOs, Activists & Foreign Funds: Anti-Nation Industry—also contains an article by Modi on the unaccountable business of civil society organisations.
The passage lifted by IB reads, "...In some cases, it is observed that in a cyclic process, an NGO is set up, funds are obtained from abroad, a few articles are commissioned, a PR firm is recruited and slowly, with the help of media, an image is created. And then awards are procured from foreign count­ries to enhance the image, after which the government machinery finds it that more difficult to act against the awardee (sic)."
Activist Harsh Mander thinks that the report is targeted to achieve corporate goals through the suppression of popular social dissent.

The timing of the IB report leak appears in sync with the haste the government is in to deliver in 100 days what UPA-II couldn't in the last five years—that is, put the economy on a high growth path by removing some of the stumbling blocks to private sector investment. The IB report has been leaked, it is suggested, to sow seeds of doubt and provoke citizens into questioning the motive of every dissent to any of the grand plans of the government, ranging from privatisation of power and water distribution, bending rules of resettlement and rehabilitation of project site oustees to any raising of environment or ecological concerns.
N.C. Saxena, former secretary, Planning Commi­ssion, points out that of the four types of NGOs we see in India, it is the activist NGOs—those working in the policymaking space—the government is most wary of. "The government does not like these people as they feel development is a zero sum game—if industry is making money, then the poor must be losing out. The government feels such NGOs think with their heart and are suspicious of data," he says.
The fact that former environment minister Jairam Ramesh publicly supported the concerns of 'activist NGOs' on promoting GM crops and helped place a moratorium on the commercial release of Bt Brinjal led to Manmohan Singh changing his portfolio. The IB report bats for GM crops, quite overlooking the fact that Bt Cotton is helping US seed giant Monsanto reap millions through its highly priced seeds.
"The royalties accruing to Monsanto that have been expatriated are approximately Rs 4,800 crore in 12 years (excluding other profit mark-ups)," estimates Vandana Shiva and her anti-GM co-campaigners Aruna Rodrigues and Kavitha Kuruganti—all of whom find mention in the IB report. Even as India's cotton production has increased substantially in the last one decade, there is no denying that the country's wealth of indigenous varieties of cotton is getting lost. Are we prepared to lose our proprietary and organic varieties of seeds in the quest for GM crops, which are still not fully accepted in large parts of the world, including in the EU?
Mahesh Vyas, managing director and chief economist at the Centre for Monitoring Indian Economy, says the IB premise of foreign-funded NGOs being anti-national is without substance. "There are many of them who, when juxtaposing growth against more equitable distribution of resources, would choose equitable distribution over development but that is not anti-development. Getting foreign funds and seeking to protect the environment is not anti-national or anti-development. That is stretching things too far," he says.
The IB report on the foreign funding of NGOs is not the first of its kind. However, it is possibly the first to term the activities of foreign-funded NGOs as anti-development, says former home secretary G.K. Pillai. By doing so, many believe, it has done a lot of damage to India's credibility abroad. By magnifying the role of NGOs in determining the course of India's development, it has made light of the soundness of our economy and turned itself into a laughing stock.
Saxena faults both the government and the NGOs. For example, if the NGOs are to be blamed for not realising how we can usefully deploy Compensatory Afforestation Fund Management and Planning Authority funds for afforestation in case a green area is allocated for a project, the government is guilty of not ensuring proper compensation to the displaced people, which is why NGOs are able to garner support.
As an example, Saxena cites the Rs 54,000-crore POSCO project. "Even if one per cent or Rs 540 crore of the planned investment had been utilised for providing compensation and resettlement of the 500 affected families, the project could have been implemented," he says.
Social worker and activist Harsh Mander feels the IB report is a warning to those who receive foreign funds. At the same time, it is targeted to achieve corporate goals through suppression of social dissent in keeping with an economic model of development based on acquiring more land and natural resources while reducing protection for landowners, labour and environment.
"Though there is much greater directness in the way this government is going about it, it is not fundamentally different from the UPA," says Mander. Given the suspicion the IB report has raised, Mander feels it would be a good idea for NGOs to come under the Right to Information Act, to reduce distrust. For example, there are many NGOs which use funds for purpo­ses other than their stated objectives or divert funds to other NGOs which use it to stage protests against dams, exploration of oil and gas, as is being seen in the Northeast region. Former environment secretary J.M. Mauskar is among those who feel NGOs working in the 'activism' space are part of the power politics or pressure groups and as such need to be more acc­o­untable. The IB report, though, he says, is not a "balanced report on good and bad NGOs but a police report on fore­ign-fun­ded NGOs". In short, it's a step away from the path of dialogue.
***
The Echo Chamber
Narendra Modi
as Gujarat chief minister
September 9, 2006, New Delhi
"Another conspiracy—a vicious cycle is set up. Funds are obtained from abroad; an NGO is set up; a few articles are commissioned; a PR firm is recruited and slowly, with the help of the media, an image is created. And then awards are procured from foreign countries to enhance the image. Such a vicious cycle, a network of finance-activity-award is set up and, once they have secured an award, no one in Hindustan dares raise a finger, no matter how many the failings of the awardee."
***
IB to the PMO: Watch these Foreign-Funded NGOs, They Are Killing Development
June 3, 2014, New Delhi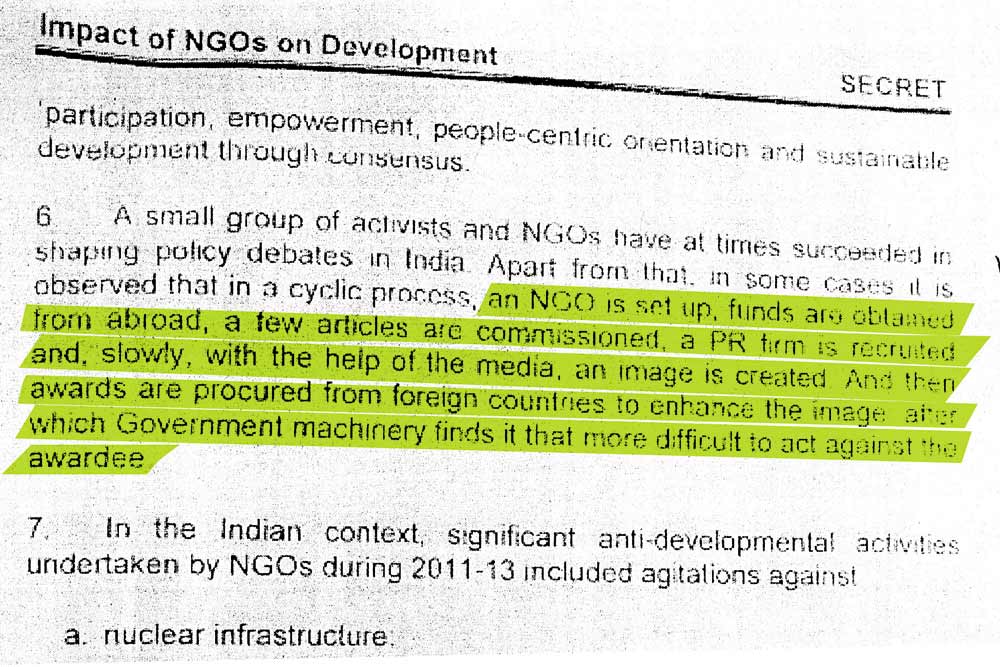 ***
The Big Push
10 projects where the hand of activists has been obvious
Koodankulam nuclear power plant, Tamil Nadu Status: Despite agitation by locals who apprehend health hazard, the government has been able to push ahead. Safety concerns remain.
Uranium mines, Jharkhand Status: Clearances delayed by high levels of groundwater
contamination. Adivasis of Jaduguda live under the shadow of rampant pollution.
Jubilant oil and gas, Manipur Status: Oil exploration suspended following threats from an underground organisation. Activists oppose contract terms.
Jindal Bauxite mining project, Andhra Pradesh Status: The Rs 10,000-crore project has run into trouble, with locals alleging that Forest Rights Act has not been implemented
Posco steel plant, Orissa Status: Forest clearance put on hold, delaying implementation of the Rs 54,000-crore project pending for 10 years
Narmada Dam Project, MP, Maharashtra, Gujarat Status: Government has cleared plans to raise the dam's height, which would lead to further displacement of people
Genetically modified crops, nationwide Status: Campaign leads to moratorium on field testing of GM crops and release of GM brinjal for commercial cultivation for three years
Vedanta, Orissa Status: The Rs 50,000 crore project fails to get mining permit in Niyamgiri following objections and 'referendum' by local tribes
Mining and other extractive industries, Northeast Status: Dutch-funded NGOs accused of stalling mining by furthering the idea that minerals should only be used locally and not 'exported'
Coal-fired power plants, nationwide Status: Network of NGOs opposes plants because of their impact on forest cover and thus climate change. Of 999 plants in planning stage globally, 444 are in India.