Forging a link, however tenuous, between caste and corruption is akin to saying that the average Indian male has sex on his mind, caste and communalism in his heart and indigestion in his tummy. That was an irreverent response to the sweeping statement made by the "ageing enfant terrible" of Indian sociology, Ashis Nandy, during a discussion at the Jaipur Literary Festival. In reality, the country is united by corruption and no caste, community or region seems immune from the virus.
"I disagree with what Nandy has said and would not equate corruption with caste. There's no connection."
Is this then nothing but a needless controversy being fanned by a TRP-hungry media? Sure it is. But crucial distinctions need to be stressed here. While academicians, filmmakers, actors and activists, TV anchors and the chatteratti—from Aparna Sen, Nandita Das and Shabana Azmi to Pranab Bardhan, Lawrence Liang and Yogendra Yadav—rallied round Nandy and defended his "right to be wrong", to articulate unconventional ideas and be "deliberately ironic", Nandy was also ridiculed for speaking without any empirical study or evidence.
"Indian sociologists do not want to dirty their hands with field studies," fumes Dr Meera Nanda, visiting faculty at the Indian Institute of Science, Education & Research, Mohali. She says Nandy has perfected the art of theorising on the basis of instinct, or "one example and one anecdote", and asks why it still takes foreign scholars to expose the irrationalities in the Indian system. "Nandy is deemed to be god, and he gets away with silly statements because he is never questioned too closely," says Nanda. "But I'd like to know what sociology departments in India are doing."
Her concern is shared by several other academics Outlook spoke to, but most of them wanted to remain anonymous. Most found Nandy's attempt to link caste and corruption "ridiculous". The media, they said, was responsible for glossing over corruption, particularly cases involving the upper castes. "If people don't recall Pratap Singh Kairon, Mohanlal Sukhadia, Pramod Mahajan or Capt Satish Sharma in debates on corruption, it shows the lack of rigour in the media and also in academicians," says a Delhi University professor.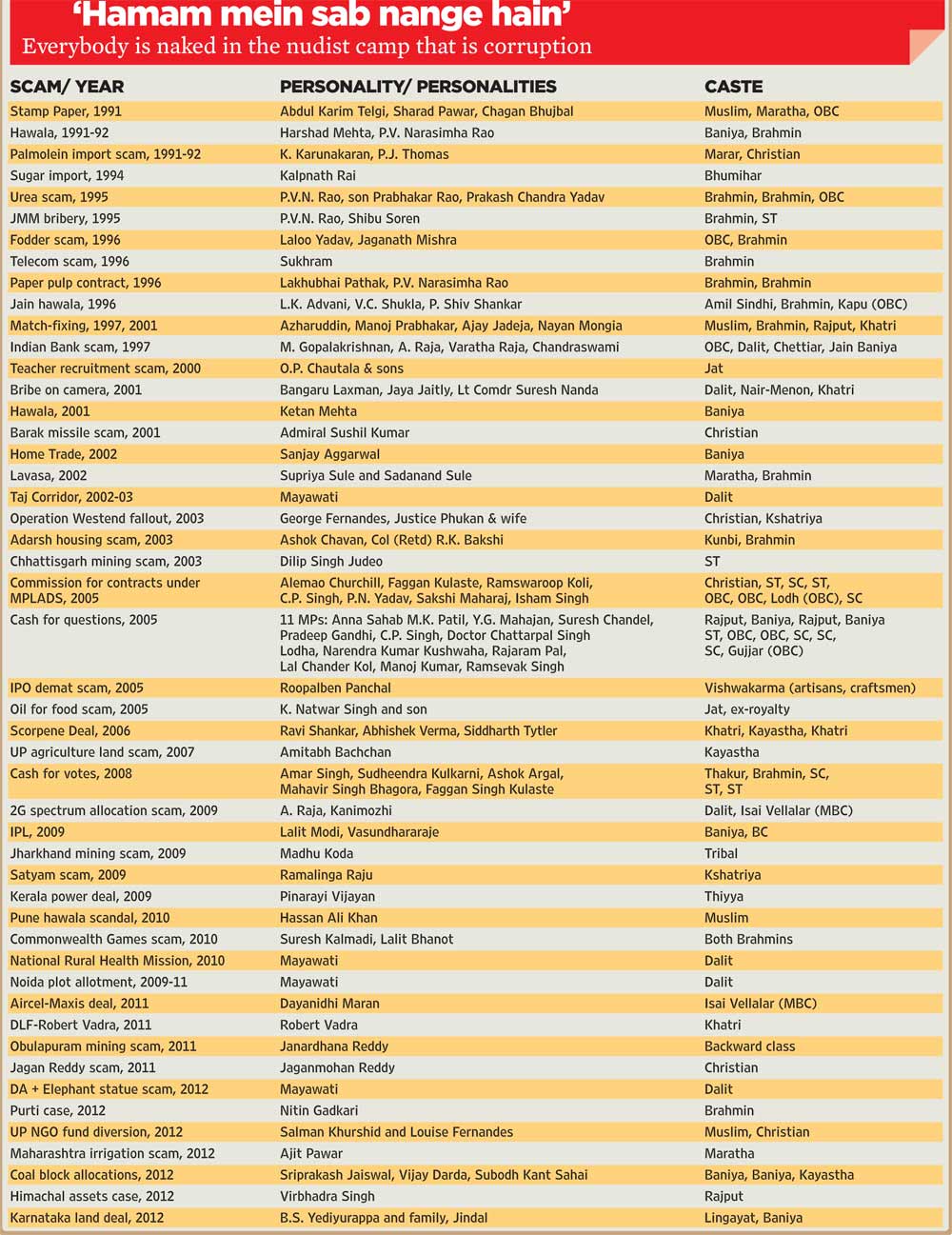 Similarly, no one seems to have studied at any depth the JMM bribery scam, where Jharkhand MPs were paid to keep the Congress government at the Centre afloat. While the role of then PM Narasimha Rao and other leaders who benefited from the scam has been glossed over, the naivete of Shibu Soren and other JMM MPs in putting the bribe in their bank accounts has been the butt of jokes forever.
"I don't know if Dalit vendors who supply parts to Tata, Hero etc are corrupt. They stick to the standards set by buyers."
Koda similarly is accused of siphoning Rs 4,000 crore but the role of other politicians, businessmen and bureaucrats, most of them belonging to upper castes, is completely ignored. "I doubt if Madhu Koda knows how to handle even one crore," says Alex Ekka, deputy director of the Xavier Institute of Social Service, Ranchi. Even in the late 19th century, says Joseph Bara, a professor of history at JNU, Father Hoffman recorded how tribals were tutored to tell lies in court but how their inability to lie tied them up in knots. The situation, Bara believes, has not changed much since then.
Nandy's clarification that he meant that more among the tribals, Dalits and the OBCs get caught for corruption has many more takers, though this statement too is not backed by any empirical evidence. But his claim that West Bengal is the least corrupt state because Dalits, tribals and OBCs have been nowhere close to power there for the last one hundred years is, however, "utter nonsense" says Dalit writer and retired IAS officer, A.K. Biswas.

Game changer Suresh Kalmadi under arrest for involvement in the CAG scams
"Nandy conveniently forgets the case of Chandan Basu, the son of Jyoti Basu, who moved from being a clerk to an industrialist during the years of Communist rule in the state," scoffs Biswas, who believes that if the scales of corruption are lower in the state, it is more due to its poverty, relative lack of resources and investment opportunities.
"Imagine a scene: someone holds on to what Nandy said and decides that all Dalits are corrupt. No one will employ them."
Elsewhere, for every Neera Yadav, there is an Akhand Pratap Singh, the former belonging to the OBCs and the latter a Rajput. Both the IAS officers were voted by their peers among the "three most corrupt IAS officers in the state" way back in 1997 in a poll conducted by the IAS Association of the state. Both of them still rose to become chief secretaries of Uttar Pradesh and both of them ended up in jail after being unceremoniously removed from the post following pils moved before the Supreme Court.
Were they corrupt because of their caste? Not so, says retired Supreme Court judge and former Karnataka Lokayukta Santosh Hegde. "I disagree with what Nandy has said and would not equate corruption with caste," he says. With the fierce competition to become rich overnight greater now than ever before, he believes, it is greed which acts as the trigger. A diametrically opposite view comes from former bureaucrat Amitabha Pande who says he is "somewhat in agreement" with Nandy because "different castes and kinds of people and their backgrounds would have different corruption behaviours (sic). It defines their aspiration."
Corruption is actually casteless. Nobody after all pays or accepts a bribe because of his or her caste. There are different categories of bribes though, chips in a Naxalite leader, recalling how he was taken aback by a government employee, a sympathiser, claiming that he only accepted "first class bribes"—the kind that are not solicited but get paid in the matter of course. "Second class bribes" are those paid for clearing bills and so on. Caste, of course, does not play a role.
"That corruption is a leveller is nonsense. The lower a person in the heirarchy, the greater the punishment."
While need motivates corruption at lower levels (how else do millions of people survive in metros on monthly salaries of Rs 5,000 or less?) and greed at the middle, it is the big-ticket corruption that seems to shape public perception and link corruption to castes and communities. But even a casual look at the post-liberalisation financial scams indicates a much greater involvement of people belonging to castes and communities other than Dalits, tribals and OBCs. The UTI scam, the mutual funds scam, the Jain hawala scam, the securities scam, Adarsh scam, the CWG scam, Telgi stamp paper scam etc can scarcely be linked to these groups.
Neither the Central Vigilance Commission nor the Central Bureau of Investigation, or for that matter the National Crime Records Bureau compile caste-based data of the accused or the convicted. But there is little doubt, says a CBI joint director, that the corrupt among the higher castes enjoy a far more protective umbrella. "Chances of Pramod Mahajan getting caught for corruption, for example, would have been slim because he would have the smartest chartered accountants and lawyers working for him," he told Outlook.

Stamped in Abdul Karim Telgi, accused in the stamp paper scam, in a file photo. (Photograph by AFP, From Outlook 11 February 2013)
While the politically empowered and the more numerous Dalits, tribals and OBCs are increasingly occupying posts in the government, their percentage in the private sector is deemed to be negligible in comparison. Despite the meteoric growth of the private sector, P.S. Bawa, the chairman of Transparency International India, rues that not a single top private sector company came forward to sign an integrity pledge saying that they will not take bribes or use unfair means. "People who do not have power or position cannot exploit it. So it is really a combination of power, position and intent," he says.
No one has studied the Indian social trend of seeing the honest as weak and stupid and the corrupt as smart.
Nandy's statement, his critics believe, was triggered by the deeply held prejudice in parts of northern India, where sections of people used to invoke "chor" and "chamar" in the same breath. The colonial government in India had also promulgated the Criminal Tribes Act in 1871, notifying a large number of nomadic and semi-nomadic tribes and castes, including Banjaras, Lodhas, Nats and Pasis among others, as "habitual criminals". The Act was repealed after Independence but replaced by a Habitual Offenders' Act. There is general agreement now among scholars that most of these groups were notified because they were rebellious and had taken part in the uprising of 1857.
Corruption in fact has enjoyed a certain degree of respectability in this country at all times. Even Chanakya (280 BC) advised people against being too honest. In the forest, he said, straight trees were felled first while the crooked were left alone. In large parts of the country, the honest continue to be ridiculed for being weak and stupid while the corrupt are seen as being smarter, more intelligent and more audacious. But such social trends, laments Biswas, have just not been studied and explained.
An apocryphal tale strengthens that stereotype. When people in Bihar stormed the streets in 1967 shouting slogans against the corrupt chief minister: "Gali-gali me shor hai/ K.B. Sahay chor hai." The slogan was even picked up by children in the CM's own household. And they repeated it with equal zest with the protesters at the CM's official residence. Perhaps there is a lesson in this for all of us.
---
By Uttam Sengupta with Outlook Bureau