Warning: Blackout Ahead
Consumer power tariffs are on the rise; expect blackouts to intensify
Despite higher capacities, poor fuel linkages are hurting power supply
Stagnant coal production, lower gas production raising import requirement
Imported fuels are raising power generation costs; likely to hit viability of new plants
Investment sentiment and further generation capacity additions may be hit
***
Load-shedding is a depressing fact of life every summer in our power-hungry nation. This year will be different—with an ironic twist. Despite a record 15,795 MW of fresh generation capacity being synchronised in 2010-11, the power situation is going to get worse. Scenes of people torching effigies of electricity board officials and ministers in Bhagalpur over power cuts last month are already repeating themselves elsewhere in Bihar and places like Jharkhand and Andhra Pradesh.
"The power situation is improving. But there'll be shortage for one more year. We will have to see fuel availability."
Experts say that it's nothing short of a crisis. A poor supply of fuel, particularly coal, will lead to rising power deficit in many states. A look at the Central Electricity Authority (CEA) data released in March reveals the all-India peak power deficit last year was 10.3 per cent, with some states like Jammu and Kashmir, Bihar and Maharashtra facing 10-28 per cent peak power shortage. But it does not stop Union power minister Sushilkumar Shinde from striking an optimistic note. "The power situation is improving," he told Outlook. "But we'll have to suffer power shortage for another year."
Not only is 40 per cent of the population denied power supply, in large parts of the country millions are still awaiting the light despite power supply infrastructure having been put in place. With the fuel supply agreements for over 13,000 MW upcoming capacity yet to be signed, the future doesn't seem too bright. As Shinde admits, "For the current year (new generation capacity) target, we will have to see the availability of fuel."
The minister is hopeful that the Empowered Group of Ministers (EGoM) headed by Union finance minister Pranab Mukherjee will in the coming days resolve various issues holding up coal supplies, and thereby remove the uncertainties facing some ongoing and newly created plants. Coal-based power generation accounts for 76,000 MW out of the total 1,73,626 MW installed capacity. Besides availability of domestic coal and gas, there are issues regarding inadequate port and railway capacity to handle fuel movement.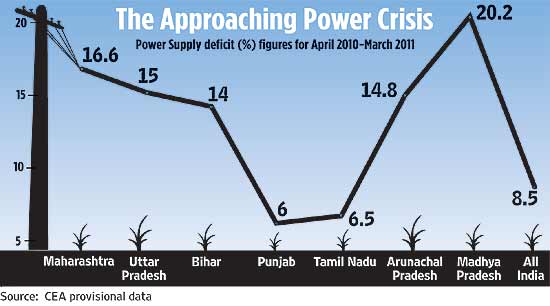 "In case the coal supply remains a constraint, we could be looking at a serious situation in the future," admits Gurdial Singh, chairman of power sector planning body CEA. Singh points to the fact that targets given to various projects are not being met mainly due to domestic coal shortage and the dip in availability of indigenous gas, primarily from Reliance's K-G basin block. Imported fuel is a way out but "it results in higher generation costs, and state utilities are not ready to buy that", the CEA chief adds.
"(We are resorting to imports but it means) higher generation cost, and state utilities are not ready to buy that."
When contacted by Outlook, state-run power major NTPC denies facing any problems with fuel supply, but in an official statement, it admits, "There is a marginal hike in power tariff due to high cost of imported fuel." Even at 10 per cent blending of imported coal, there can be a huge difference in power production costs. For instance, the domestic coal bill was Rs 33,000 crore for 319 million tonnes last year, while the 2011-12 import target of 55 million tonnes is expected to cost upward of Rs 36,000 crore.
Similarly, on average, gas-based projects are operating at an efficiency of around 52 per cent due to the shortage in feedstock. Here again, the high cost of imported gas is proving to be a deterrent. "In the immediate future," stresses Anil Razdan, a power consultant, "we should make arrangements for fuel availability to ensure that generating assets are utilised optimally and power-generating companies (which set up plants with 70-80 per cent credit) don't default on their repayments to the financial institution."
All this translates into higher costs of power generation and thus more pressure on the power utilities to make consumers pay a higher tariff. Earlier this month, Orissa witnessed power tariff rise from Rs 2.62 per unit to Rs 3.22 per unit. In Delhi, it is thanks to the high court that yet another tariff hike has not materialised. Andhra Pradesh too has recently been witnessing agitations against power shortage, topped off by a hike in the price of power. There are sharp variations in power tariffs—not just between states, but also within states and within cities like Delhi and Mumbai. At the lowest range, it is Rs 55 per 100 kwh per month in Pondicherry while at the highest, urban dwellers in Rajasthan pay Rs 417.50 for the same quantum.
"Unless we invest in power distribution and adjust prices to fuel input cost, the scenario could turn critical."
With consumers unwilling to see another hike in their monthly bills—some states have seen price revisions as recently as 2008—merchant sale of expensive power to meet peak hour demands is not happening. Power discoms are reluctant to buy power if they are not able to recover costs from the consumer. "There are difficulties in selling expensive power. It's a process that will take time to adjust," points out B.K. Chaturvedi, member, Planning Commission. "Unless we invest in power distribution to reduce losses and there is constant revision in prices in accordance with the fuel input costs, we could be looking at a critical scenario."
With Indian planners looking more towards domestic coal to keep a check on power production viability and costs, the days ahead will be crucial when economic costs—including to the environment and forest-dwellers—are worked out by the EGoM to improve fuel supply. As energy expert Dr Kirit Parikh states bluntly, "Adding new capacity will certainly help us meet peak power shortage, but it will not help meet energy shortage if we don't have the energy fuel to meet the production demand."
In the absence of any clear fuel policy framework, consumers can gear up to face more power blackouts. There are only two alternatives—force planners to think fast on various fuel supply options. Or burn a deeper hole in your pocket with expensive and polluting genset power. For vast swathes of the country, it's going to be a long, hard summer.