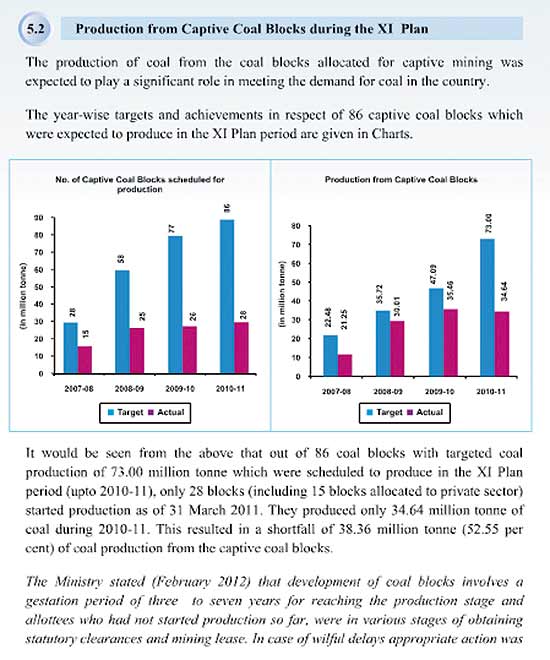 CAG (Para 5.2): Production of coal from captive mining wasn't encouraging. Out of 86 coal blocks, which were to produce 73 million tonnes of coal during 2010-11, only 28 blocks, which included 15 blocks allocated to private sector, could start production by March 31, 2011, and produced only 34.64 mn tonnes during 2010-11.
Critique: The CAG appears to be selective and studying and comparing both apples and oranges. No two mines are exactly similar. The quality of coal, location of the mine, the nature of the overburden, the time required to remove it, proximity to roads and railway sidings, besides obtaining clearances and coping with displacement of people, environmental concerns, activist groups and Maoists are some of the factors to be taken into account while examining or explaining delays. The CAG report does nothing of the kind.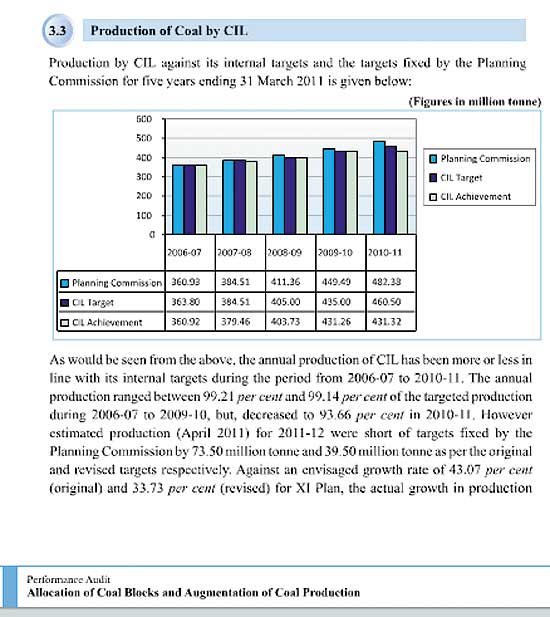 CAG (Para 3.3): Coal production remained far below targets set by the Planning Commission, but dereserving coal blocks meant for CIL and allocating them to captive consumers did not yield any result as no production could commence from these blocks.
Critique: CIL produced 360 mn tonnes of coal in 2006-07 and 431 mn tonnes in 2010-11. Production ranged from 99.21-99.14 per cent of its target till 2010, but fell to 93.66 per cent in 2010-11. The report attributes this to inadequate drilling capacity, mismatch between excavation and transportation capacities and under-utilisation of heavy earth-moving machinery. It fails to account for environmental concerns, Maoists, forest clearances etc that have held up operations. The report acknowledges that even CIL takes on average four years between allocation and production. But it doesn't examine why new firms find it difficult to start mining nor does it mention the economic boom before '08 or the slowdown and slump that followed. Chew on this: demand for coal in 2011-12 was an estimated 713 mn tonnes. India produced 650 mn tonnes (bulk by CIL) and imported 68 mn tonnes.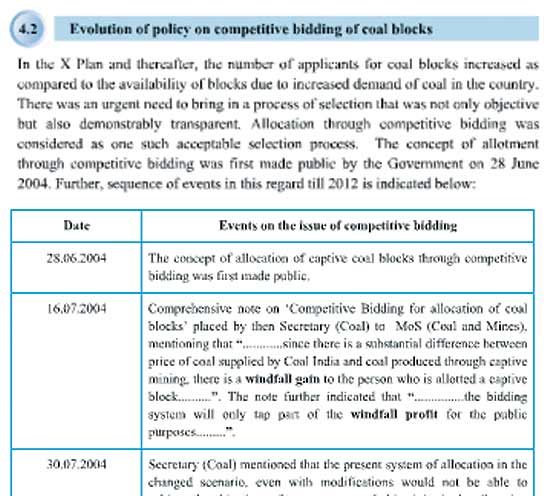 CAG (Para 4.2): The concept of competitive bidding of coal mines was first made on June 28, 2004, at a meeting of all stakeholders. The secretary (coal) wrote a note in July advocating a revision in the policy. The ministry of law and justice opined in August 2004 that this can be done by an administrative fiat. But the government has taken close to eight years—till February 2012—to notify it.
Critique: The report glosses over the opinion given by the law ministry in September 2004 that the ideal course would be to modify the law. It glosses over the draft bill, which was placed in Parliament and studied by the standing committee and which asked the government to again consult the states in 2008. It ignores that 2009 was an election year, with disruptions in Parliament. Both the CAG and the BJP seem to suggest that the government should have taken the opposition of coal-bearing states like Orissa, Jharkhand and Chhattisgarh to competitive bidding—as also opposition from industry—in its stride. The PM's seemingly reasonable alibi that in India, building consensus and modifying laws take time has been dismissed out of hand. His mild surprise at a constitutional authority like the CAG advocating administrative fiat over legislation has merited no discussion.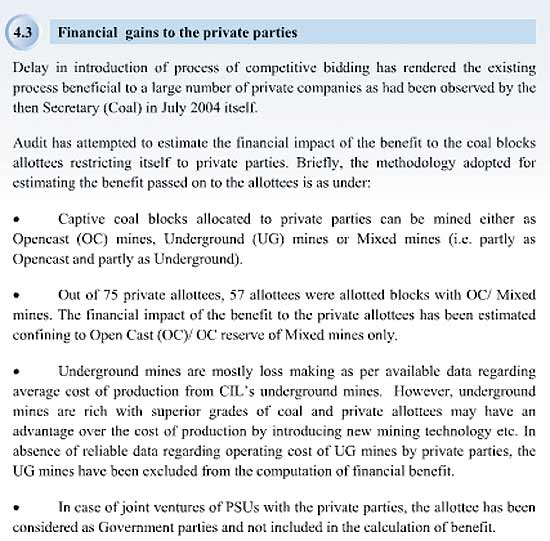 CAG (Para 4.3): Delay in introduction of competitive bidding rendered the process beneficial to private companies, which are likely to gain financially an estimated Rs 1,86,000 crore, a part of which could have accrued to the national exchequer if competitive bidding was followed.
Critique: Coal mines were nationalised in 1972-73. Since then, few private companies have had any experience in coal mining. It is also a capital-intensive business, with a single dragline used to remove overburden often costing Rs 75 crore. To expect that private companies would fall over each other for coal blocks in forests, in Maoist strongholds and some in populated areas, is unrealistic and misses the big picture. Also, the figure is a back-of-the-envelope calculation that mentions no period. Is the CAG suggesting that the 57 allottees would have made this gain over a period of 30 years after starting production? Also, to compare the cost of public sector monolith CIL, which has economies of scale, the advantage of experience and in-house skill and has vast tracts of land and mines acquired 30 years ago, with the costs to be incurred by private companies new to mining coal, is over simplistic.