When I was woken early on the morning of May 2 to be told about the death of Osama bin Laden in a US military operation, I had the feeling of deja vu—it was the news I had been expecting from the time in 1996 when he declared jehad against the world's only superpower. As my grogginess sloughed off, I couldn't but feel surprised at the realisation that it had taken the US, with all its technological and military might, 14 years to hunt down a man who mocked, defied, combated and inflicted deep wounds on it.
America killed a man who nurtured a death wish. On the two occasions I met him—both in 1998—he openly expressed his desire to die fighting for his cause, to become a martyr. On cue, the men around him declared they would ensure he wasn't ever captured alive. His violent end in his hideout in Abbottabad, 71 km from Islamabad, fulfilled his wish, though it was surprising to learn that he was unarmed at the time he was shot dead.
Cut to May 26, 1998, the day I and 13 other journalists were whisked to an Al Qaeda military training camp in Khost, an Afghan province bordering Pakistan. We were brought there to attend a press conference to announce the merger of Al Qaeda in the newly launched International Islamic Front for Jehad against the Jews and Crusaders. There was Osama sitting before us, flanked on his right by former Egyptian police officer Sheikh Taseer Abdullah, aka Mohammad Atef and Abu Hafs, whom Osama introduced as his deputy. (His death in a firefight saw Ayman al-Zawahiri succeed him). Osama announced the merger, reiterated his call of jehad against the US and Israel, and held them responsible for the suffering of the Muslim world. He spoke sparingly, even seemed shy.
The press conference over, he seemed a transformed man as he talked to us over a cup of tea, displaying wit in fielding our questions. Asked about the number of children he had sired from his three wives, Osama smiled and said he had simply lost count. Someone then quizzed him about his wealth. He promptly placed his right hand on his heart and said, "I am ghani (rich) here." Another question: Is it true his family had disowned him? His riposte: "Blood is thicker than water."
My second meeting with Osama was a one-to-one, held in the desert of Helmand in December 1998. I was first required to reach Kandahar, where Taseer Abdullah and Zawahiri came to fetch me. Accompanying me to Helmand were also two Taliban officials from the Afghan foreign ministry, their presence a guarantee of my safety. Around evening we reached a place where an entourage of 30 people had pitched three large tents for an overnight halt. It was obvious Osama was constantly on the move—considered necessary as the US had launched a hunt for him following the attacks on its embassies in Kenya and Tanzania in August. The decision to conduct the interview at night, though, had another reason—it was the month of Ramadan and, as Zawahari later told me, Osama couldn't drink water or tea during what was expected to be a long conversation. I asked Zawahiri if Osama needed to regularly take liquid because of the kidney ailment he was said to be suffering from. Neither he nor others were willing to confirm the rumour.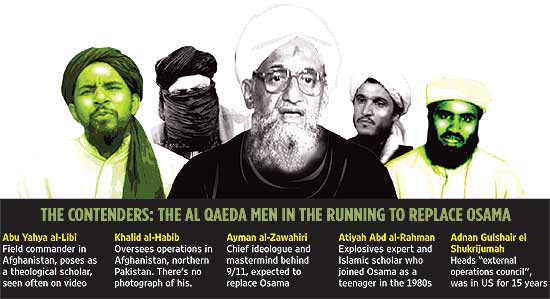 The desert scene was mesmerising, The headlights of two vehicles were switched on to allow me to film the interview with Osama. His men were cooking food for sehri, or the meal taken before the dawn during Ramadan. Over our three-hour conversation, Osama kept sipping green tea from a kettle that his men refilled regularly. His beard had started to grey; he wore a turban; his hands appeared delicate and his soft voice was in contrast to his fearsome persona. He'd raise his voice to answer a provocative question or to emphasise a point or to criticise the US. And though he spoke a few words in Persian and Pashto, he switched to Arabic, his words and mine translated by Zawahiri, whose English was fluent. Before answering every question, he praised Allah and Prophet Mohammed. As Osama spoke and articulated his views, the audience, including the foreign ministry officials and his teenaged son Mohammed, listened to him in rapt attention.
During the interview Osama, for the first time, indirectly accepted the responsibility for the bombings of the US embassies. He said Muslims worldwide had responded to the Al Qaeda fatwa, calling upon the community to undertake jehad for liberating Islamic countries from foreign occupation. He justified the fatwa thus, "If the instigation for jehad against the Jews and the Americans in order to liberate the Al-Aqsa Mosque and the holy Ka'aba is considered a crime, let history be a witness that I am a criminal!"
The interview over, Osama's men had a special request for me. Could I please erase the photos I had taken of their leader from my still camera? My pictures showed he used a walking stick, and his men were acutely conscious that his photos should portray him in fine fettle, without physical disability. They did not deny he suffered from a spinal injury and Zawahiri, for a change, volunteered the information that their leader sorely missed his daily game of football and long horse-riding sessions.
The disclosure that his hideout didn't have a telephone or internet connection engenders another image from those meetings—of his men strutting around with walkie-talkies, modern cameras and other filming equipment, and spiffy, sturdy vehicles. They were adept at handling modern gizmos. Post 9/11, his men eschewed electronic gadgets, fearing their use could enable the Americans to track then down. It's an irony that the Abbottabad villa in which he was killed aroused suspicion precisely because it didn't have a telephone connection, a surprising feature for a house of its proportion.