The brief is straightforward and clearly not unexpected in a busy election season. Posing as a frontman for a fictitious politician from an opposition party (known only as Netaji), an undercover team approaches two dozen IT companies in three cities (Delhi, Mumbai and Bangalore) with a simple request: Netaji wants to launch a campaign on social media before the assembly elections. Simultaneously, his opponent's reputation has to be des­troyed with negative publicity. The target: help Netaji win the assembly election with a handsome margin, and also get him a Lok Sabha ticket in the 2014 election, then a cabinet berth. Budget not a problem. The payment will be in cash, of course. Deal?
Not surprisingly, the answer is a resounding yes. But—and this is where it gets sinister—most of these firms didn't bat an eyelid while agreeing to do negative, defamatory and illegal acts.
Everyone has heard about it: the fake Twitter/Facebook followers, the rumours on WhatsApp and SMS, the YouTube video from Pakistan passed off as neighbourhood violence to start a riot. This online myth-making is itself internet lore now, only heard about, never seen. Opera­tion Blue Virus, the Cobra­post undercover inv­estigation, brings them alive: the shadow warriors operating at the grey end of India's politics, deploying their dubious tools of trade. Dirty tricks? Call now.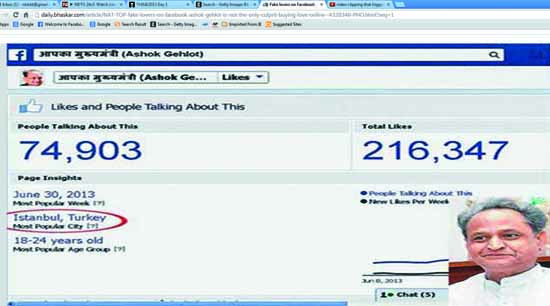 Ashok Gehlot's Istanbul 'fans'
As the sting reveals, there is little of the 'social' to be found in a lot of social media—in letter or spirit. These firms are engaged in a racket—of manipulating reputations on popular social media sites. On offer: the standard menu option of fake followers, plus well-placed systems to sully names. For a fee, of course. Besides individual politicians and parties, other clients, as we discover, include corporates, NGOs and scam-tainted officials.
What exactly do they peddle? All companies in the expose can create an online fan base—not necessarily genuine—in the lakhs. Some provide demographic data on voters, divided on linguistic and communal lines, for 'effective booth management' to win elections. Others offer to hire journalists or even detectives to throw muck at Netaji's opponent. They would use different IP addresses, offshore servers, proxy codes or wireless connections, disable the tracking device of a computer system and destroy the same when the job is over, to cover their tracks. The asking price for these reputation management services ranged from a few lakhs to a couple of crores, to be paid in cash.
For some time now, we have been hearing about the intersection of politics and social media—this is a global trend, as evi­nced by US President Barack Obama's internet-friendly re-election campaign last year. In India, it has been evident that the BJP's prime ministerial candidate Narendra Modi has a strong online presence, backed by a so-called army of supporters. Even a mild criticism of the BJP's star campaigner invites scathing attacks from his followers on social media, claimed to be in millions in count. The Congress too is playing catch-up in this game, evident by the recent controversy about Rajasthan chief minister Ashok Geh­lot's fake Facebook followers, most of whom were based in Istanbul. Similarly, according to fakers.statuspeople.com, 69 per cent of @narendramodi followers and 65 per cent of @ShashiTharoor followers are fake.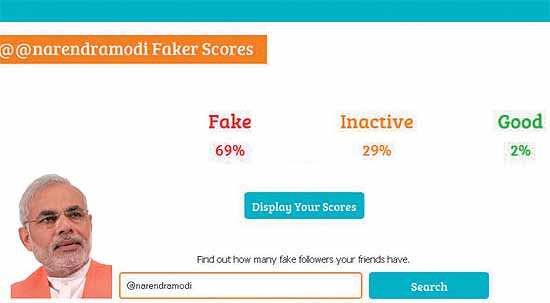 Modi's fake Twitter legions.
But as a majority of the IT companies surveyed by Operation Blue Virus reveal, there's a lot of hazy backroom action going into burnishing Modi's image—and targeting his detractors. This raises questions about the BJP's claim that there is a wind blowing in favour of Modi—remember Nitish Kumar's quip about it not being "kudrati hawa" but "blower ki hawa"? It also raises questions for traditional media, which often quotes and cites massive online support—it is, on the face of it, measurable—as an indicator of the "buzz" around this leader or that.
Many of the claims made by the IT compa­nies could be dismissed as examples of Indian ingenuity—or jugaad—in order to win a contract. While a certain amount of bluster can be discounted, for sure, the easy acceptance of certain ways to promote neg­ative content against Netaji's opponent is revealing—and scary. Actually, many of these malpractices directly violate laws, such as the Information Technology Act, 2000; the Representation of People Act, 1951; and the Income Tax Act, 1961—and are as such punishable under various sections of the ipc. The Election Commission recen­tly issued guidelines for social media, and asked companies to set up monitoring cells for such content. The culprits are the political parties—or individual supporters.
In an already vitiated election season, more disturbing is the use of social media for fanning hatred and communal sentiments. As the darker side of social media is raising its ugly head, time and again, be it the recent riots in Muzaffarnagar in Uttar Pradesh or the exodus of Northeastern people from cities across India last year. A few of the IT firms in the expose are quite at ease with making negative videos about Netaji's opponent and sharing it via platforms like YouTube and WhatsApp. Other firms offered constituency data on the basis of language, caste or religion—and, shockingly, one of the IT firms even boasted about having engineered a riot (see Working Out the Riot Math). Worryingly, social media is being used to play a dangerous role in an already-vitiated communal environment.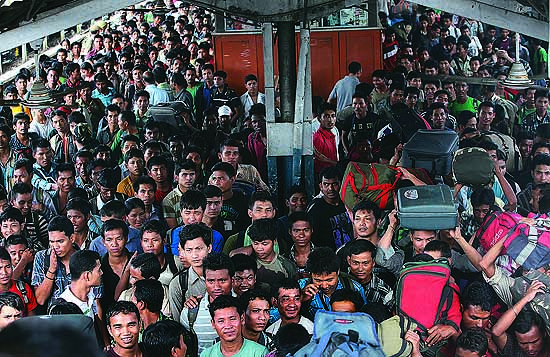 Campaign against northeasterners
All this matters, of course, because of the huge role social media is supposed to play in the coming polls. The numbers bear repeating—the Internet & Mobile Association of India, IAMAI, says the country has 205 million internet users at present (one-third of these are in rural India). This is projected to go up to 243 million users by June 2014. There have been numerous reports over the past few months pointing to how a young India—first-time voters connected via mobiles and tablets and without any 'baggage'—is going to change the course of the approaching general election. In fact, another IAMAI report says that 160 constituencies will be impacted by social media.
Naysayers will argue that this digital population will not make a difference to overall voting patterns in a large, poor and non-digital country like India. That may well be true. In elections in the recent past, the impact of mobile phones, of directly reaching the voter thus, has been overblown. There is also a clear distinction between the building of perception, and how exactly that impacts voting patterns, though social media patterns are clearly influencing substantial sections of mainstream media.
Either way, it does appear we are entering new territory with social media in these electi­ons. There is an obvious Indian res­pect—even reverence—for technology. That is why it is often felt that anything that is on a computer has to be right. It's the new ins­cription set in stone. This is the sentiment being used—and abused—by politicians. For proof, read the selected case studies of the IT companies Cobrapost has exposed in Op Blue Virus. Full care has been taken to tra­n­slate conversations from Hindi to English.
***
Anything For Netaji
What can be done

Create fake profiles, buy likes and generate fake following on Netaji's Facebook page
Develop a healthy fan following for Netaji on Twitter, by buying packages of followers
Make promotional, even incendiary videos, go viral on YouTube to help Netaji's cause
Create fake profiles of Muslims to change views about Netaji and his/her party
Not allow negative comments on Netaji to pop up on his Facebook page
Generate negative publicity against Netaji's opponent and disseminate to other media
And how they do it
Use assembled computers for negative campaign and destroy them after use
Use proxy codes so that their locations change every hour, making detection impossible
Use offshore IP addresses and servers to avoid source of content from being traced
Hack into computers of other individuals to post defamatory content using their IPs
Use internet-based messaging to circumvent TRAI guidelines on mass SMSes
Accept only cash payments to avoid paper trail of connection between them and their client