In August last year, Prime Minister Manmohan Singh was keynote speaker at the annual meeting of India's premier anti-corruption agency, the CBI. There, addressing officers of the agency and state vigilance bureaus, he made a telling remark, "Our anti-corruption agencies must make the cost of corruption unacceptably high for those indulging in this evil practice."
The prime minister's advice was well received. Unfortunately, the same can't be said for a key ministry under his charge—the ministry of personnel. Not only has it failed to take action against corrupt bureaucrats, it has also failed to push for the ratification of a key United Nations convention against graft that would make it easier for the government to punish errant officials.
Instead, information gleaned by Outlook using the Right to Information Act shows that scores of officers from the IAS, IPS and other key services continue to get promoted, posted to sensitive positions and enjoy the benefits of power despite being chargesheeted by several anti-corruption agencies. Needless to say, this is in complete contravention of the service rules framed by the ministry of personnel and the Union home ministry.
Mahesh Kumar Gupta, a 1987 batch IAS officer from the UP cadre, is a classic case on how to bend service rules to get ahead. On September 9, 2008, the CBI filed a chargesheet against Gupta in a recruitment scam that had taken place nearly 10 years ago. The chargesheet, a significant document in the prosecution of a criminal, serves as proof that the investigating agency (such as the CBI) has found enough evidence during the investigation to prosecute the accused. The case goes back to 1998 when Gupta, as the head of a recruitment committee, allegedly called up the shortlisted candidates and took bribes to recruit them.
Gupta is part of a long tradition in UP, where officers voted "most corrupt" have ended up as chief secretaries.
The ministry of personnel, the nodal agency for all IAS officers, is very clear on how to deal with such officers. In a letter-cum-memorandum issued on March 28, 2000 (No. 20011/4/92-AISII), the ministry categorically pointed out to chief secretaries of all states that such officers could not be promoted till the inquiry against them was over. In fact, a much older office memorandum of the Union home ministry is also categorical that "secretaries to ministries and heads of departments have the duty of locating and suitably dealing with corrupt officials". So, it suggested that "public servants of doubtful integrity" be identified, their names enclosed in an "agreed list" and never be posted to sensitive positions.
But Gupta managed to circumvent the law on both counts. Not only was he consistently promoted during the years the case was being investigated by various agencies, he also rose to become the state's home secretary, a department dealing with law and order as well as the careers of the very police officers who are investigating him! As home secretary, Gupta deals with the files of all police officers from the UP cadre, and has a major say in all issues related to crime and law and order in the state. Ideally, his promotion should have been kept on hold. Instead, Gupta served as the district magistrate of Gorakhpur and Agra and other important posts till his current plum posting.
But Gupta is part of a long tradition in UP which has seen the likes of IAS officers such as Neera Yadav and A.P. Singh—voted as the "most corrupt" by the UP IAS officer's association themselves—being promoted as chief secretaries.
In the neighbouring state of Haryana, Anand Mohan Sharan, a 1990 batch officer, was charged by the CBI in two cases for a dda land allotment scam in 2004 and 2005. But Sharan, instead of cooling his heels, continued to land plum posts. Till recently, he held dual charges including the lucrative assignment of transport commissioner of Haryana while also serving as the state's additional resident commissioner in Delhi. The ministry of personnel or the Union home ministry could have ensured that Sharan never served in sensitive posts which could prove lucrative for corrupt officers. Instead, Sharan continues to be in service while the case meanders on.
Similarly, Rajesh Kumar Srivastav, an additional commissioner of the Municipal Corporation of Delhi and an IAS officer of the 1984 batch, has 10 FIRs filed against him by the CBI. Srivastav was the registrar of societies when a major cooperative housing scam surfaced in Delhi. Ideally, Srivastav should have been sidelined. Instead, despite being chargesheeted in all 10 cases between 2006 and 2009, Srivastav continues to be promoted and posted in sensitive positions. After 2001, when the alleged crime took place, Srivastav has served as a chief electoral officer and in the departments of finance and social justice. He has also been a member of the state commission for the protection of child rights and is now the additional commissioner.
The tale is not too different in the South. Nagambika Devi and Mahendra Jain, two IAS officers of the Karnataka cadre, should have been shunned years ago. While Nagambika was accused of misappropriating funds while serving as chief executive officer of the Uttara Kannada Zilla Panchayat and chargesheeted in October 2004, she continued to get her promotions on time. Currently, as commissioner, higher education, she has a major role in the sector.
---
If At First You Don't Succeed...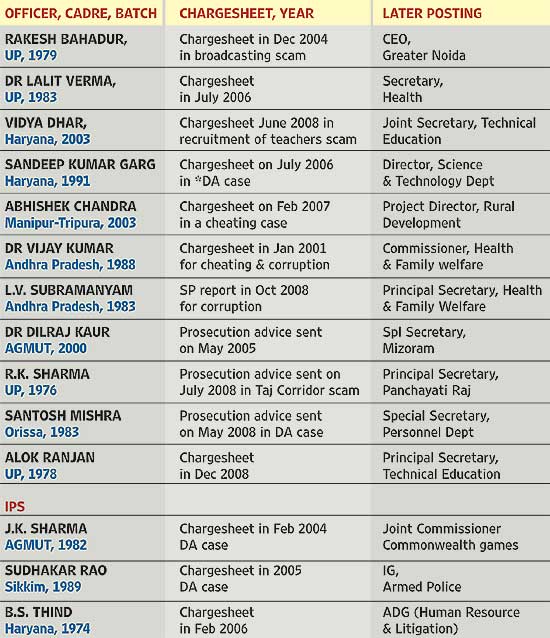 *DA is disproportionate assets case
---
Mahendra Jain is currently on central deputation to the commerce ministry. The Karnataka Lokayukta charged him in January 2009 with causing huge losses to the state exchequer when he was MD of Mysore Minerals, a state-owned company, between 2006-08. Jain was earlier private secretary to Deve Gowda when he was the prime minister. But unfazed by these charges, the ministry of personnel cleared his posting as a joint secretary-level officer under the Union commerce ministry, serving as the nodal officer for the special economic zone in Navi Mumbai.
In Andhra Pradesh, L.V. Subramanyam, a 1983 batch officer, has been accused of cheating and criminal conspiracy in his capacity as vice-chairman of the apiic, a state government-promoted infrastructure company. But despite a CBI case being registered on August 30, 2000, Subramanyam has risen effortlessly to become the state's principal secretary, health.

Many senior IPS officers lead an equally charmed life. The Karnataka Lokayukta conducted several raids on the residences of Hemanth Nimbalkar, a young 1998 batch IPS man, in Belgaum, Kolhapur and Mumbai in March 2009. He was accused of amassing wealth disproportionate to his known sources of income, running into crores. Suspended in May 2009 when he was attached to the anti-terror cell, he was recently reinstated as SP, intelligence. Jija Harisingh, a 1975 batch IPS officer, was charged by the state's Lokayukta in January 2009 for causing losses running into several hundred crores to the state-owned Mysore Minerals during her tenure between 2004-06. But Jija is now a director-general of police rank officer even while the case is in the Karnataka High Court.
These are but a few of the hundreds of names of senior IAS and IPS officials who have been accused, in some cases even chargesheeted, but continue to serve in key positions, dealing with thousands of crores of rupees in public funds and affecting policy-making decisions that impact the lives of millions of ordinary citizens.
Forget ratifying the UNCAC, the UPA regime has ended up diluting laws such as the Prevention of Corruption Act.
So what is to be done now? Well, ratifying the United Nations Convention Against Crime (UNCAC) would have made it mandatory for India to weed out corrupt bureaucrats. By accepting UNCAC's binding provisions, the Manmohan Singh-led UPA government would have automatically got access to sensitive information such as details of bank accounts in Swiss banks, would have been able to extradite criminals and prevent money laundering. Instead, India has shied away from ratifying it for four years even after SAARC countries like Pakistan, Sri Lanka and Bangladesh have done so. Worse, instead of toughening up anti-corruption laws—a mandatory requirement for ratifying the convention—the UPA government has actually ended up diluting laws such as the Prevention of Corruption Act.
It's all well to comment about making the price of corruption "unacceptably high", but it's of no use when a key ministry, like personnel, which is directly under Dr Manmohan Singh, is so unhelpful. Unfortunately, rhetoric was all the PM could offer. This has ensured that the corrupt continue to prosper in India, currently ranked 84th—below Ghana, Trinidad and Tobago and Swaziland—in the list of most corrupt countries by Transparency International.
---
By Saikat Datta in New Delhi, Sugata Srinivasaraju in Bangalore and Sharat Pradhan in Lucknow