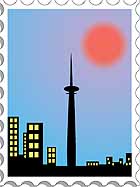 Polourie Paradiso
Every city lives in one's memory through the first impressions. But, for a person who tries to be eclectic within the confines of vegetarianism, I have committed Toronto to memory as a foodie paradise. I don't think I've eaten such appetising variety in a matter of 15 days: tofu-filled, non-fried, rice-paper-wrapped spring rolls in the famed Vietnamese eatery, Pho Hung; the unprocessed, green wrap of Cruda's Cafe; sweet potato fries and protein burgers at Fresh; soy Burrito from the Burrito Boyz; spinach and mushroom crepes at Crepe Cafe; pumpkin pie from Wanda's Pie In The Sky and veggie hotdogs straight off the many carts. In the war of better coffee, I opted for the all-Canadian Tim Horton's French Vanilla. Preferably with a snack of cream cheese bagel. The most unusual food outing was at the West Indian Blue Water Curry and Roti. Mixing in the tastes of the immigrant Bihari population, this Caribbean dhaba has vada-like Polourie (remember the song Fulauri bina chatni kaise bani?) and dhall-roti on the menu. With chhole and pumpkin sabzi to complete the meal. The most delicious meal, of summer truffle pasta with grana padano cheese, was hosted by Toronto International Film Festival (TIFF) at the Spoke Club. In late summer, fresh and organic fruits and veggies—from plums and peaches to delicious purple potatoes—could be spotted in the many farmers' markets. TIFF decided to not move the one held every Thursday outside their prime venue—Roy Thomson hall.
---
Only a TIFF
But I wasn't in Toronto to eat. The trip was to feast on films and sit on the Fipresci critics' jury for a clutch of movies in the Special Presentations section. It turned out to be a festival with a big problem: the problem of plenty. I don't think I have ever sat down till wee hours to pore over the screening schedules with such diligence and yet not been able to watch all the films I wanted to. To every The Disappearance of Eleanor Rigby, my festival takeaway, there was a Walesa or Gravity I couldn't catch. Then some days spun an unanticipated pattern of their own. Like day one. It started with a haunting Canadian film, Triptych, dir­ected by Robert LePage and Pedro Pires, that had a thoughtful dialogue: "There's a dictatorship of words. As though words hold thoughts captive...." Later that night, while discussing his new film, The Past, with the audience, the much celebrated but unassuming Iranian filmmaker, Asghar Farhadi, spoke of why he values silence in cinema, and in life: "Our vocabulary has expanded in last 100 years but are we communicating more? Silence is when we understand the most." A day had come a full circle in its questioning of language and words. Another day was devoted to two doppelganger films—Denis Villeneuve's beguiling Enemy and Richard Ayoade's stylised and satirical The Double—back to back, separated by a pizza slice for lunch. Both, incidentally, are based on books, the former on Jose Saramago's The Double and the latter on Fyodor Dostoevsky's novella of the same name. And both boast of stunning performances, from Jake Gyllenhaal and Jesse Eisenberg respectively. The defining moment, however, was watching Kim Ki (henceforth to be renamed Kinky) Duk's graphic and gruelling, bizarre and bloody Moebius, right from the first row, and not throwing up.
---
Patchwork Maple
"Welcome to Toro­nto. We have been expecting you." It's a poster in many langu­ages, including Hindi, pasted all over Toronto. Mul­ticulturalism is visible right at the airport imm­igration counters, manned by people of every religion and colour. Friends who have settled there claim there isn't a friendlier city. Mike 'Austin Powers' Meyers, whose documentary Sup­erm­en­sch: The Legend of Shep Gordon, was shown, spoke of how lucky Canadians were to be living in a peaceful country. On the flip side, newspapers deb­ated Quebec's proposed charter of values that seeks to forbid its public employees from wearing conspicuous religious symbols like the hijab, turbans and large crucifixes. Violation of human rights or act of unification? Behind the Canadian calm one could sense an unspoken cultural churn.
---
Bolly Home
Between films and food, celeb spotting became a casualty, although all Hol­lywood stars, from Hugh Jackman to Sandra Bullock and Julia Roberts, were there. The one I did see on the red carpet was Scarlett Johansson. And try as hard as I may, it was impossible esc­aping Bollywood. It came in the form of a Nepalese taxi driver. An ardent fan of Priyanka Chopra, he told me Bollywood makes him feel grounded. He loves Toronto but says he can't call it home. Just as he couldn't feel at home in India. Why? "It's not the place, it's us. We are refugees at heart, wherever we live."
---
At The End
Every public screening began with a round of applause for the 2,500 ever-smiling, knowledgeable and helpful volunteers in cheerful orange Ts—the lifeline of the festival.
---
Namrata Joshi is a senior associate editor of Outlook; E-mail your diarist: namrata AT outlookindia.com