Amitabh Bachchan celebrated his 70th birthday on October 11 and Yash Raj Chopra turned 80 on September 27. Filmmaker and TV personality Karan Johar gives us a personal glimpse into the lives of two men he has seen up close since childhood.
My introduction to the Yash Chopra school was his film Kabhi Kabhie. I was obsessed with it, went crazy when I saw it the first time. I had formed this mental picture in which the maker of the film was this dynamic superstar, someone larger than life. Then one night Yash uncle and his wife, Pam aunty, came home for dinner. It was a weeknight and I had been tucked into bed early for school the next day. I remember I had told the servant to wake me up when he arrived. I saw him through the door that I had deliberately kept ajar. And my immediate reaction was "but he looks like my father". Yash uncle and Pam aunty have been like mom and dad to me. The connect is emotional. They are part of my personal more than professional memories though I do remember how I forced my dad to take me to the sets and premiere of Chandni and Lamhe. Later Yashraj's Dilwale Dulhania Le Jaayenge became my training ground as a filmmaker.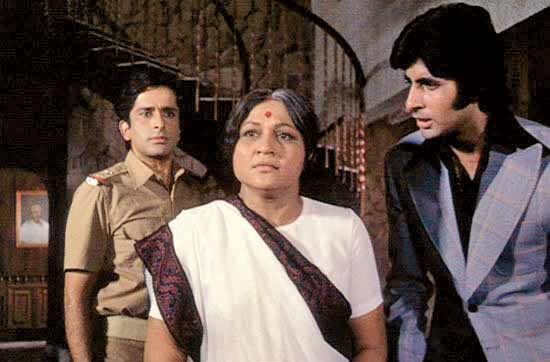 1975 Deewar
Yash uncle and my late father, Yash Johar, were these hysterically funny Punjabi men together. They would always talk in Punjabi. They would get excited about getting 50% senior citizen discount for movie tickets in New York. Here were these two well to do, much respected men who'd get elated for getting a $8 ticket for $4..
Bachchans are the other family I have been closest to since childhood. I have known both Yash uncle and Amit uncle's kids very well which makes the attachment even stronger. I have seen Amit uncle at close quarters but my relationship with him has been reverential. I found him daunting, was scared of him as a child. He was much bigger than human for me. I remember dad was at the hospital after Amit uncle's accident on the sets of Coolie, how medicines were transported from London to Bombay. The whole country was writing letters to him. I also wrote one and was confident that because of our proximity mine would definitely be read. And he did write back. I showed it to everyone in the school. It became my big moment of popularity. Initially when the kids refused to believe me I asked a teacher to authenticate the letter. I was a fat boy back then and fat boys end up socializing more with girls. But that one letter was a breakthrough to get me into the boys' club. I was in South Bombay where Bollywood was not considered cool. I always kept my Bollywood connect hidden. But a letter from Amitabh Bachchan was way too cool to not acknowledge.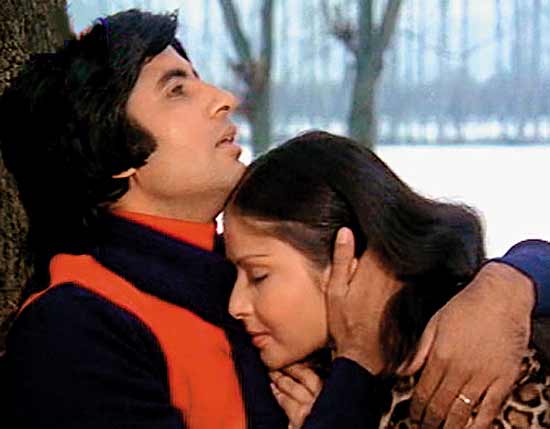 1976 Kabhi Kabhie
I was a bundle of nerves when I shot with Amit uncle for my second film, Kabhi Khushi Kabhie Gham. I fainted on the sets, all of me was on Farah Khan. It was difficult to reconcile with the fact that I was instructing Mr Bachchan. People think that if you are from the industry you'd be used to the stars. That it would be no big deal if you have the access. However, it's the other way; it's a bigger deal. Since you understand the mechanics you are lot more aware of the star's position, what goes into making him a phenomenon. It was an out of body experience for me to say "action" and "cut" to Amit uncle. The minute I see Yash uncle anywhere I touch his feet. When "Amit Uncle calling" flashes on my mobile I immediately stand up to receive the call.
Yash uncle calls Amit uncle 'panditji'. they are both casual and respectful to each other. Their respect never kills the wit. It's rare these days.

Today's Internet generation knows Yash Chopra for Chandni, Lamhe and Dil To Paagal Hai but are not aware that he was a pioneer in so many ways. He tackled the lost-n-found theme in the multi-starrer Waqt much before Manmohan Desai came to be identified with the formula. He made a song- less thriller called Ittefaq. It was made on a play and wrapped up in 27 days. He made a multi-generational romance like Kabhi Kabhie and revenge dramas like Deewar and Trishul. Dharamputra, a social issues film, dealt with communalism in the backdrop of Partition. His films have an elegance of characters, are emotionally affluent. In films like Daag, Silsila and Lamhe he dealt with the grey zones within of human beings. The characters were in the borderline of grey and he didn't punish them on the black and white logic. He has been rooted in Punjab but understands the urban dynamics, has a strong power of observation that made his urban films very real.
He is so alive at 80. He is aware of the current world cinema, knows more than people half his age. It is superb to have a gossip session with him, he is so well connected with everyone and everything.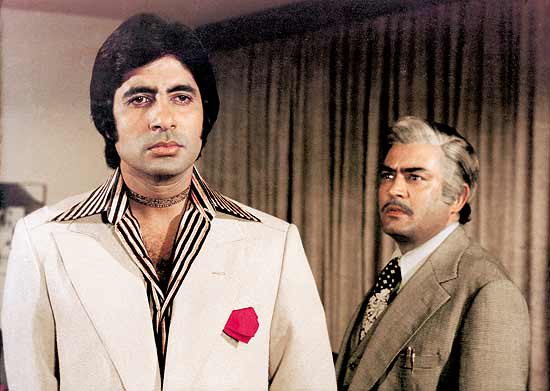 1978 Trishul
Mr Bachchan has done some path-breaking stuff as an actor, in films like Mili, Abhimaan, Chupke Chupke. Zanjeer brought an anti-Establishment persona that was a political necessity in the 70s. The angst was needed; the nation was looking for a hero. As the Angry Young Man he got such a Godlike stardom that he couldn't have pulled away from it even if he'd wanted to. The audience also had a certain image of him, a reason why Main Azaad Hoon didn't work. That's the thing with stardom, the aura takes over the actor. You want to be challenged as an actor but can't fight off the aura. It is a Catch 22 situation. As an actor he is getting much more challenged now with films like Black and Paa; he can take chances which were not allowed to him earlier.
Amit uncle is into blogging, tweeting. The young starcast of my upcoming film, Student of the Year, went for the Kaun Banega Crorepati shoot recently. They got tired waiting but Amit uncle was full energy. At 70 he exudes such power and vigour that kids promptly woke up from the slumber when they met him.
I feel blessed that with these people, who I have been in awe of, I also know their personal, human side. Yash uncle is a very funny man. He can keep you in splits with his dry sense of humour. In the middle of a conference or public meeting he'd say something in your ears that would make you crack up. But he is not phone savvy at all. For him a phone call is merely an exchange of information and he just keeps the phone down when he thinks that the information flow is over. You have to tell him right at the start the things you are going to talk about so that he doesn't abruptly cut the call.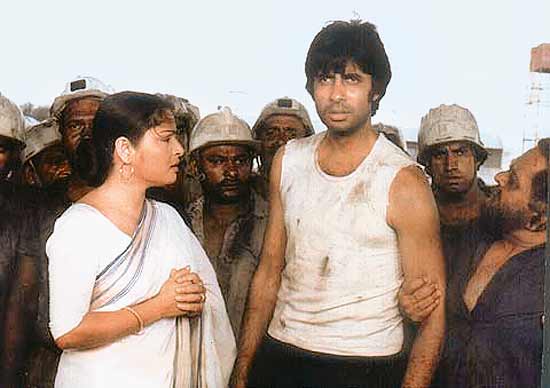 1979 Kaala Pathar
Amit uncle is a stickler, very methodical. A message from him always comes with where he is—Amitabh Bachchan from Goa, Amitabh Bachchan from London… He maintains, archives things. The sunglasses, jackets, shoes he wore for various films are racked and marked. Its like a museum, he has everything from every film, every significant letter written to him. He has a sense of preservation, has things from the first day in the industry. And look at me, I don't have any working stills of Kuch Kuch Hota Hai. He is from a generation that valued everything. The passion they imbibed and embodied is the kind that lasts forever, beyond the change of seasons. Our generation takes our achievements for granted.
Yash uncle calls Amit uncle "Panditji". It is wonderful to see them together. They are casual yet respect each other. There is a blend of reverence, fun and mutual respect in their interactions. The respect never kills the repartee. Those kind of conversations don't happen in our generation any more. They often recall the outdoor shoot for Kabhi Kabhie, how much fun it was. Yash uncle tells me its not like that anymore, that we are not having enough fun on the film sets.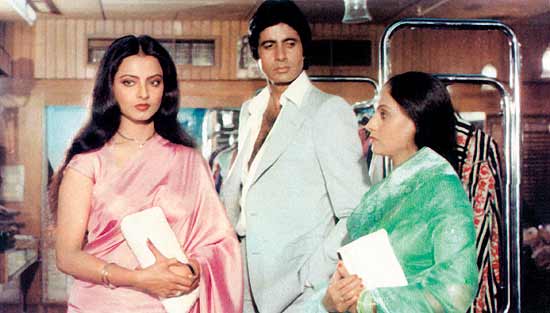 1981 Silsila
They worked on some great films together. Deewar, Trishul and Kala Patthar were the dramatic ones. Then Yash uncle brought out the poet in Amit uncle in films like Kabhi Kabhie and Silsila. That can only happen if you know the actor, the man personally. There has to be an emotional investment in the man. A personal connect with the actor was necessary to create emotional magic in these films. For the level of nuances these films had the director had to be in total sync with the actor otherwise both would have failed the film. It's like how I can capture certain emotions in Shah Rukh more effectively.
Though Yash uncle has announced that Jab Tak Hai Jaan will be his last film as a director am sure he will continue to be the powerhouse of Yashraj Films. Even today Adi (son Aditya Chopra) seeks his approval for everything. He understands the business dynamics, has the gut for making the right financial decisions, the instinct for right financial moves. He is clued into the market, knows how to leverage the brand to optimum level. An artiste never dies, he is at the most exhausted but Amit uncle is nowhere close to exhaustion. The artiste in him is breathing extremely well and has abundant energy. I know "legend" is an overused term but applies beautifully to Yash Chopra and Amitabh Bachchan. They are truly legends with legs that don't end.
---
As told to Namrata Joshi — a shorter version of this appears in print