Week after week, TV news channels chanted the TRP—or television rating points—mantra. They rode on its success haughtily and sulked when it let them down. As a new regime for digitisation of cable networks came into effect last October—and is gradually being enforced—news channels asked TAM, the viewership ratings agency administering TRPs, to embargo figures for 13 weeks. They were seeking a period of meditational quiet bet­­ween chaotic TRP battles. They wan­ted digitisation—which keeps tight count of connections—to settle in before deciding on viewership and TRP rankings.
Advertisement opens in new window
The 13-week embargo was from October 7 to January 6, 2013. On com­p­letion of the period, the raw data for the period has been released, setting off quite a clamour of claims from news channels. With statistical manipulation and clever graphwork everyone claimed leadership under every parameter.
The reasons for this clamour have to do with the behavioural psychology of viewership. A channel's claim of being No. 1 has been seen to influence viewers into choosing it over other channels of its kind. This behaviour is also reinforced by the clubbing together of channels by category—news, entertainment, movies and so on—on service providers' displays, which viewers scroll up and down to choose what they watch on the digital platform. Having seen an ad making a No. 1 claim, they tend to click on that particular channel from a group in that category. It does not seem to matter that all channels are making those claims: the viewer usually homes in on the basis of the claim he last remembers seeing. So every channel gains random eyeballs.
Advertisement opens in new window
"The challenge for news channels is to decide who their viewers are and then how to build an enduring brand."


Sunil Lulla, CEO, Times Now
News channels rank low on the lists of media managers, who plan which ads go where. Therefore, news channels have to fight harder to gain ads: the only way they find of doing so is making such incredible claims.
All sorts of reasons are attributed for the improved ratings. "After digitisation, the strong has become stronger," claimed a communique from Media Content and Communication Services (MCCS), the parent company of abp News, Majha and Bangla channels. It claimed market leadership with a 30 per cent marketshare. ET Now claimed it controlled 40 per cent of the marketshare in English business news, a claim refuted by Bloomberg TV, which claimed the figures do not take into account viewers who watch its channel when they are at their workplaces! Zee News claimed its viewership had spiked after an interview with the friend of the Delhi gangrape victim.
Digitisation has helped broadcasters get a better fix on who is watching what, but it is debatable if it is helping viewers make an informed choice on what to watch. The debate is bound to get louder. Around October-end last year, the four metros had adopted digitisation. By March-end, 38 towns are expected to go for digital channels. Few had expected the effects of digitisation to show up so soon. The data (see box) shows two trends: pre-digitisation, viewership for niche channels (like news) was less; digitisation increases the choices and viewers tend to sample new channels—that is, total time spent on TV gets fragmented. But the manipulation of numbers is all too evident. In fact, the figures show that overall, news channels had seen a three per cent decline in viewership. For all English channels gro­uped together, viewership had declined 15 per cent; for Hindi channels, it had declined 7 per cent.
Advertisement opens in new window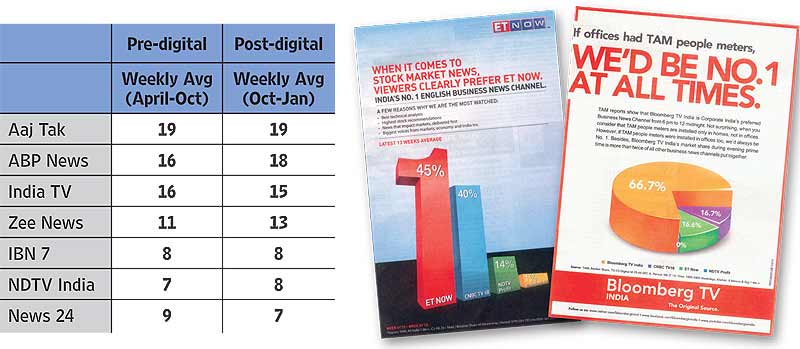 Time now to ask the opposite set of questions: Is news fatigue setting in? Is the viewer more interested in entertainment than in news channels? TAM says it has made available the raw data to all channels and they are interpreting it differently. "The data is being spliced by channels to arrive at their own conclusions," says L.V. Krishnan, CEO of TAM. The rating agency is planning to increase to 10,000 the number of 'peoplemeters' installed on TV sets in use. This increases the sample size from which viewership and viewer behaviour is quantified. The agency also plans to compare viewer behaviour pre- and post-digitisation.
Of the overall decline in news channel viewership, Neeraj Sanan, chief marketing officer of MCCS, says, "The future for live news, despite the initial dip, is bright as the demand will go up with digitisation. It is a temporary setback but one that will see the news genre consolidate itself when the dust settles down." He is taking hope from the growth in overall television viewership—which has gone up five per cent, to about a little more than two hours per day per person. Sanan takes the view that the viewer has a greater choice now: earlier, vendors could force him to make do with whatever they could offer; now, he can pick and choose. "The strong will survive," he says. Sunil Lulla, CEO of Times Now, says, "The biggest challenge for a news channel is that it has to decide who its viewers are and how it is going to build itself as an enduring brand. Will people pay to watch news? That remains to be seen."
Advertisement opens in new window
What is happening is that viewer time is being fragmented. Pre-digitisation, the viewer had 80 channels to choose from on average; post-digitisation, he has 180 channels, categorised neatly as he scrolls. So the little over two hours that a viewer spends daily before TV are divided up among channels offering cookery, travel, fashion and so on. The new navigation guides and remotes coming with the set-top boxes encourage exploration. Over time, viewers will settle down and decide what they want to pay for. "Actually, viewers may end up paying more," says Jawahar Goel, MD of Dish TV. "The biggest gainers as the cable business gets more transparent will be the broadcas­ter and the government. "
Some viewers are already feeling the pinch now. Ram Narayan, 42, a handyman and gardener, bought a set-top box for RS 800 so his children could have their cartoon fix. He now finds himself awash with channels and confused. His only consolation is a serial on Lord Shiva he chanced upon. But there are advantages: pilfering a connection is no longer possible. With less pilferage, reception quality has improved. But Ram Narayan says he'll disconnect if the distributor raises the monthly charge from Rs 100 to Rs 150, as he has been threatening to do. This is not what news channels would want to hear. Their test will be in keeping him watching and paying.
---
By Anuradha Raman and Pragya Singh