Who Are The Bnei Menashe?
Mizos and Manipuris claim they are descended from the ancient and "lost" Manasseh tribe of Israel
Some 1,700 have migrated to Israel, another 7,000 are waiting to join them
One of Israel's top rabbis ruled that they may "return" only after conversion to a most orthodox stream of Judaism
Their return has been controversial in Israel, especially as many have been settled in the 'occupied' West Bank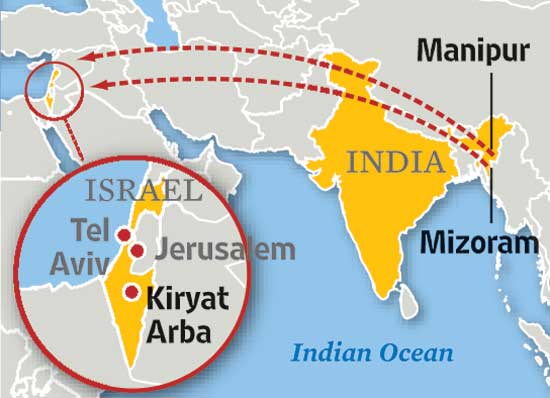 ---
"If there is a need to live in the occupied territories, we will do it," declares Rabbi Yehuda Gin Vaiphei. He lives in Kiryat Arba, a volatile illegal settlement near Hebron on the West Bank, whose residents routinely clash with Palestinians. "World opinion," he tells Outlook, "changes with human cycles but the truth of the Bible remains. The Palestinians say they belong here but I also belong here. Where was the Palestinian nation for 2000 years? Israel did not invade her."
It's a view of history routinely spouted by Israel's religious right. But with his gentle manner and north-eastern Indian features, Rabbi Yehuda Gin Vaiphei, born and bred in Manipur, looks like the last person who should be parroting it. Equally gently, Tzvi Khaute, also a Manipuri, and a graduate of Delhi's Ramjas College, says matter-of-factly that there are no "secular" Jews among the Bnei Menashe, ie the Mizos and Manipuris who claim they belong to a "lost tribe" of Jews. Indeed, he himself made a conscious "political decision" to live in Kiryat Arba despite a job offer in Haifa, a major Israeli city. "This is my land and I am a part and parcel of nation-building," he says.
The implication that living in an illegal settlement constitutes nation-building would be contested not just by the international community but also by many Israelis, who regard the West Bank not as a part of Israel but of a future Palestinian state. No wonder then that one of the major questions confronting the Bnei Menashe, as they try to make a new life for themselves in their Jewish "homeland" is: are they a "lost tribe" of Jews from India, or an eager army in the ongoing demographic war between Israel and Palestine?
Theirs is a most unlikely story of oral histories and faint memories; of a bond from 2,700 years ago when 10 of the 12 Biblical tribes of Israel were exiled and dispersed. The Bnei Menashe (children of Menashe) believe they are descendants of the Manasseh tribe and must come home to Zion, their ancient homeland. And so they did, 1,700 of them, even as historians questioned their claims, and Israeli politicians issued contradictory orders about them. India and Israel even had a serious diplomatic spat about the manner in which some Bnei Menashe were brought here, violating Indian sensitivities on the issue of conversion.

A cultural centre in Kiryat Arba
Nevertheless, they have been settling here since the late 1980s, the larger groups arriving after one of Israel's two chief rabbis, Shlomo Amar, visited Manipur and Mizoram in 2005 and ruled that the Bnei Menashe were indeed the "seed" of Israel. They could come "home", they said, but only after conversion to the strictest, most orthodox stream of Judaism. It was this mass conversion, done as if India's Northeast was a mere extension of Israel where rabbis could fly in and conduct ceremonies, that angered New Delhi.
Controversies also lay in wait for them in Israel. In contrast to other Indian Jews, such as the Bene Israelis or Cochinis, wooed by Israeli officials to immigrate, the members of the "lost tribe" arrived here to a host of sceptical questions: were they Jewish enough, were they part of a right-wing political manoeuvre to boost the numbers of Jews in occupied territories, or were they simply economic migrants?
Khaute took a conscious "political decision" to live in Kiryat Arba in the occupied West Bank. "This is my land...."
What caused the most controversy is that most of them were placed in illegal settlements in the West Bank, literally on the edge of the Middle East conflict. According to Michael Freund, chairman of Shavei Israel, an institution funded by right-wing American Jewish and evangelical Christian organisations which brought the Bnei Menashe to Israel, it was only the "settlers" who initially offered them a home and institutional support. However, constant criticism of this move has now forced Shavei Israel to find homes for newer entrants in Israel proper.
Yet, as evident from the statements of Yehuda Gin Vaiphei and Tzvi Khaute, the Bnei Menashe seem to have embraced the harsh ideology of the "settler" movement—accepting it, perhaps, as the price they must pay to return "home".
Khaute maintains that he chose to live in a settlement for "spiritual growth"—religious schools for his kids and supporting institutions. He says: "I would never encourage my boys to be violent. I just want them to be good Jews." Yet, the environment in the settlements is belligerent, with many teenage boys considering it a badge of honour to go out and damage Palestinian property.
As a coordinator for Freund's organisation, Khaute keeps in touch with others from the Bnei Menashe. He says proudly that there is "100 per cent" participation by the young Bnei Menashe in the mandatory army service because "serving is an honour". Moreover, they choose combat units instead of the easier administrative or support units.
Imbued today with all the zeal of the newly converted, many of the Bnei Menashe were practising Christians before embracing Judaism. "This community was not only discovered recently, they discovered themselves recently," says Maina Chawla Singh, a scholar of Indian Jewish migration. The manner of their conversion enmeshes them in controversy even before they start their new life. "They are asked to embrace the most extreme form of Judaism and are thus deprived of the plurality that Israeli society offers—where beliefs range from the secular to the orthodox," Singh points out.
Freund, a one-time New Yorker skilled in media management, portrays the entire process as charitable and glosses over questions about "conversion". An aide to Benjamin Netanyahu during his first premiership, he adopted the cause of the Bnei Menashe after coming across a letter from them asking that they be allowed to "return". He is convinced they are a lost tribe. He cites old Mizo chants containing the word "Zion" and the Hebrew word "Yah", for god, and customs resembling Jewish traditions.
Freund, now trying to bring across another 7,000 of the Bnei Menashe 'home', insists he is only doing "what is right", and that it is "beyond politics". (In the past, however, he's said that Israel should find "creative" ways to increase its Jewish population rather than give up land to Palestine.) Reports in the Israeli press say the plan is to quietly take Bnei Menashe from India to Nepal in groups of 200, before converting them and bringing them to Israel. Freund declines to confirm this, but hints that those waiting will be able to immigrate soon. They would do well to first study the lives of those who have already "returned".