"Everything is temporary; only the Self is permanent..."
"If you're going through hell, keep going."

—Winston Churchill
These tweets by actress and entrepreneur Preity Zinta a few days after her team King XI Punjab went all the way up to the IPL final is probably a glimpse into her state of mind. Last week, she filed a criminal complaint against ex-boyfriend and partner in the IPL team, Ness Wadia, son of industrialists Nusli and Maureen Wadia, citing intimidation and molestation by way of verbal abuse and the grabbing of her hand . Ness has called the allegations false and baseless. The police are speaking to eye-witnesses and examining the May 30 CCTV footage of the corporate box at Wankhede stadium, where the incident allegedly happened. There have been reports that Preity is willing to dilute the charges but her lawyer Hitesh Jain says there is no question of a compromise: "I do not know where this is coming from. We are waiting for a thorough investigation. I do not know the details of the police probe."
The Zinta-Wadia incident comes in the wake of India seeing repeated cases of extreme violence against women. And coupled with the fact that both are very public individuals, there have been many shrill voices on both sides analysing the reasons for the complaint. Wom­en's activists, though, are bewildered with how some sections of the media are treating the issue. "I simply don't understand why people are questioning her right to file a police complaint. There have been cases where actresses have been abused and have not filed a complaint," says women's rights activist and lawyer Flavia Agnes. She is outra­ged over the speculation in social media, TV and newspapers over why Preity has filed the complaint, with rumours ranging from 'it's because Ness has moved on' and 'her film career is floundering' to 'she has lost money in the IPL'.
Not many from the film industry too, except for a few like Vidya Balan, have supported her. Most reactions have been like that of author and columnist Tavleen Singh who in tweets doubted the seriousness of Preity's complaint. The questions doing the rounds are: Is this just a lovers' tiff, a private and personal affair? Is it, or isn't it, trivial compared to the rapes and murders of girls in UP? "What is this classification of abuse? This much is okay and this is not?," asks theatre-person and actress Lilette Dubey. "In fact, there should be zero tolerance to any kind of abuse." Dubey feels that a feisty Zinta may well have been aware this would be the reaction. "There is a class angle to this too. People often sympathise when crimes happen in the poor secti­ons of society, to the deprived, rural women. But when it happens close to us, in edu­cated, affluent society there is a tend­ency to look away," says lawyer Veena Gowda.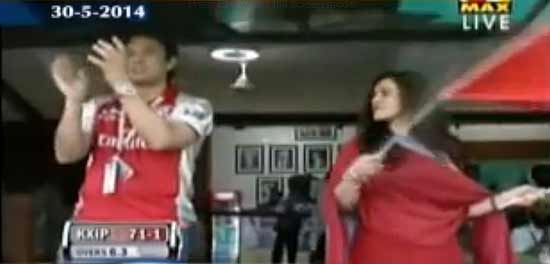 A May 30 TV grab from the Wankhede
Indeed, this is not the first time Preity has sought legal recourse. She was the only actor-witness to not retract her statements about getting calls from the underworld in the infamous film financier Bharat Shah case in 2003. Two years later, she had approached the courts to file a defamation case against a city tabloid which had published alleged taped conversations about her relations with Salman Khan. She also went to court last year to reclaim the money she had reportedly lent to Kamal Amrohi's son Shandar Amrohi, who passed away in 2011.
"What is this classification of abuse? This much is okay and this is not? There must be zero tolerance for any kind of abuse."


Lilette Dubey, Theatre person
Surprisingly, until recently, Preity was the dimpled darling of the media. Her recent failures at the box office, the case of a bounced cheque to the writer of a film she produced etc were dismissed as routine. But now suddenly everything, her failed relationships, her flops, her all­eged botox treatments, ever­y­th­ing is on the radar. "Unfortunately, in the din around celebrities, the main issue tends to get lost. Here is a case of argument, rough words, possible physical manhandling. The woman has been humiliated and abused. As a citizen, she has a right to complain and seek justice. So what if she's a Preity or some Pinky?" asks Nandita Gandhi, co-director, Akshara Centre, a women's group. "I am glad that she made the complaint. It is not our job to speculate. We want the case to be investigated thoroughly and have written to the police already," says Susieben Shah, head of the state women's commission.
Anagha Sarpotdar, researcher and member of several inquiry committees on sexual harassment at the workplace, says "the law is clear—if a woman is touched in any manner (read sexual or otherwise) against her consent, it is molestation because she has been violated". Anagha says one must also investigate if a case should be pursued parallel with an inquiry into sexual harassment at the workplace since Zinta and Wadia are both professionally related and the incident happened at Wankhede, the venue for their match. Preity wrote in an FB post: "I don't want any sympathy from anyone but I will sincerely appreciate it if people do not try to take away my dignity in the process of my fight for respect at my workplace." Which is the core issue here: a glamorous woman comes out in public saying she was mol­ested by someone known to her. Will she ever be discussed in all seriousness?