A day after August 15, 1947, 22-year-old Surajit Sen walked into All India Radio and was offered a newscaster's job. This young man went on to become the voice of radio, decades before the advent of TV, and later, the high-decibel entry of private television channels. In the old days when radio ruled the waves, it was Sen's instantly recognisable voice that set the tone for national celebrations; and a wonderfully mellow tone it was, old-timers remember, soothing the nation's nerves amid the uncertainties and upheavals of new nationhood.
That young man is now all of 83, with a memory that often fails him. "Hello, I'm Surajit Sen and I can't hear a thing," he proffers by way of greeting. With four stray dogs for company in his Delhi home, including one quaintly christened 'No Name', Sen is a lumbering giant of a man. His voice has still not lost its timbre. "I think I still retain a bit of the voice," agrees Sen.
Advertisement opens in new window
When radio ruled the waves, it was Sen's recognisable voice that set the tone for national celebrations.

He recalls how news in his day was, above all, reassuring in its effect—rather than disturbing. It was an innocent time when there was only one All India Radio and there was no quarrel about its stated objective: to be the voice of the State itself. The margin for error was nil. Sen along with other famous radio personalities of the era like Melville de Mellow, Lotika Ratnam, Nobby Clarke, Manoranjan Bharati and Preminda Premchand, spoke to the nation with a sense of mission. No flippant, off-the-cuff remarks. No hysterical, high-pitched commentary. The news was firmly grounded in facts. For Sen & Co, this was "objectivity" and they revered it.
Others of his ilk also recall how news was vetted before it was aired, and newscasters practised reading the news several times before they sat in front of the microphone. "It was important to sound convincing and credible," says Sen. Folklore has it that he swallowed two raw egg yolks daily to make his voice sound mellow. His colleagues in the newsroom remember he offered the recipe as a tip. Premchand turned down his advice, finding the recipe unpalatable. "But," she acknowledges, "it was he who taught me to read news," she says.
Advertisement opens in new window
Today Sen is an armchair TV critic, and an unsparing one. "The quality of news is very bad. There's nobody to teach newscasters to read it. We were taught by the best people," he says. But how does he know, you wonder, if he can't hear a thing? "I can make out their speech from the movement of their lips," he says promptly.
Sen started out in the army, spending a couple of years there, until a superior gave him a friendly tip. "I was told I was wasting my time in the army, and would end up as a colonel or brigadier, whereas on radio my reputation would be unsurpassed." So he joined AIR, turning down an offer from the BBC.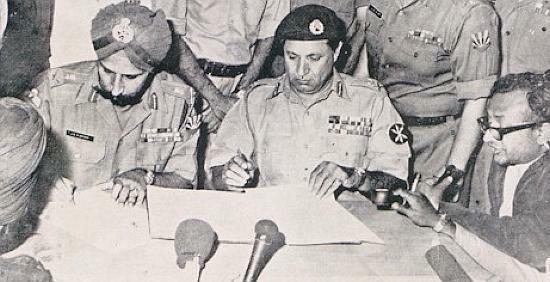 Sen, seated extreme right, watches Gen Niazi and J.S. Aurora sign the Declaration of Independence in Dhaka, 1971
Advertisement opens in new window
Beside being a newscaster, Sen also recorded many important historical events throughout his career, yet today he struggles to retrieve them from his memory. In fact, he was the first foreign correspondent to reach Dhaka after Pakistan surrendered in 1971 and interview the top political leaders of newly-founded Bangladesh. He remembers volunteering to go when others refused, and came back with scores of interviews.
Folklore has it that he swallowed two raw egg yolks daily to make his voice mellow. He even offered it as a tip.

In his house is a black-and-white frame of the historic Declaration of Independence signed by General Niazi from Pakistan and J.S. Aurora from the Indian side. You can see Sen with generals, too. Four years ago, Sen gave away all his war memorabilia, including a pistol made in Pakistan which was gifted to him by the Indian army. "There should be no war and no fights in the name of religion or race," says the one-time newsman who never shrinked back from edgy assignments.
Sen also had a knack for being in the right place at the right time, for instance, the Munich Olympics of 1972 where Israeli athletes were murdered. He remembers hiding in a ditch taking notes, the minutiae is lost to him.
Advertisement opens in new window
Of all the greats Sen interviewed, often on Independence Day and Republic Day, he remembers Indira Gandhi as a beautiful woman, though conceited. Nehru? An excellent communicator and easy-going unlike his daughter.
For Sen, August 15 was always a regular working day, even if it was a national holiday. But when India turns 62, he will be marking the day in front of his television set. He will watch the news of that day being read out by a new generation of newsreaders.