Jaipur Restaurant
Tapri, The rooftop, Surana Bldg, Prithviraj Road
Tel: 2360245.
Meal for 2: Rs 800
Rating:

From Ladakh to Kerala, wherever international backpackers gather, you'll find little eating joints that specialise in comfort foods, like jacket potatoes, hummus and Nutella pancakes. Tapri puts a desi twist by adding a whole range of things like phuchka shots, wai-wai bhel, and khakra pizza to the list.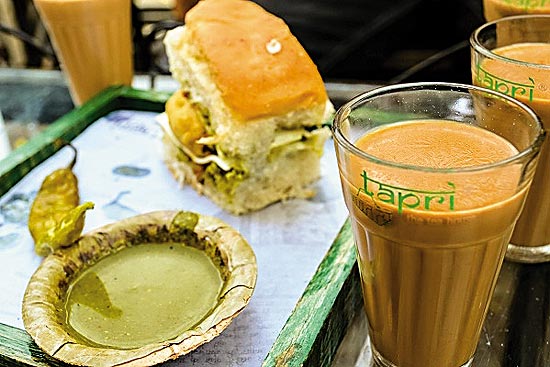 Tapri is a quirky rooftop cafe overlooking Central Park. We sat there on a delightfully drizzly afternoon, with peacocks calling in the gardens below, and browsed through their menu (which is something of a collector's piece, with its desi English and corny humour). Instinct told us to avoid the sections titled 'videshi items' and 'Jugaad—The R&D Department' and turn straight to 'Khao Galli'. And so we ended up ordering a spread that regressed us back to our college days. We pigged out on their 'ishpecial vada pao'—hot, crisp and served with a selection of delicious chutneys, crackling phuchka shots, dal ke pakode and sev puri. Then, regressing further into adolescence, we couldn't resist trying their tadka Maggi noodles which, I'm embarrassed to admit, we greatly relished. But Tapri's USP is its surprisingly extensive chai menu, covering over 40 different varieties, so we lingered over masala chai (served with Parle-G biscuits for dunking), thadi Nathdwara chai and their unique Red Bull iced tea, listening to Coke Studio music all afternoon. A most indulgent meal altogether, though we left feeling horribly guilty for having enjoyed those damned tadka Maggi noodles so much.
---
Last Bite
Brinner, or breakfast for dinner. Too tired to cook dinner? The in thing to do this winter is to literally eat what you eat for breakfast for dinner: eggs, toast, cereals.... In London, 44 per cent people admit to it. Would we?