A Stalemate On The Top Of The World
April 15 Chinese army patrol enters Daulat Beg Oldi in the western sector in Ladakh, set up camp. India protests and sets up its own camp opposite the Chinese.
April 16 India demands withdrawal of Chinese troops from DBO to maintain status quo ante. China asks India to dismantle constructions in disputed land.
April 18 India and China activate joint mechanism, leading to a flag meeting to break the impasse, but it fails. Two more flag meetings also end in failure.
April 20 China announces Premier Li Keqiang's visit to Delhi on May 20. India says foreign
minister Salman Khurshid to visit Beijing to prepare for Li's visit.
April 22 India and China both try to play down the issue at Ladakh by describing it as a localised problem and insist on strong bilateral ties
May 2 Indian army chief, Gen Bikram Singh briefs CCS on ground situation. India, China maintain that both Li's visit and that of Khurshid are on schedule.
***
A fresh, fortnight-long dispute on a contested landscape along the Sino-Indian boundary in Ladakh where Indian and Chinese soldiers find themselves eyeball to eyeball in makeshift camps is hardly the ideal setting for the maiden visit of Chinese Premier Li Keqiang to India. If all goes according to the sch­edule agreed by the two sides, Li will be in India on May 20. Before that, Indian foreign minister Salman Khurshid is scheduled to visit Beijing on May 9, in what ostensibly is as a precursor to prepare the agenda for talks during the Chinese prime minister's visit.
However, questions are now being raised in India whether either of the visits should go through. The rising mood reflects the ongoing impasse at Daulat Beg Oldi in the western sector of the disputed boundary in Ladakh, which has shown no signs of ending—despite three flag meetings between the forces—since April 15.
"Certainly, Khurshid should not go to China," former Indian foreign secretary Kanwal Sibal told Outlook. He is opposed to it on two counts. One, since it is an incoming visit by the Chinese premier it is the Chinese foreign minister and not his Indian counterpart who should travel to the other country to prepare for the visit. Secondly, by repeatedly stating that he is going ahead with his visit to Beijing, Khurshid is putting himself in a spot. "If the rising mood in India forces him to cancel the visit, then what is being described as a local issue in Ladakh will be regarded as a full-blown crisis between India and China," says Sibal. He argues that if, on the other hand, he goes ahead with his visit then, Khurshid will be seen as condoning the Chinese action.
"Khurshid must not go to China. If the rising mood leads him to cancel his visit, a 'local' issue will be seen as a crisis."


Kanwal Sibal, Former foreign secretary
The present impasse in Ladakh is part of the boundary dispute between India and China that led the two sides to war in 1962. The entire Sino-Indian boundary—divided into eastern, middle and western sectors—is yet to be demarcated. Thus, no formal boundary exists. Unlike with Pakistan, where the two sides signed the Simla Agreement and agreed on a Line of Control—a formal recognition of the divided Jammu and Kashmir under the respective control of India and Pakistan—no such agreement exists between India and China. Not only that, the two sides do not even agree where the Line of Actual Control—indicating the area under the effective control of the two sides—lies. In 1962, Chinese troops broke through Indian defence lines and penetrated deep inside Indian territory, before unilaterally withdrawing to their original position. Subsequently, where the two troops stand is known as the LAC, but there is no agreement on it.
In the last five decades, though neither India nor China have been able to formalise a boundary agreement, they have signed a number of documents and protocols agreeing on how their respective troops should behave till they reach a final settlement. As a result, Indian and Chinese soldiers patrol large tracts of land along the disputed boundary on a regular basis to ensure that what they claim as their territory does not get diluted and describe the presence of troops from the other side as 'intrusions'.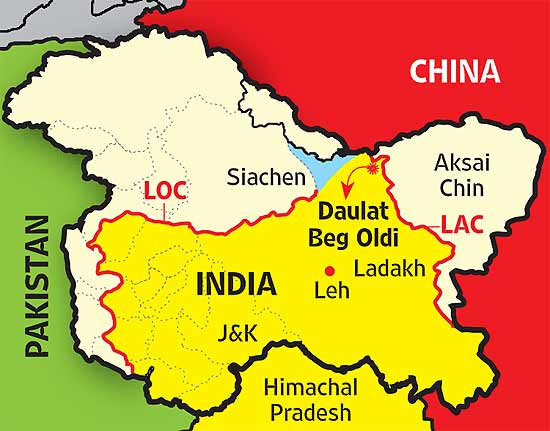 Though there have been a few stand-offs in the past, by and large the Sino-Indian boundary has remained peaceful. Over the years, a system has also evolved by which the patrolling troops of the two countries, despite coming close, have avoided any confrontation or attempts to stay on. The current impasse at Daulat Beg Oldi appears to have stemmed from the Chinese troops' attempt to break that pattern.
"China is trying to change the status quo that the two sides have maintained so far," says a senior MEA official. "There is no way we can accept it because it has huge implications. We have made it clear that they should go back to status quo ante," he added to emphasise that no meaningful discussion with China on 'concerns' that the two sides may have can be conducted unless their troops decisively withdrew from Daulat Beg Oldi.
But so far there has been no convincing answer explaining the Chinese stand. It's also puzzling, since the new leadership in Beijing has made a conscious effort to reach out to India to ensure the continuation of the outward form of a cordial and cooperative relationship of the past decade or so. This was reflected when Chinese president Xi Jingping met PM Manmohan Singh on the sidelines of the BRICS Summit in South Africa in March and stressed on strengthening ties.
This was followed soon afterwards by Beijing's announcement that India would be the first foreign country Li would visit after taking charge. Indeed, that is significant because according to protocol, it is the turn of the Indian PM to visit China. Even after being informed that Manmohan would visit China in June, Beijing insisted on Li's Indian visit on May 20. China's attempts to host representatives of Indian army and navy in recent months, including allowing them to visit Tibet, indicate its keenness to develop ties. In addition, China recently hosted Indian officials to discuss the emerging scenario in Afgha­nistan and how both sides can cooperate to deal with challenges there.
"I don't think this is an aggressive posture by China. Why'd they want India to be their PM's first overseas destination?"


Srinath Raghavan, Historian and author
How then should we see the Chinese action in Ladakh?
Though the Centre tries its best to ensure that the situation in Ladakh remains a 'local' problem and does not infect bilateral ties, several sceptics in the Indian establishment are suspicious of China's current stand.
On this, there are two schools of tho­ught in New Delhi. Some see it as part of China's aggressive approach towards all territorial disputes with nei­ghbours, including its spat with Japan, Vietnam and Philippines in the South China Sea. Others interpret it as China's attempt to prevent India from strengthening its fortifications—to match similar Chinese activities—along the border. During the past few days' interactions, the Chinese reveal that they want India to dismantle the constructions, including some helipads, it has erected in the disputed areas. So far, India has ref­used to oblige, claiming such constructions have been done well within Indian territory and not on disputed land.
"The longer the impasse continues in Ladakh, the more difficult it will be for us to contain it and treat it as a localised issue," says a senior Indian diplomat. He pointed out that since it's increasingly being viewed in India as an aggressive posture it might even cast a shadow on Khurshid's China visit and, more importantly, on prime minister Li's visit to India.
But historian and author Srinath Raghavan waves aside the pessimistic view. "I don't think the incident reflects a new, aggressive posture on China's part. If China did want to adopt such a strategy, why does it also want India to be the first overseas destination for its new Premier?" he argues.
India and China were faced with a similar situation in 1986, after a stand-off at Sundorong Chu Valley in Sikkim. But this did not prevent then foreign minister N.D. Tiwari's China visit that paved the way for prime minister Rajiv Gandhi's visit to Beijing in 1988—seen by most diplomats and scholars as a turning point in Sino-Indian ties.
Is the frosty standoff that shows no immediate sign of abatement just another inevitable snag along a border swaddled in ambiguity? If so, it's possible that there would be a satisfactory resolution when Khurshid travels to China next week and paves the way for Premier Li's visit to India later in the month.