Two hundred days may be an insignificant blink-and-miss moment for a government that is, if all goes well, all set to rule India for 1,826 days or so more. But there are two reasons this landmark should be noted. Even if blinded by the razzmatazz and photo-ops, today one can definitely see clearer than the fuzzy, feel-good vision one received unquestioningly 100 days ago. Then, flush with victory (and a hefty dose of caution!), no one within government was talking. That situation has improved somewhat. Also, one has a clearer understanding of how this government is shaping up.
The PMO seems to be running the show in various ministries, building the impresson that ministers are rubber stamps.
It is worrying. Ministers and bureaucrats keep looking over their shoulder, and there is a sullen air in government. The Prime Minister's Office appears to be running the show in various ministries, building a perception that barring it, most individual ministers are rubber stamps. While the economy appears to be in a better place, thanks to moderating inflation, a rising Sensex, and plummeting crude oil prices, many fear this is but a temporary respite, a bit of good luck. On the governance front, there's no denying that the communal atmosphere in the country has been vitiated. From love jehad to meat jehad to communal sparks all over the country, the minorities are more insecure today. Quite openly, the RSS is influencing policy making.
So our performance rating of key ministries—a first for Outlook in its 20th year—is an attempt to cut through the hype and the perception that everything in this country is being run by one man and his super-efficient PMO. There have been massive changes in ministries like rural development, labour, and environment, affecting millions of people. Surely, in a democracy, we should be able to judge the individual ministries of a lean government without having to resort to the master puppeteer analogy? Is it possible for a country this large to be run by such a small group of people? Why are we being led by easy percepti­ons and fears when reality is far more complex? Change requires many hands. Isn't that the democratic way?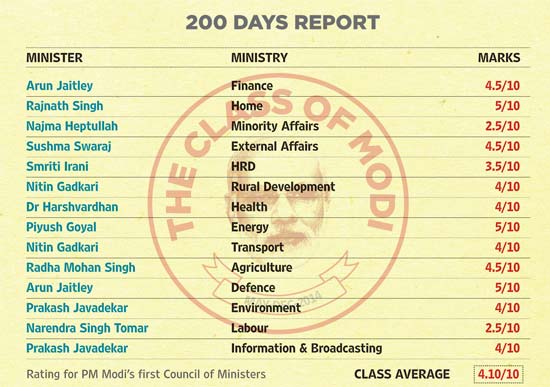 "Modi seems to be trapped in his own echo chamber. They ignore the restlessness brewing outside the hallowed circles."
Our rating of 14 key ministries* shows the enormous gap between hype-related slogans and reality. Our ministers barely get pass marks for this 200-day period. It is disturbing, and also a reminder of the massive challenges ahead. What makes this marker interesting is that there is also the first glimmer of open impatience from commentators and sup­porters who have until now been fervent supporters of Modi's rise. Asked recently to comment on the performance of NDA-II, ex-Union minister Arun Shourie quipped, "When all is said and done, more is said than done" and went on to quote Akbar Allahabadi, "Plateon ke aane ki awaaz to aa rahi hai lekin khana nahin aa raha (We can hear the plates rattling but there is still no sign of food)."
Shourie's barely concealed contempt came close on the heels of veteran commentator Swaminathan Aiyer recalling, at a litfest in Mumbai, something he'd been asked on a visit to the US: "There is a lot of sizzle, but where is the steak?" More recently, when the corporate fat-cats at a closed-door meeting expressed disappointment at the Modi Sarkar, the Economic Times put it as a lead story. Going by the media, this government is largely being rated on the economy, ignoring the fact that there are many other ministries where large-scale, often deleterious changes are taking place. "Modi seems to have been captured by the bureaucracy, which is unfortunate and entirely unnecessary," economist Surjit Bhalla wrote in the Indian Express.
"In office, people forget how deeply the system has to be changed.... It's an impenetrable fog of self-satisfaction."
It's no secret that the PM's direct line to the senior bureaucrats predictably puts their relations with ministers on an edge. One of the secretaries told Outlook that he was summoned by the PMO to make a 15-minute presentation to the PM which went on for over two-and-a-half hours. The senior bureaucrat is unlikely to forget what the PM said at the end of the meeting. "Main yeh prastava swikreet karta hoon aur iske leeye...crore rupaye deta hoon (I approve this proposal and am allotting...crores of rupees to start it off)," declared the PM while directing the cabinet secretary to get a cabinet note prepared to complete the formalities. Neither the finance minister nor the departmental minister were present. The decision of the PM must have come as news to them.
There are no doubts that Modi's highly individualistic style has sent out the message that he is the Government of India. As an opposition MP pointed out, the PM did not even consult his cabinet before announcing the "Saansad (parliamentarian) Adarsh Gram Vikas yojana". Members of Parliament, he told Outlook, would have told Modi that it was an impractical idea.
"When can we expect to see the Modi we elected in economic and social policies, as we are seeing in foreign policy?"
Indeed, the PMO has grown in size and occupies more space than ever before. "Ministers have been reduced to being secretaries to the government," admits a bureaucrat, while "secretaries are redu­ced to the level of joint secretaries." The biometric attendance system has ensured that staff turns up on time but all that has not necessarily speeded up functioning in government offices. Nor have they become free of graft. Nothing has chan­ged substantially, it would seem.
There are other, more insidious pressures. Union ministers have also been advised to interact with the RSS before finalising both appointments and plans. The Rashtriya Swayamsevak Sangh, confirm sources, has formed six groups to interact with ministers and ministries concerned with education, economy, security, services, people and ideology. While HRD minister Smriti Irani's confabulations with one such group leaked out into the public domain, there has been a clampdown on such meetings with other ministers. And there have been many whispers of the kind of influence and patronage wielded by officers on special duty, or osds.
"Somebody has done black magic. Maybe Modi hasn't got a grip yet. Maybe Delhi has disoriented him."
Defenders of the government say it is still finding its feet; it is early days yet and in any case the Union Government has fared exceptionally, they argue, in areas such as foreign affairs, defence and managing inflation and reducing fiscal deficit. India, being a union of states, they add, there would not be much change visible in states with a change of guard in Delhi. But there is a palpable sense of disappointment that a party elected for "minimum government, maximum governance" is not seen to be delivering. In fact, civil society activist and retired IAS officer M.G. Devasahayam feels NDA-II has started on a confrontationist note and has become "more exclusive than inclusive".
Meanwhile, the work is piling up. Despite the big claims, little has moved even on the 'smart cities' project. Says urban evangelist V. Ravichander, "What has happened is a proliferation of conferences on the smart city project. On the ground, nothing else is visible." The other key issue is the promise of providing affordable housing for the poor. Here too little seems to have happened, primarily because being a state subject, the strategies have to be aligned with the states. Then there's the crucial issue of proving more jobs; tackling the NREGA funds crunch; assessing how we are playing with the environment and labour. As this 200-day marker illustrates, perhaps it's time we all started asking a few more questions of our government.
---
By Uttam Sengupta and Sunit Arora
*Including the ratings of three ministers who have been specially rated for the web, viz. Venkaiah Naidu, Sripad Naik and D.V. Sadananda Gowda, the overall class average comes down to 3.82