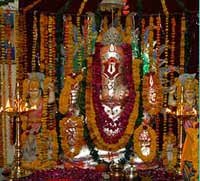 Sanctuary Seeker to Sanctuary Giver
Khilchipur was just a night-stop for Prabhudasji some 25 years ago. When he rested here, on his way back to the Ranthambore wildlife sanctuary, villagers thronged the tree under which he slept, asking him to stay on. They already knew him as the baba who had lived in the sanctuary for decades, among wild animals. The seer complied, and a plot of land was allotted to him. Later, devotees helped build temples and other structures. The seer is still allowed to freely enter the sanctuary, while his devotees can visit twice a year, for religious rites.

***
Ask for directions, even from miles away, to Khilchipur village, in Ranthambore's Sawai Madhopur district, and along with the reply comes a swift question: "Kya Ganesh Dham mandir jana hai?" When you stand before the temple hours later, it's clear that the no-fuss one-storeyed structure, painted a stark white, doesn't owe its fame to architectural merit or opulence. It is a seer, actually, believed to be nearly 100 years old, who draws people by the hundreds. The other reason—a very recent one—is that a new plaque on the temple's freshly repaired walls bears a Muslim name.
Ashiqali Mohibali Nathani, a 60-year-old Muslim industrialist from Mumbai, has revamped the Ganesh temple—from its marble floors and iron gates to a smoothly plastered ceiling—and several other structures within a 30-acre plot in the village. Accomplished at a cost of Rs 1.5 crore, he has done it all as a tribute to the seer, Prabhudasji Maharaj.
While Nathani's unorthodox gesture has surprised the village, for Prabhudasji, his unusual devotee is no different from the scores of others who seek his blessings daily—including a steady stream of camera-toting foreigners on a detour from the famous sanctuary next door. "Karam sahi hona chahiye, bas," he says, sitting on a wooden plank of a bed, his meagre belongings hanging in two plastic bags on a wall populated by postcard deities. And no, he doesn't own a mobile. Nor a wristwatch.
With devotees crowding around echoing his views and an enthusiastic turnout of people from Khilchipur and beyond, the temple's inauguration earlier this week seemed like a copybook show of strength for secularism. Except, there aren't too many local Muslims around.
Coincidence? Not really. A visit to adjoining Sherpur village leads us to its agitated imam, Hafiz Abdul Jabbar, who voices what seems to be the collective opinion of the hamlet: "I won't run any religion down, but a Muslim funding and building a temple will never have my support."
Down the lane, Imamuddin, a camel-cart driver in his teens, confesses that though he and his friends often discuss the temple, they would never actually want to go and see it. "What is it to us?" asks his elderly neighbour, Shaheedan, deftly rolling a beedi to add to the heap beside her. "And how do you know that he is really a Muslim?"
Clearly, in their eyes, boundaries have been crossed. And that, ironically, is just what Nathani intends to do, albeit in a completely different way. "I am very much a practising Muslim, but to me, all religions are the same. I'm only trying to merge differences," says the Karachi-born Nathani, who has previously built a Durga temple, a mosque and two dargahs in Panvel, Mumbai.
But how does he reconcile the monotheism of Islam with the sheer number of Hindu deities that lay claim to temples? "Look, I believe there is one god: the different forms are created by man," he reasons. Ask him about idolatry, which has no place in Islam (the temple has a marble dust idol of Ganesh), and he counter-questions candidly, "Islam also prohibits lying and using abusive language. How many follow that? I've done nothing against Allah or the tenets of Islam."
The founder of the Tiana Group, which deals in power, shipping, leasing and financing, leather and other businesses, attributes his liberal values to an unorthodox upbringing that began right from the time his family moved from Karachi to Secunderabad in 1949—when most other Muslims were making the reverse journey, to the other side of the newly created border.

Educated in England, Nathani migrated to America, only to return to India in the mid-'90s. Now widowed for 22 long years, the father of four (all his children are settled in Chicago) spends his days pretty much between office and home.
Ranthambore happened quite by chance. "There was a hitch in business, and one of my directors suggested that I visit Prabhudasji, which I did, in February last year. There was something about him which told me he was not like the usual godman." And when the dilapidated Ganesh temple caught his eye, he offered to rebuild it. If Prabhudasji took it with a pinch of salt ("Baba had said, Sab bolte hain, karta koi nahin," recalls Nathani), he didn't need to. The revamp started that same month, while back in Mumbai, Nathani maintains, his business worries eased up. "When I landed in Mumbai after meeting him, I got a call saying that my file had been cleared."

'Not my support' Sherpur Imam Hafiz Abdul Jabbar
The grateful Nathani added a college and a 30-bed hospital to his to-do list for the site, where Prabhudasji already runs a school up to class VIII and a nature cure centre. The centre, which works on a combination of exposure to natural elements, a controlled diet and yoga—mitti, pani, gagan, hawa/sab bimari ka ek dawa, as the seer sums up—has patients pouring in from not just Rajasthan, but also Delhi, Maharashtra and as far afield as West Bengal. Squinting into the sun through his worn-out glasses, Ashok, a Gujarati septuagenarian from Calcutta, relates how he came here on a stretcher in 2009. "I couldn't walk, my liver was failing and my stomach was bloated. In a few months, I was taking my first steps. This is my home now," says Ashok, who only travels to Calcutta sometimes, to meet his family. There are others like him: some vouch for a cured mental illness, while others recall bouncing back from something as esoteric as a bear attack. Some, like former sarpanch Sitaram Meena, simply come for some respite from household squabbles.
Interestingly, while local Muslims (yes, from Sherpur too) religiously queue up for the baba's remedies, with some even staying on for prolonged treatment, the school's register doesn't have a single Muslim name. Reveals Manoj Sharma, a teacher: "I had convinced 10-15 Muslim children to attend school here. But one by one, they stopped coming. Their parents say things like 'Wahan baba ki padhai hoti hai'."
Nathani hopes his involvement will help change that perception. He's hoping for other changes too—like a restful life for Prabhudasji, who, even at this age, works from 3 am to 9 pm, praying, receiving patients, feeding the hungry, checking up on students and tending to his two dozen cows. (Ask the reticent but sprightly sage about his daily routine, though, and he dismisses it wryly: "Paath kar liya, prasad mil gaya, bas chhutti").
To make him comfortable, Nathani has built him an air-conditioned bedroom, complete with an attached bathroom, a living area and verandah, right next to the temple. It is an unwitting symbol of all that Prabhudasji left behind six decades ago when, as a world-weary man, he ventured into the jungles of Ranthambore to live under its leafy canopy among wild animals, eating nothing but fruits and a paste of leaf ash, he maintains, for 30 years. And even as stories do the rounds, of how a dozen tigers used to sit around the meditating seer in acquiescence, the man himself breaks it down to the basics: "Hum bhi janwar, tum bhi janwar, woh bhi janwar."
Four days after the key to his new room was gifted to him, however, Pokhraj, one of the baba's aides, reveals that the man is back on his old bed. "Lock lagwa diya wahan," Pokhraj says with a laugh. Nathani, back at his desk in Mumbai, isn't surprised. "I know he still spends the day in his old, well-worn place but at night, he sleeps in the new room." An acknowledgement of his devotee's gesture? Maybe. But with a prosperous and persistent follower like Nathani, Prabhudasji, it seems, will now have to master the tricky walk between comfort and austerity.