Wiped out: Although Uttarakhand was the first state to set up a separate disaster management ministry, a CAG report this April said it had never met nor received any funds.
147 bridges and 1,307 roads damaged, meadows washed away
***
Nothing gives you a better sense of devastation than a view from 15,000 feet in the air. I am aboard an ALH Dhruv, manned by Colonel Anuj Rampal, a veteran of search and rescue operations. Before us lies the battered vista of Garhwal's hills, where rain, landslides and the raging Ganga, Alaknanda and Mandakini have combined to wreak a havoc whose magnitude is just beginning to be und­erstood.
He has never seen such destruction before, Col Rampal tells me, above the roar of the rotor blades, as his olive-green chopper lives up to the words emblazoned across it—Suveg and Sud­ridh (fast and determined). "The scene on day one after the first waters receded was heart-wrenching," he says. "I could see the elderly crying in pain and trauma."
Col Rampal and other skilled army aviation pilots have been making up to 20 sorties a day, rescuing stranded pilgrims and reaching food and supplies to ground teams. Starting at 7 in the morning and flying through day, these men negotiate tortuous valleys, often having only narrow air strips and makeshift landing pads to touch down on.
The Gauchar air base and the Jolly Grant airport in Dehradun have been teeming with ALHs, IAF's Mi-17s and private choppers. The army's rescue effort has been mounted along four aerial axes: Kedarnath, Badri­nath, Gangotri and Yamunotri. Women, the elderly and children are the priority.
Officially, it was only on June 20, four days after disaster struck Kedarnath, that the state government sent a letter to the Union home ministry requisitioning army support. The army itself had been in touch with the state government earlier for rescue work in other flood-affected districts, including Pithoragarh.
Thanks to the efforts of the recently raised Star Hawks 205 battalion, the Kedar Valley—which bore the brunt of the devastation—has been cleared. The most daring rescue effort came on the Kedarnath axis, at Jangal Chatti, where more than a thousand pilgrims were stranded on a small stretch of land. The army first conducted an aerial survey to locate the pilgrims, then sent paratroopers, and finally succeeded in eva­cuating the pilgrims using a combination of hel­ibridge and air shuttle service and est­ablishing a trek road from Jangal Chatti to Gaurikund, using a human relay.
Besides Kedarnath, Gaurikund too has been cleared. In Chamoli, army personnel have been busy with evacuation ops in Hemkund Sahib, Ghagh­aria, Govind Ghat and Badrinath.
"On the very first day, people were so scared that they were desperate to get into the helicopters," says Col Suneet Sohal, who has been involved in rescue and relief work for the last 20 years. "We had to convince them not to rush and assure them that they'd be rescued." With choppers, the weight they carry is crucial. A little miscalculation on the desired load and the consequences can be disastrous.
Time and weather too have been major impediments to rescue effort. "It is difficult to carry out rescue operations because of the bad weather," Lt Gen N.S. Bawa, GOC, HQ, Uttar Bharat area, and head of the relief operations, told Out­look. "Huge risks are involved." The air force lost an Mi-17 on June 25 as it was bringing back members of the National Disaster Relief Force back to Dehradun.
Ten days on, the rescue work is almost over. But the army's job is far from done. Dhruv is still making trips to Gaurikund ferrying rations for the 80 paratroopers working round the clock. On the day I choose to fly with them, we're at the Gauchar air base, waiting to pick up cooking oil, veggies, rice, cereal.
Gaurikund is also where the Indo-Tibetan Border Police has been working on foot, trekking the hills and building makeshift bridges over the Mandakini to rescue people. "When the weather is bad and air operations are suspended, the only hope is rescue thro­ugh road," ITBP spokesperson Deepak Pandey told Outlook. The Sashastra Seema Bal is proceeding on foot and rebuilding the roads till Badrinath. They have succeeded quite a bit, "only 19 km towards Badrinath is left to be built," says Gautam Cheema, DIG, Punjab Police.
***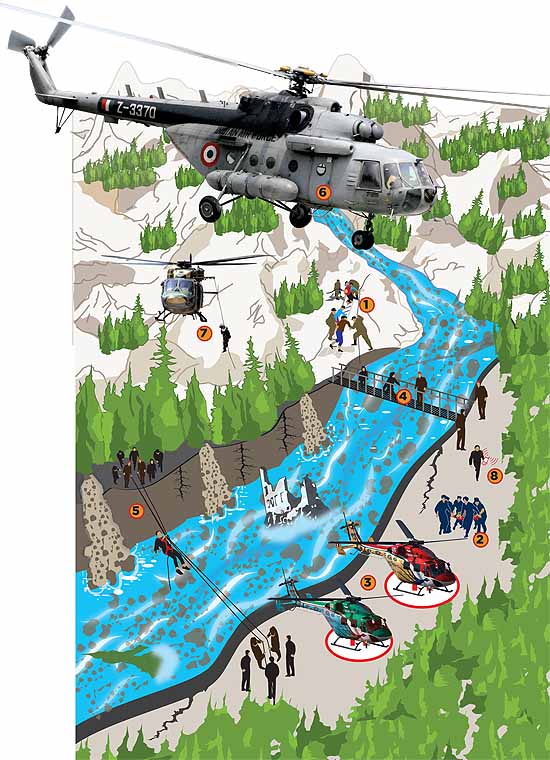 In the largest rescue mission ever mounted by the armed and paramilitary forces, over 90,000 have been rescued. Over 2,000 still remain stranded in Badrinath.
The Indian army, Indian air force, Indo-Tibetan Border Police, Border Roads Organisation and National Disaster Relief Forces are involved in the relief and rescue mission.
The stranded have been rescued using choppers, rope support and temporary bridges.
An ITBP mountaineer was lowered above the raging river on a rope and a harness so that he could construct a temporary bridge using washed-up water pipelines, aluminium ladders and ropes.
Other innovative techniques included a rope-and-pulley system across rivers. Children and the elderly were attached to harnesses and they slid through to the other side. Temporary helipads were created.
Under 'Operation Rahat', the IAF has flown over 1,500 sorties and evacuated over 13,000 people and dropped over 2,10,000 kg of relief material
A total of 45 aircraft are operating in the state. These include Mi-17 V5, C-130J Super Hercules aircraft, the Dhruv Advanced Light Helicopter (ALH), Cheetah helicopters. The IAF used the massive C-130J plane to bring in fuel supplies as road links were snapped. Each flight from Hindon to Dharasu brought in around 8,000 litres and took back evacuated pilgrims.
With communication links snapped, the forces are using over 30 satellite phones to help the evacuated contact their loved ones.
---
By Chandrani Banerjee on board ALH Dhruv