A Community Under Attack?
Incidents involving Christians since April '14
Churches Vandalised
Incidents of arson, stone-pelting, vandalism reported from Delhi; Bhilai, Durg (Jharkhand); Udupi, Chitradurga (Karnataka); Thrissur (Kerala); Jagdalpur, Mahasamund, (Chhattisgarh); Jaunpur, Bulandshahar, Aligarh (UP); Karur (TN); Mandla (MP).
Pastors Attacked
Reports of arrest/harassment by police from Dewas, Katni, Indore, Bhopal, Alipur (MP); Chitradurga, Karwar, (Karnataka); Tirunelveli (TN); Jashpur (Chhattisgarh); Mednipur (West Bengal); Patna (Bihar); Faizabad (UP)
Diktat On Missionary Schools
Union HRD minister announces essay competition on December 25 (dubbed "good governance day"), backtracks after protests. Schools in Jagdalpur (Chhattisgarh) asked to instal Saraswati statues, diktat to call principals 'pracharya' not 'Rev Father'.
Sunday Service, Carols Disrupted; Christians Banned
Reports from Jaunpur and Agra (UP); Malappuram (Kerala); Bastar (Chhattisgarh). Entry of Christians 'banned' in 50 villages in Bastar (Chhattisgarh).
Dalit Christians
In a reply in the RS, government ruled out reservations to Christian and Muslim Dalits
'Forcible Conversion' Cases
500 cases in MP alone in three months; incidents from Davangere (Karnataka); Satna (MP); Greater Noida (UP); reconversion of Christians reported in Bastar (Chhattisgarh).
Refusal To Supply PDS
Complaint of inadequate supplies to 52 Christian families for two months in Sirisguda, Chhattisgarh, June 2014
***
On the last day of November, Prime Minister Narendra Modi was on a visit to Nagaland when he received a memorandum from church leaders seeking his intervention to put an end to the renewed attacks on Christians reported from across the country. In what seemed to be an act of defiance, the very next day the altar at the St Sebastian's Church in the national capital was burnt to cinders. And no, it wasn't a short circuit that did it. The incident triggered outrage and several thousand Christians gheraoed the Delhi police headquarters the next day to protest.
The brutal 1998 burning of Australian missionary Graham Staines under A.B. Vajpayee's watch has faded into the rec­esses of the country's short public memory. But in the year of the lord 2014, the installation of the Modi sarkar appears to have instantly galvanised sec­tions of the Sangh parivar into a sort of frenzy. Emboldened by RSS chief Mohan Bhagwat's pronouncement that all Muslims and Christians were basically Hindus, Union ministers and BJP MPs have been vying to outdo each other with outrageous statements dir­ected at the community.
The unkindest cut came from the PM's close aide, HRD minister Smriti Irani, in the 50th week of the year: a completely unnecessary controversy over keeping schools and offices open on Christmas day and observing December 25 as 'Good Governance Day', the stars of the day apparently being Hindu Mahasabha leader Madan Mohan Malviya and Vajpayee, not Jesus Christ. Christians should feel happy, suggested a BJP spokesman on television, that the day has been chosen to highlight good governance.
As the Christian world celebrates a season of cheer, here in India activists estimate there have been as many as 71 incidents of attacks, arrests, arson, dam­age, disruptions, burglaries, landgrabs involving the peaceable community in just the first 200 days of Modi's regime (see graphic). The icing on the cake came from RSS affiliates who tom-tommed plans to reconvert Christians on Chri­stmas at Aligarh and Meerut and hold up Parliament. Meanwhile, even as we go to press a pastor and 15 of his congregation from Banjara Bap­t­ist church in Hyderbad were beaten up by Sangh workers as they were singing Christmas carols.
"What next?" asks P.C. George, Con­g­ress chief whip in Kerala and a pre-ele­ction supporter of Modi. "Yes, I was an admirer of Modi's development plans but what we now see is that it has been cast aside for this kind of divisive politics. What are they going to do next? We hear in the Northeast poor Muslim migrants coming across the border from Bangladesh have been asked to convert to Hinduism if they want to stay in India. This is plain cruel, a violation of human rights." George still hasn't given up on Modi, saying he's probably being made the sacrificial lamb and it's the RSS and Sangh parivar who are out to destroy the secular fabric of the country.

Forces deployed at Kalvari church in Ludhiana after Shiv Sena attack, Dec 11, 2014. (Photograph by Prabhjot Singh Gill)
Father Paul Thelakat, spokesperson of the Syro-Malabar church in Kerala, says, "Christians are fearful and anxious all over India as the BJP government attempts to suppress the rights of minorities. There has been compulsion to instal images of Goddess Saraswati in some Christian schools, to suppress Santa Claus for Christmas and to force Christians into Hinduism in many places in the country. At the World Hindu Congress 2014, they declared the biggest threats to Hindutva as Macaulayism, Missionaries, Mater­ial­ism, Marxism and Muslims (described as the Malicious 5)," he recalls.
"Anti-national forces are engaged in religious conversion. But we won't allow it. The country needs a uniform anti-conversion law."
Admittedly, some of these incidents have occurred in non-BJP-ruled states too and it would be a mistake to extrapolate them into a national phenomenon. Still, there is no denying that a growing mass of lumpen elements are enjoying the warm sunshine the Modi governm­ent provides by virtue of being a "maj­o­rity government". Christian eva­n­g­elists, pastors and priests have increasingly come under attack. Even the national capital isn't safe as Joby Thomas (name changed) found out in September. A prayer meeting was being held when some miscreants arrived and demanded that they cease and disperse. Most of the people dispersed but when the police came, they arrested some of the Christians and took them to the station. Joby and a few others followed to help those taken into custody.
At the station compound, a crowd had assembled by then with even a TV crew in attendance. While they were walking to the station, someone called him from behind and asked if he belonged to the arrested group. When he said yes, he got a tight slap on his left ear. "I was literally seeing stars," says Joby. With the situation volatile, he and his friends ran into the police station. Joby though was thoroughly beaten up. The police put the 12-13 of them also in the lock-up even as the mob outside bayed for their blood. The policemen even advised them to stand close to the wall so that they could not be seen from outside. Later, after the mob had dispersed, a police officer jokingly mentioned that "you were arrested pre­c­isely for singing and praying".
Kirti Ratnam, a well-to-do Christian homemaker in Delhi who's married to a Hindu, says that while she herself has not faced any discrimination, on almost every visit to the church she and others in the congregation hear requests to pray for someone or the other who has been attacked or abused. "I feel upset and angry at not being able to voice my outrage even in social media lest I jeopardise the safety of my family," she exclaims.

Christians protest the church arson attack in Delhi with a candle-light vigil, Dec 7, 2014
That said, she's lucky, she and other affluent Christians do not have to bear the brunt of the attacks taking place in large parts of the countryside. That has followed a familiar pattern, as descri­bed by Father Anand, national president of the Rashtriya Isai Mahasangh. "We are being harassed, and our activities are being curbed. Nowadays, the police feel free to raid any Christian congregation, claiming conversions are being done there," he says. Fr Anand says, and not without a tinge of sarcasm, that while BJP leaders are keen to get their wards admitted to missionary schools in cities, they were allergic to missionaries working in rural and tribal areas.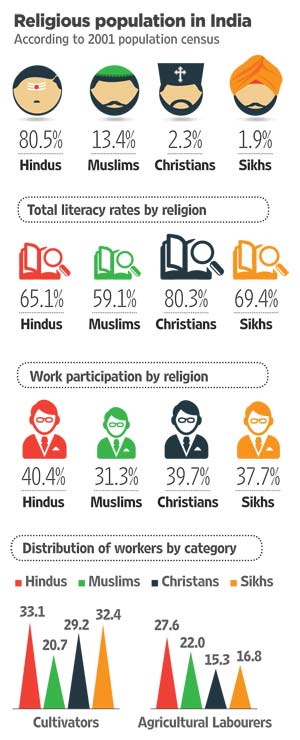 What's surprising is also the muted response from political parties in the opposition. Says Rev Abraham Mar Poulos, chairperson of the socio-political commission of the Mar Thoma Syrian Church, "No one's talking. We had great expectations from the BJP government but some of the comments of the Sangh parivar and certain individuals in the BJP have brought us much grief. The recent incidents will be the real test of the PM."
As in Vajpayee's 1998, at the heart of the blowback against Christians is conversion, the belief that Christian missionaries are converting large masses of Indians, especially in the tribal areas, to Christianity. And this despite the fact—borne out by the 2011 census—that after 2000 years of Christianity in India, the population of Christians constitutes only 2.3 per cent of India's 1.25 billion.
Right-wing Hindus, especially of the net-savvy kind, do not see the irony in Hindu evangelists converting people in western countries to Hinduism. Says Rev Pratheesh Joseph of the Salem Church in Kochi, "The number of foreigners flocking to the neo-Hinduism centres of Mata Amritanandamayi and Sri Sri Ravi Shankar and converting to Hinduism goes unnoticed. There are hundreds of centres of these religious leaders in the West. But no Christian is worried about this kind of conversion."
Contrary to the belief in the media and among people, anti-conversion laws enacted by several state legislatures are not yet 'laws of the land', having yet to receive assent from the respective governors (including in states ruled by the BJP for long). The legislations have also been challenged in court and the final word is still awaited. But the fact is, the police in these states have been taking action under these 'laws', instituting cases against Christian pastors, even putting many of them behind bars. Some instances:
In Chhattisgarh, official records reveal that over 700 complaints have been registered under the Act in police stations in the last eight years. Preliminary inquiries led to 270 cases filed by the police. Over a hundred accused pastors were arrested but later enlarged on bail. Significantly, around 40 of them have since been acquitted by the courts, says Arun Pannalal of the Chhattisgarh Christian Forum.
In 2003, the Gujarat government pushed for the 'Freedom of Religion Act' which mandated that if someone wanted to change his religion, he must necessarily seek the permission of the district collector. For the next five years, the state did not frame rules for the implementation of the law. They finally did so in 2008 and the constitutional validity of this law was challenged in the Gujarat High Court. The HC sent a notice to the state government but till today the latter has not responded to it, claims Father Cedric Prakash.
The MP assembly amended the 'Freedom of Religion Act' in July last year without any debate. The amendment, which provides for stringent punishment, was pushed through despite the government's past experience in 2006 when the amendment was sent to the President. A presidential reference was then sought from the solicitor-general and the governor refused to give his assent on the basis of opinion received.
The series of attacks against religious minorities has not gone unnoticed by western diplomats and observers either. However, the euphoria that Modi has created on reviving the Indian economy and opening up India as an attractive investment destination and market con­tinues to be the overriding factor for the West. Many western diplomats admit that for now India under Modi is being viewed solely through the prism of economics. "For the time being, everybody is just focusing and hoping for quick economic reforms in India," says a western diplomat.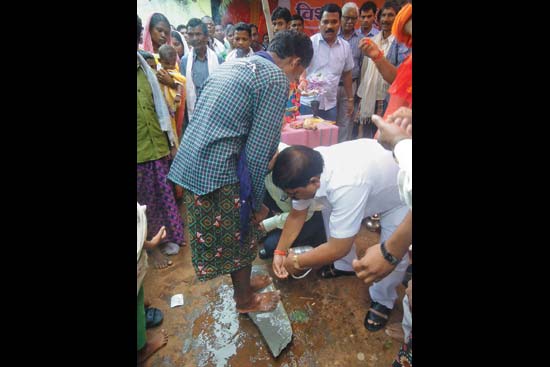 MP Dinesh Kashyap at a VHP Christian 'ghar vapasi' event in Bastar, Oct 2014. (Photograph by Suresh Rawal)
That said, many western countries have appointed ambassadors-at-large whose task is to collect information from different parts of the world on sensitive issues. Issues like religious persecution is top on their agenda. It may, therefore, not come as a surprise if in the coming days countries start raising this sensitive issue with the Indian government during discussions.
BJP sources say the prime minister has conveyed his displeasure over the activities of Sangh-affiliated organisations to Nagpur. Modi has also personally ticked off party MPs, asking them to exercise restraint. A message, sou­rces say, has also been sent out from the RSS leadership to its cadre to take it slow. But does that mean that the winter chill will see right-wingers burying their agendas? Highly placed sources say this is unlikely. Indeed, the reverse is possible with the saffron world stepping up propaganda through Goa-like conclaves and seminars.
---
By Minu Ittyipe in Kochi, K.S. Shaini in Bhopal, Yashwant Dhote in Raipur and Mihir Srivastava in Delhi with Dola Mitra in Calcutta, Pranay Sharma in Delhi and Prarthna Gahilote in Mumbai)