There is a palpable disquiet in the Indian cricketing firmament. Otherwise voluble commentators aren't taking calls or coming out with guarded middle-of-the-road statements that sound like MEA press releases. Everyone and their cricketing uncle knows that a big and savvy media mogul (who can play real dirty) is trying to come into the cricketing arena. The plan app­ears audacious, yet (for now) is couched in doublespeak. No wonder the boards are jittery, players confused and many administrators still trying to figure out just what is about to hit them—if at all.
In 2007, Essel Group and Zee Tele­vi­sion promoter Subhash Chandra shook the global cricking establishment by launching his version of a Twenty20 tou­rnament, then a fledgling format of the game. Six years after the painful death of his Indian Cricket League (ICL) at the hands of the Board of Control for Cricket in India (BCCI), Chandra is back at it again. This time, he has a much bigger plan—to control global cricket and set up an organisation parallel to the BCCI and the International Cricket Council (ICC), the dual entities that control cricket around the world.
His Essel Group has been registering companies with names close to existing cricket control bodies. In Australia, it has registered an Australian Cricket Control Pty Ltd, while in New Zealand it is New Zealand Cricket Limited, and in Scotland it is Cricket Control Scotland Limited. Several websites and domain names—worldcricketcouncil.co.in, cricketassociationofengland.co.in, globalt20.com —have been registered, according to Wisden and The Telegraph. In all, 249 website domains have been registered.
Suffice it to say that Chandra's move has caused tremors in the international cricketing establishment. His plans were discussed at an ICC meeting late last month in Dubai. Cricket boards are cautious, watching his every move and the ICC has initiated an investigation to figure out what is actually going on. Despite repeated requests, Chandra and his team did not respond to Outlook's queries, citing a 'company offsite' to discuss strategy.
"The barriers to entry are much higher now. Quite what Chandra can do to extract additional value from cricket is elusive."
Even so, Chandra has made his intentions clear—he wants to set up a parallel governing body for global cricket that would conduct tournaments. Last week, the group's head of finance and strategy, Himanshu Modi, said that they were working towards a T20 format tournament with games in about 10-12 cities. In other words, Chandra wants to take on the BCCI and ICC on their own turf.
For Chandra (whose net worth, according to Forbes India, is about $4 billion), this current initiative is both about vengeance and a quest for power (for control of cricket is the ultimate sign of power in Indian business and political circles). Having been a campaigner for the BJP in Haryana's assembly polls, he has seen the power bit up front. Cricket is obviously the next frontier.
Chandra's move comes up when both the BCCI and ICC are vulnerable. The former is currently facing a leadership crisis, functioning under an interim pre­sident and busy clearing the mess of the previous regime. There are attempts to push ICC president N. Srinivasan out of his seat. This move also comes in the midst of a vertical divide within the ICC with India, Aus­tralia and England (who have all the money) on one side against all the other Test-playing nations. Chandra's grudge against the BCCI stems from how he lost out on telecast rights for India in 2012.
This also marks the return of the tainted and sidelined Lalit Modi, the man single-handedly responsible for killing Chandra's ICL. What's interesting here is there are reports that Chan­dra and Modi were a team and were discussing his next move. Modi admits to discussions with Essel, but says he walked out of it as he felt the plan could not be delivered. Modi, who was in China when contacted by Outlook, says, "I have nothing to say. I have said what I needed to. It's over to Subhash Chan­dra now. He can say better."
Modi told the UK media that Chandra does not intend to simply set up a tournament, he wants to create a global governing body which includes both T20 and Test formats to lure smaller nations. Modi also warned that English cricket could be vulnerable to such an offer.
As news of Chandra's moves became public, cricket boards across the world came up with measured responses. The England and Wales Cricket Board (ECB)said in a statement, "We don't know the motives behind these registrations and need to know more. In the absence of any proper explanation, there's clearly a concern for cricket and the ECB." Cricket Australia chairman Wally Edwards said: "We are aware of the reports around a rebel league and they remain highly speculative, particularly given the proposed scale and complexity." Alarmed, the ICC has set up a committee to invest­igate the matter, under ECB's Giles Clarke.
"Everybody sees this as a threat—the ICC, BCCI, ECB, all of them," says cricket commentator Ayaz Memon. "The threat is if he can get the main players, especially from India. The platform exists for him and that is a huge advantage." Clearly, the boards are worried. The BCCI is yet to react and is watching things carefully. Many are drawing a parallel to Australian billionaire Kerry Packer who, in 1977, started his rebel cricket tournament and got top players from across the world by throwing millions of dollars at them. But the situation is different now as cricket is a rich game and there is already a lot of money in it.
"Everyone sees this as a threat now. The platform exists for him, it's a huge advantage...but he has to get main Indian players."
What works for Chandra is that he has an existing TV network which spans several countries and can work to get players from these countries to sign up. The Essel-controlled Ten Sports has telecast rights in all Test-playing countries except India, Australia and England. Then there are the associate members of the ICC or the non-Test playing nations like Holland, UAE, Kenya, Scotland or Afghanistan who may well look at this as an opportunity to get into some kind of mainstream, especially after the ICC decision to restrict the next cricket world cup to a 10-nation tournament.
In the last few years, Chandra has also taken his TV company global. While earlier, the catchment area was only the Indian diaspora, now he has started going local, started appealing to vernacular interests like a channel in Russian, a wellness channel in the US and then there's the presence in West Asia. Also, Zee is probably the only Indian TV company that has landing rights in Beijing. So it will not be difficult for him to get a global audience for his tournament. The only glitch here is that cricket telecast makes money only in India.
But is he looking at making money at all? Says social scientist and author Nalin Mehta, "They have the wherewithal to poke the system in the eye. This is going to be a serious effort that everyone needs to seriously take cognisance of." At the same time, some experts have doubts about his move succeeding. Sydney-based cricket writer Malcolm Knox says, "It has attracted the attention of Cricket Australia, but I think there is a degree of scepticism among the players, due to Essel's poor administration of the ICL."
And that's where Chandra's main cha­ll­enge lies—getting players to sign for his rebel cause in the face of the dadagiri of the ICC and BCCI. His talks with the Fed­eration of International Cricketers' Associations, a representative body of players' unions globally, have reportedly fallen through. If he wants to create a tou­rnament that people will watch, he has to get the top players, especially from India. And that could be tough, considering the ICC and BCCI crackdown when pla­yers signed up for ICL. So effectively, Chandra will get players from non-Test playing nations or from countries like the US or China, or county or club players.
So can he pull this off? Experts are doubtful and feel it is difficult to have twin power centres in sport. Says sports marketer and Kwan COO, Indranil Das Blah, "There is no space for another body in cricket. To change the system will call for a lot of money, planning and political will." There is also a general feeling that this could all be just a gimmick and might not fructify into anything concrete at all. Says Gideon Haigh, Melbourne-based cricket expert and writer, "Essel has been locked out for a long time, and its principal clearly smoulders with indignation—much as Kerry Packer did 40 years ago. The barriers to entry now are a great deal higher. The players trade at a very full estimation of their value. Quite what Subhash Chandra could do to extract additional value from cricket is elusive."
Many others are doubtful about the int­­e­ntions. Says a source close to the dev­­elopments: "This kind of stuff req­u­ires serious money and he doesn't have it unless he gets investors to see things his way. It is a good idea to be in the public eye for a few months after which it will die out." What goes against him also is that last time out, he made a lot of players and associated people unhappy. Says former Test player Madan Lal who was involved with the ICL, "He has to win the players' trust...it'll be difficult as a lot of people's dues were not paid then. Many of them were left hanging and found it difficult to shift back to the BCCI."
Haigh adds, "Money is only part of the challenge. Even Packer struggled to convince people that his cricket was legitimate and worth watching, and he mustered the very best in the world. Habits of cricket allegiance die hard."
So what will Chandra gain from this exercise? He has said in an interview that only two businesses—the ICL and a satell­ite project—of the nine he started in India have failed. There's prestige for sure, as cricket is one of the most high- profile sports in the world. And when ego and personal vengeance is added to that, the stakes get even higher.
***
The Teams
The main players in the mix if Essel's rebel outfit move plays out
Subhash Chandra The powerful TV baron (Zee, Ten Sports) seems to be back in cricketing action. In a move driven by business, politics and ego, Chandra wants a parallel cricket governing body and get into T20 cricket once again
International Cricket Council Alerted by Chandra's moves, the cricket body has ordered a probe into Essel's plans. Complicating matters is India Cements' N. Srinivasan being on a weak wicket in ICC, facing pressure from member countries.
Board of Control for Cricket in India Chandra is taking advantage of a political war playing out in BCCI. Gives him a chance to get even.
Lalit Modi Former IPL commissioner wants to get even with the BCCI. He had talks with Chandra, but walked as he felt it can't deliver.
Cricket Australia/England & Wales Cricket Board Alarmed at Chandra's moves, CA chief Wally Edwards and others are on the defensive
James Murdoch, Star Chandra is clearly targeting Murdoch, which controls cricket telecast rights in most lucrative markets, India, Australia, England
Cricketers The toughest part of this game for Chandra. He has to convince players to sign up—only those on the verge of retirement or retired may join. Former ICL players were not paid promised amounts, this may work against many players thinking of joining.
***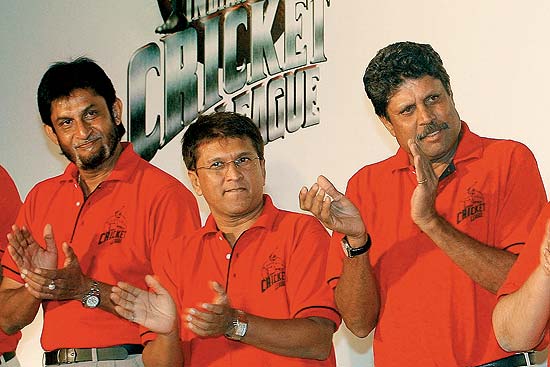 Flip The Flipper
In his quest to corner cricket power, Subhash Chandra is working towards setting up a parallel governing body for cricket, start a new T20 tournament
The Essel move is also to control telecast rights and go after James Murdoch whose Star controls rights in three most lucrative cricket markets: India, Australia and England
To get back at BCCI, Essel was in talks with Lalit Modi who has been discredited by the Indian board. The latter later withdrew.
Seen as a BJP supporter, Chandra's obvious target is ICC chief Srinivasan who is said to be a Congress man
It's a matter of ego for him to succeed in cricket after the failure of ICL which is one of only two of his businesses that didn't click
---
By Arindam Mukherjee with Nabanita Sircar in London