Aneesh Mahajan (name changed), 14, a ninth standard student in Mumbai, had been having problems with anxiety and palpitations for some time. He wasn't overweight so initially his parents didn't worry too much. When they finally took him for a check-up, they found his BP very high. His lipid profile too was above normal levels and there were some mild irregularities in his electro cardiogram (ECG) readings which, of course, indicated a heart problem. Doctors traced the condition to family history, but at 14 to be at 'heart risk' was a shocking diagnosis. Investigating further into the Mahajans' lifestyle, doctors found a vexing problem. Aneesh was under extreme studies-related stress (at one point he was attending three tuitions a day for physics alone). The advice: a break from school for six months, yoga, exercise and no tuitions.
At the risk of sounding alarmist, the fact is that a sizable number of children in their teens are now showing signs of being at heart risk. Studies conducted in the past year in several cities across the country suggest that more and more factors like poor lifestyle choices, smoking at an early age, vitamin D deficiency, diabetes etc are putting teenagers at risk. Dr Dev B. Pahlajani, cardiologist at Breach Candy Hospital, Mumbai, explains, "To most teenagers a heart risk comes as a shock because the assumption is that this is a disease for the later stages of life. They never get cholesterol levels checked and generally come with complaints of breathlessness. Teenagers also assume that symptoms like gas, acidity after drinking alcohol are not heart-related and therefore do not take them to be fatal. But these need to be reported."
Bad eating habits and a sedentary lifestyle have for long been a cause for concern in school-going children in urban India. And with parents ignoring doctors' warning on exercise and diet, and teenagers taking to smoking and drinking early, it's a recipe for disaster. You now have people having heart attacks as early as 22 years of age. Dr Mohan Nair, chief of cardiology, Max Super Speciality Hospital, says, "It shows that the age for heart disease has reduced considerably. Many children today are at heart risk for several reasons such as eating habits, stressful lives, sedentary lifestyle which includes too much of television and computer activities."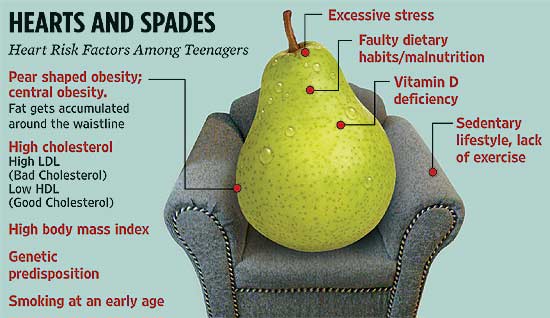 In the US, says Dr Nair, the American Paediatric Association used to recommend screening of children as young as 10 for heart diseases. Last year, they brought it down to eight years of age. "In India, we are in any case genetically more prone to heart diseases...and given the lifestyle now, we need to start screening children early in order to take preventive steps."
"We are genetically prone to heart diseases ...given the lifestyles now, we need to screen children very early."
Some of the heart risk conditions being found in young children in India include atherosclerosis, a condition in which artery walls thicken with the build-up of fatty materials like cholesterol. Teenagers prone to a constant low-fibre junk food diet are extremely susceptible. Cholesterol plaque, we now know, is a very fast growing phenomenon and can start to develop even in childhood.
According to Dr Tarun K. Prahraj, senior consultant cardiologist at Calcutta's B.M. Birla Hospital, almost 25 per cent of the city's teenagers and young adults are at heart risk. "There is direct correlation here with changes in the eating habits of children. In fact, for several years now, there has been a 20-25 per cent rise in obesity in the urban children. Children are eating more fatty foods like pizza, pasta, pastry, etc. Modern-day stress is also taking its toll," says Prahraj.
Heart conditions triggered by ailments like Kawasaki disease and rheumatic fever have also become more frequent, say doctors. While the former leads to high fever with the usual viral infection-like symptoms, it affects the heart by swelling the cardiac arteries. Rheumatic fever patients often have inflammation in their heart muscles. According to researchers, teens with low levels of Vitamin D run a higher risk of heart disease and diabetes and are also significantly more likely to have high blood pressure and blood sugar.
Dr Priyali Shah of the National Diabetes, Obesity and Cholesterol Disorders foundation (NDOCD) says, "Children today are consuming four times the fat they require." In a study conducted by NDOCD and the All India Institute of Medical Sciences (AIIMS) among those in the 14-plus age group from 40 Delhi schools, it was found that harmful saturated fats had become part and parcel of their diet. "In another study we found that Asian Indian adolescents from north India are at a greater risk of having metabolic disorders at an early age, which puts them at heart risk... unless, of course, measures are taken for promotion of healthy eating and physical activities," said Shah.

Another alarming find is that the children susceptible to heart disease don't necessarily need to be overweight. Children with ideal body weight can also be at risk. A study conducted two years ago in Chennai found that cardio metabolic abnormalities are present in nearly 68 per cent of young, healthy Indian adolescents and even among those with normal weight. Previous studies of cardio metabolic risk variables in children and adolescents have been mostly in obese subjects. The study by Dr A. Ramachandran, president of the India Diabetes Research Foundation, Chennai, has shown the occurrence of these abnormalities even in children with ideal weight or body mass index (BMI).

Debkumar Mahato at the BM Birla Hospital, Calcutta (Photograph by Sandipan Chatterjee)
"Stress levels in India are unimaginably high. There is no work-life balance in us Indians... competition is all."
Meanwhile, doctors say cases of children from rural or small towns have also been increasing in numbers when it comes to heart disease. Debkumar Mahato, all of 13 years of age, is admitted at Calcutta's B.M. Birla Hospital with a heart disease. According to his surgeon, cardiologist Dr Sushan Mukheree, director of cardiac surgery, the boy is afflicted with a rheumatic heart which is an acquired valvular disease. Dr Mukherjee points out that this heart condition is brought on in children who are subjected to pollution, lack of nutrition and congested living conditions. Confirming the rise in incidence of heart diseases in children, Dr Mukherjee says, "In recent times, there has been rapid urbanisation and a huge influx from rural areas. The slums are growing bigger everyday. Children who live in these congested conditions are susceptible to contracting respiratory and cardiac diseases."

Food for thought Upendra Yadav, 12, whose problems started in the womb itself (Photograph by Sandipan Chatterjee)
Twelve-year-old Upendra Yadav was only recently diagnosed with heart disease. His father Anchal Lal Yadav, 41, is a sweeper who lives in Liluah, on the outskirts of Calcutta. According to cardiologist Dr R.P. Vidhawan, diet—whether it's the over-consumption of junk food in children of more affluent homes or children from poorer families suffering from malnutrition—plays a significant role in the onset of heart disease in children. Anchal's problem developed as a result of poor nutrition when his mother was pregnant with him. "Poor nutrition and diet is one of the major reasons for the development of heart diseases in children," explains Vidhawan. Dr Nair at Max says, "Just today, we examined a 17-year-old boy from Gwalior with certain irregularities which may lead to a heart problem. If exercise and a controlled diet does not stabilise him in two weeks, we will have to put him on cholesterol-lowering agents."
So whether it's urban kids from big cities or children from slums and villages, teenagers from all across the country and from different socio-economic backgrounds are becoming susceptible to the early onset of heart ailments. While our genetic predisposition makes it tougher for Indians to stay clear of these diseases, pollution and lifestyle changes in urban children and poor nutrition in the case of rural children have made the situation more difficult. India's children in the age group 11-18 have formed a new group of the population at risk of heart disease.
---
By Amba Batra Bakshi with Snigda Hassan in Mumbai and Dola Mitra in Calcutta