Now that the Great Indian Election Circus has started rolling, and the NaMo chant is being heard loudest over the others in the campaign din, the prospect of the Gujarat chief minister morphing into the prime minister of India is beginning to raise serious concerns in the West, even among those who have not missed an opportunity earlier to run down the Congress-led UPA government. The Economist went so far as to ask the Indian voter to consider Rahul Gandhi over Modi. "We do not find the prospect of a government led by Congress under Mr Gandhi an inspiring one. But we have to recommend it to Indians as the less disturbing option."
Advertisement opens in new window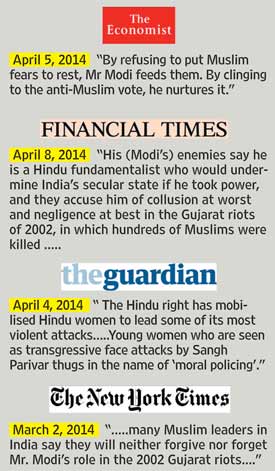 Other mainstream English-language publications in the UK, US and elsewhere are likewise expressing serious apprehensions about a Modi-run India in a series of editorials and news analysis.
The Economist's lead article, for instance, went on to say, "it would be wrong for a man who has thrived on division to become prime minister of a country as fissile as India."
Several other publications, such as the Financial Times, The New York Times and The Guardian, have all come out with articles that ask questions ranging from the security and safety of religious minorities in India to gender equality under a possible Modi rule.
To say that the string of articles has proved to be a major embarrassment for the Modi team is perhaps an understatement. For the past two years, the Gujarat CM and his core group have been trying to spruce up his image as a man of development to appeal to both middle-class Indians as well as potential investors in the West. Banking on their disappointment with the slowdown of the economy under Congress rule, the managers in Modi's group had gone on a publicity overdrive to offer him as a viable alternative for India. But the strong anti-Modi commentaries in the western media clearly show that there are large sections not only in India but even outside who do not wish to see him as the country's next prime minister.
Advertisement opens in new window
These apprehensions and reservations are expressed by many in Delhi's diplomatic circles, especially those from western countries. And this despite the European Union breaking its decade-long moratorium against him two years back and the regular stream of foreign delegations since to meet him, especially after the BJP nominated him as their prime ministerial candidate. But this does not mean they are not bothered about dealing with an India when Modi is prime minister.
"It will be foolish on our part not to engage with Modi. But our engagement should not be seen as an endorsement for him," says a senior western diplomat.
However, irrespective of whether it is Modi or someone else who becomes the PM come May 16, many commentators in the West feel that the real challenge for the Indian leadership will be its ability to deliver change. "The revolution of expectations among India's aspiring masses means the hardest task confronting India's politicians will not be winning power. It will be meeting the surging demand for change," writes Daniel Twining, the celebrated American commentator. Now, who's up to that task?