Trespassers Will Be...
The Posco steel plant will now be spread over 2,752 acres over eight villages. Posco has taken possession of 1,700 acres. idco has written to Posco to take over the rest of the 1,000 acres as well.
Primarily affected are betel vine plantations, community prawn ponds, casuarina and cashewnut and other forest trees. Clearing of betel vines and trees has taken place on around 600-700 acres, according to villagers.
So far, the only progress made by Posco is construction of a boundary wall of around 400 metres near Nuagaon and Noliasahi. A temporary shed-like office of Posco has also been put up in the area.
Posco has built a transit camp for the displaced villagers of Badagapur, Ersama block. Some 52 families from Patana and Gobindpur villages live here, crammed into one-roomed houses like sardines.
Families get Rs 2,250 a month irrespective of how many members they have. The former farmers now go to Paradip to work at the port, or nearby villages to work as labourers.
***
Bonita Mallick hums gently to herself as she tends to a betel vine orchard in Nuagaon village, the nucleus of South Korean giant Posco's controversial steel project site. Her hands caress the leaves gently as she whispers, "These are healthy. They should be ready in a week." Stepping out, she pops a paan, the betel leaf sourced from the same farm. In a while, there is a bitter transformation—gone is the tenderness with which she had been looking at her precious vines. "Goitha maaribu aame Poscoku aau Naveen Patnaik ku (We will kick out both Posco and Naveen Patnaik)," she shrieks out in fury.
Eight-and-a-half years after Posco first entered their land, the people of eight villages in the coastal gram panchayats of Dhinkia, Nuagaon and Gadakujanga are readying for a final battle with the mining giant. The clearance issued by the ministry of environment hasn't put out the fire. If anything, the agitation has received a fresh impetus. An indigenous economy nurtured by these people for well over 60 years through cultivating betel vine and paddy, apart from selling forest produce such as kia flowers and wild cashew, was brought to an abrupt halt when the Orissa government signed an MoU with Posco in 2005.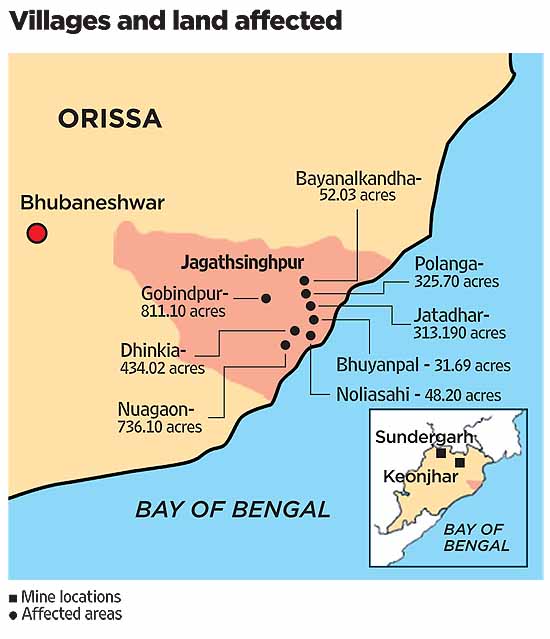 Initially, the plan was to start a 12 million tonnes per annum steel plant on 4,004 acres of their fertile soil. Stiff resistance led to scaling down of the area to 2,752 acres and plant operations to 8 mt per annum. But the issue continues to fester.
Initially, in 2005, Manorama says, they used to fear a backlash from the authorities. But after nine years of struggle, "we now fear nothing".

The district administration has already handed over 1,700 acres to Posco India. Vishal Dev, chairman of the Industrial Development Corporation of Odisha (IDCO), says the bala­nce 1,000-odd acres will be given soon. "Following the env­i­ronment clearance, we have written to Posco to take possession of the rest of the land," he says. Dev is confident that the National Green Tribunal's stay on felling of casuarina and other trees will soon be lifted as well. "Posco can start work now," he says waving a hand in the air. Mahendra Gupta, cii president, Orissa chapter, adds that "now that a major hurdle is cleared, in all fairness, the Orissa government must do everything possible to help Posco acquire the land."
It won't be easy. At the ground level, groups like the Posco Pratirodh Sangram Samiti (PPSS) vow to oppose the move tooth and nail. In Dhinkia village, which has witnessed the most violent protests, PPSS general secretary Sisir Maha­patra (who's been slapped with some 25 police cases) shrugs off the recent development. "We have seen such clearances being given in 2007, 2009 and 2011. When the case is still pending with the National Green Tribunal—which has ord­ered a stay on land acquisition—how can the Veerappa Moily-led moef grant clearance? This is nothing but a ruse to get phoren chanda (foreign funds) for the 2014 general elections," Mahapatra says. "Betel vines and forest lands are being usurped. Both the central and state governments are making a mockery of the environment clearance regime. Precious resources are being sold for a song. This land acq­uisition in the name of development ignores a central component of democracy—the people's consent," he says.
Since 2005, the lives of people in these scenic villages have undergone several upheavals. Groupism is rampant as there is antagonism between those for and against the steel plant. In Dhinkia, the 15 households which voted in favour of the Posco plant stand literally ostracised. "They do their cultivation and we do ours. There is no link between them and the rest of the village," Sisir Mahapatra says. Tensions run high between the various groups, sometimes ending in street fights and destruction of each other's crops.
"Ultimately, 95% of it is government land, it is not private land. People have got generous ex-gratia payments...."


Damodar Raut, Orissa health minister, BJD
Manorama Khatua, another PPSS leader in Dhinkia, wears her badge of 50 police cases proudly. "There is one under Sec 302 (murder) too," she declares. Manorama says the PPSS has just one motto: to turn all green signals into red signals. Initially, in 2005, Manorama says there used to be a fear of the authorities. "But after close to nine years of agitating, we fear nothing," she says. PPSS chief Abhay Sahoo was arrested last year in connection with a bomb explosion that left three persons, Tarun Mandal, Manas Jena and Narahari Sahoo, dead. The trio was reportedly preparing crude bombs to use as weapons.
Sahoo's been in and out of jail, but his spirit has not wav­ered. There are other groups too which have thrown their weight behind the agitation, such as the Jatadhari Bachao Aandolan, Jayadurga Jana Manch, Jalasankhya Jana Manch, Mahanadi Bachao Aandolan and the Kalinga Karnadhar Kaibartya Solabhai Sabha. Thousands of fishermen who depend on the catch from the mouth of the Jatadhari river fear that Posco will soon be granted a captive port at Jatadhari. "This would destroy our livelihood," says Kalandi Behera in Noliasahi. There are about 162 fishing families living between this village and Jatadhari. Their income touches Rs 20,000 a month on an average through fishing alone. Their simple, unfettered lives are now trapped in an intricate web of politics, mafias, bribes and protests.

Sulochana Swain, is sure the gods will curse anyone who tramples her vines
Be it the ones opposing Posco or those favouring the steel plant, for now everyone seems to be losing. Tamil Pradhan, whose wife Anjali is the sarpanch of the Nuagaon gram panchayat, has been a leader of the United Action Committee (UAC), favouring the Posco plant. Pradhan now says he's lost all faith in the officials. "It's been close to nine years since any of us had a good night's sleep. We have lost our peace, our brotherhood. We believed that Posco would genuinely bring about some development in this area," he says, his voice weary. At a candlelit protest in Ersama block, Pradhan sits with a bunch of 50 villagers from Nuagaon, Noliasahi, Polanga and Bhuyanpala. "We are the ones who supported the Posco project, but both the government and the company have violated our trust," says Sampad Kumar Bari. A relay hunger strike is on, but youth in the UAC have lost their zeal. "Many of us have given up our betel vines and are waiting for jobs, hoping that the steel plant will take off. But all we see is emptiness," says Jaidev Das.
"Khandahar has a unique waterfall and is a religious spot for lakhs of people. We'll never allow mining there."


Jual Oram, Senior BJP leader
The UAC, with its placard 'Aamoro daabi, aage thoei thaano, pore nirmaano (Our promise: Rehabilitation and resettlement first, construction later)', threatens to stall all Posco work till its demands are addressed. The betel vine owners, who received a compensation of Rs 11.5 lakh per acre and Rs 2,250 a month as allowance, are demanding Rs 17 lakh and Rs 4,500 a month. "It's been over eight years. Our funds are exhausted, so is our patience. The state must raise the compensation. It must also construct a sea wall to protect our lives after having cut down about 1.7 lakh casuarina trees," demands Pradhan.
The people in the affected villages mostly belong to the Dalit and backward classes. Their economy is a self-sufficient one, a unique combination of paddy and betel vine cultivation and fishing. Betel leaves from the region are mostly exported to the Mumbai, Chennai and Delhi markets. Betel cultivation on the sandy dunes provides employment to the farm labourers throughout the year. Traditionally, the people of the land have a reputation of being generous with their offerings of free food and accommodation, but nowadays every outsider is viewed with suspicion.
Sulochana Swain in Noliasahi explains sarcastically how the village got electricity only a year or so back because of all the media attention. Chopping vegetables outside her hut, she says that the curse of the gods will fall upon those who trampled upon their betel vines. Workers here remove their footwear before stepping inside a betel vine farm. This is because betel leaves sourced from here are also used in pooja rituals.

A disillusioned Tamil Pradhan
Meanwhile, at the Posco India transit camp in Badagapur, Jyotsna Rani Mohanty is one of the many who've been displaced for the past eight years from her village in Patana. Her family owned some betel vines in the hamlet. While the Industrial Development Corporation of Orissa says that Patana is not a part of the project site, several displaced villagers from there taking shelter here disagree. Jyotsna's family who used to make a respectable Rs 20,000 a month in 2005-06, now feels they've lost all self-respect. "We are forced to work as labourers in small industries in Paradip or at the port. We have become gypsies," she says. She refuses to believe that any actual work on the Posco plant will happen anytime soon and says her family might migrate to Maharashtra.
Orissa health minister and senior BJD leader Damodar Raut, who himself hails from Ersama near the Posco project site, dismisses all claims of the villagers that a large part of the site is forest land. "In 1974, after the Paradip port was established, the sea started shifting east. That is why the government planted casuarina trees. These are not actual forests. It's just social forestation," is his strange explanation. Raut says that in 1981, small and landless farmers were encouraged to grow betel vines in the area. "But under the 1986 Environment Act, the lifting of groundwater is prohibited in the area. The betel vine farmers are sucking up huge quantities of groundwater for farming. This way, the groundwater reserves will get exhausted in 5-7 years," he says.
Championing the cause of the 8 million tonnes per annum steel plant, he says that it will come up with "modern furnace technology" which will not harm either the soil, the environment or the shore. "Ultimately, 95 per cent of it is government land. It is not agricultural land or private land. And people have received generous ex gratia payments...they are leaving voluntarily," he claims.
Raut also insists that it would be better if Posco were to have its own captive port (since its needs cannot be accommodated by the busy Paradip port). On the mining issue, Raut waves a dismissive hand. "If not the Khandahar mines, Posco can source iron ore from elsewhere. Southern Orissa is full of bauxite reserves and northern Orissa, particularly Sundargarh, Mayurbhanj and Keonjhar have plenty of iron ore reserves. Remember, it is the country's largest FDI (Rs 52,000 crore) which will bring large-scale development," emphasises the minister.
Environment watchers like Sudhir Patn­aik says these claims are all bunkum. The editor of Samadrusti, (which some call "the EPW of Orissa"), Patnaik says the FDI myth is all wrong. "First of all, the gram sabhas were organised in a fraudulent manner. The government has created a pro-Posco group with the help of the Paradip port mafia while in reality, everyone opposes it. Secondly, Posco India will be sourcing funds from Indian banks. It will bring in second-hand equipment from its other factories. It would create 1,200 jobs at the most, that too for qualified people. Locals will be employed as labourers, and only during the construction period. So, in reality, the FDI will only be around Rs 7,000-10,000 crore," he says.
After talk that the Naveen Patnaik government is again pus­h­ing for a prospecting licence for Posco to mine iron ore from 2,500 hectares of the Khandahar mines, BJP leader Jual Oram has threatened a "bloody agitation". The Paudi Bhuyan tribals in Sundergarh and Keonjhar districts are gearing up for a fight. Since the likelihood is that Posco would be sourcing Mahanadi water from the Jobra barrage, farmers of Puri, Cuttack, Jagathsinghpur, Kendrapara and Jajhpur districts are also worried about their irrigation and drinking water supply.
Another senior BJP leader says Naveen Patnaik is being misguided by senior officials, who are painting an unreal pic­ture of Posco bringing prosperity to Orissa. Prashant Paikray of the PPSS calls Posco a modern East India company. "Would South Korea like it if the North were to encroach on its land in the name of development? First a steel plant, then a captive Jatadhari port, next the Kan­dadhar mines and later our Mahanadi water. The MNC raj will destroy our democr­atic rights," he compalins loudly as protes­t­ers gather for a demonstration in Dhin­kia. They are here to burn effigies of the South Korean president, who's visiting in Delhi. The villagers say they are sure of one thing—they will not allow another East India Company in the form of Posco on their land.
---
By Madhavi Tata in Jagathsinghpur, Orissa