* Source: Ormax Media; domestic box-office collections from 2000-2014; figures in rupees crore
***
"Why is media so obsessed with age?" Irrfan Khan asks me in amusement as I tell him the reason behind my Mumbai visit: to put together a clutch of articles to mark Bollywood Khandom—Aamir, Shahrukh and Salman—turning 50 this year. We meander then into a long, tangential discussion on ageing. "Hollywood is not so fixated with age, perhaps because they have roles and material to deal with it," the actor muses. "Age brings in perspective, awareness, attractiveness and sharpness which should, ideally, be valued."
That, indeed, is the point. Dodging your age. At an age when they should have hit midlife crisis and been working towards retirement plans, sporting salt-n-pepper beards, if not receding hairlines or a prominent paunch, the Khans continue to be our gym-fit action heroes, still romancing and dancing with heroines half their age and making us laugh and cry at the movies. For almost 25 years, the longest that superstardom would have lasted in the Hindi film industry. And, in this case, not just for one of them but for all three together. The quintessential Bollywood heroine might still very cruelly and unfairly be forced to turn 'senior' at 30, but the Khan trio remains curiously ageless. No wonder actress Parineeti Chopra says: "Fifty is just a number." For her, the Khans are 'timeless'.
Filmmaker Karan Johar remembers going for the Big B's 50th birthday party with his parents. "There was a sense of reverence and respect for him," he recollects. As for the Khans' birthday bashes, he feels they would be the most happening, rocking events. "Can anyone dream of touching their feet at 50? No way," he says. As if on cue, Aamir Khan, who'd be the first to turn 50, on March 14, says that, 18 or 50, it's all just the same for him. "My son is 21, my daughter is 16. I feel I am younger than my son. He is much more serious than I am. And I have a son who is three now and I am as comfortable with him. Even children haven't aged me," he says.
"Fifty is just a number, the Khans are timeless. They are amazing and always will be. Wish them another 100 years of entertaining all of us."
He has no film lined up for release in this momentous year. But groundwork has already begun on his new film, Nitesh Tiwari's Dangal, in which he plays an ageing wrestler, a father of two grown-up kids. "I am playing three different age groups. Well, four actually, but the fourth is just in one tiny scene. When the film begins, I am 27, then I become a man in my early 40s and then move on to the mid-50s." They begin shooting with the 40s and 50s portions first. So he has begun putting on weight, his beard is grey. After the first schedule, early next year, he begins his weight loss routine and change his body to look like it does in Dhoom 3 or PK—low fat and muscular—approximating a 27-year-old's. Says ace cinematographer Anil Mehta, who has shot movies with all the three Khans, "The transformations that they pull off with their bodies is quite remarkable. They have conquered ageing in their own way."
Meanwhile, life is ultra-hectic for Shahrukh as he shuttles between the shooting for a new TV show called India Poochega Sabse Shana Kaun and Maneesh Sharma's film Fan, in which he appears in the double role of both superstar and fan. Later, he begins on Rahul Dholakia's set-in-Gujarat Raees, in which he plays the bootlegger to Nawazuddin's cop. Salman is shooting for Kabir Khan's Bajrangi Bhaijaan, in which he plays a Muslim in love with a Brahmin girl and also goes back to playing Prem in Sooraj Barjatya's Prem Ratan Dhan Paayo.

Awesome threesome Aamir with wife Kiran and son Azad on Holi
So, at 50, they are all way too busy to make our dream turn reality: the dream of getting them all together behind a closed door, be the fly on the wall and just see and hear the conversation flow. Vicariously so, in the light of their own blow hot-blow cold relationships with each other.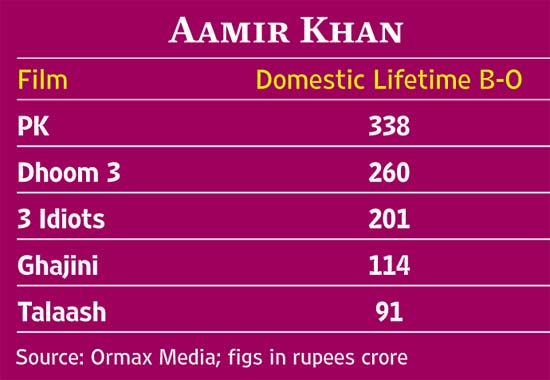 But whatever their personal equations, their distinct public personae complement each other. "They are all similar yet very different. They all have a tremendous association with the audience in some form or the other. They are single-minded and focused in doing what they are doing. Intelligence is about the choice you make and all three seem to have made right choices for over 25 years," says filmmaker Rahul Dholakia. "They have played their cards well, had foresight when no one else had it," says actress Richa Chaddha. "They have built up equities, created niches," says veteran film journalist Rauf Ahmed.
What also defines them is their surname, and their religion. The one they wield with pride, the one they have never been apologetic about. "In our country, where religious differences are often exploited, their biggest contribution aside from being actors and stars is to be a unifying force. All three have displayed in their personal and professional lives how the idea of India transcends religion," says Ritesh Batra, the director of the much-acclaimed The Lunchbox. All the more relevant in today's vitiated atmosphere where a Sadhvi Prachi can tear up their film posters and call for a boycott of their films. The other unique thing that has happened under the Khan reign is the opening up of the overseas market, unlike a Khanna or Bachchan era. "They are the reason our film industry has become this global behemoth," says actor Ayushmann Khurrana. "With Lagaan, Aamir took Indian commercial cinema to the West. SRK is a big crowd-puller, I remember the euphoria for him in a show abroad when they had to call the riot squad," adds Dholakia.
"They're why our film industry has become a global behemoth. I hope filmmakers now come up with stories that'll fuel their superstardom."
There has been much to complain too: Salman's bratty behaviour and the many court cases, SRK's choice of questionable films aimed solely at the box office and Aamir's "pretentiousness and righteousness". But the fans continue to cheer them. Karan Johar finds their intertwined destinies interesting. Aamir walked out of Darr, Salman from Baazigar and so SRK was born. "Otherwise we may have ended up seeing SRK in Lagaan and 3 Idiots and Aamir in DDLJ," he says. For him, the journeys of Aamir and SRK have been equal and opposite: SRK started in the esoteric cinema and embraced the mainstream, while Aamir did some bad mainstream films initially to now turn picky.
Then, there are the differences, and Salman stands out as a separate phenomenon. For Anil Mehta, Salman is a star first and an actor later. He recollects how once during the shooting of a song in Hum Dil De Chuke Sanam, Sanjay Leela Bhansali was trying to correct his lip sync and fine-tune his performance and his response was very direct, "Boss, abhi sirf 'looks' pe chal rahi hai picture, acting toh main dus saal baad karoonga." Rauf Ahmed remembers the days when Salim Khan and his family were trying to get Salman into film direction while the performer in him was itching to come out. "He would keep showing his pictures to us," he recollects. Photographer Atul Kasbekar finds that the most starry quality about him is the comfort with himself. "It's like wherever you may keep the lights, he'll look good. He never looks at the monitor, he has this bizarre confidence about how he looks," says Kasbekar who first got to know him during his modeling days in college. He also shot SRK first for his Mayur Suitings ad, and many more later.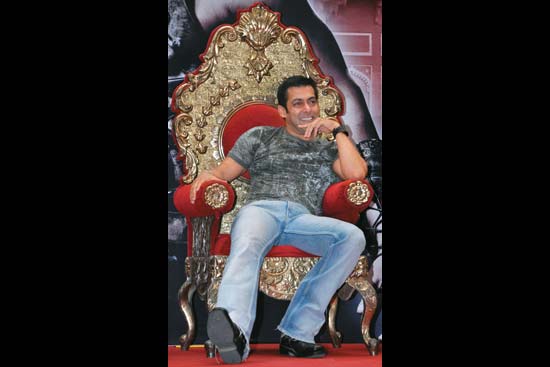 Photograph by Reuters, From Outlook 16 March 2015
A polar opposite would be the studied Aamir. Mehta remembers meeting him for working on Lagaan and finding him grounded, very straight and wanting to make movies in a organised disciplined manner, rare for those times. "Aamir's biggest quality then as now, is his earnestness which percolates through to everyone he interacts with. Once he has chosen a path, his commitment and perseverance see him through," he says. There were many faltering moments during the making of Lagaan but his single-mindedness kept the film on rails. As an actor, he was extremely protective of his space and demanded time and attention from all. That quality is almost a pre-requisite for a star, says Mehta.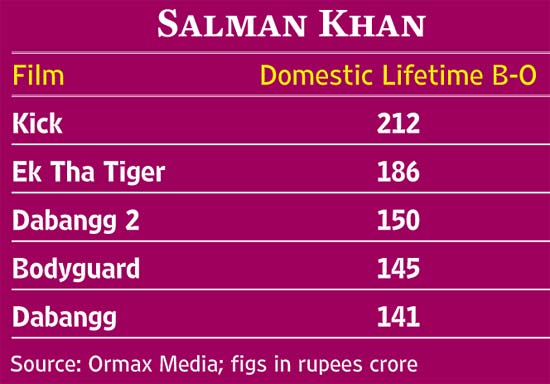 Shahrukh, whom he met on the sets of Kal Ho Na Ho, was of another kind: totally affable, easygoing, charming. "He is a breeze that wafts on to the set, knows exactly what is expected of him, delivers with consummate ease and leaves. A real 'stress-buster'," says Mehta. He remembers that on the sets of Veer Zaara, Aditya Chopra had handed him a three-page poem, as his final testimony in court. "He hung around on the sets in a corner while I was lighting and when we were ready to roll, 20 minutes max, he was ready too. He delivered the piece with all the emotion required and without faltering on a single word. Later, in an aside, I heard him telling Adi that he delivered the piece thinking of his kids and that's what made his eyes well up," says Mehta. Dholakia talks of SRK as a voracious reader. He even spotted a Resnick and Halliday physics textbook in his library. "It's then that he told me that he was an IIT aspirant," recalls Dholakia.
The stars are the stuff of a journalist's memory as well. Salman is the only star for whom I have set an alarm for 3 am in the night just to ensure that I catch him for a quick chat at a convenient time in America. But I know little beyond that of him, having never managed a 'one-on-one'. I fall back on stories others tell. Mehta tells me that there is this brash, young 'bad boy' image that he carried with elan, but there is also a genuine, caring, generous man residing in him. Beneath the brashness and bluster, is a sensitive and really intelligent guy. "Salman has often tried to rope me into a film project that he is involved in, invited me to Eid parties, tried to hook me up...nobody does that for people they don't care for," he says.

Crowd-puller SRK waves as he arrives for a polo match in Delhi
For a journalist lodged in distant Delhi, Aamir, perhaps, has been the most approachable of the three, always prompt in replying to text messages. The interviews are meticulously planned. Meet­ing him at 9 pm? He will have someone call you to ask if you'd like to have dinner. The interviews are about long, thoughtful pauses, going back to a question if he is not happy with his reply. He'll not talk about things he doesn't see any value in talking about, the All India Bakchod controversy in which he himself got roped in, for instance. He's the star who talks to you like an acquaintance, even sees you off outside the building gate at 11 pm right to the autorickshaw. Without slippers on his feet.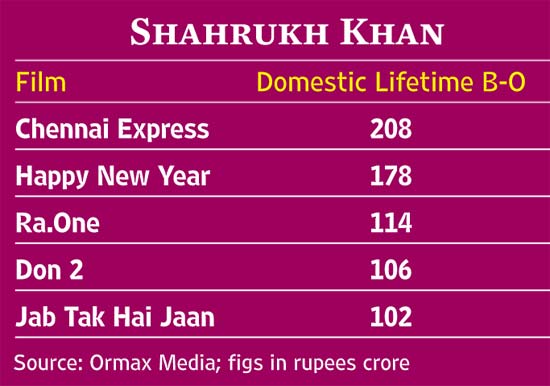 Shahrukh is mercurial. One whole day spent at a shoot in Yashraj Studios where he had you rofling at his incredible jokes can be followed by years of silence. Just when you give up on the essay you had commissioned from him for a special issue, a meticulously-penned piece gets delivered to your inbox. Shahrukh sets his own deadlines.
Is there a deadline to their stardom as well? "They may slow down, but there's no sign of letting up," says Ahmed. "I doubt if this level of stardom will arrive again in Bollywood. They have peaked in this phase. They are still delivering big, event movies. All the three are booked for the next two years. They are going nowhere, they are here to stay. Another decade and you will still find them as young," says Karan. "The interesting thing about creative people is that they are the last to know that they have become irrelevant. No one has the honesty to tell them. Like everything else, things deteriorate. It's gonna happen to all, to me," says Aamir. However, Mehta believes that reinvention is a game that they have in their genetic programming. "It's no 'chance pe dance' or 'hawa mein pachaas'," he says. Parineeti thinks they are amazing and will always be. "Wish them another 100 years of entertaining all of us," she says. But Ayushmann is more logical: "I also hope that filmmakers come up with stories that will further fuel their superstardom." Karan now wants to see them do mature romances and intense relationship movies. He wants SRK to go back to the ethos of Baazigar, do a gritty Badlapur, perhaps. He'd like to see Aamir in a remake of Masoom and Salman in Kabhi Kabhi and Aamir and SRK together in a remake of Mehboob Khan's Andaz. A back to the future stardom!