In his first address to the nation after being selected to lead the UPA-I government in May 2004, PM Manmohan Singh had famously stated, "Reforms are needed, I have always said that, but economic reforms with a human face will give India's common man real hope." He had gone on to reassure the over one billion listening that econo­mic and social dev­el­opm­ent would be "for all, not just for a few".
Nine years on, alas, it is not just the poor and forgotten millions in rural India who are waiting for long-pro­m­ised basic amenities like clean potable water, electricity, public tra­n­sport­at­ion, working sewerage systems, good roads, neighbourhood sch­ools, gas connections and suppl­ies. No, all this sounds like a fantastic dream for most people outside privileged gated communities. Life in the teeming cities, especially in urban slums, poor and middle-class localities, is getting tou­gher—bordering on the unbearable.
"The government utilities are being deliberately run at a loss in order to buttress the calls for their privatisation."
Sure, everyone and their grandmot­her complains about the rising cost of living. And there arises a palpable anger and frustration when there's no guarantee of quality service despite escalating charges on utilities, be it electricity, water, sanitation, transp­ort and so on. There have been several protests across urban India­. People feel let down by the very reforms that were supposed to improve essential services, eliminate wastage, serve up increased competition and the­r­eby lower costs. Instead, people are upset at the higher user charges, the indifferent service, and the realisat­ion that the state, in retreating in favour of private players, isn't taking precautions to protect consumer interest.
And this is not a Delhi or Mumbai phenomenon alone—the state of affa­irs in most cities is no less ala­r­ming. Over the past year, consumers in cities in Andhra Pradesh, Karn­ataka, Uttar Pradesh, Maharashtra among oth­er states staged protests against hikes in power tariffs. Supp­orted by political parties, Hyderabad's consu­mers rece­ntly took to the streets against a fuel surcharge adju­stment that has alm­ost doubled the power bill for many. Con­sumers in West Bengal have been up in arms over insufficient delivery of LPG cylinders. There have been mini riots over the build-up of roadside garbage in Kerala's cities. And so on.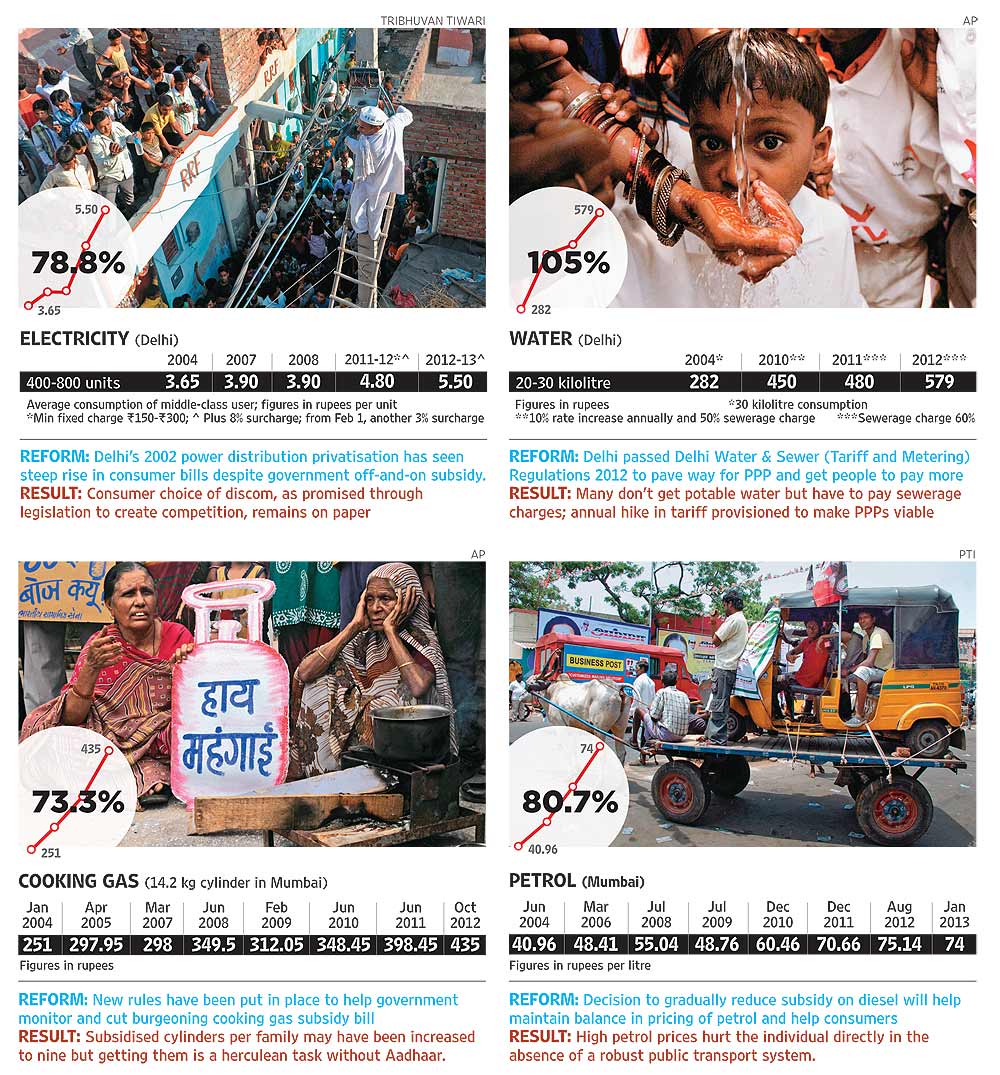 Little wonder why political parties all over the country—including new entrants like Arvind Kej­riwal's Aam Aadmi Party—are tapping into this negative sentiment. Everyone knows that corruption is a big issue. Exactly how big remains to be seen. Experts are asking whether the general elections, which are due anytime over the next year, will be the common man's stage to deliver a verdict on reforms? If the results of municipal elections across the nation are any indicator, ruling parties, more often than not, do pay the price for such indifference.
"We still look to the government to take the lead in providing better services. This only sustains mai-baap sarkar mindsets."
For someone like Lata, a housemaid, the answer is unclouded: she will not vote for the ruling Congress government in Delhi as she is angry at its failure to provide piped water in her colony. Every month she, like others in her neighbourhood, has to indiv­idually pay the private contractor in Sangam Vihar, a colony in south Delhi, Rs 500-1,500 for supplying borewell water once a week. Lata considers herself one of the lucky ones; many Delhi colonies don't get water supply even once a fortnight. No wonder consumers are upset at having to pay more for water (and sanitat­ion) thro­ugh the setting up of public-private partnerships (PPPs).
It's no secret that public utilities in India are seen as a huge business opportunity. Mis­ma­na­gement, apathy and corruption in the delivery of the public services is used as a justification to introduce private players. Says political analyst K. Nageshwar, a mem­ber of the Andhra Pradesh legislative council, "In reality, the privatisation of public services is resulting in availability of quality public utilities for the rich, while depriving large sections of poor and lower middle classes access to such public utilities both in terms of quantity and quality."
Or simply ask some of the millions in the Capital whose hearts skip a beat every time the electricity bill is delivered. The increase in power tariff since the priv­atisation of distribution system in 2002 has raised bill amounts, not necessarily the quality of services provided. According to the law, the consumers should have benefited with being able to choose between power distribution companies (discoms). However, no such provision exists in practice. Tellingly, RWAs are asking why dis­coms are claiming losses when they have been able to save around Rs 4,000 crore in lost revenue by plugging 40 per cent of power thefts from the system.
"Pushing people to pay for service operation and maintenance, where costs are going up, is not going to work."
"When a public utility is transferred to the private sector, the ethos of public service should be transferred by def­ault and it should not become a purely commercial money-making venture," says Ashutosh Dikshit of People's Act­ion Campaign Secretariat of URJA, an umbrella organisation of RWAs in the NCR. Instead, the state government seems to show blind faith in the discoms—there is no proper auditing of their operations or accounts. Whereas the government's representatives on discom boards have not been as trusting. Their signatures are missing in the annual statement of accounts of 2011.
At the core of the urban mess in India is the fiscal unsustainability of urban local bodies, which, paradoxically, is often at variance with the economic growth and prosperity visible in their catchment areas, a FICCI study in Oct­ober 2011 states. This is often used to justify privatisation. Sanjay Kaul, a BJP leader and founder president of URJA, cites the case of the Delhi Transport Cor­p­oration, "which has been deliberately run to the ground so as to buttress the argument for privatisation". Kaul poi­nts to the irony in the state governm­ent's provision of security to privatised ut­ili­t­ies—to prevent power thefts, for instance—when it could have easily used the same security force earlier.
Experts stress that while the mech­anism to secure private operators' profitability is in place, nothing is being done to ensure that the regulatory bodies perform their task. This holds true across the board, be it water, electricity, telecom or transportation. Sure, as Professor Shreekant Gupta of the Delhi School of Economics puts it, some projects are doing better than others. The problem has to do with the regulators. "Partly, it is the lack of technical competence of the retired babus heading the regulatory bodies and partly it is the regulators' capture by private companies," says Gupta, an expert in urban and public policy.
"The price of water has risen across the nation owing to JNNURM. Why citizens don't want to pay more is due to inefficiency."
There are, for instance, a myriad challenges and high costs involved in the operation and maintenance of water supply and sanitation. The common result: slippage in pipeline targ­ets, leaving people to depend on ground water—the case in most cities, including Delhi. People end up paying more for water, but with no surety of the quality of supplies. In the long run, this is not sustainable.
Barring a few exceptions, therefore, consumers in most cities are caught between the rapacious private sector and unaccountable government age­ncies. Subrat Das of the Centre for Budget and Governance Accoun­tab­i­lity points to a major systemic flaw. Information on spending on drinking water and sanitation in urban India is difficult to segregate, especially by the Centre. "The way administration is divided in urban areas isn't clear unlike in rural areas," says Das.
Take the case of Gurgaon, India's fast growing commercial hub, which is slated to add another 55 sectors in the next 11 years. This city depends on diesel to fuel most of its power supply. Barring the Delhi Metro, there is no public transport. The only opt­ion then is private transportation. "Red­i­recting subsidies to the deserving is understandable. But people do mind the fact that there is just no public transport infrastructure," says Sha­shi Sharma, a management consu­ltant and representative of the People's Act­ion Campaign Forum in Gurgaon.
"Bridging the fiscal deficit is a noble economic objective. But, why should the poor bear the burden alone?"
On another, more immediate, front, the decision to link the supply of subsidised LPG cylinders to Aadhaar has led to near-stampedes as millions across the country are still not enr­o­lled in the programme. The result: most poor people are being deprived of subsidised cooking gas. For instance, Ivy Das, a librarian at Jadavpur Uni­v­ersity in West Ben­gal, has bought an electric induction oven, fed up with the hassle of "booking, waiting and then not knowing when the LPG cylin­der will eventually arrive. And private LPG cylinders are way too costly".
And privatisation of waste management has had unsavoury outcomes in many cities. Kerala, for example, has thrown up its hands with no land available to disp­ose of the over 8,300 tonnes of waste generated per day. Protests over the waste dumps of Lalur, which falls under the Thrissur Cor­p­oration, are a microcosm of what is happening throughout Kerala. "The government is not serious about man­aging waste," says T.K. Vasu, president of the Lalur Malineekara Viru­ddha Samara Samithy.
It seems that for all the noise, many governments are simply not serious about managing reforms. Their logic isn't immediately apparent. Wouldn't it make more sense to ensure votes through better utility services?
---
By Lola Nayar with Outlook Bureau