String Theory...
Controversial appointment of Dr Rajan Welukar as V-C challenged in Bombay HC
Ex-Gov S.C. Jamir had told govt vested interests wanted their man in V-C's post
V-C on board of firm which has handled exam work
Bungling and gaffes cause students much anxiety
***
The 155-year-old University of Mumbai, with its iconic Rajabai Tower and a roll-call of illustrious alumni, was once ranked in the top 500 universities of the world. Now, it could well be the subject of a doctoral thesis on how a premier intellectual institution was ruined. The accelerated decline in its academics and administration in the last couple of years has spawned a number of jokes; the cruellest of them revolves around the inability of vice-chancellor Dr Rajan Welukar to comprehend the complex delineation of the university's decline.
Calls for Welukar's resignation now span across the university senate, Maharashtra legislature, teachers' unions and students' organisations. The list of Welukar's blunders gets longer by the day but overriding that is the shocking violation of conflict of interest norms—he serves as a board member in the Maharashtra Knowledge Corporation Limited (MKCL), which handled most of the processes related to examinations, processes that saw an unprecedented amount of bungling and gaffes. In other words, the V-C handed out work to a company he happens to be associated with. His nominee to the senate, Dr Ulhas Dixit, head of the statistics department, was extremely critical of the outsourcing of work to MKCL; after a series of outrageous gaffes, Dixit resigned this week.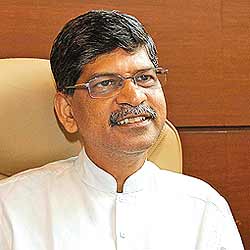 The examination season from mid-March was marked by one goof-up after another: errors in allotting exam centres; hall tickets that were supposed to be online could not be accessed till 24 hours before the start of an exam; exam centres were re-allotted to more than 2,100 students just hours before they took the first exam; the marketing & human resource management question paper of the third year BCom course was leaked widely on sms and mobile apps the previous day; a re-examination was ordered, and the exam now stands challenged by two students in the Bombay High Court; distance and open learning students of the BCom course got a "wrong" question paper in their exam in 19 centres.
Together, they marked a new low in the university's decline and meant stressed-out students, angry and harassed parents, bewildered and directionless staff. Exams for the arts, science and engineering streams are yet to begin. Through this series of embarrassments, the V-C was all at sea; he in fact dismissed the question paper leak—which meant a re-exam for 85,000-odd students—as a rumour. When senate members brought up these issues and sought his resignation at a meeting on March 29, Welukar summarily suspended seven of them. This, in turn, led to a ruckus in the legislature, forcing Governor K. Sankaranarayanan, in his capacity as chancellor, to summon higher education minister Rajesh Tope—in itself a rare turn of events.
Welukar did not take questions from Outlook but maintained that he was being unfairly targeted because he had sought to modernise the university. He had earlier stated that "politics and academics should not be mixed"—a comment that drew sneers from a large number of faculty, many of them better qualified than him, and conversant with the intense politicking that put him in the V-C's chair in 2010.
After the chancellor's rap, rules were tweaked to make hasty appointments. The statutory posts of pro-vice chancellor, registrar and controller of examinations—besides hundreds of posts down the hierarchy—have been lying vacant for close to two years, coinciding with Welukar's controversial appointment as the V-C. These two years have also witnessed blunders in the admission process to junior colleges, evaluation and re-evaluation of answer papers, repeated discrepancies in the optical mark recognition (OMR) code system for exams.
The OMR, which involves darkening circles corresponding to the roll number, exam date, question paper code, subject code, seat number, language code, semester and section of paper code, is a complex system introduced last academic year; it drew complaints from lakhs of students and delayed exam results. This year, it threw the examination system itself into disarray. The OMR, hall tickets and exam centre assigning was largely handled by MKCL, something that Ulhas Dixit was staunchly critical of.
The two years Welukar has been V-C have seen major blunders in admission, exams, evaluation and revaluation.
In his resignation letter to the V-C, Dixit wrote that he was "against jobs being outsourced to MKCL", and against (hasty) implementation of the barcode and OMR code system. The MKCL was asked to process hall tickets and assign exam centres to commerce students but it created a huge mess; students were put through a lot of inconvenience. Dixit chaired a study on systems implementation last year and highlighted serious lacunae. Against this backdrop, the exam work this year should not have been assigned to MKCL again, says a top faculty member. "The situation has become so bad that I fear students' careers will be adversely affected and some might go to any extent to vent their frustration," Dixit says.
Faculty members put out a laundry list: no meetings with faculty on campus; diluting the process of registration for PhD; a college lecturer being recommended as Welukar's nominee to the managing council against rules; wrongful constitution of the boards of study for various subjects and research recognition committees; referees being changed after adverse remarks on thesis of a well-connected candidate; many vacant endowment positions; the less-than-perfect functioning of the internal quality assurance cell and so on.
"The V-C was always regarded as an intellectual and cultural thought leader; it helped if he was also a good administrator, but there was the post of pro-VC for administrative purposes," explains Dr Aroon Tikekar, a former editor and historian, who authored The Cloister's Pale: A History of the University of Bombay. "The present V-C is certainly not an intellectual; nor is he a good administrator as recent events show. His appointment is itself a mystery".
The search committee, chaired by well-known sociologist Andre Beteille, had drawn up a list of five eminent academicians and had zeroed in on one of them in January 2010; Welukar was not in the list. January 20 and 21 were fixed as dates for the final interview by the governor/chancellor but governor S.C. Jamir was replaced four days before the interview. Fearing foul play, he wrote to then CM Ashok Chavan. Outlook accessed a copy which reads: "I feel it my duty to point out nefarious activities of the vested interests... they are seeking escape routes and have resorted to unethical networking, contacting political leaders and NGOs (to) put pressure on the authority to reverse the process." Sure enough, Jamir's successor appointed a new committee, chaired by Dr A. Kolaskar, a former associate of Welukar, which duly recommended him for the post.
Among those most vociferously demanding Welukar's resignation now is the young Aaditya Thackeray, grandson of Shiv Sena chief Bal Thackeray, who was all praise for Welukar when he gave in to Thackeray's demand to ban Rohinton Mistry's Such a Long Journey from the curriculum. A far cry from the halcyon days, says Tikekar, marked by the likes of V-C John Mathai who, in 1957, had refused to convene a special convocation session to confer an honorary DLitt on Jawaharlal Nehru.