On May 26, 2014, the day Narendra Modi took the oath of office, the price of Indian crude was $108.56 per barrel. This month it hit $46.16 a barrel. A 57 per cent fall has prompted a question: why haven't ret­ail prices of fuel fallen in sync with crude's downward spiral? After all, spiralling diesel and petrol costs were an election plank of the BJP? Surely, Indians don't expect their fuel costs to dip 57 per cent, but the demanding (and financially stressed) urban resident is wondering why petrol is just 14 per cent less dear now than last May. Petrol cost roughly Rs 71 a litre last May; now it's Rs 61.20. Diesel's fall has been sharper, 20 per cent, now retailing at Rs 44.95.
"The government is not passing down the entire benefit of falling prices to consumers. Some duties are being raised," says T.N.R. Rao, chairman, advisory board, South Asia Gas Enterprise, referring to the three times the Modi government hiked excise duties on petrol and diesel since last October and the Delhi government's move to hike vat on fuels, which nullified a recent price cut.
Implicit in the Centre's excise hikes is the choice to not put extra cash into citizens' hands in the form of cheaper fuel. Last October, Union finance minister Arun Jaitley undertook a significant ref­orm by making diesel prices market-det­ermined, as it is for petrol. This could be done because crude had fallen to a four-year low, removing the government's subsidy burden. After this, it was exp­ected that diesel prices would reflect international oil prices, with consumers benefiting. It appears now that oil marketing firms are the lucky ones.
Implicit in the Centre's excise hikes is the choice to not put extra cash into people's hands in the form of cheaper fuel.
Rao says that the problem is two-fold—not letting cheaper fuels massage the economy's wheels is the first misstep. "We must pass on the benefit of lower crude to consumers. We raised prices earlier when crude was high, we should cut them when they are low," he says. Despite deregulation, the Indian system is still straitjacketed to legacy. For ins­tance, when crude prices are high, the government automatically rakes in extra cash as taxes. Conversely, during dips in crude, governments hike rates of tax to make up for falling revenue—the route the NDA government has taken.
"We have been saying that the government should not follow an ad valorem system, where taxes are a percentage of the price of petrol or diesel," explains Kirit Parikh, former Planning Comm­ission member. Right now, there is no flat rate of tax but one based on the value of fuels sold—not to mention the other widely divergent taxes and duties across states. Another contributing reason is the costs of oil marketing firms, such as distribution and marketing, which don't vary like global crude. Then, the rupee has fallen by 34 per cent, resulting in consumers shelling out 50 per cent more on fuel than five years ago.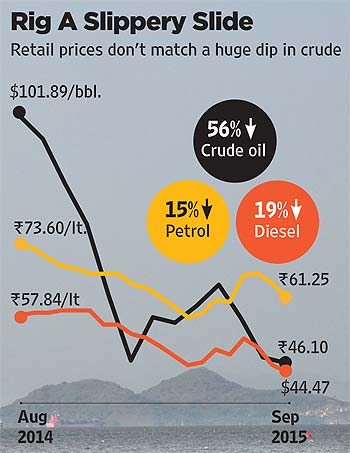 Graphic by Prashant Chaudhary

The Indian basket of Crude Oil represents a derived basket comprising of Sour grade (Oman & Dubai average) and Sweet grade (Brent Dated) of Crude oil processed in Indian refineries in the ratio of 72.28:27.72 during 2014-15. All prices for Delhi

Source : Petroleum Planning & Analysis Cell
"During this fall in global crude pri­ces, India should reduce or make very small the difference between diesel and petrol prices. Otherwise, we will continue to distort the fuel economy and the wider economy, because people will buy more diesel vehicles.... We have an opportunity to correct this now," says Parikh.
The government buys crude in adv­ance and prices average over three months, so nobody is recommending a ret­urn to price-fixation. What they expect is more gains for consumers from falling prices and rational taxation. "Right now, the government is taking revenue and consuming it. Nothing is being kept for future insurance (against future crude price fluctuation). The current fall...is so steep that we could have gained $50 billion. We could have kept a portion of it—$10, 20, 30 billion—in a price stabilisation fund but we didn't," says Rao. That is some more fuel for thought.