Newsroom Scandals
A dozen RJs at AIR FM file sexual harassment and mental torture cases against senior executives
Senior TV employee forced to resign after she complains of harassment. NCW turns a deaf ear.
Amar Asom editor makes advances at a jun­ior. FIR lodged, case still dragging on.
Three staffers at a media conglomerate forced to quit after they complain against a top executive; FIR lodged, no action yet, they remain jobless.
After a liaison with boss, a newspaper journalist is pushed into a corner after affair turns sour. Woman has mental breakdown and dies.
***
Ten years ago, Sunita Bordoloi (name changed), now in her mid-fifties, made a life-changing decision. She resigned from her job as a journalist at Amar Asom, a Guwahati daily, in protest against the sexual advances made by her boss, the editor. The legal harassment is still on. These days, riding the outrage over a Tehelka journalist charging its editor-in-chief Tarun Tejpal with sexual assault, Sunita is again pressing her case. In a November 22 letter to the National Human Rights Commission (NHRC), she wrote: "With utter dismay I'd like to inform you that I had similar experience of abuses (sic) by a senior editor of Assam in 2003 and I had publicly demanded actions against Homen Borgohain, editor of Amar Asom, a popular Assamese daily published by GL Publications, Guwahati." After her FIR against the well-known editor, the management set up a redressal committee, but she alleges that the accused was neither questioned by the committee nor by the police. The case is pending and Sunita wonders if she'll ever get closure. "He called me to his house several times on some pretext or the other and made physical advances. After I made a complaint at work, he reduced my responsibilities. After I quit, I couldn't get a good job for years," says Sunita, who now runs a publishing firm. "I want him arrested." Neither Borgohain nor the owners of Amar Asom answered Outlook's e-mails.
As those in the media know only too well, these chilling stories—the Tehelka journalist's or Sunita's—are just the tip of the iceberg. For all its critiques and ready denunciations of other institutions, the media in India is too shy to look into the mirror. Rare is the day when there is any internal accounting of the sordid sexual explo­itation it is full of, forget the question of doing exposes on itself. Cases are routi­nely ignored by media hou­ses, state-app­ointed women's groups, the police and the courts. The scales are tipped in favour of the male accused; star editors who offend—imposing, feudal figures—are whispe­red about, never punished.
Unlike the young Tehelka journalist, three women who were with the Dainik Bhaskar Group and filed an FIR against a boss got no airtime. The main complainant, who wor­ked in a senior position at My FM in Noida, told Outlook her boss, Harrish M. Bhatia, the radio station CEO, had put her through repeated sexual harassment—indecent and suggestive comments, unwelcome physical contact and threats—in the office, at office parties and on outstation trips from 2008 to 2010. She also alleges she was forced to resign—her office e-mail was hacked into and a resignation letter she never wrote was sent to the human resources department, which promptly accepted it. Worse, she says, "...the National Commission for Women (NCW) end­orsed the bogus committee set up to look into my complaint. So I filed a writ petition against the NCW in the Delhi High Court and an FIR against Bhatia." He was arrested, released on bail and still works with the radio station. Usha Mann, the complainant's lawyer, belie­ves the case is being "influenced", as it is being put off time and again, for months at a time, citing the judge's unavailability.

Photograph by Tribhuvan Tiwari
The media has seen a huge influx of a female workforce in recent decades. Many report sexual harassment at work.

On the "bogus committee" charge, Rachna Kamra, chief HR officer at Dainik Bhaskar, says the complainant not only refused to accept the committee appointed by the organisation, she also refu­sed to have it replaced with members of her choice. The complainant says this is unt­rue: "The letter setting up the committee was incidentally signed by the accused himself. It's a lie that I was asked to choose my own members." A Chandigarh-based former Dainik Bhaskar employee who also quit after complaining against Bhatia says she found it difficult to get another job in the radio sector—she'd fail all reference checks. "I had to settle for a job at half the salary. I sold my house as I couldn't afford the EMIs. I had to take medical help for my depression," she says. "I used to be a star, but because I stood up for my colleagues and agai­nst sexual harassment by a top executive, I became the ugly duckling." Perhaps buo­yed by the outrage cau­sed by the Tehelka case, they are now banking on the new law on sexual assault and haras­sment to bring their case to closure.
It's still an uphill task. Irrespective of seniority, women who had filed formal complaints of harassment in media houses emphasise how lightly workplace harassment is viewed in these offices. Those who complain, they say, find themselves pushed into a corner, gossiped about, forced to leave their job. With many women now naming and shaming repeat offenders long shielded by colleagues, the sentiment is that the media must clean up its backyard.
The media has in recent decades seen a huge influx of women. Exact figures are not known, but a younger female demographic is taking station, especially in TV news, where junior jobs are plentiful and well-paying. A poll by a media blog last week found half the respondents saying they had heard of (not witnessed) sexual harassment at work; 18 per cent said they had witnessed but not faced har­assment themselves; 15 per cent first-hand experience. And an NCW report found 22 per cent women journalists putting up with sexist remarks and gestures; 31.5 per cent said such episodes had "seriously undermined" their confidence. Only 15 per cent said they'd complained formally.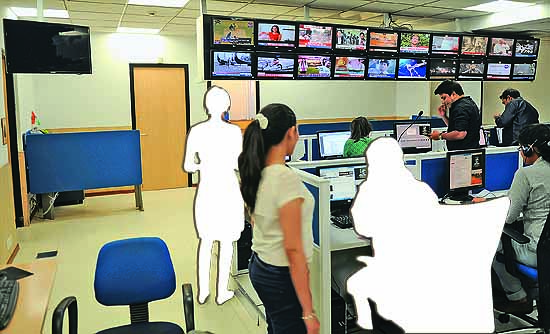 What is heartening is that there is some more ventilation of these issues now, in the social media and on the ground. At a discussion on 'Sexual Harassment at Media Workplaces' held at Delhi Press Club recently, Delhi Union of Journalists president Sujata Madhok spoke of how formal complaints were few, though the occurrence of sexual harassment was obviously rampant. "There's been a culture of silence, an unwritten solidarity in which we don't want to criticise each other. The Tehelka episode has broken the silence," she says. Arti Chaudhry, an HR consultant who has been on many sexual harassment inquiry committees, says one would expect media workplaces to be more sensitive to sexual harassment; in reality, "gendered loose talk and inappropriate behaviour is viewed as a way of life, and therefore acceptable within the workspace."
When a Mumbai-based TV professional at a giant media firm was at the receiving end of such "loose talk" last year, she raised the issue with the management, only to be threatened with a defamation lawsuit. An e-mail the victim wrote to the editor-in-chief that's doing the rounds in the social media details the sort of talk she was subjected to: "So, are you leaving this job for that man?" "Why are you in a long-distance relationship?" "Boyfriend wala maamla bekaar hai." "Oh, but I'm sure you have many boyfriends? Which number is this one?" "Will you never get married? Live like this? With many?" A year on, the internal inquiry is yet to yield results. The accused, a top executive who was once dismissed for sexual assault on another colleague but welcomed back a few years later, continues to be shielded. Another emp­loyee of the same media house says she was harassed repeatedly at the bureau office in Jammu; when she complained, she was so badly humiliated that she decided she had to quit journalism.
If there's a silver lining, it's the mood of self-examination the Tehelka episode has prompted. Also the spate of revelations. On social media, @goansufi tweeted about a forgotten case: "Won­dering why Goan media went silent during the sexual harassment by a English daily editor in Goa which was exposed by Pen Pricks (a blog)!" A former staffer of The Statesman, Calcutta, has been writing of her victory against her then boss Ishan Joshi. "A 10-year battle has finally won me reinstatement and full back wages," she writes on Women's Web. A senior journalist of Patna, formerly with Rashtriya Sahara, speaks of her three-year ordeal: "Just because I objected to a certain bias in coverage, my work was undermined. I had to face unsavoury comments from my editor. I caught him by the collar and made him apologise. Next, he filed a case against me, I was suspended without inquiry and transferred to another city. I took the case to the NCW, which lost interest after a while. I finally got relief from the Patna High Court and was allowed to go back to my original job. But I didn't want to work there anymore, so I resigned," she says.
Naturally, the fear of losing jobs and becoming gossip fodder hangs over women who tolerate abuse at the workplace. The silence is broken. The muck remains.
(Names of complainants have been concealed to protect their privacy.)