There's a Kafkaesque irony to the unravelling of the 26/11 conspiracy. In the week leading to one year of the terror attack, as India submitted its seventh dossier to Pakistan, there emerged the strongest link so far between the Lashkar-e-Toiba and the terror attacks in the form of David Coleman Headley and Tahawwur Hussain Rana.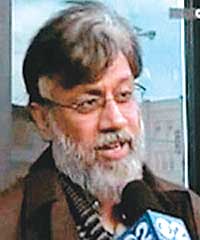 Main man?: David Coleman Headley
The unfolding saga of Headley and Rana should be worrying on two counts. One, despite the high level of terror alerts and screenings, the duo merrily winged its way into India several times since mid-2006 until earlier this year, without ever being stopped. Two, their role in the 26/11 attack did not surface until the FBI swooped down on Headley at Chicago airport last month.
"This is a twin failure," says cop-turned-lawyer Y.P. Singh. "Our intelligence failed. Because intelligence renders clues, our investigation also failed to trace the links." Since Headley and Rana, originally from Pakistan, but now US and Canadian citizens respectively, faced charges of being LeT operatives, the National Investigation Agency (NIA) as well as the Mumbai Police suddenly seemed to hit upon several startling details of the duo's role in the 26/11 plot. They now say Headley could be the plotter, logistics man, and the terrorists' facilitator.
Here's what investigators have: he may have been in touch with an official of the Pakistan High Commission, he was in regular contact with LeT handlers in Pakistan via satphone, he visited India at least nine times in about three years. Headley, for all official purposes, was a visa clearing agent with an office in Tardeo Air-Conditioned Market in south Mumbai, lived in a rented apartment in upmarket Breach Candy, knew officials of the US consulate in the area, frequented Hotel Trident and Holiday Inn at Juhu, was a member of upscale gym Moksh where he befriended aspiring actor Rahul Bhatt—son of filmmaker Mahesh Bhatt—through gym instructor Vilas Warak, and spent time in Pune near the Chabad House there.
What connects him and/or Rana to the 26/11 plot? More circumstantial evidence, sources say. Headley was in Mumbai till five days before the attack, and reportedly travelled to Pakistan to live there till December. Rana too was in Pakistan at this time. Investigators now say that Headley was the one who conducted recces of the locations and provided detailed maps to the LeT bosses. However, this is exactly the charge against Goregaon-based operative Fahim Ansari whose hand-drawn and scribbled maps have been produced in the trial court as evidence in the 26/11 case.
Investigators cite three things to link Headley to 26/11. One, his conversations with LeT bosses. Two, Headley and/or Rana possibly passed on information collected in India, posing as immigration and visa agents, to LeT's Zarar Shah. Shah had arranged for the VOIP service from New Jersey, and used to communicate with the 10 terrorists during the attack. Three, the FBI affidavit has transcripts which show Headley exchanging e-mails with Individual A (of LeT), where they refer to "Rahul's city" and "investment plans" and "matters good enough" to move "towards Rahul". The US investigators have decoded Rahul to mean Mumbai, and investment plans, the attacks.