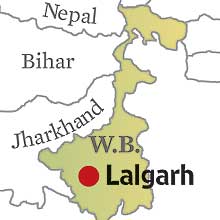 Officially, Lalgarh town has three schools—a primary, a secondary and a higher secondary school. It also boasts one rural hospital and, according to the official in charge, an NREGA work project that has "been implemented since the inception of the scheme". But even a random check will reveal that the benefits are not reaching the people. Some people have received BPL and APL ration cards, but the guarantee of 100 days' work every year falls way below target.
"Hundred days?" asks Robi Bag, 50. "I'd be happy to get even 10 days."
To feed his wife and six children, Bag does what they've always done for generations—live off the forest, collecting twigs and leaves and selling them. In the old days, tribals could go into the forests without fear, he says, but now it involves risk. "If the police catch us in the jungle, they beat us up," he says. On a good day, he manages to make Rs 50.
Given the strange ways in which the administration works, his wife has been given an APL card while he has a BPL card. So he can buy rice for Rs 2 per kilo and wheat for Rs 5 per kilo. But his wife has to buy rice for Rs 10 per kilo. In one card, his teenaged daughter has been recorded as being 50 years old.
Of late, some projects have been initiated in Lalgarh. But the Maoist threat sabotages all chances of success.

Sanjay Sinha, a farmer of Bhatmore village, says people in his village haven't been issued BPL cards. The primary school, like in many other villages in the area, always remains shut.
Even the hospitals in Lalgarh remain closed. The reason cited by the authorities is that the indefinite strikes—called by the Maoists—have paralysed life.
N.S. Nigam, the district magistrate of Midnapore, agrees that development in the area is "far from satisfactory". But he argues that it is a Catch-22 situation: the concerted efforts at development and whatever little was done earlier, not just in Lalgarh but also areas bordering it, are sabotaged by the Maoists.
He says it's difficult to honour the 100 days' work guarantee offered under NREGA because development works just cannot be undertaken in what have become "core Maoist areas" like Lalgarh, Pirakata, Goaltore, Pathardanga. "Villagers are prevented from benefiting from the NREGA scheme," says Nigam.
He cites the example of Nader Bandh, an irrigation project. "Rs 32 lakh was sanctioned and work was started but later, the engineers refused to work as the environment was not conducive," he says. "Five hundred acres would have come under irrigation. We initiated the project because the villagers asked for it. But we couldn't implement it."
A few projects, however, have seen some success, even in "core Maoist" areas, he says. These include rural electrification and immunisation, for which 40 doctors have been recruited. But with the hospitals closed, it's difficult to imagine the efforts yielding results. Nigam also claims the mid-day meal scheme is working and that, while many still don't go to school, it may bring in students.
However, in the villages bordering the forests—not completely in the control of the Maoists—there is some activity. Signboards have appeared over the last one year, announcing projects under NREGA. These include desiltation of ponds, works to recharge groundwater and harvest rainwater, and digging of trenches to keep elephants off crops. Hundreds of locals have gained employment.
But clearly, this is far from enough.