Whichever way you read it, the bottomline of the Justice Mukesh Mudgal report on the IPL betting and matchfixing imbroglio is simple: cricket's shortest version has rendered everyone involved it—stars, superstars, WAGs, staff and administrators, the Board and its chief, journalists and commentators—vulne­rable to, and often tainted by association with, for­ces beyond the boundary. And thro­ugh their collective silence, they have red­u­ced a gentleman's game to a tragic farce where players play a small, rehe­a­r­sed part as the fat cats count the moolah.
Nobody comes out smelling of roses in the Twenty20 hamaam. Assiduously constructed reputations are crumbling as the full extent of the rot becomes audible. In a cold courtroom in Nov­ember-end Delhi, the counsel for the defunct Cricket Association of Bihar (CAB)—which for reasons only another Modi (see interview) can explain has become a torchbearer for 'Swachch Cricket Abhi­yaan'—Nalini Chidam­baram, the wife of the honourable former finance minister who is related to former BCCI chief A.C. Muthaiah, rose to speak.
"Assuming 'Individual No. 2' is..." she started, and landed The Helicopter bang in the middle of the room. "Ass­ume and argue," said one of the judges sternly. "Sup­posing 'Individual No. 2' is a member of CSK, then we have to know what were the findings about his dealing with Gurunath Meiyappan (son-in-law of BCCI chief N. Srinivasan)." Notwith­st­an­ding the 'assumption' and the argum­ent that followed, a 22-carat name had been added to an ugly stockpile that thr­eatens the holy grail of the game: trust.
So, what emerges is a picture where captains cannot trust players, players cannot trust fellow players, teams cannot trust owners, owners cannot trust relatives, relatives cannot trust failed actors, bookies cannot trust tipsters. How much longer before cricket's fans, fanatics and followers—the legions of on-ground spectators, TV viewers, web-surfers and newspaper readers who keep the turnstiles swinging—stop trusting what they see and hear, stop cheering a good shot or a great win, because, well....?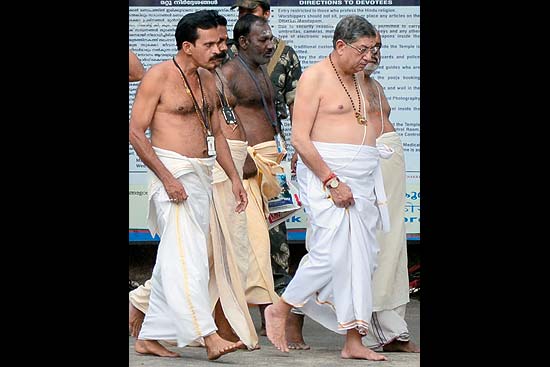 God's the judge N. Srinivasan at the Padmanabhaswamy temple in Trivandrum. (Photograph by A.S. Satheesh)
Ironical as it may seem, it took the founder of IPL itself to point to the Frankenstein monster he had loosed, but which he said was now gnawing at the game's vitals. Lalit Modi is now far away from the courts of law where the game's fate and fortune is being dec­ided. Mostly, he is in faraway Lon­don on a satellite link to TV stu­dios where the game is being roasted 'live'. Some days, he is in Maldives hea­­ring, reading, watching how his long-drawn battle against men­tor-­­­tur­­­ned-bugbear, N. Srinivasan, is playing out.
"It's not a conspiracy of silence but a conspiracy of surplus. Even punters follow a code. This is matka (satta or a form of lottery)."
As the script cranks into its denouement, Modi is happy admitting that he is backing Aditya Varma, the ind­iscreet middle-aged CAB office-bea­rer, whose brief Ms Chidam­baram is car­rying, as Varma himself rests comfortably in the confines of the Taj Mahal hotel on Man­singh Road. But it's too early to count the gains. Shame­less­ness of the bottomless sort has marked the IPL saga for so long that it is going to take, as Geoffrey Boycott used to say, a dozen wild horses for the crooks to be dragged away.
In its infinite wisdom, the apex court hasn't made up its mind to disclose the names, at least not yet. For, showing up the 'gods' of the sport that is 'religion' would amount to sacrilege. That's the moral argument, of course. But in an ecosystem devoid of morals, the BCCI's interest in not wanting the names to be outed may be more mundane. You see, the 50-over World Cup is less than 100 days away—so prize blood on the turf may spell its premature death, especially for TV stations which have splurged insanely to procure its rights.
For a change, Bishan Singh Bedi decl­ines to comment on any individuals, but he hangs his head in shame that cri­cket has come to such a pass in a country that's passionate about it. "The reason is abnormal hunger for power and insatiable greed for money," he says.
So, as befits a game so enamoured of numbers, a merry guessing game continues about the identity of 'Individual No. 2' and 'Individual No. 3' in the Mudgal report. Result: the genuine ones who have shown us what they can do with bat or ball or both, if not their mouth, are getting skewered. The less-than-honest but still equally good ones who have shown us what they can do with bat or ball or both, if not their mouth, are also getting skewered. It's unfair, but we didn't create this mess: their silence nearly amounting to complicity did.

Inside rings Dhoni and Meiyappan. (Photograph by Quickpix)
The good and the great of the game didn't react when Vindoo Dara Singh aka 'Jack' admitted in a TV sting operation that IPL matches are "100 per cent fixed", that RCB owner and industrialist Vijay Mallya made "Rs 100-200 crore", that players themselves made "Rs 14-15 crore" per match.
Captains and ex-captains—from Sac­hin Tendulkar to Rahul Dravid to Mah­endra Singh Dhoni—did not react. The Board's politicians—from Sharad Pawar to Arun Jaitley to Rajiv Shukla—also kept silent. The Board did not react because, well, the Board did not want to hear of a fundamental commodity called conflict of interest: Srinivasan owned Chennai Super Kings, whose captain was also a vice-president of his company, India Cements, and whose son-in-law 'Guruji' was meeting some strange disciples before and after CSK team meetings.
"The reason (for Indian cricket's finding itself in this condition) is abnormal hunger for power and insatiable greed for money."
One of the few who did was Chennai's SP of Crime Branch cid (internal security) G. Sampath Kumar. He came in touch with bookies Vikram and Utham Jain aka Kitty when he was investigating a fake passport case in 2013. He reported to Justice Mudgal that he had stumbled upon the names of two CSK players in what he said was a 'fixed match' against Rajasthan Royals in Jaipur in May that year. For his effort, SP Sampat Kumar was rewarded with a suspension and named as a respondent in a Rs 100 crore defamation suit. He now faces criminal charges of having taken Rs 53 lakh from a bookie in exchange for releasing him from the IPL spot-fixing probe.
After S. Sreesanth, Ajit Chandila and Ankeet Chavan were snagged by Delhi Police last year, Union finance minister Arun Jaitley, who was then the BCCI vice-president and head of the BCCI's disciplinary committee, promised, "We are going to take a very tough view on the matter after the arrest of three players." A year later, while the Mudgal committee report is out, the outspoken Jaitley is shrouded in mysterious silence. Shiv Visvanathan, an avid cricket lover and sociologist of repute, says, "It's not a conspiracy of silence but a conspiracy of surplus."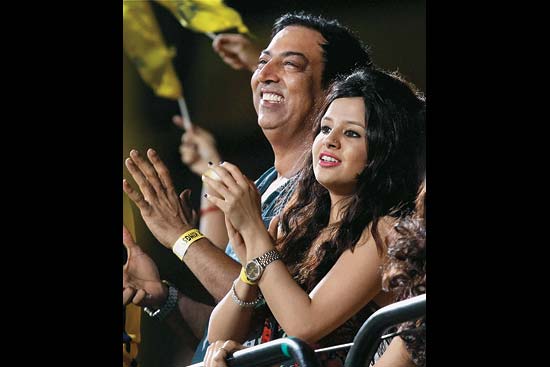 Vindoo Dara Singh, Sakshi Dhoni
In this surplus of conspiracies that has brought the game to its knees, the bookmakers seem to still have a voice, a conscience. A 45-year-old who lives in a south Delhi apartment, which he claims to have bought for Rs 25 crore, drives an A6 Audi, and has a chain of shops in Delhi, Mumbai and Chandigarh, starts the conversation by saying that "the cops always knew it (the betting and match-fixing racket) very well". The players, he says, had no moral pangs because they weren't playing for the country in an IPL match. In any case, they were getting a 2 per cent cut on the takings. From TV spot boys to drivers, cameraman to commentators, everyone was in it for the good times, he claims.
He doesn't blame the players, for one can't be clean in a "cesspool of shit". He feels sorry for Sreesanth, Chandila and Chavan. They couldn't have done much. There is no escape. Money is a big allurement, so are girls. The parties and the night-outs, all those times when players would disappear from team hotels for the night and just return a few minutes before the match was to start. For at least three players named in the Mudgal report, all-nightouts was routine. In fact, bookies are said to video-rec­ord sexual liaisons of cricketers for blackmail. One lead player named in the Mudgal committee report, he says, has a glad eye for young men—actors, waiters, even ove­rzealous fans. "IPL has broken the myth that cri­c­ket is a gentleman's game," says Visv­a­n­athan. "Even punters follow a code. This is matka...gambling."