Breakout Nations In Pursuit Of The Next Economic Miracles
By Ruchir Sharma
Allen Lane/Penguin India | Pages: 304 | Price: Rs. 599
Winston Churchill once observed that "India is just a geographical term with no more a political personality than Europe". That remark sounds increasingly relevant today. Voters look less and less to the central government for answers to their problems, and increasingly the momentum for economic reform comes from the chief ministers of the country's 28 states. As Indians come to see themselves first as citizens of Bihar or Tamil Nadu, they are turning to regional parties, or the few strong regional leaders of national parties such as the BJP and the Congress party. Voter turnout runs 10 per cent higher for regional elections than for national elections, and the gap is growing. Voter showing for the last three general elections has been in a tight band of 57-59 per cent, but state election turnouts have progressively increased, signifying the rising participation of the electorate at the regional level.
As central power fades, India is again starting to look like a commonwealth of states with distinct identities and a waning national consciousness. However, the growing strength of regional political forces is not tearing the country apart, as Churchill thought it might. True, the diminishing of central power is making it more difficult for New Delhi to champion breakthrough reforms, but secession movements in states like Kashmir, Punjab and Tamil Nadu peaked decades ago.
What the rise of the regions has done is to have spread the economic boom into every corner of the country, allowing new consumer subcultures to emerge (which is good for growth) alongside the rise of more unchecked cronyism (which isn't). The complexity of regionalisation is a big reason why the future economic growth of this country is so tough to call, with some regions gaining and others losing momentum, and why its chances of remaining a breakout nation are 50/50.
***
The North-South Divide
The centre of economic dynamism is shifting from the south and parts of the west to the major population centres of the central and northern heartland. If the corruption issue has discouraged many businesses from investing, there are many exceptions in provinces where competent new governors are actually cleaning up the local business scene, and where the consumer culture is exploding. In the 1980s, when India first began to reform, economic growth increased from 3 per cent to 5.5 per cent, propelled mainly by the emergence of technology and outsourcing industries in Karnataka and Tamil Nadu. Back in 1981, incomes in the most-developed states were 26 per cent higher than those in undeveloped states, and that gap had grown to 86 per cent by 2008.
Telecom subscribers grew by 68% in Bihar in the last five years. In Tamil Nadu and Andhra Pradesh it was about 40%. The national average was 43.7%.
Predictably, this produced a certain arrogance in the southern states, where it became commonplace to look with alarm and pity on the failure of the populous northern states to keep up. Southerners saw themselves as harder working, better educated, and more ready to compete in the world. Bihar became the butt of southern jokes that India could end its running territorial dispute with Pakistan by giving up Kashmir, so long as Pakistan took Bihar too. Bihar was the only state that not only sat out India's first growth spurt but also saw its economy shrink (by 9 per cent) between 1980 and 2003. Soon thereafter things began to change, and in recent years the north has been growing faster than the south. Between 2007 and 2010, the average economic growth rate of the southern states decelerated from 7 per cent to 6.5 per cent, while that of the northern states accelerated from 4.5 per cent to 6.8 per cent.
The rise of the rest in India resulted from a number of factors, perhaps most important the election of better leaders. In a recent analysis, Credit Suisse showed that over the last 20 years many Indian states have undergone rapid growth spurts, but only once under a Congress party chief minister. This helps explain why the Congress is now the main governing party in only two of the 10 major Indian states, down from eight in the 1980s and all 10 in the 1960s. Meanwhile, there are dozens of examples of economic growth led by rival parties.

Honk, honk Traffic jams on a water-logged Bangalore road. (Photograph by Reuters, From Outlook, May 07, 2012)
The most striking example comes from Bihar, a state that V.S. Naipaul once described as "the place where civilisation ends". Chief minister Nitish Kumar stormed into office in 2005 on a wave of voter frustration with the general chaos, and launched an aggressive campaign to bring order and common sense to a lawless territory. Bridges and roads got built, Bihar started to function, then to fly. Now its economy is growing at 11 per cent, the second fastest in India, and Nitish is lauded as a model of what a straight leader can accomplish in a crooked state.
Meanwhile, India as a whole was going the opposite way, as the formerly dynamic southern states seemed to a hit a wall of complacency. The economy in six Indian states grew faster than 10 per cent in 2010, but none of them were in the south. Even when India's growth dipped to 6.9 per cent in the fiscal year ended March 2012, the northern states as a whole showed a slight year-on-year acceleration, with the bulk of the deceleration attributable to the west and the south.
The southern states have also seen a decline in the competence of their leaders, and growth has fallen accordingly: over the past 10 years, Karnataka, Andhra Pradesh and Tamil Nadu have seen growth rates slip, in some years to about half their previous double-digit pace. Some southern Indians explain this away by saying that they already had their big boom, but this is hardly the way to follow China. In China, the rich southern states experienced a boom for three decades, not just one, and have reached annual per capita income levels of $15,000-20,000 while India's southern states still have a per capita income only slightly above the national average of $1,400.
To an extent, isolation set up the remote states in the northern and central parts of India for success: the global credit boom of the last decade passed them by, which meant the crisis that followed didn't leave them broke, and they have room to borrow to build new enterprises. The global commodities boom has also worked to the advantage of these regions, which are home to rich reserves of coal and iron, and most of India's new steel and power plant projects. Nitish Kumar and other new leaders are taking the simple steps required to start growing from a poor base—particularly building new roads and wireless telecom systems. Literacy rates are rising faster in the north than the south, evidence that the new leadership is taking advantage of their demographic potential: half of India's under-15 population resides in just five underdeveloped states—Uttar Pradesh, Bihar, Madhya Pradesh, Rajasthan and Orissa.
***
The New Map of the Middle Class
There are three layers of life in India: the increasingly cosmopolitan cities, the faceless towns and the often desperate villages in which, at first glance, not much seems to have changed in recent decades. I've travelled the back roads all over the country, from the southeastern coastal boomtown of Nellore to the aptly named Bhagalpur ("abode of refugees") in Bihar, and everywhere I've seen the same wild variety of vehicles with and without motors, from motorbikes to the colourful tempos, all pouring through teeming streets into a central square graced by the bust of a major political figure, surrounded by shops built in the same utilitarian-concrete style.

Expressway in Greater Noida, UP—as smooth as "Basanti's cheeks". (Photograph by Sanjay Rawat)
It appears to be a nation without much sense of modern aesthetic, a stretch of sameness that runs 2,000 miles north to south, yet look more closely, and diversity abounds. Beauty parlours mushroom at every corner, all offering regional spins on the latest hairdos and betraying a deep inner individuality and local personality. Walk in any door, scan any store shelf, and the stunning variety of regional tastes and styles jumps out: from local brands of cooking oil to hair oil, but the ingredients differ from state to state. Even within cities, the favoured style of rice or pickles can vary from neighbourhood to neighbourhood. This is India at its tradition-minded extreme, still clinging to local codes, in baldness cures as in language.
Over the past 12 months, cement uptake grew 9% in the northern states; in a clear sign of industrial lag, it grew only 0.5% in the south.
The growing wealth of the Indian hinterlands finds expression in many ways. One is the rise of the Hindi language press, for years an also-ran industry. In recent times, the premium that advertisers pay to appear in English language papers has fallen from 1,200 per cent to 700 per cent. Ad revenue growth at the two leading Hindi newspapers has not just outstripped the average for print media but it has also beaten the overall media ad revenue growth. While most multinationals have avoided entering the Hindi heartland, that's starting to change as well. Recently the Hindustan Times carried a story about the first Domino's Pizza outlet in Patna, accompanied by an editorial comparing the opening-day lines to the queues that used to form outside public distribution stores. Now "the place where civilisation ends" has globally branded fast-food joints.
But a one-size-fits-all chain store won't always work in India. The CEO of a large Korean consumer company recently told me that while Chinese consumer tastes are growing more homogeneous, India's are not. In China, he says, he was surprised to find that magazines like Vogue and Elle are doing well in all major cities, while in India a different array of new publications is blossoming in every state. In China, everyone is learning to speak Mandarin, which is even displacing Cantonese in its traditional heartland along the southern coast, including in Hong Kong. As Beijing relocates members of the Han Chinese majority—who constitute 90 percent of the population—to minority regions, even once-remote areas like Xinjiang and Tibet are entering the Han consumer mainstream. The growing sense of Chinese nationalism, based on pride in the revival of China as a major power, has helped to solidify the emergence of a unified national consumer culture, while the rise of provincial political powers in India is having the opposite effect. "When people say, let's go to India, I say, 'Okay, but where?'" says the CEO. Brand managers need to think of India as a United States of Europe and deal accordingly with the problem of selling goods in a nation where even the dates and names of the holiday seasons—as well as the peak seasons for brand advertising—shift state by state.
At the same time, rising incomes in the north have been accompanied by rising incomes in rural areas all over the country, partly a result of higher prices for rice and other crops, generous government support to farmers, and large salary increases for public and rural workers. This has allowed the new consumerism to penetrate the most rural and traditional corners of the country, where low incomes would have appeared to bar entry a few years ago. Demographers traditionally expected consumers to start asking for non-essential "aspirational" goods like deodorant and hair conditioner only after they entered the middle class, so they mapped demand for these goods by plotting the location of neighbourhoods where incomes were rising to middle-class levels. That generally meant the cities and the south.
Instead, as access to modern media has spread, demand for aspirational goods has grown in regions that have not yet reached those income levels. Car sales are increasing faster in the north than in the south. As recently as 2006, one of India's largest carmakers spent only 20 per cent of its marketing budget outside the cities; today the share is split 50/50, with much of the new growth in the northern states. Among increasingly brand-conscious young men in northern India, it is popular to flaunt the red band of Jockey underwear over low-waisted denim jeans. In rural Bihar, where the Jockey brand is still out of reach, discount knockoffs with labels such as "Obama" enjoy brisk sales.
***
How the 'Population Bomb' Became a Competitive Edge
The northern states are the epicentre of India's newfound excitement about population growth, just as they were once the focus of fear about the population bomb. During the 1970s and 1980s, the growing population was seen as a threat to the economy, and this fear inspired extreme population control measures during the Emergency. Even into the 1980s, the new government kept urging Indians to embrace population control as a civic duty.

Low connectivity Queues outside a job fair in Hyderabad
In the last decade, however, the government dropped this theme, and the overwhelming consensus holds that population growth means more workers who can drive economic growth. Yes, a growing pool of young workers can be a huge advantage, but only if a nation works hard to set them up for productive careers. A recent survey by the consulting firm Aon Hewitt shows that salaries of urban workers are rising faster in India than anywhere else in Asia, with average wages increasing by nearly 13 per cent in 2011—a symptom of the fact that when so few workers are highly skilled, those who are can charge a premium. The growth in demographic analysis as a global industry is striking. I can't count the number of demographers who have come to my offices in recent years, all offering some spin on the basic idea that population growth drives economic growth, and proffering tips on which nations will enjoy the biggest "demographic dividend". These fads come and go on Wall Street. In the 1970s and 1980s, every investment house had its own political economist, as a kind of coup and war forecaster, but they were gradually phased out in the 1990s as wars became more localised and political stability spread in the developing world. For now, the demographers rule, and they love to talk about India. Consulting trends like these should be treated with the amused detachment they deserve, and the knowledge that this fad, too, shall pass. No doubt the phrase "population bomb" will be rediscovered before too long.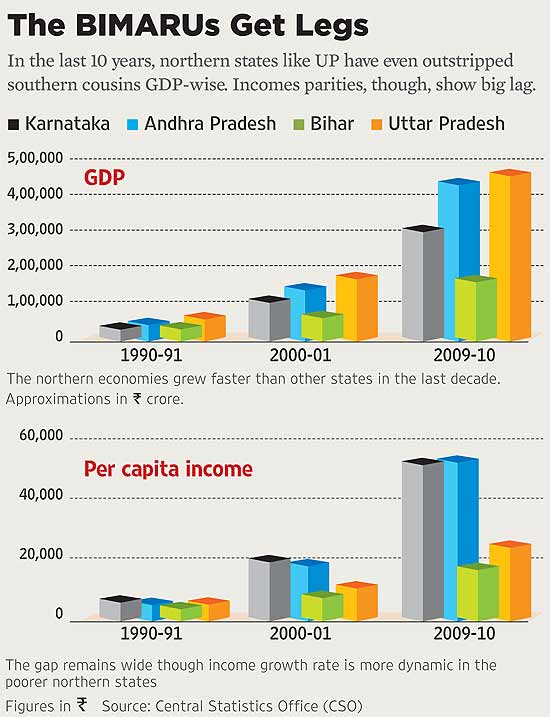 India's hope for a big payoff from population growth ignores where people are living. Rising population helps drive growth when people are moving to higher-paying and more productive factory jobs in the cities, not languishing in farm regions. In China, 23 cities have grown from a population of 1,00,000 to more than a million since 1950. India has only six cities in this explosive growth category, and a more aggressive effort to encourage urbanisation might have boosted India's long-term growth rate to double digits.
***
India Is a Political Chameleon, in a Good Way
None of this seemed to matter too much to India's policymakers, who until recently were supremely confident that their country would become the fastest-growing major economy this decade. Even if they were ignoring the basic dynamics of how demographics, debt and corruption can impact long-term growth, the optimistic view of India may still be right. China's economy is likely to slow down as the law of large numbers catches up with it, thereby more or less ceding the number one spot to India, which still has plenty of room to grow from a low base. The wild card for India is its freewheeling democracy, an environment in which the zeitgeist can change very quickly. It was only in the last decade that India came to see itself as the next China, and came to see its growing population as a competitive advantage rather than as a threat. Only now is the southern sense of superiority over the north giving way to a newfound respect. The recent case of national overconfidence could give way just as fast to a healthier sense of urgency, with new leaders who see the complex picture of India for what it is.
---
(Ruchir Sharma is head, emerging markets, Morgan Stanley Investment Management and author of Breakout Nations.)