"Voters are not thinking of demanding from candidates a blueprint for change. They seem to be overwhelmed." Dipankar Gupta, Sociologist
"There is overkill in the BJP's high-voltage propaganda. You can see that people may be swayed by that." Zoya Hasan, Political scientist

---

"The voter thinks not of conceptual issues like governance. He thinks of specifics like jobs, housing, education." Jagdeep Chhokar, Co-founder, ADR
"Young voters in cities are largely influenced by the media's construction of personalities and events around them." Lloyd Rudolph, Political scientist
***
As a voter walks from home to polling booth—and in a country vast as India, with 815 million voters, he or she could well pass by houses and markets or hills and rivers and ravines—what could be on his or her mind? After days and days of loudspeakers blaring, hoardings and posters looming large, political leaders making repeated pitches, is the Indian voter firm about who to vote for or will it be a last-minute decision? How much will all that has been fed to the voter over some months—caste and class equations, regional matters, issues like development and corruption, the financial and criminal records of candidates, the debate over strong versus weak leaders—come into play? Perhaps the only thing certain is that the voter has had an information overdose. Political debates have swung from broad concerns about inflation, corruption, governance to the thoroughly basic bijli sadak pani. There have been dramatic political twists too: a seemingly far-reaching AAP wave, its highs and lows; the BJP's claim on the centrestage; the Congress retreat.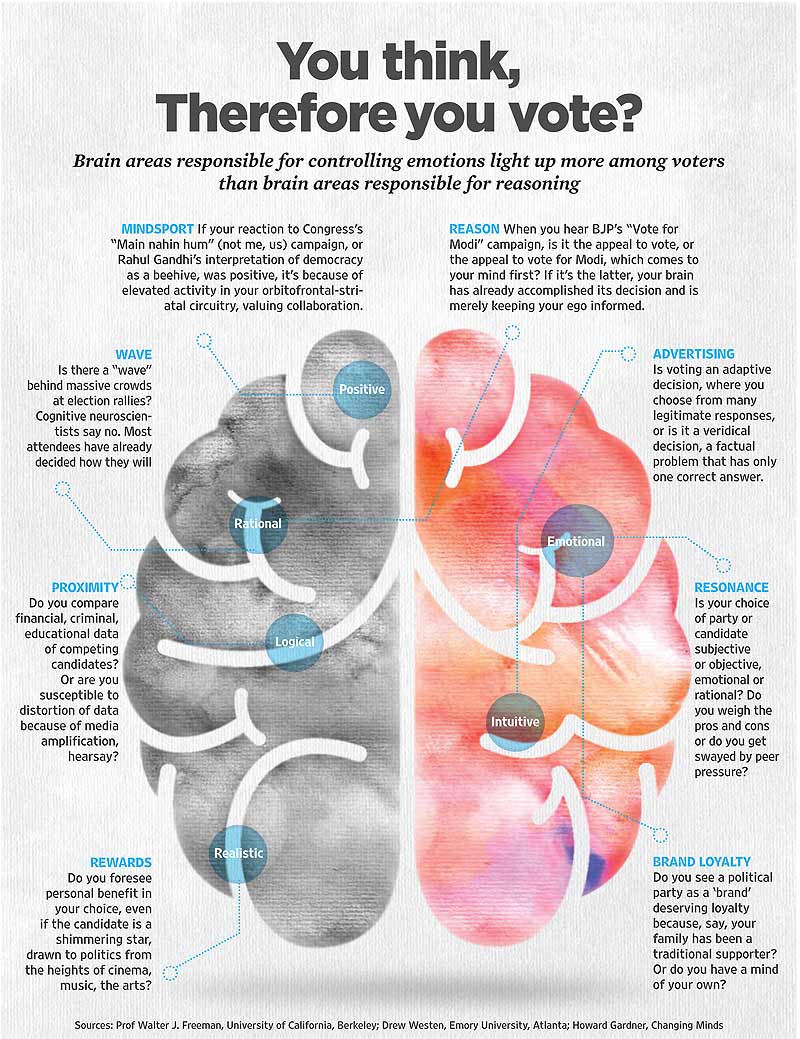 So what does the voter make of it all? If there's a common strain, it's one of disenchantment, as emphasised by the Pew Research Center's latest global attitudes survey of India, which finds 70 per cent of Indians dissatisfied, cutting across gender, age groups and the urban-rural divide. "It's a confusing election, because there is a lot of baggage and anxiety," says film editor Namrata Rao, who will vote in Mumbai, talking about the ideological clashes playing on her mind. More debates and engagement with voters may mean more awareness, but sociologist Dipankar Gupta says the voter seems weighed down by all the talk about indecisiveness and corruption. "Foremost on a voter's mind right now is the need for a stable government," he says. "But what the voter is not demanding of their candidates is a blueprint of what next—of how to restructure the economy so India can become a manufacturing hub."
Prof Jagdeep Chhokar, co-founder of the Association of Democratic Reforms (ADR), thinks voters are overwhelmed. "The average voter has got sucked into the grand spectacle this election has become," he says. "But the truth is, there's a big disconnect between the candidate and the voter." According to Lloyd Rudolph, a former professor of political science at University of Chicago, who with his wife Susanne has observed Indian politics for more than five decades, as the three top figures of Election 2014—Narendra Modi of the BJP, Arvind Kejriwal of the AAP and Rahul Gandhi of the Congress—assume a larger-than-life presence, the voter may feel dwarfed.
Strangely, tolerance for criminal elements continues to run high.
Sanjay Kumar, co-director of Lokniti at the Centre for the Study of Developing Societies (CSDS), points to one notable change: "Earlier, voters would have loyalties based on ethnic or regional lines and the verdict in a national election would be an aggregation of local results. Now, we're seeing an attraction to key players, and a split political preference in which leadership plays a big role." Zoya Hasan, a political scientist, calls the high-voltage propaganda "grotesque and ugly" and senses that voters may be swayed by Modi and the BJP's campaign.
Strangely, tolerance for criminal elements also continues to run high. A recent ADR survey to study voter behaviour revealed that 22 per cent would vote for a "seriously tainted candidate". Of them, 68.15 per cent said they'd do so because the candidate does good work; 39.67 per cent because the candidate is powerful; and 39.56 per cent because he spends freely during elections.
"I think rage will play a role in the way people will vote this time."
What the statistics does not show is the sway of emotion that reigns. It could be a mere smile that works, as in the case of Ismail Khan, 24, a construction worker in Sree­r­ampore, Bengal, who felt star-struck when Bappi Lahiri came campaigning. "I like that he smiled at me, and I smiled back. So I decided to vote for him." First-time voter Aniketh Mohan Rao's recent holiday to Gujarat clinched the decision for him. "Of the 700 km we drove across the state, only a few roads were potholed. The rest of the roads were so impressive that it reflected the kind of work the state government has put in. I want that for the country." No guessing who he'll vote for: it's Modi.
On the other hand, there are many who are led by the widespread negative sentiment. "I think rage will play a role in the way people vote," says Sanjay Dasgupta, an ophthalmologist in Calcutta. "I certainly am angry. But my vote will be based on my perception of who will usher in development." There is also the feeling that voters, as they often do, swing in one direction based on what they believe is the current public sentiment. "What I hear people say the most is that let's vote BJP in and they will change conditions in the country," says Alok Kumar, president of the RWA Federation in Ghaziabad. "Many of these were people who earlier supported AAP, but have now gone the other way because they feel the tide is turning." But if the voter can swing so wildly—from the aam aadmi brand to a figure who for many represents crony capitalism in just a matter of weeks—does it speak of a lack of genuine, meaningful debate?
A third of people on social media are talking elections now.
"Instead of healthy discussion about issues of national importance, we have lies, scandals, mockery, nepotism, and candidates blatantly denying their criminal past. Is anybody listening?" says Jacob Isaac, a life-skills professional based in Bangalore. He's the kind of voter Chhokar talks about when he says the current discourse is about what the voter should be thinking about, not what the voter is thinking. "If you meet an average voter, he will express concern about his kid's admission issues, housing problems or that he has no electricity for his tubewell. The reality on the ground—that the voter is still looking for basic necessities of life—is not captured by analysts, the media, and commentators."
One way to bridge this disconnect could be if more of us came out to vote and make our stands clear. An increasing number of citizen initiatives and start-ups designed to acquaint the voter with candidates may be able to fill the gap in certain urban pockets. Environment engineer Vivek Gilani, who leads the Informed Voter Project, part of an initiative called Mumbai Votes, has been urging his team of volunteers to put in 20 hours a week as they record and upload video interviews of candidates across Mumbai, Thane and Pune. "People tell us they don't feel motivated enough to vote. I think we really need to improve the value of a vote," says Gilani. Youth Ki Aawaz, based in Delhi, has been trying to achieve that among first-time voters, through what they call 'Unmanifesto'. Forty youth organisations across the country, from rural and urban centres, have come together to get 63,000 promises they seek from political parties. "We've picked the top 10 for the final draft which we have sent to over 100 politicians," says Anshul Tiwari, who heads the initiative. Their top three demands are better municipal schools and colleges, better career prospects, and greater accountability from MPs. In Ludhiana, 143 restaurant members are set to offer 30 per cent discount to those who show off their inked finger on polling day. Meanwhile, schools in Lucknow are taking it a step forward, offering extra marks and better grades to students whose parents cast their vote.
One fact is that young voters have almost zero political memory.
Will this translate into longer queues at the polling booth? Sanjay Kumar thinks it will. "We have noticed a greater participation in the 14-15 elections held in the last three years. From 58 per cent voter turnout in 2009, we expect 63-65 per cent to vote this year." Social media has been a powerful mobiliser and platform for political discussion this time, says senior journalist Shaili Chopra in her new book The Big Connect: Politics in the Age of Social Media. "Social media seems to have pushed those who previously used polling day as a holiday. Voters are excited by the political activity and discussion on social media and politicians have realised that it is a viable tool, not a toy," she says. A third of the people on social media in India are talking about the elections right now, according to her book. There certainly is more chatter on Facebook and Twitter on poll predictions and candidates amongst the youth, but IIT professor and linguist Rukmini Bhaya Nair wonders what their voting behaviour will really be based on. "This set of aspirational urban young is driven by popular concerns and notions of development. What is unique about this election is that the first-time voter is one who grew up in an economically liberalised India. He has zero political memory and is low on political education," she says. "This is not a politicised generation. Their idea of nationalism is very shallow, and their impatience high."
The elections may be the go-to conversation starter in urban drawing-rooms for some, but for millions of others, the next MP and PM will determine how their lives are going to be moulded in the near future. Will there be jobs, will there be peace, will their voice be heard or stifled, will some factory take away their land, will their small business flourish, will there be roads to take their farm produce to the markets, will there be dignity in their lives? Somewhere in the deluge of the high-powered political circus and show of strength by heavyweights, we may have forgotten that the voter—each one of us, in fact—was supposed to be king or queen.
***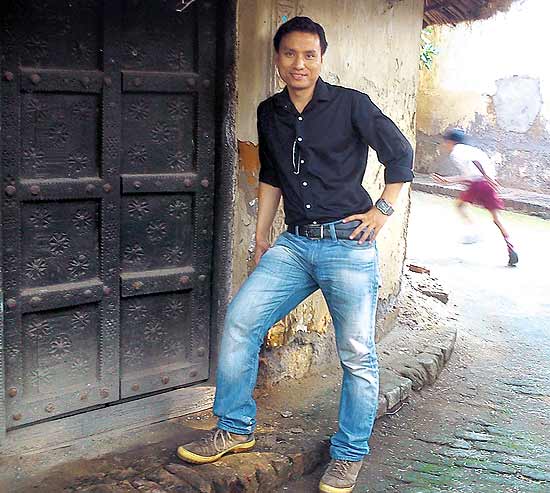 Arunachal
Bordumsa-Diyun
Prahlad Chakma
Age: 25
Media entrepreneur
The Chakma complex Ours is a question of survival. As a member of the refugee Chakma community, I still don't have the basic rights of a citizen. Given our precarious situation, the only issue on our mind is which party can get us legal status. Of the 1 lakh Chakma members and 30,000 eligible voters, only 1,600 have been able to enrol in the elections. I'm one of them.
AAP to PPA I supported AAP for a while, but then their actions, especially the Khirki Extension incident, completely put me off. I'm supporting the People's Party of Arunachal, which is similar to AAP. The candidate, Nikh Kamin, has promised to take up Chakma issues and get us voting rights, birth certificates etc. Our community has been holding regular meetings to get a consensus and vote for the same candidate, and make the illiterate ones aware.
If the BJP wins I don't care who comes at the Centre, or about issues like inflation, communalism, FDI that are being debated. Even if the BJP comes at the Centre, it doesn't really matter, because the Chakmas can't hope for the central government to act on their problems on its own. I'm concerned about the local candidate who will have to push our cause with the Centre, get us legal status, better road connectivity and basic infrastructure.
***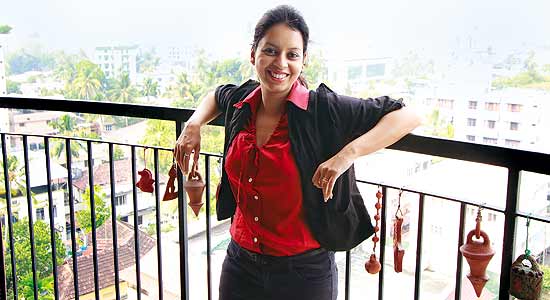 Photograph by Sivaram V.
Kerala
Kochi
Sharanya Balan
Age: 28
Landscape Architect
Media and politics Increasingly, I feel disillusioned because you do not see much change on the ground. I keep track of developments through news reports, but I find so much repetition that it's frustrating. There doesn't seem to be a brighter tomorrow.
The Modi wave While I follow regional politics in Kerala, this election I'm looking at the big picture. Frankly, the AAP wave hasn't hit down here, but I have been exposed to Modi's governance when I was in Ahmedabad for two years. I found the city safe and efficient, so I'm going to go with him. He also seems to have a strong, impressive personality. I would choose someone who thinks long term. The Congress has been in power for a long time and they have been in decline. Now somebody else deserves a chance.
Brain drain and other worries Food security, employment, safety, environmental concerns, patchy rural education. Why are more and more Indians leaving the country to look for greener pastures?
Generation gap My family watches the 9 o'clock news and debates together, but our outlook is different. While my parents are worried about inflation and retirement concerns, I care more about employment opportunities and standard of living.
***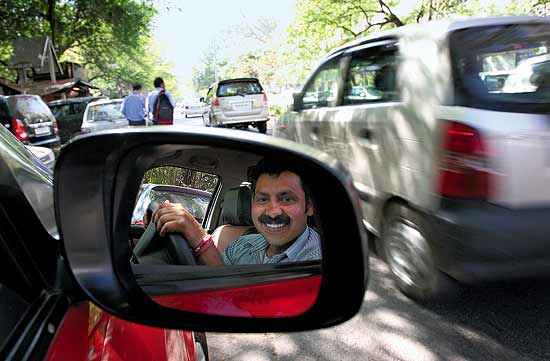 Photograph by Sanjay Rawat
Uttar Pradesh
Ghaziabad
Pawan Kumar
Age: 37
Driver
Voting regrets I vote regularly. In the past, I have picked BSP, BJP candidates and always regretted my decision. The candidates are nowhere in sight once they get elected. I voted for Rajnath Singh the last time around, and look what happened. Nothing.
Fighting for basics The basic concerns in the unauthorised colony where I live have not been resolved for years, whether it is the improper sewerage, long electricity cuts, lack of proper roads.
AAP factor I'm leaning towards AAP because I like the idea of the Janlokpal Bill. They may have lost some of their sheen, but they are still the best out there. Even though I hear people talking a lot about Modi, I think the way he has been put on a pedestal, like god, is in poor taste.
How I choose a candidate To me, a candidate's body language, education, use of language matters a lot. I pay attention to the local candidate and feel he should come and introduce himself to everyone in his constituency and make his presence felt. But celebrity candidates are a big no-no for me because it shows that a party is on a weak wicket; it just wants to use a face. A party also loses points in my book if I see too much public money being spent on rallies, blocking traffic and inconveniencing citizens. Most of all, what I look for is a party whose ideology is similar to mine.
***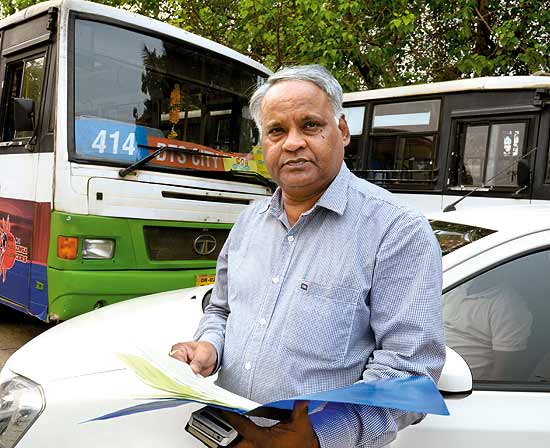 Photograph by Oripix
Orissa
Bhubaneswar
Nishikant Mishra
Age: 60
Advertising & public transport biz
Political loyalties My family has been politically active for a while now, so I keep in touch with what is happening on the ground through my network. While we have traditionally been Congress supporters, the party is not what it used to be. The dynastic culture puts me off. I also like political speeches that are spontaneous and from the heart, not those written by someone else.
Where are the professionals? Even though Rahul Gandhi seems like a down-to-earth person, I think I will go for the BJP, because of the strong leadership being displayed by Modi. But I was hoping to see this election the culture of successful professionals from other fields entering politics in a big way, on the lines of Nandan Nilekani, but that hasn't happened.
Batting for Orissa and middle-class worries I am worried about the inflation in all essential commodities and materials affecting the lower-income and middle-income classes, corruption at all levels, lack of effective governance and development. Locally, I would hope the elected MPs from Orissa can ensure special status for the state and funds for tourism, animal husbandry, agriculture, pisciculture to drive entrepreneurship and employment.
***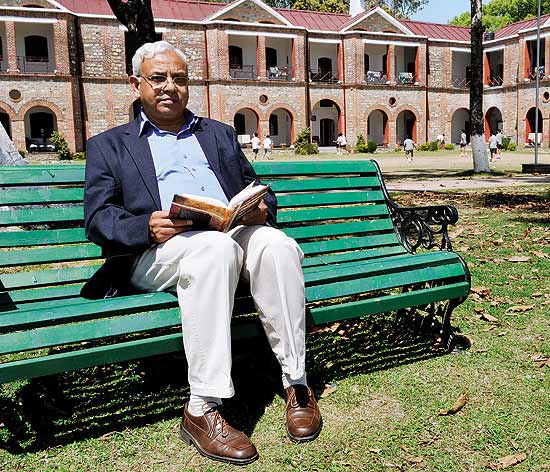 Photograph by Sumit Ballabh
Uttarakhand
Dehradun
Mohd Hammad Farooqui
Age: 58
Hindi/Sanskrit prof at Doon School
Voting regrets I'm a regular voter who has mostly voted for the Congress. But whenever I have voted, whether it was Congress or BJP, I have regretted it because they never lived up to their promises. There's a lot of political discussion at home and with extended family, especially since both my sons are political science professors.
Picking lesser evils It's not such a one-sided fight as it is being made out to be. I have been travelling around, and in many cities I found there is no Modi wave at all. I might vote for the Congress this time around as well, as it is the lesser evil. I might change my mind at the last minute though.
Ideological wave Usually, I vote keeping in mind local candidates. And, of course, there are the issues of unemployment, education, healthcare, minority issues to consider. This time around, though, I think the fight is on ideological lines, so the PM candidate counts for more.
Candidate's image It depends on the personality of the candidate. He must be honest, educated, secular, well-mannered. He should be aware of local issues, but should have a national presence in policymaking. A celebrity candidate puts me off because their value is suspect and mostly ornamental. I don't depend on media reports or debates because most of it, I think, is biased. My choice comes out of personal political discussions, and the family's DU/jnu background does play a role.
***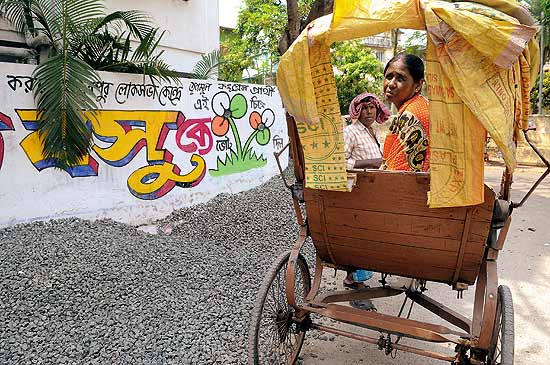 Photograph by Sandipan Chatterjee
West Bengal
Kakdwip
Rabindranath and Kadambari Kandari
Age: 54 & 50
Rickshaw-puller/domestic help
Politics and disillusionment
Rabindranath: For many years, I tried to get help from the CPI(M) government. I have a broken leg with an iron rod inserted in it. I had asked them for disability benefit and used to go to the party office to request them again and again but never got any help. Now it's the same story with the TMC. I have just given up hope.
Valuable vote
Rabindranath: There is no point in voting for anybody but I'll still vote just for the sake of it. Whichever candidate comes to our area first and asks for our vote, I will just give my vote to that person.
Kadambari: During most elections, I ask my husband and relatives who they think we should vote for. They tell me to stamp on some symbol, and I do it. No party or candidate will do anything for us anyway, so how does it matter?
***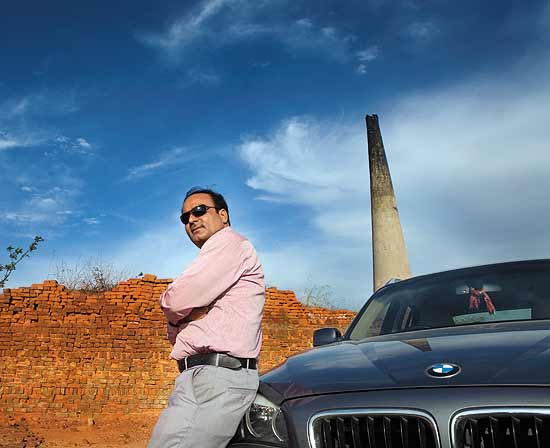 Photograph by Narendra Bisht
Uttar Pradesh
Muzaffarnagar
Vijay Rathi
Age: 45
Owns audio systems company
Confusing election I have a big family, and we often discuss politics at home. My father is my political guru. We have been hardcore Congress supporters, but I feel let down by their performance. It's a confusing election this time. I supported AAP for a while, but now they seem immature and their actions don't match their ideology. I'm going with Modi because we need an authoritarian leader.
Jatland troubles As a Jat, I'm concerned about sugarcane pricing. Corruption, development, law and order too are playing on my mind.
Religion matters I would rather vote for a Hindu candidate, but if the candidate happens to be a Muslim and has a clean record as well as a background of good governance, I might consider him. Gender plays a big role; I don't think a woman can do as much work as a man. I don't care about caste politics in general elections, but it matters in a local election. I would vote against celebrity culture in politics, and also against outsiders. I pay attention to how a candidate carries himself, even if he isn't intelligent or well-educated. His speeches should scripted and calculated.
***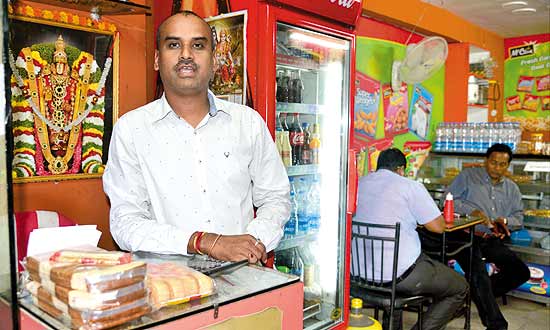 Photograph by P. Anil Kumar
Andhra Pradesh
Hyderabad
Siva Prasad T.
Age: 39
Owner of small coffee shop
The enthusiastic voter I like to discuss political developments with friends, customers and family members, and have voted in about 12 elections so far, including assembly, general and municipal. I don't have loyalties towards any one particular party, and depending on the election, have voted for the Congress, Telugu Desam and Praja Rajyam Party.
Celebrity candidates I regret voting for Chiranjeevi's Praja Rajyam Party the last time round because the party turned out to be quite bogus just like his promises. He came on a platform of social justice but did something else altogether.
Naidu and Modi I'll vote for the Telugu Desam this time. Only Chandrababu Naidu can bring about the needed development. And at the national level, I will vote for the BJP and Narendra Modi.
No criminals or big money I wouldn't vote for someone with a criminal record, or someone who is too rich; the latter means he has swindled public money. I pay attention to party manifestos and the choice of issues they highlight. What my family members/friends say about a party and candidate also matters to me, as do media reports and television debates. My demands are more basic: I want better economic development.
***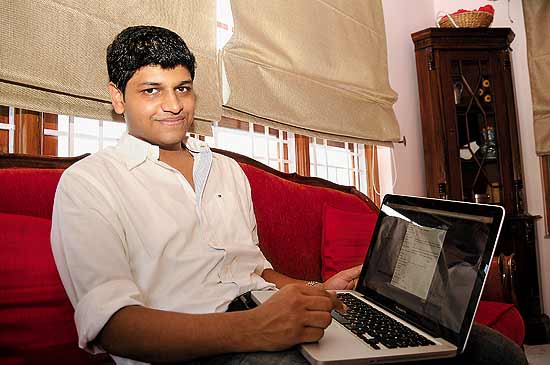 Photograph by Madhusudhan
Karnataka
Mysore
Aniketh Mohan Rao
Age: 19
Student
First-time voter I'm excited about voting. Politics is a topic close to my heart and I often discuss developments with family and friends because I feel only awareness will change India and bring in the change that is badly needed.
Voting BJP I've caught up with information on the various candidates contesting. Like my father, I'm going with the BJP candidate from my constituency, Prathap Simha. But this is an election where it's the PM candidate who is important, not the local candidate.
Worrying about women The issues most important to me which the candidate I vote for must address are those of rape and the protection of women, besides sustainable development, corruption, growth of industry and poverty.
No dynasty, please I'm going to vote against dynastic rule, as choosing someone on the basis of his surname is a big mistake. The Election Commission should be stricter and enforce rules in this regard. My decision on who to vote for is also based on everyday actions and long-term performance of the current government and deciding whether they deserve another term or not. The PM candidate must have held some high post or office before.
***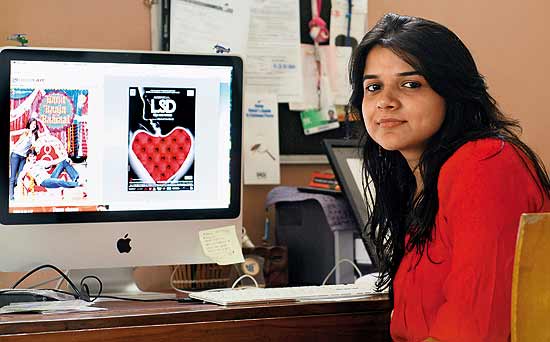 Photograph by Dinesh Parab
Maharashtra
Mumbai
Namrata Rao
Age: 33
Film Editor
Changing constituencies I discuss political developments at times with my father and online friends. I'm a regular voter and recently got my voter card made for Mumbai. It's a new constituency so I'm yet to read up on the candidates.
Switching camps I have voted mostly for the BJP in the past, and once for an independent as a revolt against the BJP. This time I might vote for AAP. I'll decide a few days before voting day. In these elections, the party and the PM candidate matter to me more than the local candidate. But these have been confusing political times. There's too much baggage and anxiety.
For art's sake It would be good to have more support for the arts. Other issues on my mind are local infrastructure and cleanliness, better standard of education and upgradation of healthcare facilities.
Candidate's image The personality, gender, criminal record and financial assets of a candidate matter. The party manifesto and the issues it highlights; its take on communalism, corruption, FDI et al plays a role. I also factor in the way a candidate conducts himself and which way media reports and debates swing.
---
By Neha Bhatt with Dola Mitra, Namrata Joshi, Madhavi Tata