"Yuvraj Singh's story can be the good news that inspires. It's not a sad story."
—Harmala Gupta, cancer survivor and founder of CanSupport,
which provides home care for people with terminal cancer.
It's not a sad story, it needn't be a sad story, for it's the story of a hero, and a hero must smile through pain as he does through pleasure. And hasn't Yuvraj Singh had many reasons to smile? Didn't April mark the pinnacle of his career? Written off when the World Cup started as 'finished and over-the-hill', Yuvraj became the Man of the Tournament, winning four Man of the Match awards. On March 24, 2011, as he guided India to a win over defending champions Australia, propelling them into the semi-finals, every young boy in the country wanted to grow up to be Yuvraj Singh.
"Yuvi's a very sharp man. He asked me very intelligent questions, about his illness, treatment and recovery."
But four days before that in Chennai, there appeared a very public sign of things to come as India took on West Indies in a group match. Batting in the 80s, Yuvraj seemed in trouble, coughing and vomiting. Umpire Simon Taufel inquired whether he was well enough to continue. Yes, said Yuvraj. "I'm nearing a century after a long time, and my team needs me to bat on," he said.
May 20, 2011. Yuvraj flies from Mumbai to Delhi and drives straight to G-Scan Imaging and Diagnostics Centre in south Delhi—he's there only to inaugurate its new section catering to alternative medicine. Nothing ails him, other than the cough, that persistent cough that had been bothering him for months by then. But wasn't that just a cough? What chance did a mere cough have against Yuvraj, 29, in the prime of his life, the man who won the Cup for India the previous month? That day, though, the cough is a bit too bothersome. The doctors suggest an X-ray imaging of his chest, just in case. Yuvraj says OK, I'll be back two days later, after playing Pune's last match in the IPL. A week later, he pulls out of the ODI team to tour the West Indies.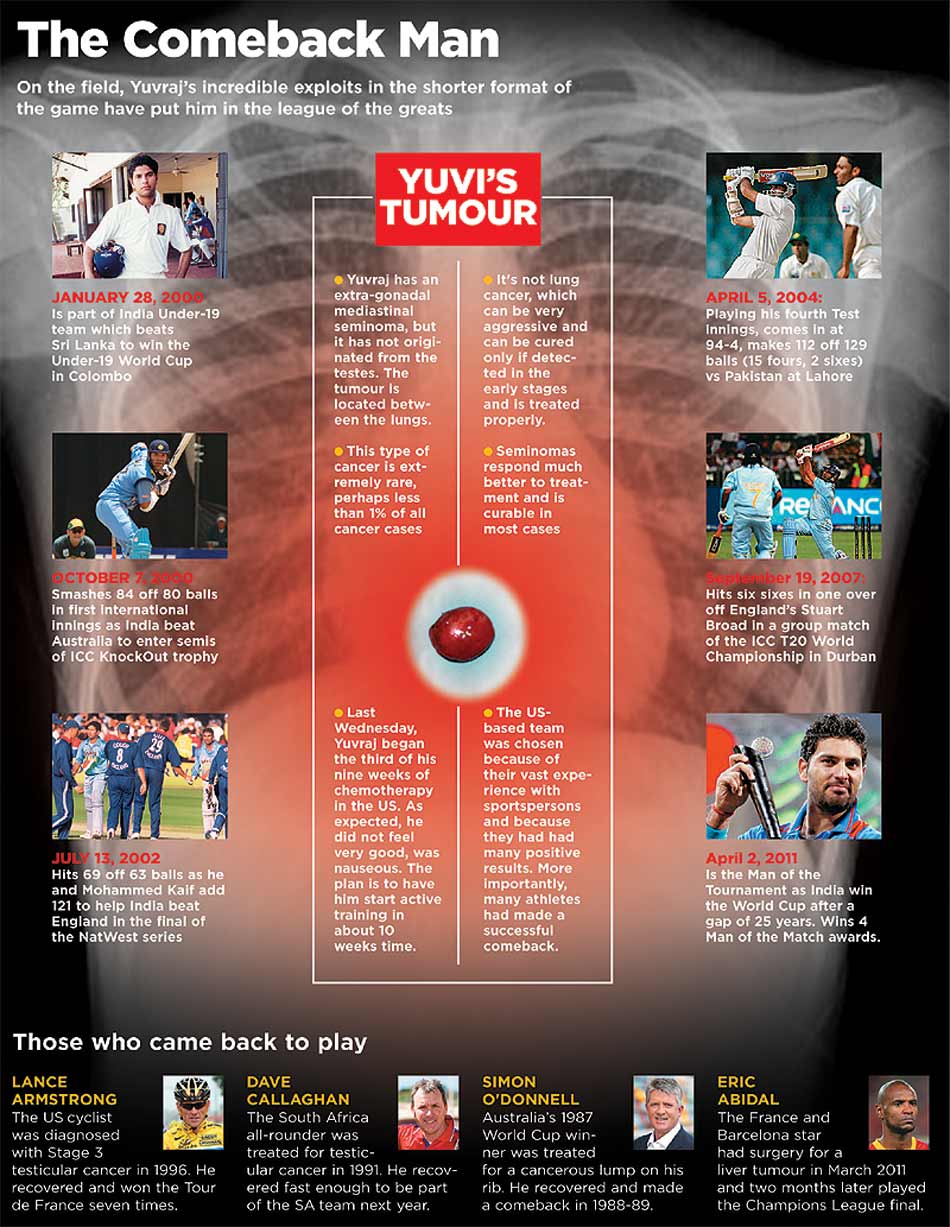 He's too proud, he pulled out because he didn't want to play under Suresh Raina, said news speculation. Men like Yuvraj, inhabitants of the fishbowl, become immune to barbs of the fans and press, both fickle beasts who're quick to turn from friend to foe, but sometimes it hurts. This was one such time, Yuvraj was hurt and depressed. The spirit was hurting, even though he was a naturally buoyant man; the bodily pain was less acute, but it was under siege of cancerous cells. The X-ray image showed a lump in the chest. Yuvraj and his family, expecting it to be a routine X-ray procedure, staggered in disbelief. Second opinion was sought, from several sources. There was sometimes reason for hope, sometimes reason for despair. "When your child is suffering from even a harmless ailment, don't you try to get the best doctor, the best medical opinion?" asks a family friend. "The family did just that. Else tell me, if the opinion was unanimous that it was cancer, why would the family delay treatment for so long?"
"He's getting chemotherapy which has its side-effects, but he tries to keep everyone cheered up, cracking jokes."
Yuvraj's family derived hope from many sources, sometimes from tales of incorrect diagnosis. "For instance, a former India spinner's mother was diagnosed with cancer by a leading Delhi hospital, and told no treatment was possible," says a family friend. "They told him to keep his mother happy for the six-odd months she had left. They sent the slides to another oncologist, and it turned out to be a cyst. She survived."
In October and November, the news got worse—there was 90 per cent possibility that it could be cancer. The family, still hopeful, sent the slides of his sample abroad, and it was only in December that they got absolute opinion about his condition. Matters were complicated by the fact that the tumour was an extremely rare one—extra-gonadal mediastinal seminoma. In layman's terms, it's a germ cell tumour located between his lungs; 'extra-gonadal' means there was no evidence of a primary tumour in the testes.
"This type of cancer is extremely rare, perhaps less than 1 per cent of all cancer cases," says Dr Nitesh Rohatgi of Max Cancer Centre, who was consulted by Yuvraj's family on January 18 this year. Dr Rohatgi, who is collaborating with the team of doctors in the US treating Yuvraj, says physicians can go through their entire lifetimes without seeing even one such case. "In the UK, where I trained and worked for several years even at a referral centre for all germ cell tumours, we saw only two-three mediastinal germ cell tumours in a year."
Once the cancer was confirmed, there ensued consultations on the best place to get Yuvraj treated. While India's top cancer hospitals provide treatment at par with the best in the world, Yuvraj's family opted for the United States due to two reasons—privacy from the aggressive media, and because the hospitals they'd gone to before they met Max's Rohatgi seemed more inclined to use Yuvraj's star value to enhance their image. "It seemed to us that they were less interested in treating him than using him as a brand ambassador for their hospital," says a family source. Dr Kohli, whose clinic Yuvraj went to on May 20 last, says he's been silent for six months. "I was only pained at his condition. Even now, I did not wish to discuss him with the media... I did it only because Yuvraj's father disclosed this in a TV interview, and I could not deny the facts," he says.
"He's already talking about wanting to spread awareness about cancer in India."
Once the cancer was confirmed, Yuvraj got down to combating the illness methodically. As Dr Rohatgi says, "Yuvraj and I had long telephonic discussions. He's a very sharp man and he asked me very intelligent questions about his illness, treatment and the future. Realising the need to concentrate on treatment aiming at a cure and speedy recovery, the family decided to get treatment in the US."
Yuvraj is undergoing treatment by a team led by Dr Lawrence Einhorn, the distinguished oncologist who treated cyclist Lance Armstrong. He's not in Boston, which was a red herring used to keep his location a secret. Last Wednesday, he started the third of his nine weeks of chemotherapy. The Indian cricket board has stood behind Yuvraj like a rock, extending all support and bearing all the expenses. "He's grateful for this support by the BCCI," says Nishant Arora, Yuvraj's childhood friend who recently joined him as his manager. "It's the parent body of cricket in India, and it has actually helped him like a parent."
Yuvraj has got enormous support from his friends. Gulzar Chahal, who's known Yuvraj since their days of playing Under-12 cricket tournaments, says he's a soft-hearted man with a tough exterior. "He's undergoing chemotherapy, which has its side-effects, but he tries to keep everyone cheered up, always cracking jokes," Chahal says. Dr Rohatgi confirms that "Yuvraj is always taking the mickey out of me!"
His mother, whom he dotes on, is with Yuvraj. "He tries to keep his mother cheerful," says a family friend. "He also feels a bit guilty...he says that this is the time to give her happiness, like she did for him when he was a kid."
"I was pained at his condition. I talked to the media as Yograj had already broken the news."
Yuvraj's story is an extraordinary one. His talented father Yograj Singh could play only one Test for India, so projected his ambitions on his child and made him a cricketer with a "Hitler-like regimen", according to friends. Yuvraj is what he is because of Yograj but it was tough as a child, especially as his parents separated and he often had to meet his mother secretly. When he grew up and started earning from the game, he went to live with his mother. "I remember I got a cheque of Rs 21 lakh from the first tournament I played for India and the first thing I did was to buy a house for my mother. This is the least I could do for someone who had suffered and done so much for me," Yuvraj said in an interview last year.
Yuvraj is focused not merely on getting well, but on getting back on the field. Having gone through this difficult phase, he's also recognised the good he could do by working on cancer awareness. "He's already talking about how he intends to spread awareness about cancer," says Arora. "He says he was lucky, getting the X-ray done at the right time."
"That's a wonderful thought," says Harmala Gupta, 58, who was diagnosed with cancer at the age of 33 when she was in Canada, where she got treated. "There is so much negativity about cancer in our country. People say things like, 'How did this happen to you, you are such a good person!' As if cancer happens to bad people. Yuvraj has an opportunity to do a great deed, like Armstrong has done in the US. Cancer treatment is very expensive in India, and there's no health insurance. That needs to change. He can educate people, inspire them."
Commoners like us want genius to succeed. Fans don't accept failure, won't tolerate heroes having frailties they themselves have. But illness doesn't discriminate. Yuvraj's story is heroic not only because of what he's doing right now but because of what he can do and aims to do. Get well soon, Yuvi!