Why Russia Matters
Obama wants to accommodate China. Strong Indo-Russia ties can ensure more geostrategic space is not yielded to Beijing at New Delhi's expense.
US wants to pull out from Afghanistan mid-2011. Could lead to the return of Taliban in Kabul, much to Pakistan's delight. Russia and India opposed to it.
Russia and India may act together with other regional forces to stabilise Afghanistan.
Russia will give India what the US has been non-commital about—enrichment and reprocessing technology.
***
The three-day Moscow visit by Prime Minister Manmohan Singh—whose success was manifest in the clutch of crucial agreements signed there—has been variously described as the perfect 'balancing act' between the US and Russia or an example of a matured, 'multi-vector' diplomacy. Others say the lavish benefits accruing from Manmohan's visit is proof of Indian foreign policy entering the 'age of realism'—a shorthand for playing international politics to your advantage.
Gains from the visit were aplenty, and the MEA is naturally thrilled with the outcome. A senior MEA official said, "We were looking for reaffirmation, continuation and advancement in our bilateral relations with Russia. I have no hesitation in saying all these were met." Another senior South Block official added, "The PM's visit to Moscow has brought the spunk back into the relationship". These officials say the Russia visit has belied the misgivings of those fretful about New Delhi's tilt to the US coming at the expense of its old ally.
The PM's presence at Yekaterinburg was a signal to the host Russia about India's intent to renew ties.
True, the summit-level meeting between Manmohan and Russian President Dmitry Medvedev was routine—such parleys between heads of government, held alternately in each other's capital every year, were institutionalised way back in 2000. Yet, over the decades, these engagements had started looking a little jaded, perhaps even ritualistic. This was particularly so in the last three years as India focused its energy on stitching together the nuclear deal with the US. All this changed dramatically during Manmohan's visit to Moscow, gifted as he was with six agreements—including the joint production of multi-role transport aircraft, a $100 million credit line for Indian goods and services in Russia, close cooperation in the field of civil nuclear energy (see box), and an agreement on the pricing of Admiral Gorshkov, the aircraft carrier. Russia is an unambiguous supporter of India's claim to a permanent seat at the UNSC, but both know the process of expansion is not likely to happen in a hurry.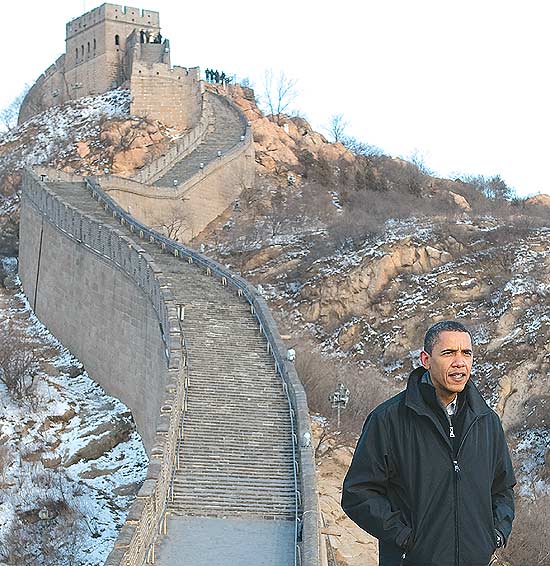 Obama's tactical softness on China is a factor for India
Perhaps the backdrop to the PM's visit mattered as much, coming as it did within a week of his visit to the US where he was feted by President Barack Obama as his first state guest to the White House. The visit was also timed with America's acceptance of China as one of the key global players. On his early November visit to China, Obama voiced his expectations about Beijing playing an important role in helping the world tide over the current economic crisis as also in resolving the sticky North Korea and Iran issues. More importantly, Obama seemed to hint at giving China a supervisory role in South Asia.
No doubt, Obama did assure Manmohan that China's growth would not be encouraged at India's expense. But India was taking no chances in the choppy waters of diplomacy; it wanted reassurance also from Moscow. Says former foreign minister K. Natwar Singh, "The visit to Russia can be seen as an attempt to balance America. In the coming years, we will see a much closer tie between the US and China, while it will also lead to stronger ties between India and Russia."
Indian policymakers began to take a reality check as soon as Obama entered the White House early this year. Though they accepted the existence of a strong bipartisan support in Washington for deepening ties with India, they also realised that domestic and international compulsions will prompt Obama to accord greater priority to countries like China and Pakistan, rather than India.
In this sense, the ground for reaffirming the strong Indo-Russia ties was prepared well before the summit. The inkling of this new thinking came in June, when Manmohan surprised many through his participation in the Shanghai Cooperation Organisation (SCO) parleys at Yekaterinburg. This was a first for Manmohan—it must be remembered India enjoys an observer status in SCO, which is a grouping driven by the Chinese. Manmohan's participation was construed as a salutary signal to the host Russia, which is quite worried about American machinations in Central Asia. Thereafter, a clutch of Indian leaders made a beeline for Moscow, including President Pratibha Patil, commerce minister Anand Sharma, foreign minister S.M. Krishna, and defence minister A.K. Antony.
Reciprocally, Russia has also demonstrated its desire to strengthen its ties with India. For one, Moscow brought in deputy prime minister Sergei Sobyanin, a Kremlin heavyweight, to head the Indo-Russian Joint Commission. It also sent an old India hand, Alexander Kadakin, as its ambassador to New Delhi.
All this translated into extremely special vibes for Manmohan, testifying to the value Russia attaches to its 'time-tested' ally. An informal dinner was hosted for the PM at President Medvedev's dacha. On other occasions, including a lengthy session with Prime Minister Vladimir Putin, Indian and Russian teams discussed key bilateral, regional and international developments.
Afghanistan and Pakistan, naturally, were on the talks agenda. For one, there's much disquiet in India about the prospect of the Taliban, backed by Pakistan, returning to power in Kabul once the US, as Obama has promised, pulls out from Afghanistan. Both India and Russia feel, as opposed to the view held by Washington, that there can be no distinction between 'good' and 'bad' Taliban, and attempts to bring any sort of variant into the political equation can only spell instability for Afghanistan and the region. Observers feel the post-US withdrawal phase could see Moscow and New Delhi strengthening their ties even further.
"Rather than isolating China, the declaration stresses on fortifying Russia-India-China relations," says Sibal.
The rise of China was another issue of discussion. Some officials feel despite its close ties with China, Russia is as concerned as others over Beijing's rise. In the heyday of the Cold War, the US and China had worked together to isolate Moscow. Understandably, therefore, the strengthening of Sino-US relations can worry the Russian leadership. Others, however, don't see Moscow reaching out to Delhi to contain Beijing. Former foreign secretary Kanwal Sibal, who also worked as India's ambassador to Moscow, told Outlook, "Rather than isolating China, the joint declaration stresses on strengthening Russia-India-China relations." Some also point to the fact that Russia now wants India to join the SCO as a full member only because the Chinese have given their consent.
Indeed, it would make for poor diplomacy if India were to play one power against the other. Instead, some advise India should seriously work towards strengthening its ties with other key players like Russia to ensure the emergence of a multi-polar world, perhaps even multi-polar Asia. Though the coming years will prove how the new 'strategic partnership' between India and Russia pans out to face the challenges of the new century, there is now no denying that New Delhi will not like to keep all its eggs in the American basket.