It's Show Time Folks
Mere Jeevan Saathi The TV version of a matrimonial ad, this matchmaking show profiles those looking for a spouse and arranges a meeting between interested participants.
Janam Janam ka Saath An astrologer is called in to answer pre- and post-marital queries and remedies provided "to avert troubles and tragedies in married life".
Honeymoon Travels A travel show that recommends the best cities to visit on a honeymoon.
Saas ko Saas Rehne Do A chat show featuring mothers and daughters-in-law that attempts to give a new twist to the eternal 'saas-bahu' feud.
To Baat Pakki Another chat show with couples who are about to marry on how they met, and plans after marriage.
Gold n Beautiful The show focuses on trends in wedding jewellery, dressing up the bride, featuring big jewellery brands.
***
Band, baaja, baraat.... It is not exactly breaking news perhaps in this season of weddings, but Shagun TV's aims are much larger, loftier: to secure "Indian culture" and "save" the institution of marriage. Shaadi India Ki, that's what this new channel has set out to solemnise.
Walk into their multi-storey studio in Noida, and you are left in no doubt that the channel means business. A traditional marriage procession—hor­ses, elephants and all—marches along in colourful illustration across the glass walls that lead into a 'newsroom'. A crowd of wall-mounted flat screens blasts 10 different news and entertainment channels while heavily dolled-up anchors move in and out of cubicles, sporting all the frenzy of a wedding-in-the-works.
A floor below, in the basement, the two studios regularly double up as marriage sets; two overstuffed red velvet thrones sit there as permanent props for shows like Zindagi Shaadi se Pehle Shaadi ke Baad, your easy road to enlightenment via the experiences of couples before and after tying the knot. There's also To Baat Pakki, should you be keen on details of the courtship of soon-to-marry couples.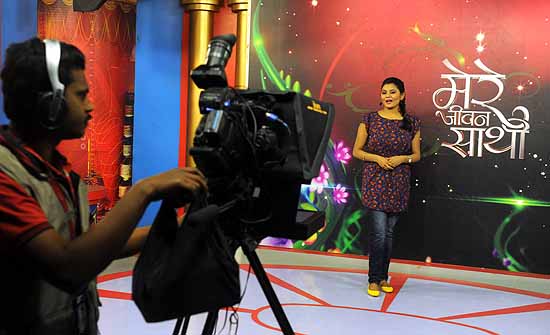 Shows themed around weddings are nothing new on television. But a 24x7 channel dedicated to matters solely matrimonial? Isn't that overdoing it? Shagun TV's managing director Anu­ranjan Jha, formerly a news journalist, doesn't seem to think so. To him, it makes perfect sense to have a full-time marriage-related channel in a country where weddings are, by some estimates, a Rs 1,00,000-crore business.
He doesn't say that, though. "With changing family structures," he says, "couples have no counsellors within the family. Nobody knows what's going on in a two-bedroom flat. We want to play the role of counsellor, and our target is to save marriages. By saving marriages, we save India, our culture, our future."
Jha is dead serious in this mission; his channel does not intend making marri­age the flippant entertainment celeb swayamvars on other channels have reduced it to. He is heavily invested in the idea of marriage, however stereotypically he defines it.
Scepticism apart, with the Indian wedding industry proving quite recession-proof, even inflation-proof over the years, will the channel laugh all the way into middle-class India hearts and the bank? "It will remain a niche channel at best," says Shoma Munshi, sociologist and author of Prime Time Soap Operas on Indian Television and, more recently, Remote Control: Indian Tele­vision in the New Millennium. And while the concept of niche channels, she goes on to add, has so far worked in the West, it still hasn't caught up in India.
Shagun isn't letting any of this come in its way. It has 16 shows on air (currently on Videocon D2H and local networks across northern states as well as the west and some parts of the east), among them Shaadi, Byaah, Nikaah, where weddings are covered for a fat fee; India's Jodi No. 1, where contestants are tested on parameters such as how well they know each other's fav­ourite colour and movie; and Dulhan India Ki, a makeover show.
"Only 10-15 per cent don't care about caste, language or family background," says the channel's MD Anuranjan Jha.
Participants are loving it, as the channel feeds on ordinary people's desire to turn into celebrities, even if for a brief while. Honey Gill, a 25-year-old event management professional, loved her 30 minutes of fame on the makeover show where she "learnt make-up techniques and gained confidence" at a salon in the middle-class west Delhi neighbourhood of Patel Nagar. "Couples enjoy being in a chat show set-up," says Priyank Dubey, creative head of the channel and co-host of prime-time show To Baat Pakki. "They can open up about their love stories and, in some cases, even send out messages to their families when they do not support the match. It's all very heartwarming and moves us to tears."
The prototype Indian middle-class home is exactly where Shagun wants to be, pandering to its conservative strivings. "Only 10-15 per cent don't care about caste, language and family background," says Jha, defending his cha­nnel's blithe conformance to caste-based matchmaking, and other "fair, tall and beautiful" specifics. Dating is not openly encouraged, so participants of the matchmaking show Mere Jeevan Saathi can meet in the presence of their parents. Divorce and remarriage do not figure in the programming yet; they might in the future, says Jha.
But the whole vibe is fairly non-threatening. "We are not here to rake up controversies or anything negative," says To Baat Pakki producer Ritika Sharma. The housewives or working women featured on the shows can be "modern", yes, but they must also be "homely" and "aware of their domestic responsibilities". So chat show Saas Ko Saas Rehne Do attem­pts to be progressive, with host Utkarsha Naik stressing that a 'bahu' be treated as 'beti', but the participants—mothers-in-law and daughters-in-law—appear to be either confused or conveniently nod along. 'Bahu' as 'beti' is all very fine, as long as she finishes kitchen duty before stepping out for her job.
"If the whole idea is to address middle-class homes and what's seen as their values in India, those are already well addressed in characters and soaps such as Anandi in Balika Vadhu, Akshara in Yeh Rishta... and others," says Munshi. "These are bahus in sainted form. When they 'defy' their saas, it is only because 'woh sachai ka saath de rahein hain'—and they do so in dulcet tones, in their head-bent avatars. So if mainstream general entertainment channels like Colors and Star Plus are already delivering audiences their daily dose of this, what market gap does/will Shagun TV fill? Our obsession with weddings and excess are already (over-)fed by Bollywood extravaganzas as well as all popular daily soaps."
Mona Lisa, 27, an engineer from Motihari, now settled in Ghaziabad, begs to differ. She met her husband, Rohit, also from the same Bihar town, through Shagun's matchmaking show and got married within two months. "It felt so much more instantaneous than putting out an ad in a newspaper. I also felt it was a more genuine way of reaching out than putting your name on Shaadi.com," she says. In fact, not only did she find a "dream" match but a job too—at Shagun's IT department.
The channel, bankrolled by Chakra­dhar Dhoundiyal of Vertent Media Soft Pvt Ltd, who put in Rs 70 crore to get it going, has drawn good viewership from Gujarat and parts of Madhya Pradesh. Advertisements are trickling in from jewellery stores. Scoff all you like, but the Big Fat Indian wedding never fails to deliver. The stars deem it thus!