Just five years back, when Y.S. Rajasekhara Reddy first became chief minister of Andhra Pradesh in 2004, he came to the job with the reputation of being the eternal dissident, the anti-party voice in three successive Congress administrations. But on September 3, as it became clear that he had perished in the dense, steaming Nallamala jungles en route to the villages of Chittoor, the eulogies that poured in from distant Delhi placed him at the party's very centre. In a condolence resolution, the Congress Working Committee acknowledged YSR's stellar role in returning the party to power not just in AP, but also at the Centre. Later, a sombre party president Sonia Gandhi herself recalled to journalists at the party headquarters how he had allayed her anxieties about how the Congress would fare in AP, saying, "Trust me." Prime Minister Manmohan Singh, meanwhile, described him as "a role model for good governance", who had made "a profound impact" on his state and the party.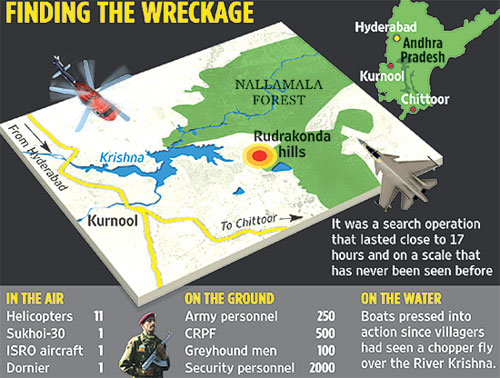 These were clearly no empty encomiums: YSR had become a star in a party that does not encourage stardom. He had never looked back after his 1,600-km-long padayatra (from Chevella in Rangareddy district to Itchapuram in Chittoor district) in the run-up to the 2004 polls which propelled him to the political centrestage. Along the way, he also shed his raffish image for that of a dynamic administrator. After the exit of K. Vijayabhaskara Reddy, a phlegmatic leader with whom he had a long-running feud, he emerged as the party's tallest leader in the state, managing even to checkmate the sub-nationalist appeal of his rivals. Despite a reduced majority in the assembly, his victory was impressive as he dealt with N. Chandrababu Naidu's "Telugu pride" agenda, scuttled the Telangana Rashtra Samiti's separatist ambitions and scuppered Chiranjeevi's Praja Rajyam Party (PRP) through the deft placement of proxies and Trojan horses. And, in the Lok Sabha, he actually increased the Congress's tally in the state—from 29, the figure climbed to 33. In between, during last year's crucial vote of confidence, he had also successfully weaned away some TDP MPs.
YSR was determined in that he'd thwart any move by Chandrababu Naidu to wrest the rural agenda from him.

If YSR's untimely death has turned Andhra politics on its head, for the Congress it has come as a body blow. As the southern state witnessed emotional scenes, and preparations for a state funeral began, the question already making the rounds was: after YSR, who? While K.K. Rosaiah, the 77-year-old finance minister and the seniormost person in the state cabinet, has been sworn in as CM, senior Congress functionaries in Delhi indicated that this would be an "interim arrangement". (Rosaiah did not contest the last assembly polls and was nominated to the upper house to facilitate his entry into the YSR cabinet.) This, it seems, has been done to check the factionalism in the party, and give the central leadership time to assess the situation before settling on a more permanent name. The Congress Legislature Party would meet, senior party sources in Delhi said, after the official period of mourning was over.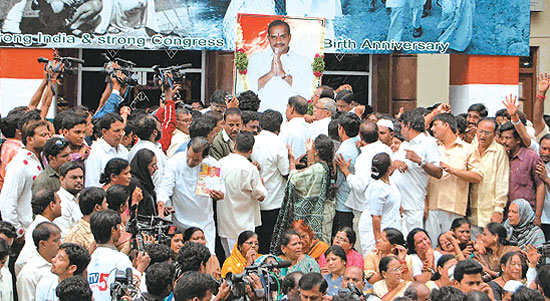 Mourners flock to Gandhi Bhavan in Hyderabad
But there were clear indications that while there were many aspirants, the frontrunner for the job seems to be YSR's 36-year-old son, Y.S. Jaganmohan Reddy, a first-time MP from Kadapa, the area to which the family belongs. At the time of writing, with emotions running high in the state at the death of a popular CM, 136-odd Congress MLAs and a host of district-level Congress leaders had already signed a petition to the party high command, asking it to instal the son in the CM's chair. Those pushing Jaganmohan's name feel that he would be able to unite the party as the inheritor of his father's legacy. Others, though, stress his lack of experience: indeed, in Delhi, one line of thinking is that Rosaiah should not be disturbed for a year, giving Jaganmohan time to prepare for the job.
Jaganmohan was, of course, seen as the executor of YSR's ideas. He was largely responsible for setting up 'Saakshi,' a media house that includes a 23-edition Telugu daily and a TV channel that has to some extent taken on the might of Ramoji Rao's Eenadu empire, an empire that had propelled the Congress's chief rival, the TDP, to prominence and power in the 1980s. Ramoji Rao and N.T. Rama Rao (and later his son-in-law Naidu) shared a symbiotic relationship. To check the influence of Eenadu, YSR had swooped down on Ramoji's empire by targeting his money-spinning chit fund business.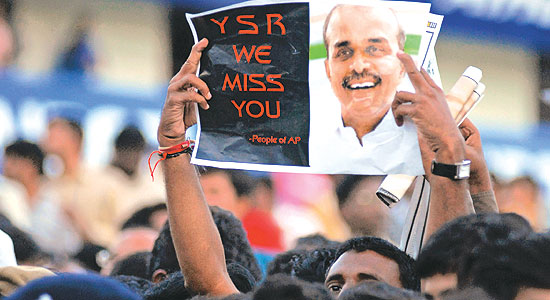 Congress workers already miss YSR as they wait for his body in Hyderabad
Of course, Jaganmohan's record has not been entirely savoury—his dealings with the mining lords of Bellary, Gali Janardhana Reddy and brothers, especially in the context of the multi-crore Brahmani steel plant being setting up in Kadapa, has already come under severe Opposition fire. With the death of YSR and his protective umbrella, critics are hoping the project will be scrapped and Jaganmohan and the Bellary Reddys will be "tamed".
Clearly, if Jaganmohan eventually succeeds his father, he will have a hard act to follow. In his first term as CM, the opposition hurled many corruption charges against YSR, even trying to link his name to the Satyam scandal. But none of it stuck, and electorally there was no impact. And it wasn't just his chutzpah and charisma that saw him through: there were the massive welfare programmes like Arogyashree, which provides free medical support to the poor, the Indiramma housing scheme for bpl families, the pension scheme for widows and the aged and rice at Rs 2 per kilo—all massive vote-catchers in rural Andhra.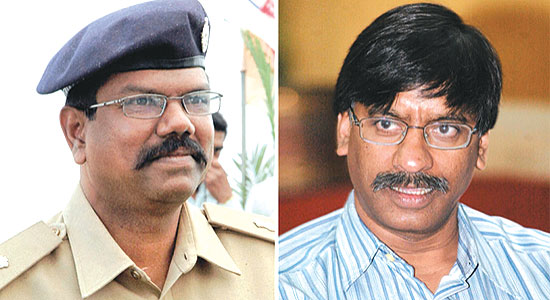 Chief security officer Wesley, principal secretary S. Subramaniam too died
Of the other names doing the rounds, Union urban development minister S. Jaipal Reddy holds some sway. What might weigh against him, however, is that he is seen as someone more comfortable with the cut and thrust of polemical debates than with the rough and tumble of grassroots politics. And then in the long list of possibles, there is also Daggubati Purandeshwari, daughter of N.T. Rama Rao and sister-in-law of Chandrababu Naidu, who has made her mark in Delhi.
In the succession battle, the Rayalaseema (to which area YSR belonged) versus Telangana argument has also started gaining currency. Some senior Congressmen Outlook spoke to argued that as 119 seats out of the 294 in the state assembly are from Telangana, a CM from the region would not only neutralise the demand for a separate state, it would revive the party here—for no less than nine sitting ministers from Telangana lost their seats in the recent assembly elections. Now, if Delhi finds this a persuasive argument, Jaipal Reddy's name would still remain relevant. But then, there are the other Reddys from the region—M. Sashidhar Reddy, son of former CM M. Chenna Reddy, and Jana Reddy. Of course, to address the Telangana issue, YSR had included five women from the region, all relatively inexperienced, in his council of ministers (his critics had alleged at the time that this was his way of 'finishing' the Reddy leadership in Telangana).
If a quiet confidence characterised YSR's first term as CM—ignoring rather than engaging his main political rival Chandrababu Naidu—his brief second innings saw him morph into a kickboxer on speed. His agenda was evident—he wanted to wipe out the opposition. Continuing his pre-election sleights of hand, he engineered high-profile defections from the TDP, TRS and the PRP, and even declared his intention, just days before he died, to cast Chandrababu into oblivion. As an administrator, he had dropped the persuasive approach from his first term, and taken to hectoring officials for securing less than a "distinction" in the electoral test. He was also determined to resist any attempt by Chandrababu to wrest the rural agenda from him. And that might just have been his undoing: on August 2, when he set out for Chittoor in his helicopter despite the poor weather, it was on yet another leg of his 'rural is right' programme, branded Rachchabanda (the village forum). That was the programme inaugural that led him to his death.
---
By Smita Gupta in Delhi, Ram Karan in Hyderabad and Sugata Srinivasaraju