The Paper Trail
How social sector cuts are playing out in one of India's poorest parts
For the first time ever, in 2014, Rs 1,000 cr, of a sanctioned Rs 4,000 cr budget for NREGA, not given to MP
In 2015, only a small part of the budget released for two months. NREGA top officials say funds always given for at least six months.
Government records show an average of 68 days work per person per year; on the ground, many haven't worked 50 days in five years
In nearly empty villages, after majority migrate for work, all NREGA work performed by machines
Wages found credited to accounts of government employees and even the dead. District officials refuse to part with data; say it's been erased from their computers.
***
A group of them, about 20 old and young men, are engrossed in a game of cards under the banyan tree, shielded from the two o' clock sun on a May afternoon. No distractions here, they take five minutes to finish the round of teen patti. "If you'd come here three days later, the village would be nearly empty," says 35-year-old Lala Ram. "Our break is alm­ost over and we are going back to Delhi, Haryana, Rajasthan or wherever the thekedar decides to take us this time."
They had just returned, less than 10 days ago, for the seasonal break after their four-month migratory season. The 'able-bodied' in every Dalit household in Kalothra village, Tikamgarh district, are out for at least eight months a year. They work in different parts of the country as daily-wage labour. In a majority of the district's 800-odd villages, it's only the very old and the very young—those incapable of doing any manual labour—that stay back. The neighbouring Nora, Asati and Sendri villages are already almost empty.
The situation in Tikamgarh, one of Bundelkhand's six poverty-ridden districts, is no exception, the entire region is starved of natural resources, industry, healthcare facilities, sanitation, even water. The livelihood guarantee sch­eme, NREGA, came to Tikamgarh in its very first phase, in 2006, in the backdrop of a long spell of drought that wasted the region between 2001-08. Distress migration, a common phenomenon across Bundelkhand, increased significantly after the drought.
Interestingly, government records of NREGA implementation in the region, since its inception, reflect an impeccable growth of livelihood opportunities in these districts. On an average, Rs 310 crore is spent on wages and material cost every year in Bundelkhand, with close to 40,000 works being sanctioned, and nearly 30,000 of them being completed.
But if most villages are almost empty through the year, with the entire working population migrating out, who then is demanding this NREGA work? Who is undertaking them? And who, in fact, is completing them? "The JCB machines do all the work here. From digging out mud to mixing cement, laying roads, every­thing is done by machines," says 40-year-old Gorelal Banskar in the Lidhora Taal village. "Last year, when I came back for a few days after working at a construction site in Faridabad, the road here and the graveyard were being built by the JCB and a few relatives of the sarpanch."
Across villages, hardly anybody knows about works being sanctioned in their village and neither are they informed about job opportunities. "In the last five years put together, I got a maximum of 50 days of NREGA. If we had got work here, why would all of us migrate?" asks Ramesh Ahirwar, who takes 12-year-old son and wife on his wage-hunting trips, leaving behind two very young daughters with his parents in Asati village. "The sarpanches here spend lakhs to win the election. During the five years they are in power, they ensure they earn ten times as much." True to his word, uniformly sparkling white Boleros are parked outside most sarpanch houses—sticking out in a region where even owning a bullock cart is an indicator of opulence.
"If we didn't go out and depended on NREGA alone, we wouldn't even be able to buy five kgs of atta. Our children would die of hunger," says Lala Ram. "When we leave, we borrow Rs 1,000 from the upper castes here and give it to our parents to buy food for them and the children. When we come back, after 3-4 months, we pay an interest of Rs 500 for every Rs 1,000. Still it leaves some money with the family to sustain them for the next few months while we are away."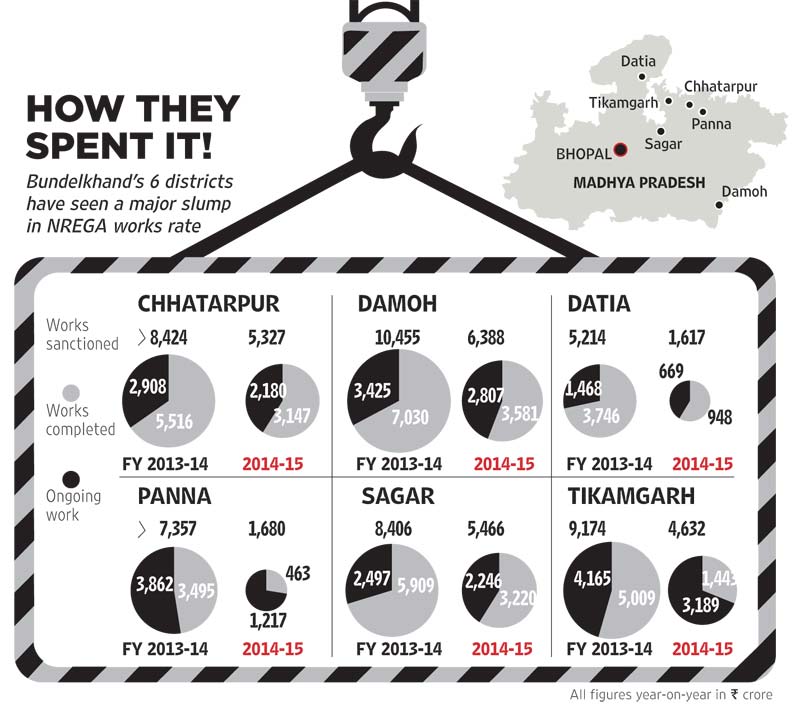 There are very few in any of the villages, however, who don't have job cards. Just that barely any of them have seen it in years. Job cards of the entire village are usually with the sarpanch or others in charge of the scheme at the block level. "The first and last time I worked under NREGA was four years ago, that too for a mere 25 days. I haven't seen my job card since, because it is with the sarpanch. I don't even know if it is full or empty," says 40-year-old Deshraj of Bajitpura village.
While direct bank transfers, rather than cash payments, had been introduced to eliminate corruption of middlemen and the influential in the payment process, nothing has changed despite an enormous increase in the number of bank accounts. The earlier nexus of corruption between contractors and gram panchayat officials now includes cooperative banks as well.
"We had to actually file an RTI application to get basic info on even the works being sanctioned in Jatara...."
"Last year, I did NREGA work for about 20 days, along with four others in this village. The sarpanch took us to the Grameen Bank, asked us to put our thumbprints on a small sheet and withdrew a lot of money. From that, he gave each of us Rs 2,000 for the 20 days work," says Arjan Adivasi of Saha village (minimum wage for MP is Rs 160 a day). He, along with 120 other tribals, are forced to live on a small piece of land outside the OBC-dominated village. This is because the latter do not like tribals crossing their path.
Often, villagers say, they never even go to the bank. The sarpanch and contractor, in collusion with bank officials, withdraw the money themselves and make part payments. In Niwadi block, a government school teacher and even a dead man had their names enrolled in the NREGA muster rolls and payments were withdrawn from their accounts.
On contacting Suman Rai, the sarpanch of Kalothra until three months ago when fresh panchayat elections were held, her husband Vijay Rai insists he has been the acting sarpanch in her stead and says, "Ask me whatever you want, my wife doesn't understand all this.... Everyone here gets 100 days work. We only keep their job cards so it's safe. We give it back to them when they need it."
Dalits and tribals—who form nearly 35 per cent of the district's population—live in constant fear of the dominant OBCs and the few elite castes in the villages. Feudal and exploitative relationships with gram panchayat officials and contractors have ensured that even glaring acts of corruption are never openly questioned.
The villagers are hardly, if ever, informed about the gram sabha, which is also supposed to conduct 'social audits' to ensure proper implementation of government schemes. "The gram sabha usually happens in the sarpanch's house, with the other panch members and the secretary," says Ramesh Ahirwar. Several also complain of having to pay up to Rs 5,000 bribe to the sarpanch and the rural engineering services engineer, if they have to get even a well sanctioned in their land under the scheme.
"Even the audits are undertaken by NGOs close to the government and they happen without the knowledge of any of us working here. We have had to file RTI applications to gather basic information about even the works being undertaken here," says Pramod, a local rights activist in Jatara block of Tikamgarh.
The Madhya Pradesh model of dec­entralised planning, with master plans prepared by nearly all of its 60,000 villages for undertaking works, is today being emulated by several other states. However, this rings hollow in the villages in Bund­el­khand, where few have any say in decisions taken by the panchayat or the district administration.
Moreover, Tikamgarh has not rec­eived even a rupee for NREGA for nearly six months from December to May. Therefore, even the few who got a few days' work haven't been paid their wages. "We didn't get the funds because a lot of work that began years ago is still pending. We have used Section 40 and 92 of the Panchayat Raj Act to recover lakhs of rupees from sarpanches due to underutilisation of funds and corruption," says the NREGA programme officer for the district.
However, the section itself is used only against sarpanches who support the Opposition parties, due to pressure from mlas of the ruling BJP. "In Sendri and Bheetri villages, the woman sarp­anches were recently removed because their husbands were supporters of the SP. This was due to pressure from the BJP MLA, Anil Jain," says a local correspondent of a popular Hindi newspaper who didn't want to be named. "Other sarpanches, however, are left scot-free, despite indulging in heavy corruption, as even district officials take a huge cut in it," he adds.
---
(The reporter conducted the field work for this story as part of the Government of India-UNDP Media Fellowship on Decentralised Planning, 2015)
By Pavithra S. Rangan in Tikamgarh, MP