"My final words of advice to you are educate, organise and agitate. Ours is a battle not for wealth or for power. It is a battle for freedom. It is a battle for the reclamation of human personality."
—Bhimrao Ramji Ambedkar
In 1901, at age 10, young Bhim realised he could not drink the water at his school in Satara. Like most Dalits in India, he did not have to be kicked out of a train in a foreign country to get a taste of discrimination. Still, Ambedkar's thirst for education made him persist. In 1918, on returning with doctorates from Columbia University and the London School of Economics, Ambedkar was once again reminded of his untouchability. The patronage of the Baroda maharaja, a fine education, money, good clothes, none of it helped him quench his thirst with dignity or find shelter. To overcome the poison of a system that believed in the innate inferiority of certain castes, he offered the antidote of reservation. And he gave Dalits the Fabian Socialist slogan: educate, organise, agitate.
Reservation in India is actually a battle for the reclamation of human personality—something that is still casually denied to millions of Indians. Last week, the newspapers reported that a doctor couple in Delhi—Sunita and Sanjay Verma—locked up a 13-year-old Jharkhand maid in their house with nothing but salt and flour, and went on a holiday to Bangkok. The abused girl was rescued and the doctors have since deferred their return to the city.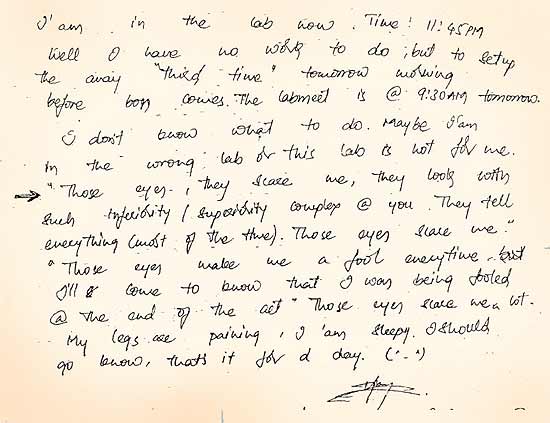 A page from IISc PhD student Ajay Sree Chandra's diary. He committed suicide on Aug 26, '07.
Earlier last month, on March 3, Anil Kumar Meena, an adivasi medical student at the All India Institute of Medical Sciences, killed himself in his hostel room. Educated in the Hindi medium, the son of poor farmers in Baran, Rajasthan, Meena had scored 75 per cent in Class 12 and a second rank in the AIIMS entrance test. He was following in the footsteps of Bal Mukund Bharti, a final year MBBS student, who exactly two years ago hung himself to death in his hostel room in AIIMS. As I write this, news comes of Neeraj Kumar, a first-year Dalit medical student in Lucknow's Chhatrapati Shahuji Maharaj Medical University, failing in his attempt to take his life. There have been 17 other such suicides of Dalit/adivasi students in the last five years (see graphic) documented by Insight Foundation, a Delhi-based initiative that seeks to make our institutes of higher learning "more inclusive".
In Apr '06, AIIMS student Umakant, dalit occupant of room 45 of hostel 1, found this graffiti on his door: "f**K off from this wing."
Most children from disadvantaged castes end up as maids, child labourers or dropouts. In most of rural India, Dalit students are asked to sit apart, sweep the school verandah or clean toilets. Omprakash Valmiki, the Hindi Dalit writer, in his autobiography i, recalls the humiliation of being forced to perform his caste occupation by his headmaster, who told him: "Go sweep the whole playground. Otherwise I will shove chillies up your arse and throw you out of school." Almost every first-generation formally educated Dalit has such horror stories to share. For every youth who manages to persist with the skewed education system, four members of the family skip a meal; siblings work as farm labour to help one person hope for and dream of a life of dignity. For a Dalit girl, the odds are worse. In Khairlanji, Maharashtra, in September '06, the fact that 17-year-old Priyanka Bhotmange was educated and sought a life of dignity outraged the peasant castes. She and her mother Surekha were raped, paraded naked and murdered; her brothers were butchered.
Those who defy such impossible odds and make it to institutes of higher education—statistically 2 in 100 Dalits manage this—are welcomed with barbs and taunts from faculty and fellow students. When not harassed to death, they are crushed in spirit. Those from castes that feel innately superior tend to look at adivasi/Dalit students as fit only for menial labour, like the Vermas who locked up their maid.
***
Last February through April, a debate unfolded in the British media about the poor representation of Black students in Oxford University. For all his faults, Prime Minister David Cameron intervened, saying it was "disgraceful" that universities like Oxford—his alma mater—had so few students coming from Black and minority ethnic groups. The Telegraph had reported: "Fewer than one in 100 students beginning courses at Britain's two oldest universities in 2010 were Black, including just 20 of the 2,617 British students accepted to Oxford, a fall from 27 in 2009." David Lammy, a Black Labour MP, collected data using freedom of information requests and wrote a column in The Guardian lamenting "the Oxbridge whitewash".
The debate in Britain is in sharp contrast to the silence in India. In 2006, following reports of discrimination in internal evaluation (especially practical and viva), segregation in hostels, mess rooms and in sports and cultural events, a three-member committee headed by Sukhadeo Thorat, then chairman of the University Grants Commission, conducted an inquiry into the state of affairs in AIIMS. The 77-page Thorat committee report indicted the administration on many counts and offered recommendations, but it was dismissed as prejudiced and no action was taken. Here's one of the incidents narrated in the report. In April '06, Umakant, the Dalit occupant of Room 45 in Hostel 1, found this graffiti on his door: 'Fuck off from this wing.' The miscreants once even bolted the door from outside when Umakant was inside. He made a formal complaint. What happened? "The students were reminded of their duties, adherence to discipline, tolerance towards each other and were told to concentrate on their studies." The culprits were asked to shake hands with the Dalit student, after which they promptly went and thrashed him, forcing Umakant to shift his room to a segregated section where all "scheddus" were meant to be.
If such was the wilful neglect of the AIIMS administration, shouldn't the deaths of Anil Meena and Bal Mukund Bharti be deemed murders? And such murders aren't limited to AIIMS. On August 26, '07, Ajay Sree Chandra, 21, an integrated PhD student at the Indian Institute of Science in Bangalore, killed himself. Despite making it to IISC in open competition, he was admitted under the reserved category. Then began hell. In his diary, he describes the atmosphere in the lab where he seems to be repeating an exercise for the third time as some kind of punishment: "Time: 11.45 p.m. Maybe I am in the wrong lab or this lab is not for me. Those eyes, they scare me, they look with such inferiority/superiority complex @ you." While AIIMS maintains that Anil Meena died owing to "depression", IISC decided that Ajay Chandra died unable to cope with "stress".
Over the years, there have been some feeble "reformist" attempts to help 'category' students cope in elite science, management and tech institutes through crash courses in personality development and English skills. The Kozhikode-based Centre for Research and Education for Social Transformation, CREST, has even prepared some 'packages'. When solicited, it conducts weeklong on-campus 'self-enrichment' programmes to help Dalit/adivasi students 'integrate' into iims and IITs like it did in IIT-D last year. What they do not do is sensitise the predominantly 'upper' caste faculty and students—the Dronacharyas and Arjunas at these institutes who insist on hacking the thumbs of Eklavyas. It is those who discriminate who need help.
Just imagine the repercussions if Black students were to die half as routinely in Harvard or in Oxford as Dalit and adivasi students die in AIIMS, IITs and IISCs. When Indian students in Australia—predominantly students with surnames like Gupta and Sharma not good enough to make it to IITs, IIMs and AIIMS—are attacked, it is "racism"; it even becomes a diplomatic issue. When Dalit and adivasi students on Indian campuses are hounded to death, there's not a murmur. What makes Indian society so shameless as to not just deny but even justify such prejudice against Dalits that lead to murders? Why is it that these deaths are used to bolster perverse arguments against the very existence of reservation?
In the 2003 blockbuster, Munnabhai MBBS, the protagonist flaunts a Brahmin surname, Murli Prasad Sharma. As a bhai whose daily business is extortion, hustling and kidnapping, Murli goes on to cheat his way into an MBBS course and even tries to clear the exam by fibbing. He was loved and hailed as a voice against an insensitive system. It's not surprising that the humour and message of Munnabhai became so popular, for a Sharma was doing the deeds. Unlike Murli Prasad Sharma, Anil Meena and Bal Mukund Bharti toiled hard to make it to AIIMS. They did not cheat their way in. With their deaths, a million Dalit and adivasi aspirations are crushed.
Ajay Chandra speaks of harsh, judgemental eyes that scared him. It is time we learnt to meet the eyes of Ajays, Anils and Bal Mukunds with the respect, love and friendship they deserve. That will perhaps help humanise the very sick Dr Vermas. Till then these deaths will haunt us.
---
Life And Death In India's schools
Nineteen young buds lost, and that's just in the last five ye ars. How bad was it for them that they took their own lives?
Malepula Shrikant

, Jan 1, '07 Final year B.Tech, IIT Bombay

Ajay S. Chandra,

Aug 26, '07 Integrated PhD, Indian Institute of Science (IISc), Bangalore

Jaspreet Singh

, Jan 27, '08 Final year MBBS, Government Medical College, Chandigarh

Senthil Kumar,

Feb 23, '08 PhD, School of Physics, University of Hyderabad

Prashant Kureel

, Apr 19, '08 First year B.Tech, IIT Kanpur

G. Suman,

Jan 2, '09 Final year M.Tech, IIT Kanpur

Ankita Veghda

, Apr 20, '09 First year, BSc Nursing, Singhi Institute of Nursing, Ahmedabad

D. Syam Kumar,

Aug 13, '09 First year B.Tech, Sarojini Institute of Engineering and Technology, Vijayawada

S. Amravathi,

Nov 4, '09 National-level young woman boxer, Centre of Excellence, Sports Authority of AP, Hyderabad

Bandi Anusha

, Nov 5, '09 B.Com final year, Villa Mary College, Hyderabad

Pushpanjali Poorty

, Jan 30, '10 First year, MBA, Visvesvaraiah Technological University, Bangalore

Sushil Kumar Chaudhary

, Jan 31, '10 Final year MBBS, Chattrapati Shahuji Maharaj Medical University (former KGMC), Lucknow

Balmukund Bharti

, Mar 3, '10 Final year MBBS, AIIMS, New Delhi

J.K. Ramesh,

Jul 1, '10 Second year BSc, University of Agricultural Sciences, Bangalore

Madhuri Sale

, Nov 17, '10 Final year B.Tech, IIT Kanpur

G. Varalakshmi

, Jan 30, '11 B. Tech first year, Vignan Engineering College, Hyderabad

Manish Kumar,

Feb 13, '11 IIIrd Year B.Tech, IIT Roorkee

Linesh Mohan Gawle,

Apr 16, '11 PhD, National Institute of Immunology, New Delhi

Anil Kumar Meena

, Mar 3, '12 First year AIIMS, New Delhi
(Information courtesy Insight Foundation)
---
(The author is the publisher of Navayana.)