Fans for whom cricket is religion might not have noticed—for their mind is confounded by Australia and the sorrow therein—but Indian cricket was struck by another bolt from the blue. The good kind, for a change. When Rajasthan took home the Ranji Trophy for the first time last season, it was easy to believe that a stray shot had found the mark. Its second final win, in Chennai last week, demands illumination.
There's much to romanticise about Team Rajasthan—a bunch of men knocked about by life and cricket, facing personal tragedy and collective defeat and on the edge of despair, some nearly drained of hope, even struggling to put food on the table. This team of written-offs, lying at the bottom of the Ranji lower division, goes on to win it all. And then repeats the next year. Can you see the Bollywood trailer? "No, absolutely not," says Hrishikesh Kanitkar, Rajasthan's captain. "Winning the Ranji Trophy doesn't happen on one decision or determination of a couple of people. It is a combination of many things." More cold sobriety than flighty romance.
In the past, Rajasthan had tried many things, but nothing worked. They got the country's top players to play as pros, and reached the final seven times in the 1960s, but lost to Bombay each time. Then, they turned to superstition. Hosting Bombay, they once called in a Cricket Club of India member known to be a panauti—an ill omen—who could doom your match if you saw him in the morning. Unfortunately, he greeted the Rajasthan team on matchday morning; the Bombay team were only delayed by a burst tyre. Before the back-to-back wins, Rajasthan last played in a Ranji final 35 years ago, losing to Karnataka.
Vineet Saxena

, 31, 257

in the final

Pankaj Singh

, 26, 34

Wickets

---

Rituraj Singh

, 21, 3

5-wicket hauls

Robin Bist

, 24, 1034

runs in season
Which is why their win last year came as such a shock. Weren't their three professionals, Kanitkar, Aakash Chopra and Rashmi Parida, unwanted even by their home teams? Didn't their young players, having lost so often that it ceased to matter, lack belief and hunger? Kanitkar says victory can't be ascribed to just one intangible. He is right. There are many intangible reasons, and tangible ones. Among the latter, a world-class facility in Jaipur, bestowed by Lalit Modi. Then, the Rajasthan Cricket Association (RCA), with secretary Sanjay Dixit in the forefront, chose their professionals after a careful analysis. They realised that only one Rajasthan batsman (Hanumant Singh) had averaged over 40 in the past 77 years. "We decided we needed committed batting professionals," Dixit says.
Orissa's Rashmi Ranjan Parida was already with the team; the RCA then picked two former India players: Kanitkar and Chopra. In Out of the Blue, his account of Rajasthan's amazing victory against all odds, Chopra cites examples of the RCA's unwavering support for the team: providing decent hotels and travel arrangements; making available international quality balls and playing matches under floodlights; or sending young Ashok Menaria, the former India under-19 captain, to Germany for treatment.
The seniors were allowed the freedom to choose their roles. They became the trinity the youngsters sought out when they needed help. "There must be a healthy space for errors in every sport as long as these are not the outcome of lack of effort," says Dixit. Which meant expectations were tempered; there was no overbearing pressure to perform. That perhaps mattered more when Rajasthan embarked on the defence of their title: the RCA was in turmoil due to infighting among officials. Then, just a month before the season, they agreed to not let their differences affect their cricket.
Yet, Rajasthan didn't start too well—they had just five points after five matches, having conceded the all-important first-innings lead in all of them. Karnataka made them follow on, Mumbai piled up 625, Railways overhauled their 521/8, and UP too made them follow on. "We were managing to put runs on the board, but the bowling was not clicking as a unit," says Chopra. "But the fact was that we didn't lose a single game. To save a match you need to bat well and long. We managed to do that."
Then they turned it around, with a victory over Saurashtra in Jaipur after being asked to bat first on a green-top. That ensured that they'd not be relegated to the Plate Division. Then they beat Orissa by an innings to get a bonus point. Now it was down to luck—part of the season, but now they were being compensated. "We were lucky. We would have progressed to the quarters only if other matches had ended in certain outcomes—and that's exactly how it turned out," says Kanitkar. Adds Chopra, "From there on, we grew from strength to strength." Possibly the pivot on which the fortunes turned was pace bowler Rituraj Singh, 21, who made his debut in that game against Saurashtra, then wrecked Orissa and Haryana in the quarterfinals and semifinals. His haul: 26 wickets in the four matches he played.
The man of the final was Vineet Saxena, who ground Tamil Nadu to dust with an innings of 257 spread over 15 hours—a testament to his technique and concentration. Possibly, nothing concentrates the mind better than adversity, and Saxena has had more than his share. At Hanumant Singh's behest, he shifted to RCA from Railways in 2007. But Hanumant died and Saxena realised that other officials didn't want him around. Then, his father passed away in 2009, and two months later, he lost his prematurely born daughter. Saxena was overwhelmed, but his wife and mother depended on him. He needed to fight through and did. The final had the stamp of his grit.
Saxena isn't the only resilient soul in the team. Take Gajendra Singh, the left-arm spinner, who etches his mother's name on all his cricketing gear. His mother Raj Kanwal passed away in 2007. It was she who had asked him to give up the uncertainty of a cricket career when his father was ailing and they were eking out a living on his brother's part-time earnings; it was she who then asked him to take up cricket in 2000, when his father died. Singh did his bit for his team, picking up 10 wickets. He values success. It shows.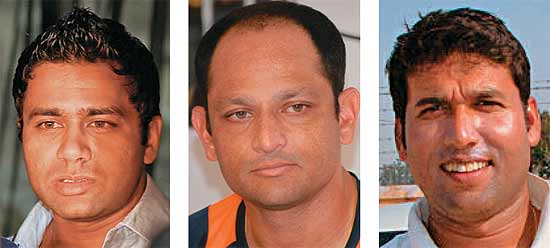 (L-R) A. Chopra (615 runs at 43.92), H. Kanitkar (506 runs at 42.16), R.R. Parida (425 runs at 35.41) The three pros all scored important runs, counselled the juniors and were the team's battle-savvy brains trust.
Equally poignant is the story of Pankaj Singh, the top wicket-taker in the two winning seasons. Born in the UP town of Behita, which has a tradition of producing volleyball players, the 6'5" Pankaj chose to become a fast bowler. On the insistence of village elders, he picked up volleyball too, dividing his time between the two sports. He was rejected at the cricket trials and then the volleyball trials of Lucknow Sports Hostel. He moved to Allahabad, housed himself in a tiny room, cooking his own meals and living on a small sum. But it got him nowhere. He returned to Behita, enrolled into college and gave up sport. But he was cajoled into playing for his old club, in a match in Bangalore. The coach of Calcutta's Mohammedan Sporting saw him and liked what he saw. He convinced him to come to Calcutta—again, the drudgery of a daily four-hour commute for cricket, and a life of loneliness. But he battled on, turned out for Rajasthan and bowled his team to victory.
Then, there are the stories of humiliation—Kanitkar twisting his knee, and Maharashtra showing disinterest in him; Chopra being dropped by Delhi, and learning of it in a newspaper—his old team wanted to get 'younger'. Players must leave the field at some point, but after 20 years of hard work, why not concede them dignity, Kanitkar and Chopra wonder. Kanitkar is a sort of philosopher-cricketer who does not throw his weight around. "I scored my 1,000 runs this season only due to him," says Robin Bist. "Asked to play at No. 6, I was uncertain. He told me I was batting the best. I wrote down what he told me, I always keep it with me. The three seniors have been a source of inspiration." About his style of leadership, Kanitkar says, "In my past, I wasn't always made to feel welcome by the seniors. I didn't want to do that to my juniors. It's a common-sense approach to respect people as they are."
So what's next for Rajasthan? For starters, how about a national contract for their top players from the BCCI? "It feels great, these boys have achieved what we could not," says Kailash Gattani, who featured in several lost finals in the 1960s, the first time as a 16-year-old in 1963. But, he wonders, what's the value of winning the national title if it does not take players to the fringes of the national team?
That's a very valid concern. How about taking these guys to the next level, perhaps as a part of a developmental team? Rajasthan consorts with hope. Its care-worn soldiers are filled with expectation. The call-up may come in time. But for now, they can take solace in having shown that the previous win wasn't a flash in the pan.