Each time Prime Minister Narendra Modi walks on to the stage, one can't help but notice his crisp half sleeve kurtas and snug jackets buttoned all the way up to the neck. Both of them in all the shades of a rainbow. When Modi isn't governing the country, he is busy setting sartorial trends and defining men's fashion. Like a movie actor or rock star, he is doubling up as a style icon for his fans/followers who, beyond just casting their vote in his favour, are asserting their support by hanging on to what he wears.
Walk into one of the most popular markets in the capital at Sarojini Nagar and you are bound to find jackets similar to those worn by Modi hanging in almost every shop. They have even been named after him: "Modi Jacket". The huge supply comes riding on a massive demand. No wonder, both the high-end brands as well as local vendors are stocking them in good measure. According to Lakshman, in-charge of the government run Khadi Gramodyog Bhavan at Connaught Place, the jacket has seen a 100 per cent increase in sales ever since Modi took his oath of office.

Narendra Modi kacket jackets at Sarojini Nagar Market, in New Delhi.
"Everyone is asking for it, demanding the "Modi jacket", although we don't sell it as one," he says.
Curiously this slim fit jacket with Chinese collar and buttons running all the way down has asserted its presence in Indian politics (as well as street fashion) earlier as well. Once upon a time it was identified with Pandit Jawaharlal Nehru and referred to as "Nehru Jacket". The Beatles are said to have worn it. Later Rajiv Gandhi and Manmohan Singh also sported it. "These days people often come in asking for the Modi jacket, but what they are really referring to is the jacket that was once Nehru's trademark," says Ranvir Negi, the shopkeeper of Cantabil in Sarojini Nagar market. Loyalists, like Negi, continue to refer to it as the Nehru jacket. Ashok, the owner of a shop in Babu Market, states that the jacket might be given different names, but it will always be identified with Nehru and remain the legacy of one of the founding fathers of our nation.
So, is Modi appropriating the most telling visual symbol of all things Nehruvian? Is it a stratagem to overshadow Nehru? Or is this to galvanize the support of the average Indian or simply as a way to come across as more approachable? Whatever may be the explanation, one thing is clear. Modi seems to have managed to turn the attire, his version of retro chic, into something more mainstream and commonplace.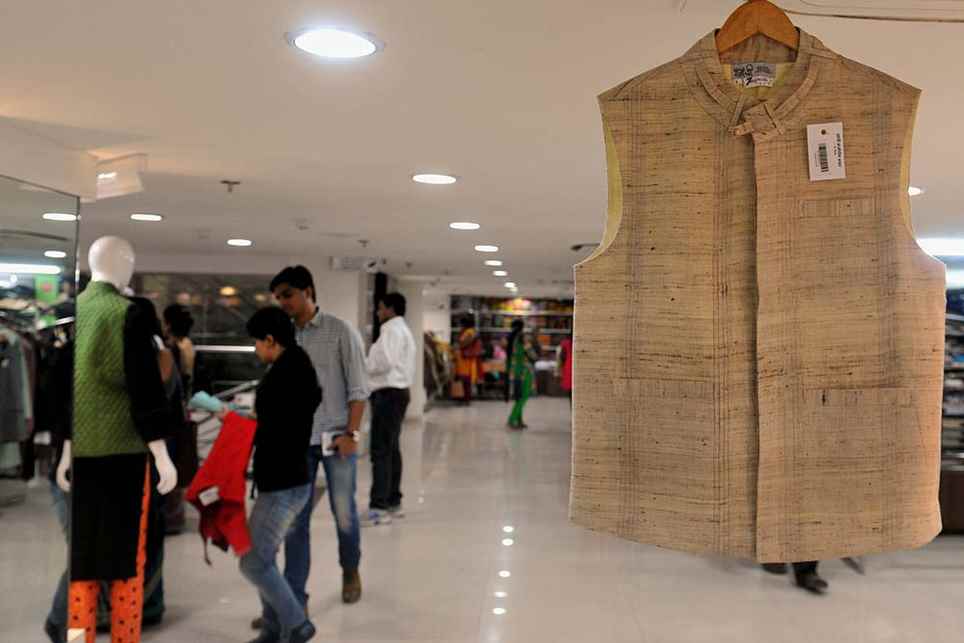 Nehru kacket Khadi jackets at Khadi Gramodyog at Connaught Place, in New Delhi.

Meanwhile, David Abraham, one of India's leading designers, thinks that Nehru jacket is very different from what Modi is wearing. "Modi is wearing different colours such as yellow, peach and pink, while Nehru was more conservative in his dressing, sticking to black, grey, charcoal and brown," says Abraham. The texture, design and material are also varied. Apart from the archetypal khadi, the jacket can be found in jute, linen and velvet as well. V-necks, bandhgala, neck with piping—the styles can also be just as varied. Says Abraham: "Modi has made the attire his own".
Copyright, anyone?
---
By Arushi Bedi and Leela Murali With inputs from Sakshi Virmani and Stuti Agarwal
This web exclusive story does not appear in print